When it comes to hentai, sometimes you get the sexiest, most raw scenes from characters who want to be debased and humiliated. Masochists revel in the thought that they might be treated like trash or used like they're an object, and it makes for some incredibly steamy viewing. Luckily for us, it's a hot topic across the world of hentai.
We've assembled ten of the hottest hentai series that include masochists for your viewing pleasure. Whether you love to watch characters being humiliated until their eyes are rolling back into their head as they beg for more, or you can't wait to see a buxom babe asking her Master to "hurt her more", you'll certainly find something of worth here.
10. Vicious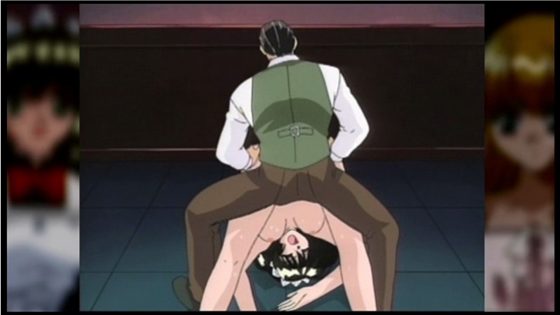 Episodes: 2
Aired: October 30, 2009 to May 28, 2010
Vicious follows the story of an heiress named Angela who has an idyllic life. Not only is she gorgeous, but she's lonely and looking for love. Her father is having something of an affair with the family maid Bridget, so Angela finds love with John, the butler. Angela ends up seducing John, and they begin an illicit relationship that finds them constantly having sex and hiding it from Angela's father. Except John is also having sex with Bridget the maid.
There's a good, old-fashioned love triangle here, but both Angela and Bridget are depicted as light masochists who enjoy being stuffed and used, even in humiliating positions. Angela loses her virginity to John in a particularly explicit scene, and is found to be masturbating to the thought later in the show.
Adding in a murder mystery and a few bizarre plot twists, Vicious is an intriguing story that combines light masochism with a plot that works well in tandem with all the sex. It's not often we'd tell you to watch hentai for the plot, but it certainly seems a valid option here.
---
9. Oni Chichi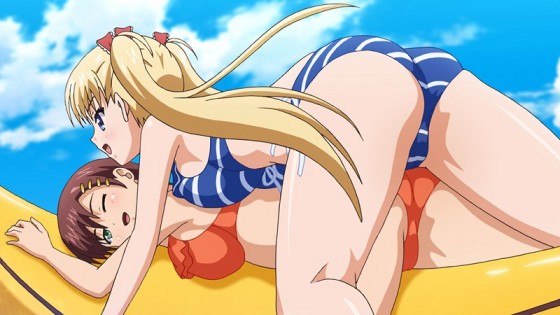 Episodes: 2
Aired: October 30, 2009 to May 28, 2010
Airi and Marina Akizuki have an illicit relationship with their stepfather. Since their mother is usually absent due to work responsibilities, they end up as the conduits through which their naughty stepfather Atsuki is able to live out his fantasies. This hentai OVA starts out with some purely taboo moments out of the gate, if that weren't obvious enough, but it gets even naughtier when Atsuki creates a special aphrodisiac spray to ensure his stepdaughters are even hornier than before. Using it, Atsuki and Airi share a special relationship together that's awfully filthy from the beginning, just turned up to 11.
This means Airi loses her virginity as she begs for more from Atsuki, despite the pain, and finds herself begging for him to cum inside of her at multiple points. Atsuki cannot help himself and indulges himself in Airi multiple times, realizing he just can't get away. With the special spray, Airi turns into a masochistic, craven version of her normal self who can't get enough of her stepfather, no matter how bizarre and depraved their relationship becomes.
---
8. Heisa Byouin (Naughty Nurses)

Episodes: 2
Aired: December 12, 2003 to March 12, 2004
Welcome to Aoshima General Hospital, which is always staffed with the sexiest staff you'll ever see. They don't just medicate patients and cure their ails – they also have sex with them to "heal" their own horniness. When Dr. Shusuke Nimura and Mayu Mizuno's relationship begins to go sour, they wonder how they'll ever patch it up. So when they end up working at Aoshima together, things are a little awkward. They end up breaking up and then both of them enter the clutches of the bizarre staff at the hospital. Of course, the staff is ready to jump on the "fresh meat" with Mayu and Nimura being targeted by the men and women of the facility.
The staff gossips about the air, while head nurse Ryoko is after getting Nimura to have sex with her. Meanwhile, younger nurse Satsuki wants Nimura all to herself. Mayu is coerced into humiliating positions by an older doctor herself, and eventually finds that she craves this type of attention from other members of the staff. It turns out both Mayu and Nimura have things they aren't telling the other, but no matter, as they're too busy fucking other nurses and doctors and getting off on the secrecy.
---
7. Yagami Yuu (Night Shift Nurses: Yagami Yuu)

Episodes: 1
Aired: December 21, 2006
This portion of the Night Shift Nurses story is one of the most disturbing, though it features an extremely masochistic character who may have many of the other series' leads beaten terms of what she enjoys and asks for - though much of it is due to psychological trauma she has endured over the course of her life. Yagami Yuu is the titular pink-haired nurse who works in a hospital. She ends up finding a young man who was hit by a truck and brings him to the hospital to recover. They have something of a normal relationship until she reveals her true self to the young man she's treating and how demented and masochistic she really is.
Yuu comes from a torturous upbringing, where she was raped day after day by her home tutor. Since she was abused over and over again, she began to expect it and even enjoy it. One day she came home to find her tutor had committed suicide, and having lost the only person she believed really loved her, she feels alone. To make herself feel better, she has sex with her patients and murders those who she doesn't want to let get away. The type of sex she begs for is as embarrassing as possible, as she pulls the corners of her mouth wide begging to be filled with cum.
It's truly a spectacle to watch this particular part of Night Shift Nurses play out and it won't be for everyone, but if you have the fortitude to watch it, you won't be disappointed.
---
6. Utsukushiki Emono-tachi no Gakuen (Sin Sorority)

Episodes: 2
Aired: October 21, 2001 to January 25, 2002
Asuna Sugihara is a starry-eyed college student at Saint Rei Seine who can't wait to make the most out of her school experience. On her first day, it doesn't seem she's going to get what she's looking for since she's the "new kid" and outcast. When she meets Yurika Ichinomiya, she finds herself being inducted into a secret sorority that only the most "elite" can join. Yurika is nothing but arrogant and crass, but if Asuna wants to fit in, she has to commit herself to a series of extremely debauched acts. That becomes evident when it's revealed that Yurika often takes members of her sorority aside and plays with their pussy and breasts until they climax in public.
Asuna sees this and is uncomfortable with the touching between two women at first, but she ends up being a part of the student government and the same society that refers to Yurika as "Mistress". She's forced into a life of bondage and chains in a dungeon where she has to have sex with strange men, let Yurika force her fingers inside her pussy, and perform all kinds of additional sex acts. By the end of her initiation, she's beginning to realize she's loving her servitude. That seems to be how many of these masochistic anime series end, but you can't knock it.
---
5. Gibo (Stepmother's Sin)

Episodes: 2
Aired: October 5, 2001 to January 11, 2002
Yusuke Yagami has had a predilection for hating women ever since he was younger. After catching his mother having doggy-style sex with an older, bespectacled man, he began harboring a hatred for her for breaking up their family and being an adulteress. When he father eventually remarried and he met his stepmother Misako, he made it his goal to treat her like his own personal sex toy, reflecting on his hatred and disdain for women in general.
This includes Yusuke forcing himself on Misako as he violently squeezes her breasts while playing with her pussy. He forces her to stroke his cock as they stand together in a steamy shower, and the situation only becomes much more debased from there. It isn't just Yusuke's stepmother he abuses, though. He also has sex with his cousin Mio Shinohara, though it seems she loves it more than she lets on initially.
After a brief interlude where she sucks his cock, he reflects on his feelings toward women – though the two women in his family have already become his masochistic sex slaves and have been loving every moment.
---
4. Joou-sama wa M Dorei (Queen and Slave)

Episodes: 1
Aired: April 18, 2002
The OVA kicks off with a dominatrix named Yumi whipping an old man and humiliating him in a hotel room. Yumi believes men are scum of the earth, and as such should be treated lower than trash. In a surprising twist, she's actually a nurse in her day life, and she has quite a bit of childhood trauma with her father cheating on her mother that's influenced the way she views men as an adult. She keeps her darker side under wraps, though, and cares for a patient named Hiroyuki Ando at the hospital. Hiroyuki has fallen madly in love with her, but he has no idea what kind of person she really is.
Of course, this strong-willed dominatrix gets a lesson in learning to love being humiliated and turned into a submissive slave for Hiroyuki and a group of other men as she's forced to submit and become a sex slave in the middle of an abandoned park on the playground swings. She undergoes a hardcore gangbang as she cries out in pain and learns to love the feeling of a massive cock inside of her, all the while begging to be fucked harder and harder.
She even learns to enjoy being whipped much like her clients and begging for more pain. By the end, the roles will have completely reversed – and she's a changed woman with her masochistic side (her true self) finally exposed.
---
3. Kutsujoku

Episodes: 2
Aired: November 1, 2019 to December 6, 2019
After a young man named Takazaki ends up finding his way into an elite academy, he isn't treated well by the students who already go there. At a loss for a way to force others to treat him with some respect, he reveals that he has a special "human body manipulation" power that lets him control others' bodies, including classmate Kurasawa Ayawa and his own sister Takazaki Aika.
The OVA opens up with Ayawa being forced to hump a desk until she's finally ready to climax, and she fights it the whole way because her body simply won't obey, thanks to Takazaki. He's even more vile to his sister, as he forces her to lift her skirt and force a vibrator in and out of her pussy as he stands on, looking. Eventually, he even involves the school's mature Japanese professor. Initially, as is usually the case, his victims resist, but soon end up finding themselves coming to grips with their masochistic desires.
It jumps straight into the sex, and it only gets more hardcore as the two episodes wear on, with Takazaki eventually training a trio of women (his sister, classmate, and teacher) to be his trio of sex slaves. Eventually, as is usually the case, they find their minds broken and their truest desires exposed.
---
2. Minerva no Kenshi (Fencer of Minerva)

Episodes: 5
Aired: December 17, 1994 to December 18, 1996
Princess Diana is the leader of the Kingdom of Doria. She's about to be part of an arranged marriage with Prince Dunan of Gupta, but she can't bear to let that happen to her. Instead, she dons a male disguise and leaves Doria. Unfortunately, she's soon captured by bandits with one goal in mind: forcing her into sexual slavery. Thankfully, she's soon met with her childhood friend Prince Sho, who ends up saving her. However, she ends up submitting anyway – to Sho himself.
Though she initially fights it, she becomes ready and willing to serve Sho, realizing that at heart she's submissive and even a bit masochistic, turning into a savior for slaves everywhere. Her turning point comes when she begs Sho, now calling him Master, to "use her body" as he pleases. It's a relatively vanilla sex scene in terms of other hentai series, The masochism demonstrated here is seen more so in the form of Diana being humiliated and stripped of her pride until she's ready and willing to comply and do what she's told, but ends up loving it instead.
It's hardly a conventional love story, but as Sho molests Diana without warning whenever he wishes and Diana is expected to kiss and fondle the other female slaves, it's clear she has also fallen in love with her new role in life, no matter where it takes her.
---
1. Inbaku Gakuen (School of Bondage)

Episodes: 3
Aired: June 25, 2002 to May 27, 2003
There's a reason this OVA is also known as "School of Masochists." Keisuke Shimizu has a somewhat turbulent home life. As part of his method of coping with his home treatment, he becomes a chauvinist and delinquent who sees women as means to an end and warm bodies to have sex with. Fellow student Orie Yuki believes she can change his beliefs, and as such offers to become his sex slave for three months in a bid to show him the power of true love. Of course, Keisuke actually set up a camera to capture it all, too, but Orie didn't know that in the beginning.
As a result, Keisuke is brutal and inconsiderate, forcing his new slave (who's a virgin) into sex whenever he pleases, making her first time a humiliating spectacle. These indecencies don't take place in private, either. There's uncensored oral sex with graphic licking and illustrations of each act, and that's just in the first episode. It isn't like Orie hates it, either, as her pussy gets wet despite the voyeuristic situations.
She eventually starts learning to play with herself as Keisuke forces her to do so, later on being involved in orgies in the middle of school. It's clear she's a masochist and therefore born for this role, as she continues to prove through being so receptive to Keisuke's treatment.
---
Final Thoughts
The masochist hentai genre is certainly an acquired taste, but if you're into seeing characters being broken down and treated like ravenous playthings, you should have an absolute blast with them. These ten shows are raunchy enough to rile up any sadist, no matter your preferences. What masochist hentai titles are some of your favorites? Be sure to head over to our comment section to let us know what you think!
by Brittany
---