We're back with another sexually driven list that counts down one of the most common acts in hentai, masturbation. It was only a matter of time before we brought you a list that highlights some of the best masturbation scenes in hentai. You've asked for it, so we're here to bring it to you. It wasn't an easy task, but someone had to do it.
You might ask yourself, "How does one rank a list based on a self-pleasuring activity that is far too common in hentai?" If you happen to be a part of the curious bunch, let us explain. The criteria for our inclusions are as follows, camera angles, amount of fluids, situations, context, length of scenes, and a number of characters that take part in it. Now that we have established that, it's time to get to our list!
10. Saimin Class

Episodes: 2
Air Date: Dec. 2016 – Feb. 2017
Saimin Class is about a student who uses a magical lighter to take advantage of students and teachers at his school. The ultimate goal for this sinister individual is to have as much sex as possible between all the females in his class. No one seems to be off-limits and he certainly doesn't take his time getting down to business. In addition to his sexually-fueled disposition, he intends on getting all of his victims pregnant. How he's able to get away with this heinous act is simple, he's able to utilize this special lighter that induces hypnosis on these girls.
Our introductory anime, Saimin Class is top heavy when it comes to masturbation scenes. By that, we mean that most of the masturbation sequences happen during the first half of this two episode series. Saimin Class is one of the newest series on this list and it doesn't disappoint, giving us a real treat almost immediately into the first episode. It features not just one person masturbating, but an entire classroom plunging away at themselves with eager eyes. It's a sexy scene showcasing both males and females getting in on the action, with the use of a recorder (instrument) as a focus of stimulation.
---
9. Shoujo Ramune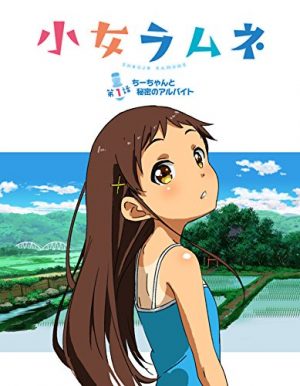 Episodes: 2 (as of Aug. 2017)
Air Date: Oct. 2016 – ?
Next on the list brings us the loli hentai, Shoujo Ramune. Kiyoshi had a dream to run his very own candy store. After quitting his job, he was able to accomplish that dream by creating his very own candy shop in the outskirts of Toyko. During the summer months, a girl named Chie, came to his store and was caught stealing some candies. From there, she offered to help work part-time in order to resolve the situation. Kiyoshi accepted her proposal and things drastically changed from there.
Shoujo Ramune is our only loli hentai on this countdown and it most certainly couldn't go unrecognized. Shoujo Ramune delivers a rather unique masturbation scene. In the first episode, after the girls received their candy, the blue-eyed Komako seemed to enjoy her lollipop more than the average person. So much so, she shuts herself in the bathroom and proceeds to stimulate herself with not only her hand, but the lollipop. This heated sequence is noteworthy because not many hentai feature that type of situation, with that kind of quality.
---
8. Anata wa Watashi no Mono

Episodes: 2
Air Date: Apr. 2017 – Aug. 2017
Anata wa Watashi no Mono features a female named Chitose who seems to be an everyday student, but little do her peers know, she has a much darker side to her. After being turned down by Minato, Chitose steals his cellphone and threatens Minato over some sensitive pictures she found on his phone. Chitose utilizes the pictures and blackmails Minato into doing everything that she demands. Chitose looks to tame Minato while he experiences complete and utter humiliation.
Anata wa Watashi no Mono is the first hentai on this countdown to get its start in 2017. It just wrapped up in August of this year and it couldn't be overlooked. Anata wa Watashi no Mono features one of the best masturbation scenes of 2017. What makes episode ones sequence so memorable is really for two reasons. The first one being that it focuses on female domination, where Chitose humiliates Minato by forcing him to masturbate in front of her. The second reason is because both of them share a lengthy self-stimulation scene where they both get off from their own performances, sitting directly across from each other.
---
7. Dorei Usagi to Anthony The Animation

Episodes: 1
Air Date: Nov. 2013
Dorei Usagi to Anthony The Animation is based on the erotic manga by Akatsuki Myuuto. It was just another repetitive school day for Hiroto Maejima, as he waited patiently for the day to end. His whole perspective changed however when a transfer student arrived by the name of Charlotte Hatsune. She has the ability to read people's minds and she's willing to fulfill all of Hirto's salacious desires. With the help of these magical glasses, "Oppogla" Hiroto is able to see everyone naked while wearing them and thus making his prurient dreams come true.
One of the more interesting aspects to us about Dorei Usagi to Anthony The Animation is that it's able to captivate us with only one episode. These three minutes of steamy bliss is shown towards the second half of the episode, where Miho finds herself overly aroused in the school infirmary. It starts with gentle rubbing over her panties and then escalates to humping the corner of the bed. While this is the only masturbation scene in this hentai, it more than makes up for it with its extended erotic finger play.
---
6. Saimin Jutsu Zero

Episodes: 2
Air Date: May 2013 – Sep. 2013
Saimin Jutsu Zero is about a maniacal doctor named Shinta Murakoshi that exploits his female patients for his sexual amusement. In order to manipulate these students, he utilizes a form of hypnotism that allows him to take advantage of any given situation. Shinta devises a twisted plan to make every one of these female students his sex slaves and he's willing to put them through perverse sex games to achieve that. His ultimate goal is to have the twin sisters, Manami and Saiyuri Kirishima under his complete control.
One of the reasons why we felt that Saimin Jutsu Zero should be our number six pick is because it featured not only more than one masturbation scene, but also exhibited some highly erotic situations within those scenes. Yumiko became the host for one of Murakoshi's salacious games and with that, she came on stage and just let loose in front of a handful of her peers with zero regret. Not long after, Manami followed suit with a pleasure induced session that co-starred a dildo. That of course all happened in front of her sister, Saiyuri, who was trying to save Manami from the evil clutches of Murakoshi.
---
5. Tamashii: Insert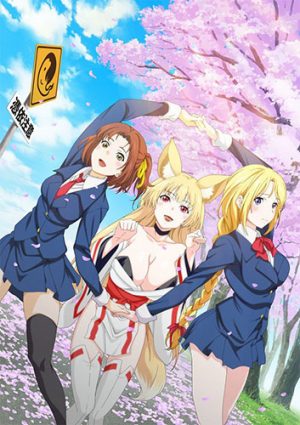 Episodes: 1 (as of Aug. 2017)
Air Date: Jul. 2017 – ?
Everything hasn't gone as smoothly for Naoto Takahashi since his father decided to get remarried six months ago. Naoto is trying to make it an easy transition with his new stepmother, Sachiko and little sister, Yui. One night while he's home alone he finds a peculiar app on his cellphone that claims to allow him to "understand everything about your girl of choice!" Despite Naoto's skepticism, he decides to give it a try once his sister, Yui comes home. His results were not what he expected.
Our next selection, Tamashii: Insert just so happens to be the newest series to grace this list. Since this series is so fresh in our minds, it really became the nucleus of this countdown. Tamashii: Insert features arguably one of the best masturbation scenes in all of hentai. It has numerous positives going for it, including the situation of someone else being in Yui's body experiencing her pleasures. Secondly an enduring sequence of self-pleasuring. Lastly, to top it off, a large mirror is utilized to offer some stimulating camera angles that wouldn't be made possible if it wasn't for the mirror in the room.
---
4. Hump Bang

Episodes: 2
Aired: Aug. 2012 – Dec. 2012
Hump Bang showcases what happens when two neighbors become closer than ever before. Kouji and Hiro have known each other ever since Hiro moved next to him two years ago. After hearing noises from Hiro during his moonlight masturbation, Kouji got excited about the prospect of having sex with Hiro. Kouji declares that it's inefficient for both to masturbate at the same time and proposes that they should experience sex together. From there, the two explore their sexual lives together with Kouji as the dominant master and Hiro as the submissive slave.
When it comes to Hump Bang there are two masturbation scenes that really stand out to us. The first one happens at the start of episode two where Hiro and Kouji present themselves to each other through their windows, which happen to be no more than six feet apart. That scene is thrilling given the context and the setting, which has both of them masturbating in front of each other. The second scene takes place towards the end where a friend of Hiro's decides to have intercourse with Kouji. Hiro maximizes her time by playing with herself vigorously while witnessing her 'boyfriend' and best friend getting it on.
---
3. Chijoku no Seifuku

Episodes: 2
Air Date: May 2016 – Jun. 2016
Chijoku no Seifuku is based on the game by Bishop. It tells a story about an electrician named Yoshimoto. He takes great pride in his work. While he does do an exceptional job, he has a darker side to him that he later reveals to his customers. Unknowingly to his customers, he installs cameras in their rooms or electronics to gain some sort of sadistic pleasure. In addition to visual pleasure, he also uses footage from these customers in order to blackmail them with the intention of turning them into sex slaves.
Chijoku no Seifuku features some of the most stimulating masturbation scenes in hentai. For starters, there are numerous girls in a variety of situations throughout this two episode series. Chijoku no Seifuku comes complete with provocative positions, sexy females, arousing circumstances, a surplus of fluids and sex toys. Another appealing aspect of this series is that a couple of the masturbation scenes happen at different workplaces, exciting not only to the girls taking part, but us, as the viewer's experiencing such a risky position.
---
2. Hatsu Inu 2 The Animation: Strange Kind of Woman – Again

Episodes: 2
Aired: Sep. 2008 – Dec. 2008
The story Hatsu Inu 2 The Animation: Strange Kind of Woman – Again features the familiar faces from the first installment, Fujino, Fukaya, Mita and the nurse. Fujino and Fukaya travel to the sex shop to buy a new vibrator for Fujino, because Fukaya accidently breaks her old one. While there, the two experience a lustful encounter that leaves Fukaya wondering why Fujino hasn't been herself lately. Her reaction to their lovemaking was subpar and he insisted that Fujino become more vocal during intercourse. With the assistance of Mita and the nurse, Fukaya and Fujino hope to get their sex life back on track.
We'd be hard-pressed to find a more appropriate hentai series to include on this list. Hatsu Inu 2 is literally the heart of this countdown. When it comes to the central theme of a hentai that involves a dildo, you can bet you're going to get several fantastic masturbation sequences, and Hatsu Inu 2 does deliver the goods. From humping the corner of a desk, to a variety of scenes with dildos, to Fujino and Mita not only giving each other a show, but throwing Fukaya in the mix, Hatsu Inu 2 more than qualifies as a sexually pleasing masturbation hentai worthy of this spot.
---
1. Mankitsu Happening

Episodes: 4
Air Date: Mar. 2015 – Aug. 2015
After several unsuccessful jobs, Keiichi finally lands a job working under his best friend Rei, who serves as the manager of a manga café. In addition to that, Keiichi also found out that his cute childhood friend Kururu, happens to be a regular customer there. The problem Keiichi is now faced with is the likelihood that he will not be able to restrain himself from the pleasures of being around those lovely females.
Both our number one and two spots could have easily been swapped, but the reason we went with Mankitsu Happening as our number one selection is simply because of the attention to detail and overall quality, in terms of art and animation. Mankitsu Happening also features numerous masturbation scenes with several girls, multiple sex toys, loads of fluids and group scenes that showcase just how stimulated these girls are. Simply put, Mankitsu Happening is one of the best hentai of all-time and it's tough to argue against these masturbation scenes, especially when you have these visually stunning females to look at.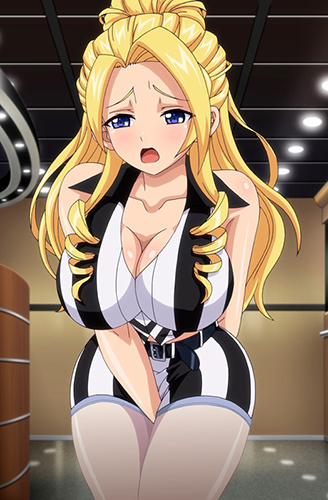 ---
Final Thoughts
As the conclusion of this article draws near, it was great to reflect on some of the best masturbation hentai out there. It wasn't the easiest to only rank ten series, when a plethora of hentai features masturbation scenes. Make no mistake; we feel we covered some of the best out there.
With that being said, there's a high probability that we left off some hentai that feature excellent masturbation sequences. In fact, we know there's going to be some, since a top ten can't do it justice. Regardless, we would love to hear what everyone thought about this countdown. Did your favorite crack the list? What did we miss? Be sure to let us know!
---