También puedes leer este artículo en:Español
There are lots of fetishes out there ranging from orgies to tentacles and hentai is more than happy to provide you with the stuff you need. We've covered NTR, Tentacle, and really hardcore stuff, so let's go with something that tickles that incestuous motherly love in you or that desire to bang the very hot momma next door.
This time we're listing one of the best MILF hentai anime around. What is MILF, you say? MILF stands for "Mothers I'd Like to F#@k." The definition of the term varies, so we're going to focus on hot wives who are mothers or mature older women with a large pair of breasts generally found in hentai. We'll explain that bit at the end of this list.
So with all that said, let's dive right in!
10. Helter Skelter: Hakudaku no Mura

Episodes: 4
Aired: January 2009-January 2014
The Kagami family is well-known in the entertainment business for their talent in modeling and fashion designing. Sayoko, the mother of 3 beautiful girls Miu, Fubuki, and Haruka, were given a rare opportunity to work together for a TV production. The girls travel to an isolated village to start filming. Little do they know, the village has a dark secret ritual and they've become unwilling participants. Will they all survive as a family or will they break apart and submit to the lust of the village people?
As we pointed out time and time again, you don't really watch porn for the story and Helter Skelter is no exception. It's a typical gang-bang hentai anime where the girls are raped repeatedly by the village people. On the good side, though, the ladies, especially the mother Sayoko, are very attractive.
---
9. Mesu Saga: Persona

Episodes: 1
Aired: July 2013
Yumi is the best wife you could ask for with her gentle and kind personality, and a hot body to boot. However, Yumi is keeping a dark secret away from her husband, a secret that, if her husband finds out, will ruin this perfect life as newlyweds.
Beautiful, gentle, kind, and also a good friend, Yumi has gotten herself into a huge debt and in order to pay for the amount, she is forced to work as a porn star in a series of adult videos. And to put the cherry on top of all that, Yumi was notorious back in high school as one very horny strumpet. It's a mystery why her hubby didn't know this secret… or maybe perhaps...
---
8. Ai Shimai: Futari no Kajitsu (Immoral Sisters)

Episodes: 3
Aired: April 2001-September 2001
Kitazawa Yukie is your average housewife who got into a traffic accident with a wealthy spoiled kid named Nogawa Taketo. During a discussion on how to settle the damages, Yukie unwittingly signed an agreement with Taketo to pay the fees with her body. After that, a series of events unfold involving Yukie, her two daughters Rumi and Tomoko, and Taketo's plot to get back at his father.
The Kitazawa family is probably the most unfortunate family around because not only do the daughters get molested by a perverted old man, the mother is at the mercy of the perverted old man's son. You can't really blame the son Taketo because Yukie is one hot momma and she's actually quite formidable in bed with her experience as a wife once she gets the upper hand. Sadly for Taketo, he didn't find out until it was too late.
---
7. Netoraserare

Episodes: 2
Aired: July 2015-September 2015
Shuu and Haruka are the perfect couple and have been married for two years. When they decided to raise a child, a problem occurred: Shuu can't get aroused no matter what. Soon after Shuu realized his problem was not impotence, but rather he can only get aroused if his wife cheats with another man.
Now here's something oddly unique and strangely a funny hentai. Yep, you read the synopsis right: The husband can't get his power tool running because he can only be aroused if his wife is cheating on him. Now, this is one of the few instances of NTR being funny and not about the guy losing his wife to a different man like other NTR anime. The story is very interesting with a good emphasis on Shuu's odd fetish and character development. This sort of story is rare in hentai these days.
---
6. Kyonyuu Hitozuma Onna Kyoushi Saimin

Episodes: Currently Airing
Aired: January 2016- Ongoing
Morishita Wataru is our faceless hero and he happens to have a hypnosis app on his phone. With the power of hypnosis, our hero targets beautiful and extremely busty teachers.
You gotta hand it to the guy, his taste in older women is impressive and prefers the types whose breasts are bigger than their heads. This is your typical hypnosis hentai anime where the guy abuses the hypnotizing phone app and targets all the busty teachers in his school. It's funny to see our hero hypnotizing everyone in the school, but ended up having sex with the teachers. This guy knows what his priorities are.
---
5. Mrs. Junkie

Episodes: 2
Aired: February 2005-January 2007
Sagara Kyouka and Aoki Hinako are two housewives whose husbands can't satisfy their sexual desires, so they turned to the young apartment superintendent, Hayami Kouta, for his services.
Women, especially older women in the 30s to 40s, require a special kind of attention and if you're the kind of husband who can't satisfy your wife, don't be surprised she'll commit adultery by finding someone who is younger and full of energy, and fortunately for Kyouka and Hinako, the young Kouta has all the right tools for the job.
---
4. Soredemo Tsuma wo Aishiteru

Episodes: 3
Aired: October 2011-September 2013
A blackmail anime where a married woman, Honda Nanami, was threatened by the perverted landlord of leaking perverted images of her to her husband. In exchange for keeping the pictures under lock and key, she is forced to be the landlord's sex slave.
Being the landlord of an apartment complex has many benefits like knowing the place like the back of your hand, can freely install hidden cameras to spy on your beautiful tenants, and blackmail them with photos of their intimate parts or photos of them doing their business in the bathroom. Nanami, the landlord's latest target, is your typical beautiful mature-looking lady with all the right sizes, and she's also the type to easily fall for threats. Blackmail is somehow very effective in the world of hentai.
---
3. Amanee!: Tomodachinchi de Konna Koto ni Naru Nante!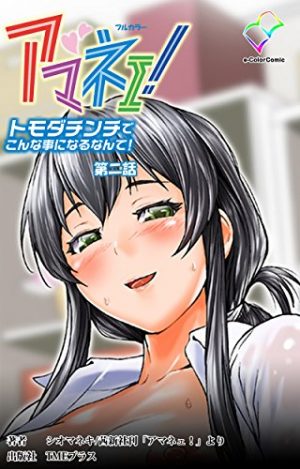 Episodes: 1
Aired: December 2013
The story of neglecting husbands continue, but Amanee! takes it in a more light-hearted, drama-free approach. Well, the actual story is simply about a young guy named Ryouichi, hanging out at his friend's house to play some video games only to find the friend's aunt, Yui, has taken an extreme liking to him, and ended up playing something else other than games.
Short, funny, and sexy, Ryouichi ended up having sex with the older Yui, and the fun part is Yui teaches our virgin hero the wonderful world of adulthood. After this, it's highly doubtful Ryouichi will come visit just to play video games.
---
2. Enbo (Taboo Charming Mother)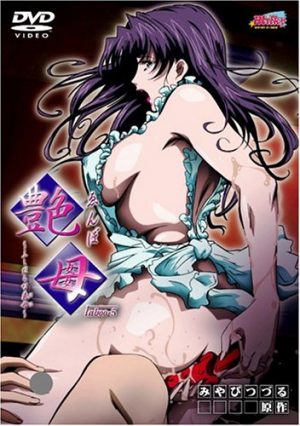 Episodes: 6
Aired: November 2003-November 2005
The beautiful Misako is married to a successful businessman, Amamiya Yosuke, and after a few struggles with her new stepson, Kazuhiko, Misako lives happily in their quaint home in a quiet neighborhood. Unfortunately, the happiness doesn't last long after her husband comes home every night very tired and couldn't tend to her sexual needs. And to make matters worse, a persistent caller has been stalking her every day.
Misako is a very attractive woman with large breasts and a delicious body, and Yosuke somehow didn't see these qualities and ends up neglecting her, especially her sex life. It's very understandable why Yosuke is tired every night, but neglecting your hot and beautiful wife is a sure way of losing her to someone else. Throughout the series, Misako has engaged in forbidden love and gave in to her repressed sexual urges because her husband is dead tired all the time.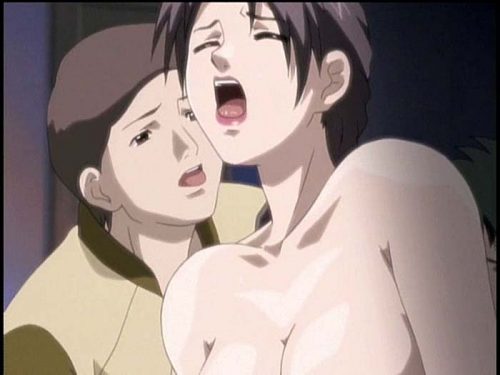 ---
1. Musuko no Tomodachi ni Okasarete (The Cougar Trap)

Episodes: 2
Aired: March 2009-June 2009
In a seemingly normal life, Youko, her successful husband, and her son, Kazushi, all live happily together as a normal family. However, Youko's husband is so busy with his career and is tired every night, she doesn't have sex for a long time. All that seems to change when her son's classmate and neighbor, Ryouta, saw her masturbating and blackmailed her into having sex with him.
Misleading cover art aside, The Cougar Trap is the closest thing you can get to a true MILF hentai anime featuring actual mothers and horny young boys who are into older women. Youko and Misao are women who haven't had sex in ages so their sexual urges are built up to the point they'll do anything to get sex, even if it means having sex with their sons. It's an incestuous story and mother-swapping galore.
The Cougar Trap is number 1 on our list simply because it's a true representation of what MILF is: Mothers you'd like to f#@k. Plus, it has a good story that covers why our lucky boys ended up having sex with their mothers.
---
Final Thoughts
Now you're wondering: "They're not true MILFs!" That is true, unfortunately, and the term MILF isn't a Japanese invention and there's no real genre of hentai specifically about hot mothers. The closest category that's common in Japan is "Jukujo" or Mature Woman, and it covers a range from hot moms to sexy women post-teen years, usually wives ignored by their hard-working, always-tired husbands. But honestly, who can blame the hubbies who are working hard to keep their family fed and putting a roof over their heads?
Huh, maybe Japan should fix that and make more hentai anime catered specifically to hot moms sometime in the future.
And that's our list! What do you think of MILF anime and the idea of getting involved in an affair with someone's hot wife? If you have any thoughts, please share them in the comments section below!
---