Today, we're going to take a look at one of the most well-known hentai companies, Milky Animation Label. If you've ever watched a hentai throughout 2001-2007 then chances are you've watched several Milky Animation Label releases. Their iconic logo at the beginning of each of their works was an indicator that you were in for a treat.
Milky Animation Label's work traces back to the 1990s, but they really got their feet on the ground in 2001 with the release of Bible Black. Since then, Milky Animation Label has gone on to create over 100 different series and specials; making them one of the largest producers of hentai. With all that said, it's time to take a look at our ten favorite series from Milky Animation Label.
10. Saimin Jutsu Zero

Episodes: 2
Aired: May 2013 – Sep. 2013
Saimin Jutsu Zero is about a maniacal doctor named Shinta Murakoshi that exploits his female patients for his sexual amusement. In order to manipulate these students, he utilizes a form of hypnotism that allows him to take advantage of any given situation. Shinta devises a twisted plan to make every one of these female students his sex slaves and he's willing to put them through perverse sex games to achieve that. His ultimate goal is to have the twin sisters, Manami and Saiyuri Kirishima under his complete control.
We're going to start this countdown off with the newest hentai produced by Milky Animation Label to crack this list, Saimin Jutsu Zero. To be frank, we selected this as our opener for two reasons. The first reason is that it looks visually exceptional for a hentai. The sizable cast of females in Saimin Jutsu Zero is well proportioned and very attractive. This is easily one of Milky Animation Label's best efforts, visually. The second reason came down to the exhibitionistic masturbation scenes that were brought on by hypnosis.
---
9. Gakuen Saimin Reido

Episodes: 3
Aired: Apr. 2010 – Sep. 2012
Futoshi has never really been able to get along with many of the students in his school. He's been bullied countless times over. His luck is about to change, however, after receiving a parcel from his inventive father. The package Futoshi received consists of a cell phone that on the outside looks like any normal phone, but he soon finds out that's not the case. The letter in the package states that it has the power to hypnotize anyone. Skeptical at first, he successfully tried it out with his neighbor; now Futoshi has revenge on his mind for his bullies.
This marks the second of three series to make our list of hentai that was created by Milky Animation Label in 2010 or later. Gakuen Saimin Reido is a magical device series that thrives on a revenge plot between students. The female bullies are manipulated through hypnosis and are placed in many fantasy driven scenarios. There's a wealth of toys, domination, and swimsuits to be had throughout the series. If you like a revenge plot with many females becoming sex slaves, this is worth checking out.
---
8. Shoujo Sect

Episodes: 3
Aired: Jul. 2008 – Nov. 2008
The story of two girls, Shinobu and Momoko started ten years ago when the two met at a park and shared an innocent kiss. The two separated from each other and would not come face to face until they reunited at an all-girls school. Many things have changed in those ten years, with Shinobu becoming a delinquent and Momoko becoming a member of the disciplinary committee. Despite their many differences, Momoko never forgot about the moment they shared together ten years ago. It's not long before both girls rediscover their feelings for each other.
Next up on our list is a full-on, yuri driven hentai, Shoujo Sect. While numerous inclusions on this list do feature female on female action, many yuri fans will come to appreciate Shoujo Sect for its exclusivity towards female sexuality. This series promotes an intriguing (for a hentai) story that flows smoothly. The drama is there of course, but it's sprinkled amid plenty of h-scenes between countless females. If you're going strictly for the story and passionate sex, this is one of the best from Milky Animation Label.
---
7. Anata dake Konbanwa (Tonight, Only Just For You)

Episodes: 5
Aired: Jul. 2009 – Oct. 2011
After the passing of his grandfather, Shougo is ordered to travel into town to deal with an inheritance that his grandfather left him. Shougo was left with a rich inheritance that included a residence that features a beautiful maid named Youko. After adapting to his new school, Shougo befriends a school idol named Ayane, who informs him that they are arranged to be married. It's not long before all the guys become jealous of Shougo. Things get even more interesting once he receives a warm welcome from a buxom teacher.
Anata dake Konbanwa is another inclusion that features a strong emphasis on storytelling. Fans of harem will likely gravitate and appreciate the overwhelming impulses that Shougo goes through. This harem presents many erotic situations between all the rivals who are determined to get Shougo to commit. In addition to that, Anata dake Konbanwa delivers some supernatural twists to the story to keep you guessing. Anata dake Konbanwa is an arousing ride that won't have you skipping the story and thus allowing you to get the total package.
---
6. Oppai no Ouja 48

Episodes: 2
Aired: Mar. 2010 – Jul. 2010
The story in Oppai no Ouja 48 revolves around a pervy guy named Inatani, who often wonders if he's the king of oppai. One day he receives a letter by mail that includes free sex tickets. The catch is that he will have to figure whose breasts are on the back of the tickets. If Inatani is able to guess correctly, he will get to do whatever he wants with them. With the assistance of a couple girls and a breast scouter, Inatani looks to complete his oppai harem.
Oppai no Ouja 48 is the last series by Milky Animation Label to be made during 2010 or later that made our list. One of the reasons why we love this hentai so much is because of its overall appeal. It's not dark in nature and it doesn't come packed with a lot of drama. It's just fun. Apart from the excellent display of oppai throughout this series, one of the highlights is the comedic elements that usually follow Inatani and his female sidekick. One example is the Dragon Ball Z reference when one of the girls introduces an oppai scouter to Inatani and it reads over 9000.
---
5. Enbo (Taboo Charming Mother)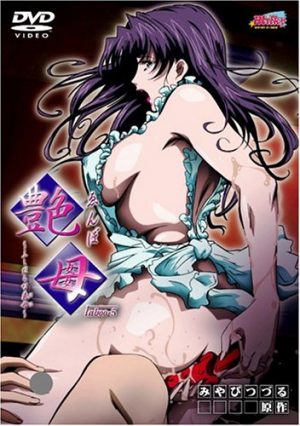 Episodes: 6
Aired: Nov. 2003 – Nov. 2005
Yosuke is a successful businessman who has recently been remarried to a gorgeous wife named Misako. Their son, Kazuhiko, is attended college. Everything seems to be going smoothly for the Amamiya family; unfortunately, not everyone in the family is well off. Despite her appearance, Misako is going through a hard time. Between her husband constantly working, her stepson acting cold towards her, and receiving harassing phone calls from a stalker, Misako's at her breaking point. With everything collapsing around her, Misako is drawn into forbidden love, which brings her much-needed satisfaction.
The midway point of our countdown brings us an older series that still holds up remarkably well today, that of course is, Enbo. This was created back in the day when hentai was more reliant on story-driven narratives and used h-scenes to progress a story. What makes Enbo shine is the characters and how they react to their situations. Misako's masturbation scene is a strong example of situational circumstances. This series features depravity, harassment, and adultery to name a few. It serves up a dish full of forbidden love and it does a remarkable job at it.
---
4. Bible Black

Episodes: 6
Aired: Jul. 2001 – Jun. 2003
A high school student named Minase found a book of magic in one of the isolated parts of the school. The book he found is full of black magic and he decided to use these spells to benefit his sex life. Because of the book he was able to manipulate fellow students in performing extreme sexual acts on him and his friends. As he delved deeper into this evil book he was unaware of the potentially fatal outcome that it brings to the user. After the origin of the book was revealed to him he decided to come to his senses and try and separate the darkness from him before it's too late.
Raise your hand if you've heard of Bible Black before. Regardless of how much hentai you watch, or if any at all, there's a reasonable chance you've at least heard of Bible Black. That speaks volumes about how popular this title is. It's the oldest hentai featured on our countdown and it's still relevant 16 years later. Bible Black presents a dark and bloody story with h-scenes positioned perfectly to advance the development. Character development is one of the primary focuses and there are many females involved. If you haven't seen this piece of hentai history you owe it to yourself to check it out.
---
3. Resort Boin

Episodes: 3
Aired: Dec. 2007 – Apr. 2009
The title of this next selection is pretty straight-forward. Resort Boin is about a student named Daisuke Ichijou who's sent down to a southern island during spring break in order to assist with his grandmother's resort. As you can imagine this resort is chock-full of beautiful girls. What Daisuke was not expecting was to have a handful of girls desire him. Six girls will be in complete competition for Daisuke's attention. Nothing is off limits, even Maya, Daisuke's cousin watches in the distance with a keen eye.
In terms of legacy, Resort Boin cannot exceed Bible Black, but it does surpass Bible Black in mass appeal. That's one of the reasons why we have Resort Boin listed as our number three pick. It has broad appeal to just about any fan of hentai. Resort Boin features something for just about everyone. We're talking about yuri, group scenes, public sex, bikinis, plant monsters, and bondage. Resort Boin comes packed with tremendous eye candy. After watching this series you will come to understand why this is so highly touted.
---
2. Mizugi Kanojo: The Animation

Episodes: 4
Aired: Jan. 2009 – Nov. 2009
Mizugi Kanojo: The Animation's story brings together a pair of lovers Mizuho and Hiro. Since Hiro suggests that Mizuho has put on a little weight, Mizuho decides that she wants to take up swimming to get her body back into perfect form. Hiro even offers to coach her since she can't swim very well. With the help of Hiro, Mizuho quickly finds out that learning how to swim isn't the only excitement she has been receiving from her coach.
As with a lot of our number one and two choices, they really could be interchanged with each other. Mizugi Kanojo: The Animation could easily be our number one choice. This series emphasis on bathing suits is second to none. The tight swimsuits exposing body parts in this series are extremely lewd and perfect for a hentai. In addition to its variety of lush swimsuits, there's also a peculiar time traveling scenario with a kunoichi. That opens up a myriad of pleasuring scenarios and adds another dimension to the story and h-scenes.
---
1. Kanojo x Kanojo x Kanojo: Sanshimai to no DokiDoki Kyoudou Seikatsu (Kanojo x Kanojo x Kanojo)

Episodes: 3
Aired: Dec. 2009 – May 2011
Haruomi is the main character who vacated temporally to stay at his relatives house due to a volcanic eruption that took place near his home. While at his relatives, he gets reacquainted with three cute sisters that he later indulges on. This hentai delivers an average storyline about the Orifushi's family-owned ice cream shop. The eldest sister, Natsumi inherited it when her parents died. This anime showcases the hardship and eventual triumph of the shop. When Haruomi is not having intercourse with his relatives, he helps the family's struggling ice cream shop.
We've made it to our favorite Milky Animation Label produced hentai, Kanojo x Kanojo x Kanojo: Sanshimai to no DokiDoki Kyoudou Seikatsu. This series was released when Milky Animation Label was firing on all cylinders. During that string of great releases, we got Kanojo x Kanojo x Kanojo. This series had to bring numerous traits that Milky Animation Label is known for; solid storytelling, comedy and desirable characters with personality. We feel Kanojo x Kanojo x Kanojo surpassed expectations by giving us a visual treat and a variety of h-scene locations. If you haven't watched this series, make it a plan to do so.
---
Final Thoughts
As we draw to an end of this historic countdown, we feel many nostalgic moments with some of these releases. Milky Animation Label's catalog consists of a plethora of genres and took part in many different settings. It's easy to say that this company had something for every fan of hentai.
The majority of Milky Animation Label's content was released last decade and with that brings many strong connections to certain series. With that said, we would love to hear what series were your favorites. Were there any notable omissions? Was Milky Animation Label's content your introduction to the world of hentai? Be sure to let us know in the comments section below!
---