The "missionary"—the sex position, not the ecclesiastic term—is something of a misnomer. Regardless of its origin story, the popularity of it cannot be disregarded. It has been, for many years, one of the most used stances for intercourse.
It is a romantic position that allows the participants to maintain eye contact, kiss each other, guide each other's hips and easily cuddle once it comes to an end. Additionally, it places most of the power—in heterosexual couples—in the male side of things, been the man who determines the degree of penetration and rhythm.
So, without further ado, please enjoy our list showcasing our favorite missionary hentai anime!
10. Boku to Joi no Shinsatsu Nisshi The Animation

Episodes: 1
Aired: December 2019
In this story, our protagonist is a recently graduated doctor. He has always been in love with his beautiful senpai, so imagine his surprise when said crush ends up being the superior in charge of mentoring him at the hospital! Too bad she is not happy about it... Luckily for him, her teasing due to her frustration ends up unraveling their feelings and showing him his feelings were not exactly one-sided.
It is an enjoyable light, vanilla story sprinkled with a bit of drama at the end. If there are any doubts on your head about how great can missionary be, we are sure the scene where he asks her to make a baby as they proceed to engage in sweet sex can change your mind.
---
9. Kanojo x Kanojo x Kanojo: Sanshimai to no DokiDoki Kyoudou Seikatsu

Episodes: 3
Aired: December 2009 – May 2011
In this hentai, our male lead ends up crashing at the house of his relatives, the Orifushi family. Said family is composed of three beautiful but very different sisters, the eldest Natsumi (with her "ara ara" power well in the three digits), the energetic Akina, and the bratty Mafuyu. The experience of living with those three is bound to change his life forever, with him having constant and spicy sex with the Orifushi trio as frequently as possible.
It has romance, comedy and kinky sex, each of them showcased with detail as he explores and nurtures his relationship with the three adorable sisters who ended up carving a place on his heart. With this powerful combination, you could say they already earned a place on the viewer's list, but its overall greatness is only made greater thanks to the vanilla scenes, where they bare their feelings just before participating into our featured position.
---
8. Chichiiro Toiki

Episodes: 2
Aired: May 2014 – September 2014
Takashi is a lust machine whose pent-up desires lead to him constantly confessing to all girls around him, especially those with big boobs. Chichiiro Toiki starts when Takashi is rejected after confessing to his teacher—who is, by the way, engaged. Then, his childhood friend, Saya, feeling sorry for him and his ever growing list of rejections, allows him to touch her enormous breasts… and, predictably, the situation gets out of hand, with both renouncing control of their actions and exploring each other's bodies.
Things get more complicated when Mika, Takashi's sister who happens to be secretly in love with him, catches them in the act; but that is nothing that a sweet confession of love and some eye-to-eye sex can't fix, right?
---
7. Oide Yo! Mizuryuu Kei Land

Episodes: 2
Aired: August 2017 – September 2017
Have you ever wondered if there could be a theme park that also doubles as a fuckfest adult Disneyland? Well, in hentai, it is not only possible but awesome in its execution. This animation focuses on the interactions between Yuuta and Yuki as they are invited to Mizuryuu Kei Land, a place where fucking is not only permitted but actually encouraged. All visitors are expected to constantly have sex with whomever they encounter, and for that reason, you will see a lot of missionary sex.
With its great coloring and animation, and harnessing the power of both the dark and light side of hentai (there are sweet scenes but also some darker ones, like NTR) this piece could quickly become your favorite!
---
6. Love x Holic: Miwaku no Otome to Hakudaku Kankei The Animation

Episodes: 2
Aired: November 2019 – December 2019
In a world where monster girls are real, despite what some media may say, one could expect the male response to be amazing. In such a situation, Daiichi Amano further proves this fact when he cannot resist falling in love with the oni princess. Sadly for him, he is shot down like a bird hit by a howitzer, but his fortune is about to change when he crashes into a half-vampire girl's lips, who lightly bites him and converts him into a walking power-up machine for demi-humans.
From there, Daiichi is constantly pursued by monster girls who want nothing else than to fuck him and grow stronger with his seed. Because of this, most of the scenes are these girls riding Daiichi's cock or being taken from behind, but for those with a romantic nature, the creators added some scenes of him furiously plunging deep into their feminine hole in missionary position!
---
5. Kiss Hug

Episodes: 2
Aired: December 2019 – February 2020
This anime functions by stringing together a series of short stories about sex. In the first one, Natsumi is a young door-to-door saleswoman offering a product called "Cockzilla D", a sexual booster that comes with the added benefit of having a free sample. Yes, our male lead has the fortune of having a go at what "Cockzilla" can do with our cute saleswoman! What a dream!
After that, we are shown the adorable Chizuru, a sickly girl who was raised together as siblings with Haru, our male lead. We get to witness her efforts as she fights her sickness day to day to practice her home-cooking skills, just to capture Haru's heart. We can't help but love their coming together as a couple, christened by a sweet session of sex.
These are cute, a bit funny, and endearing… but this is just the first part. Can you imagine what awaits us in the second episode, to be released in a few days?!
---
4. Kutsujoku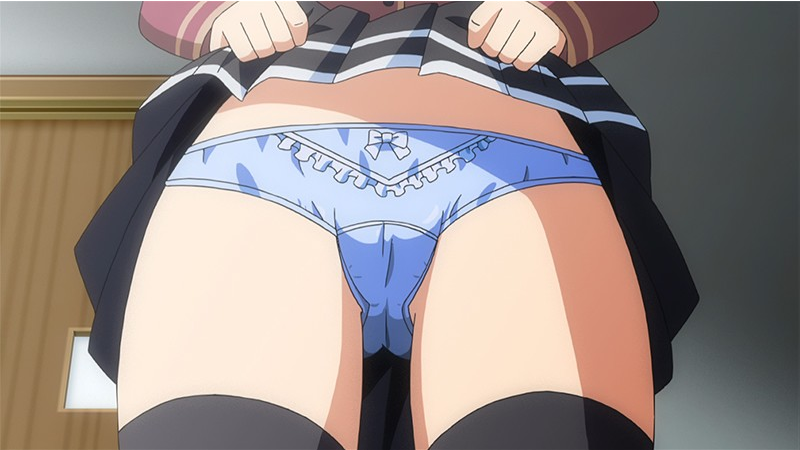 Episodes: 2
Aired: November 2019 – December 2019
The title, which can be translated as "Humiliation," says everything. Our protagonist is a young schoolboy looked down upon and mistreated by his peers, but what they ignore is that he has a special power: the ability to totally control other people's bodies. As you can imagine, if this is a hentai anime, our guy will use these skills to take advantage of his female targets, who are shamed and fucked as they slowly turn addicted to the protagonist's penis.
The art style and animation are top tier! If you are still not convinced about how exciting the missionary can be, just take a look at the scene where the guy fucks into submission the hard-headed twin-tailed blonde...
---
3. Tenioha: Onnanoko datte Honto wa Ecchi da Yo?

Episodes: 2
Aired: November 2013 – Jan 2014
Tenioha; Onnanoko datte Honto wa Ecchi da Yo? is an adaption of the visual novel game with the same name by Rootnuko+H. It is well known that most eroge have several routes where you can choose and fuck/tease your preferred heroines, and depending and your selection, the story changes. In this animated adaptation, we are shown two of those routes.
Let's start with the route of Nanase, a mischievous senpai who tricks our protagonist into creating and expanding a ghost club. The main purpose of the club is basically having a room to just hang around and chill… but we're talking hentai here, so of course there's more than that. As for Nanase, she acts as a man-eater, but is in fact as virgin as the protagonist. Then there's the route of Ami, the ultra popular classmate who has known our protagonist for years and secretly has romantic feelings for him—and when she can't hold it anymore, they proceed to copulate like rabbits.
Both of these have sweet moments of sex in missionary position, showcasing the appeal of it but cranked up to eleven thanks to the great choreography, amazingly-drawn boobs, and audio. It is so magnificent some people state they could beat the rod just by listening to it!
---
2. Joshi Luck!

Episodes: 4+
Aired: July 2020 – Ongoing
Koutarou is the teacher in charge of the girls' lacrosse club at school. One day, one of the girls sets him up, leaving him in an easily misunderstandable situation when he is found by the club members in the changing room. As a punishment, they apprehend him and tie him up, subjecting him to sexual ministrations that show the sex-beasts these girls actually are.
This hentai anime combinees gorgeous animation and a satisfying plot progression. There are dozens of other works showing lustful teachers blackmailing poor female students… but for every ten of them, there is only one or two showing the opposite—and what a shame it is, because Joshi Luck! leaves us wanting for more interaction between this teacher and his perverted students, who desire nothing but to be fucked silly by him.
---
1. Gaki ni Modotte Yarinaoshi!!! (Turning Back Into a Kid and Starting Over!!

Episodes: 2
Aired: January 2019 – September 2019
At least once in our life, all humans feel such great regret that makes us wish to go back in time and re-do something to avoid a specific pitfall. In the case of our protagonist, he has been bullied by girls since his early childhood, making him go gynophobic.
Fortunately, his story takes a turn for the better when he realizes all his old schoolmates are leading happy and fulfilling lives, making him desire to go back in time. Somehow, a cosmic force was listening and his wish was granted, putting our guy back where the bullying started, now determined to change his future and screwing—literally—the ones who dared to abuse him. This dark revenge anime will steal your eyes and thoughts, with the protagonist fucking his targets in many ways… but of course, in missionary position too!
---
Final Thoughts
Given that missionary is generally seen as a romantic position, hentai anime portraying it are not really abundant, and most of them are sweet love-making sessions. Unless you specifically hate vanilla sex, missionary hentai scenes are a nice change of pace, making it all even more sensual and lovable.
Do you think missionary sex is exciting, or boring? Don't be a stranger and share your thoughts in our comment section!
by Gabriel D.
---