We here at Honey's Anime know that we need to cover a wide variety of genres and fetishes in the world of hentai. What makes things interesting for us, is that not everybody is going to like the same thing. If you happen to only like vanilla hentai, then this list isn't for you. We're here to bring you some of the most impressive series to heavily feature non-human genitalia, complete with impure sexual encounters.
If you're a fan of this genre, it should come as no surprise to you that a whopping 50% of this list is comprised of hentai produced by Pixy. Heck, we could've made a top 10 monster cock hentai just on Pixy anime alone. Now that you have an idea of what series could land on this list, it's time for us to deliver the goods.
10. Elf Hime Nina

Episodes: 3
Air Date: Oct. 2010 – May 2012
The story of Elf Hime Nina showcases a rivalry between brothers and an elven princess named Nina. After Kyle and six others disposed of the evil overlord, he was thought to have inherited the throne of the kingdom. That wasn't the case, however. Kyle's younger brother Syll was afforded that privilege, but it didn't last long as Kyle stole the throne in a devious plot that seen Syll almost murdered in the process. Ever the opportunist, Kyle, sets his sights on Nina, who happens to be in love with Syll.
The start of this list is an excellent introduction to the genre where monster cocks are a reality. While not particularly heavy with monster cocks, there's enough in Elf Hime Nina to warrant this number ten spot. This series showcases several h-scenes that cover variously sized monsters throughout its three episode run. These scenes include Nina, being overwhelmed by numerous small goblins and that titillating scene where the dark elf sorcerer Miria, is punished for her betrayal of Kyle and thus is impregnated by an orc.
---
9. Demonion: Gaiden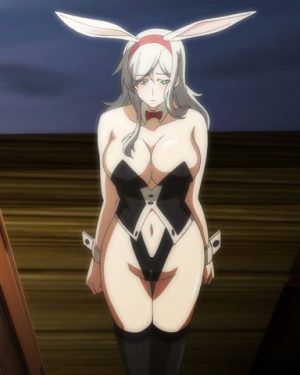 Episodes: 2
Air Date: Nov. 2014 – Mar. 2015
Two hundred years ago, the world was plagued by a war which was brought out by the womanizing demon known as, Astaroth. He raped and pillaged numerous human kingdoms. Fortunately, a group of heroes were able to subdue him and seal him away. Fast-forward to present day and Astaroth has returned from his slumber thanks to a shift in the earth's crust. With the prospect of the earth's destruction hanging in the balance, various adventurers descend to Astaroth's underground lair to put an end to him once and for all.
What we loved most about Demonion: Gaiden is that the monster cock remained consistent throughout the entirety of the two episode series. The demon Astaroth was the sole instigator of sex and didn't require assistance from any other form of monsters to get what he wanted. He was able to manipulate a bunch of females and break their wills into having them coordinate and group up with his sexual urges. What made this series interesting is that there were enough females thrown our way that it didn't matter if it was just Astaroth having all the fun.
---
8. Gitai Saimin

Episodes: 2
Air Date: Jan. 2011 – Apr. 2011
Shinta Nurakoshi is what many would call a pervert. He often spends his time, ogling over his fellow classmates in an attempt to someday solicit a sexual encounter with them. After continually being shot down, his fortune turned for the better, after a tentacle-shaped alien parasitizes in his genitals. At first, Shinta had some reservations about the whole situation, but after the alien reassured him that he could use its mimicking powers, Shinta decided to exploit his new-found inheritance to satisfy his sexual desires.
What compelled us to put Gitai Saimin in our number eight spot was the overall uniqueness of the series. Instead of some monster or demon roughing up females, this is just your average male student, well until his encounter with aliens. The aliens afford him the opportunity to use his now alien genitals to impregnate as many females as he can. The best part of it is that he can change his appearance to fit any of his partner's desires. This allows the girls to feel like they're getting what they want, while Shinta gets what he wants.
---
7. JK to Orc Heidan: Aku Buta Oni ni Ryougyaku Sareta Seijo Gakuen

Episodes: 2
Air Date: Jul. 2013 – Feb. 2014
Deep in the secluded forest lies a vintage building made of brick that houses fortunate females that come to this all-girls school from various regions. Everything seemed to be going smoothly for the students until one day a thick patch of fog mysteriously moved in from an earthquake and surrounded the school. From that fog, large orc brutes emerged and started to assault the school and everyone inside. Resistance is futile for these unprepared girls as the orcs look to force the issue and take whatever they want.
This is a little out of the ordinary for a typical PoRO release, but we feel it's much deserved to be on this countdown. If you're a fan of large orcs (pigs), and we're talking large orcs, stuffing females and giving them everything they can handle, this series is for you. While maybe not being the most violent hentai on this list, it certainly does cater towards the rape genre. What sets this apart from most of the other series on this list is that all characters consist of being either human females or male orcs.
---
6. Princess Knight☆Catue

Episodes: 3
Air Date: Jun. 2010 – Nov. 2011
The story of Princess Knight☆Catue shares a deceitful story about the Monster Battalion waging war on the surface dwellers, known as humans. The savage general Ginyol, leader of the demon army took it upon himself to devise a master plan in order to manipulate the lifeblood of the Dragundaala clan. Ginyol besieged the Dragundaala kingdom and captured the king and queen who happen to be the father and mother of Catue. In order for the dragon knight Catue to get her parents back and save her country, she's going to have to endure seven days of sexual slavery from Ginyol.
What makes Princess Knight☆Catue and an interesting pick for us is that it's not your traditional monster cock hentai. The protagonists in this series, both male and female are of dragon lineage, so while they may look like humans, they are capable of transforming into large dragons. Therefore Princess Catue is subject not only to large pig beasts, demons, lions, lizards, and minotaurs, but also a dragon due to Ginyol abusing her fiancé. Catue is forced to mingle with the largest cast of monsters of any hentai on this series. The variety of monsters in this anime is significant.
---
5. Ikusa Otome Suvia

Episodes: 4
Air Date: Dec. 2007 – Aug. 2009
It's the midway point and things are starting to heat up. Ikusa Otome Suvia is about how the Valkyries failed to save the Norse god, Odin and he's now being held captive in the land of the dead by the trickster, Loki. In order for his sinister dreams to come true, Loki must find two keys that are well protected in the presence of two powerful Valkyrie's, Sigurd and Suvia. With some of the Valkyries fallen and becoming sex slaves for these demonic beings, it's only a matter of time before Sigurd and Suvia fall victim to Loki's insatiable desires.
One of the reasons why we selected Ikusa Otome Suvia to be in the middle of the pack was because it featured a myriad of monsters taking care of business. In addition to that, it told a somewhat compelling story, at least for a hentai. Throughout the majority of this four part series, we had Suvia and Sigurd, pushed to their absolute limits by Loki. He administered a trial of sin in order to break these girls and that's exactly what he did. If it wasn't Loki himself doing the dirty work, there was enough monster action to keep people invested.
---
4. Soukou Kijo Iris

Episodes: 4
Air Date: Nov. 2007 – Sep. 2009
Sent on a mission by the Galactic Federation Senate, the special task force known as the SSF was sent on a mission to purge any evil that was in the galaxy. The SSF's job is to maintain order and peace in the galaxy. During their mission, the female mecha knight team was left stranded behind enemy lines, leaving Iris and Meirin in an unsavory predicament. After getting captured, Iris was sold at a slave market where she now finds herself forced to become a tool of lust and desire.
Soukou Kijo Iris is an interesting series for numerous reasons. The first reason is that the main character Iris draws some parallels to Samus Aran from the Metroid series. The second reason is due to the fact that Iris is sold on the slave market and is forced into having sexual relations with the countless monster and alien-like races. That's what makes this a superb pick from our standpoint. She has to endure many hardships from loads of concupiscent non-human individuals. Soukou Kijo Iris features some of the most bizarre h-scenes on this list.
---
3. Taimanin Asagi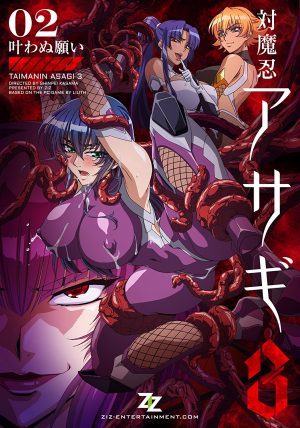 Episodes: 4
Air Date: Feb. 2007 – Aug. 2008
In a world where demons and humans co-exist, there's a sacred bond between the two races to never harm each other. In the dangerous city streets of Tokyo, that bond was shattered and numerous humans and demons bent on destruction, teamed up and formed wicked organizations. In the wake of this injustice, a duo of kunoichi will try and defend the city from its enemies. Unfortunately for the kunoichi Asagi, her rival Oboro, who she thought she dealt with, is back and seeking revenge. Oboro will not stop until Asagi and her partner Sakura are mentally and physically broken down.
Our next pick comes in at number three and just so happens to be the oldest hentai on this countdown. Taimanin Asagi has spawned several sequels, equally sharing similar content but we felt that the first series strongly demonstrated what we were looking for. Taimanin Asagi is a dark and often violent hentai that really drives home the notion that Asagi and Sakura are in for a world of punishment. Right from the first episode, Asagi is gangbanged voraciously by numerous demons, while her love interest gets raped by Oboro. These demons are relentless and have no problem filling up Asagi and Sakura to the brim.
---
2. Makai Kishi Ingrid

Episodes: 4
Air Date: Jun. 2009 – Aug. 2010
Tokyo, the now diabolic city is the host of a dark existence that's sweeping and changing the very landscape. Hell Knight Ingrid is tasked with taking care of a treacherous doctor named Sabato Kiryuu. Determined as ever to settle the score, Ingrid runs into Sabato in a church where she gets caught off-guard and gets captured by the diabolic doctor. Now with the authority to do whatever he wants with Ingrid, he encourages monsters to defile and disgrace her body all in a sinister plan to keep Edwin Black from saving her.
We feel that Makai Kishi Ingrid is one of Pixy's best releases to date. It's dark and foreboding, it sets the tone early for what's to come for the unfortunate Ingrid. Teamed up with "Anti-Demon Ninja Murasaki" Ingrid looks to put an end to the devious Sabato Kiryuu. Things don't go smoothly however and these girls are pushed to their limits. They receive humiliation of the highest degree; they're literally used as pets and are forced to please any and every demon that comes in their way. There isn't much these girls aren't subject to.
---
1. Kuroinu: Kedakaki Seijo wa Hakudaku ni Somaru

Episodes: 4
Air Date: Jan. 2012 – Jan. 2014
For over a century the humans and dark elves have fought for supremacy over the lands of Eostia. The dark elves rule over a race of monsters that has raided human lands for generations, capturing and defiling their women. A group of mercenaries, led by the ruthless General Volt partner up with the fierce orcs and they declare war against both the humans and dark elves alike. The only remaining hope for the rest of the kingdom is a fellowship of seven princess knights to purge the evil throughout the land.
Kuroinu: Kedakaki Seijo wa Hakudaku ni Somaru took the top prize on this countdown for a variety of reasons, none more obvious than its exceptional monster h-scenes. This series has everything going for it, a story, sexy females, erotic situations and above else on this list, tons of monster genitalia. This hentai was able to blend together a complimentary list of genres that featured loli, an abundance of fluids, and even birthing creatures. There was no shortage of monsters or females, and the best part is, you don't have to like this genre to enjoy it since it does cover some human x human scenes.
---
Final Thought
As we draw near to the end of this delightful countdown, we hope that we were able to help you discover some new hentai. Monster cock anime isn't for everyone, but for the people who like that kind of content, we are certain that they won't be left disappointed with this list.
Now it's that time of the article where we would like to hear from you. Is there any hentai on this list that stood out to you? Did we leave off your favorite monster cock hentai? Be sure to let us know in the comments section below.
---