You, me, us, and everyone are enjoying the shows that came out this season and some of them are Halloween-themed like Zombieland Saga and Goblin Slayer. Yeah, not a lot of us expected the monster rape scenes (albeit extremely censored) in Goblin Slayer because the anime was incorrectly rated. Now that those poor girls are traumatized and will probably never lead a happy life, you got yourself wondering: "Are there any more of this kind of anime?!" The quickest answer is Berserk, but if you want to, um, go, uh… "in depth", there's a category in hentai that features monster rape and it's, well, aptly called monster hentai!
So what are the things to consider when picking monster hentai to watch this Halloween? Besides the obvious part, does the hentai have monsters in it? For this list, we're going to feature monster hentai that has the following: extreme monster rape, some blood and gore, and a depressing story to reflect that grim mood for Spooktober. So with that in mind, here are the Top 10 Monster Hentai Anime for Halloween!
10. Shoujo Senki Brain Jacker

Episodes: 2
Aired: March 2011 - September 2012
A powerful warrior girl only known as Brain Jacker is protecting the city against the evil chimeras. However, this time, the chimeras are fighting back and are targeting Brain Jacker to break her resolve by humiliating her and raping her to no end.
There's really nothing to talk in-depth about this anime (hentai in general, really) because Shoujo Senki Brain Jacker is your run of the mill mahou shoujo hentai anime involving the main character getting raped by monsters of different sizes like an ugly-looking horse monster and pig men. What Shoujo Senki Brain Jacker does best, though, is the abundance of sex scenes, but in doing so, cuts off whatever story the anime is trying to tell and characters that need development.
But if you want a superior mahou shoujo hentai anime, then you need to scroll a bit further down.
---
9. Princess Knight Catue

Episodes: 3
Aired: June 2010-November 2011
Monsters from the underworld have invaded the peaceful kingdom of Dragundaala. They captured the king and the queen and their subjects were murdered, leaving only the women to satisfy the lust of these foul beasts. The princess of Dragundaala and Dragon Knight Princess Catue were also defeated at the hands of the monsters. However, the captain of the monster invaders, Guignol, offers Catue a chance to save her people: Catue must follow every command of Guignol for seven days. If Catue succeeds, the monsters will withdraw from the kingdom and restore peace, but if Catue fails, her kingdom falls and so does her dignity.
Sexual torture is the best way to sum up Princess Knight Catue as you watch Catue getting raped by demons, her lover forced to watch her getting raped, Catue's mother getting tortured, and many more other humiliating and degrading acts. But, surely, Catue will get a good ending like saving her people after her noble act of getting raped, right? Hahaha! Yeah, right. The only thing that's worth watching are the various sex acts, which are well-animated, and the character designs, which are very attractive. Obviously, the story wasn't the main priority in Princess Knight Catue. And hey, there are also dragon monsters here, so maybe you can finally visualize your favorite fetishes involving those dragon dildos you have stashed somewhere. *wink* *wink*
---
8. Soukou Kijo Iris (Armored Knight Iris)

Episodes: 4
Aired: November 2007 - September 2009
Mankind has finally ventured into the stars, discovered new planets to populate and new races to do business with. To maintain peace and the safety of every human being on these planets, Earth has established the Galactic Federation Senate and their all-female special forces squad SSF 101, led by the battle-hardened soldier Iris. In one of their skirmishes, the SSF 101 was ambushed, Iris was then captured by slave traders and sold as a sex slave.
The first few minutes of Soukou Kijo Iris may be silly at first, with the long mech drop sequence and the aliens that look suspiciously similar to the aliens you see in Tatooine; like a boss alien that looks like the long distant cousin of Jabba the Hutt. And if you know your Star Wars and its director George Lucas's other films, in the following episodes, Iris had sex with an alien species literally called the "Duck People." Yeah, the writers for this hentai knew what they're doing!
But make no mistake, Soukou Kijo Iris is a monster rape fest with over-the-top sex scenes involving Iris and a wide variety of alien species that'll make you cringe at how absurd and disgusting they are. Still, overall, Soukou Kijo Iris is well-made with a huge helping of good scenes and, while there is no real mecha action, the anime does focus on Iris's life as a sex slave in an alien world.
---
7. Gakuen Shinshoku: XX of the Dead

Episodes: 2
Aired: April 2017 - October 2017
Zombies are running rampant across the city and they're being controlled by a slug-like monster that is lurking underground. The zombies infect their victims and turn them into half-human, half-slugs whose only purpose is to rape any women they see.
This isn't quite a hentai parody of the popular High School of the Dead, but out of all the titles listed, Gakuen Shinshoku - XX of the Dead is the most Halloween-themed monster hentai on the list and, surprisingly, has a tension buildup at the beginning by showing you a glimpse of a passing zombie heading towards the school while the rest of the students are completely unaware of the horrors they'll face. It follows a zombie outbreak along with the basic tropes like survivors barricading themselves, the survivors ending up turning into zombies, and with a huge helping of tentacle sex. And like any zombie story, there is a bit of blood and gore, and a very, very light form of vore as well.
The only thing you may be upset about is how useless the main guy is. Actually, the majority of the good-natured male characters in hentai are useless. No wonder NTR hentai is thriving, because of incompetent male characters. *ahem*
---
6. Mahou Shoujo Ai (Sexy Magical Girl Ai)

Episodes: 5
Aired: August 2003 - February 2005
In a quaint little town, many mysterious deaths are occurring, and these incidents are so bizarre, that rumours are circulating that something supernatural is causing all of this. Enter our dimwitted and unfortunate hero, Akishima Akitoshi, a typical high school student who happens to encounter a mysterious new student named Kagano Ai, who happens to arrive at the same time that these deaths are occurring. Coincidence? Akitoshi finds out the hard way when he sees Ai fighting one of these monsters.
If you're the type that fantasizes about what it's like for heroes—or in this case, mahou shoujo—when they fail to kill the monsters and end up losing, or you just want to see the good guys lose for once, then Mahou Shoujo Ai is the one for you. Ai battles monsters, falls into their traps or surprise attacks, and gets raped, but sometimes she breaks free and kills them. There are the usual tentacle-type monsters but there's a ton of blood and gore that involves Ai getting impaled by a metal rod through her vagina and a monster living inside women and kills them as he bursts out of them. Kind of gruesome but, thankfully, there are a few downtime moments like normal sex scenes. And, man, Ai is one beautiful girl and it makes you feel guilty watching her getting assaulted by all manner of monstrosities.
---
5. Taimanin Asagi (Anti-Demon Ninja Asagi)

Episodes: 4
Aired: February 2007 - August 2008
In Demon City Tokyo, man and demons have learned to coexist peacefully with each other under an unspoken peace treaty that has been held since ancient times. However, corrupt mega corporations and crime syndicates composed of both humans and demons are running rampant throughout the city committing crimes, murders, and rapes by humans and demons alike. To counter the ever-looming threat of these criminal organizations and maintain the peace between two races, the Taimanin or Anti-Demon Ninjas are dispatched across Demon City Tokyo to hunt down the evildoers and bring them to justice.
But, as of late, the Taimanin has been suffering major losses and they're sending some of their best, the Igawa Sisters, to investigate the causes of their losses. Unfortunately, the Igawa Sisters, led by Taimanin Asagi are captured and are subjected to abuse, drugs, turned into sex slaves to satiate the lust of demons, and are forced to fight in underground battle arenas.
If you get dizzy with the wobbly camera and going out of focus every few seconds, then you haven't seen that many titles from the famed hentai director Murakami Teruaki. Taimanin Asagi is essentially a tentacle hentai anime that is dark in tone featuring women getting raped non-stop by demons with either over-sized dicks or parasitic tentacles. And despite seeing women's bodies deform as they try to take in something bigger than themselves, the sex scenes are of good quality with smooth animation and detailed sexual positions. The story is somewhat decent and it spawned a few more sequels and various spin-offs. There is obviously a market for seeing anti-demon ninjas getting their just deserts. Desserts with a huge helping of whipped cream.
---
4. Kuro Ai: Hitoyozumakan Inkou Rannyuuroku (Dark Love)

Episodes: 2
Aired: April 2005 - June 2005
Gojo "Nowaki" Tetsuya has been summoned to help train girls in the Gekkokan to satisfy the lust of men. The Gekkokan is a secret underground brothel that is popular amongst the rich and powerful as the go-to place to satisfy their lust by engaging in sexual acts so depraved that one might wonder if they're truly human beings. However, the true purpose of the brothel is far more insidious, for it's a gathering place to make a pact with the demons.
From the director of Taimanin Asagi, Murakami Teruaki delivers one of his best works today. Yes, the wobbly and randomly going out of focus camera can be nauseating, but the shaky nature of the directing does give the demonic orgies of Dark Love a nightmarish atmosphere. The majority of the sex scenes are inhuman orgies involving victims forced to work as sex slaves, but what puts Dark Love in the top 5 are the over-the-top tentacle sex scenes nearing the end of episode 2; the tentacles pierce through their vaginas and through their mouths. And there is one instance where the overgrown tentacle dick grows additional hook-like tentacles and violates a girl half of the guy's size.
---
3. Cambrian

Episodes: 2
Aired: November 2005 - May 2006
Dr. Yamagishi Haruhiko is an expert of bioengineering and spent almost his entire life studying evolution in the Cambrian Period, known as the Cambrian Big Bang. To put his studies to the test, he used his own body and turned into a grotesque monster. His goal wasn't to become the next evolution of man, rather, was further testing his theories by spreading his mutated genes to women by raping them and studying how the genes affect them and their male partners.
There's a bit of a "The Fly" theme here and, while Haruhiko's theories of evolution are pure bollocks, Cambrian does provide a decent story and a helping of sex scenes from normal sex to monster sex. Things get a bit more extreme in episode 2, though, because Cambrian has some blood and gore moments. We guarantee you'll cover your groin as if you're trying to protect the area after seeing a particularly nasty scene in episode 2. You've been warned.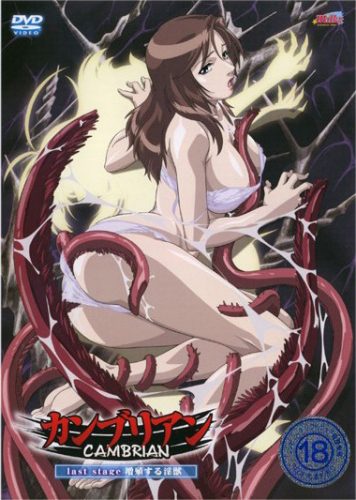 ---
2. Himekishi Lilia (Princess Knight Lilia)

0
Episodes: 6
Aired: June 2006 - July 2010
Princess Lilia is the next in line to rule over the kingdom before her brother Dirk. Like any jealous power-hungry relative vying to take control over their father's kingdom, he makes a pact with a demon to capture Lilia and have them extract her hidden power by subjecting her to the highest level of sexual ecstasy through humiliation, rape, and offering her body to the demons.
Himekishi Lilia is no different than the other anime we've listed like Taimanin Asagi and Soukou Kijo Iris because they all share a common theme: women get raped by a variety of monsters in a variety of ways. However, the setting is in the medieval era with appropriate types of monsters like the staple tentacle monsters, a boar/cow demon-thing with two dicks, a giant frog, along with fetishes like orgies, blowjobs, spitting semen in a goblet and then drinking the semen, and a lot more. And it doesn't hurt that the art and animation are top-notch coupled with a semi-decent story.
---
1. Shikkoku no Shaga The Animation

Episodes: Ongoing
Aired: February 2017-Ongoing
In ancient Japan, monsters run rampant, but man and monsters have learned to coexist, as long as humans do not invade the territory of monsters or other mythical beings. The story begins with a crow mononoke named Shaga saving a young boy from a pack of monsters. The boy is on a perilous journey to look for his mother and, because of various circumstances (one being that Shaga is bored out of her mind), Shaga decides to accompany the boy on his journey and protect him from any monster who tries to eat him. But this meeting between Shaga and the boy may be an act of fate because, in the dark corners of the dense forests, evil forces are hatching a plan to subjugate the human population, and Shaga might be the key to stopping them.
Shikkoku no Shaga is rather different than the other monster hentai on the list because the monsters, so far, are all women and the men are on the receiving end of things as they get killed and eaten after or during sex. While the guys meet gruesome fates, the sex scenes are very well-done, from human-on-human action and slowly escalating to the women transforming into their monster form, leading to some, well, rather "unique" sex positions like fisting involving the man thrusting his entire arm inside the spider woman's butthole… stroking her… uh… we think he was stroking her spinneret glands… And, of course, the guy gets eaten in the end because, well, that's what most spiders do after sex: they kill and eat their mate. Yeah, you'd better think twice before dating a spider woman and expecting a happy ending.
---
Final Thoughts
And there you have it. Monster hentai caters to a very niche audience, so seeing women getting raped, having their bodies deformed as oversized organs enter their bodies, or eventually getting killed is for the very hardcore of fans, for fetishists, or for people looking for something that is not the norm. However, getting yourself into a niche category of anime is an eye-opening experience, like you're delving deep into the unknown and discovering things you won't see until you take the plunge.
And that experience can also be terrifying because we humans fear the unknown. We don't know whether something is dangerous or not unless we open our eyes and take a good look. If you're very new to monster hentai, then use this opportunity to check out the titles we've listed this Halloween season. It's like trick-or-treating: if you can stomach it, the sex scenes are a good "treat" to have, but it can also be a "trick" that makes you want to give up and puke.
---