The catgirl has been a popular trope across both Japanese and Western media for many decades. Starting out as anthropomorphized cats, to cat/human hybrids, to eventually the cute and sexy girls with cat ears we know and love today. Naturally, nekomimi are a perfect fit for the hentai genre too. Here are ten gorgeous catgirls who got the cream!
10. Issho ni H Shiyo [Episode 3]

Episodes: 6
Aired: December 2009 - December 2011
An untidy man hears about a maid service offering a one-week free trial. After deciding to take up that amazing offer, a sexy catgirl maid shows up on his doorstep. She introduces herself as Tsuzuru and gets to work right away. Unfortunately, she's extremely clumsy and isn't very good at being a maid. She eventually spills a drink all over her master's pants and gets him hot and bothered as she tries to clean him up.
Unable to satisfy her master with her lacklustre cleaning skills. Tsuzuru offers to please her master in a different way.
She does a much better job of using her mouth and large breasts to pleasure her master's cock, which only makes a mess of her and her uniform. Tsuzuru hasn't satisfied him yet though, so she rides him hard until he cuts over and over. Her master finally satisfied, Tsuzuru looks around at her handy work. The place is even more of a mess than when she started!
---
9. Tensei Kendo no Harem Colosseum [Episode 2]

Episodes: 4
Aired: May 2017 - January 2018
A catgirl captain named Lighty is attracted to her new subordinate, Ligu. While talking with him over drinks, she slips him a drug while kissing him. She lures him to bed, arousing him with her adolescent body. She eagerly gets on all fours and presents her hot pussy to him. Unwilling to argue, he slides his hard cock into her. She moans with pleasure as she twists her body in various erotica positions, enabling him to pound deeper inside her. After giving her a cream pie, she squeezes it out of her into a saucer. Like a good little kitty, she laps it all up.
The next morning, he can't remember what happened and is confused to find a naked catgirl sucking his dick! He still agrees, however, to meet up with her later for more "sword" training.
---
8. Subarashiki Kokka no Kizukikata [Episode 1]

Episodes: Ongoing
Aired: September 2019
The kingdom of Avon is in financial crisis. The citizens are banding together to develop its sex industry in order to increase funds.
Advisor to the Princess Ariadne begins her first shift dressed as a nekomimi maid. She's a little embarrassed at first, but her eager client soon fills her with confidence. She gets to work rubbing his cock up and down, watching with interest as he sprays his milk all over her face. He apologises to her, but she realises how much she enjoys the sensation. Eager for more, she bends him over on the bed and stimulates his prostate with her fingers. He gets really into it and starts licking the pussycat's pussy.
One satisfied customer down, it appears the sex industry experiment is working out nicely!
---
7. Romance Wa Tsurugi No Kagayaki II [Episode 3]

Episodes: 6
Aired: March 2001 - October 2002
A sex-obsessed Duke is traveling with his gang of bandits, hunting down a defenseless bunny girl. She is trying her best to escape on foot, while they gain on her in their motorised vehicles. The Duke has his personal underling, a catgirl, do the driving for him. The thought of soon catching his prey, excites him so much that he starts to caress the cat girl's breasts. She tries her best to maintain concentration while driving. This only gets more difficult for her, when he demands that she opens her legs, allowing him to gently probe her with his fingers. Worse yet, her master then slides his hard cock inside, aggressively thrusting into her. Eventually, they catch the poor bunny girl and the cat is literally thrown away by her master.
---
6. Itadaki! Seiki

Episodes: 1
Aired: March 2014
Shortly after Kanzaki starts dating a succubus named Mari, he becomes jealous when he sees her talking to another guy. Thinking she's sleeping around, he decides to break up with her. Heartbroken, Mari uses her succubus powers to tempt him into staying with her. She transforms herself into a sexy catgirl with cute nekomimi, bending over and inviting him to stick his cock inside her. Unable to fight against such a persuasive argument, he does so. She eventually climbs on top of Kanzaki and professes her true feelings, in between her pleasurable mewing as she rides him.
Now that she's reassured him that he means so much more to her than a mere food source, Mari decides to introduce her boyfriend to her succubus mother.
---
5. Words Worth [Episode 2]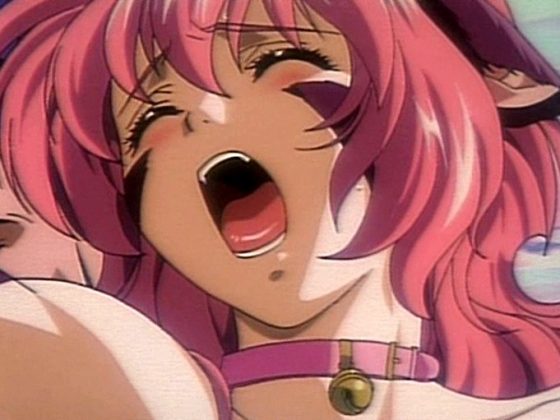 Episodes: 5
Aired: August 1999 - November 2000
A catgirl nekomimi trainer of warriors named Nina, goes to help fight in the war between the tribes of Shadow and Light. On her way to the battle, she is stopped by a large spider monster. It traps her in its web and starts to feed on her when she is rescued by her friend, Prince Astral of the Shadow Tribe.
After killing the monster, he takes her somewhere safe and tries to warm her cold body by a campfire. When she doesn't seem to be waking up, he strips off both of their clothes, and presses his warm body against hers. She wakes up, grateful he saved her life. Nina confesses how she feels to the Prince and they kiss. The catgirl is nervous, since she's never been with a man before. He reassures her as he eases himself gently inside her. Meowing with pleasure, she wraps her tail around his waist. Sadly, she knows this can't last. He's engaged to someone else and there is a war to be won.
---
4. Oide yo! Mizuryuu Kei Land [Episode 1]

Episodes: 2
Aired: August 2017 - September 2017
Shy girl, Mai is persuaded by her friends to go to a sex-themed amusement park. Unconstrained by society's rules, everyone there is free to have sex as much as they want. Embarrassed by the skimpy outfit her friends made her wear, complete with nekomimi, Mai heads over to the Ferris wheel. A much more private area, where she can have sex with just one other person. She is quite relieved to see the guy she's to be paired with is the quiet boy from the bus earlier. In a similar situation to Mai, Yuuta was persuaded by his friend and had the same idea to go to the Ferris wheel. He admits to her that ever since he saw her for that brief moment on the bus, he'd wanted to have sex with her. Feeling emboldened by this, Mai starts stroking Yuuta's cock while he fondles her breasts. It doesn't take long before they start passionately having sex.
---
3. Nee, Chanto Shiyou yo! [Episode 2]

Episodes: 5
Aired: November 2005 - July 2007
Tired of being treated badly and taken advantage of by his older sister, Kuuya decides to dish out a little bit of punishment of his own. After drugging her with some wine, he strips her down to her lingerie and handcuffs her. She, of course, wakes up angry and yells the usual insults at him. To humiliate her further, he makes her wear cat ears (nekomimi). Her usual harsh demeanor contrasts amusingly with the adorable cat ears. In this new position of power, Kuuya makes her suck his cock. She does so under protest, until he shoves her down onto the bed. She begs to be freed from the handcuffs and apologises for the way she treated him, but he doesn't listen. He thrusts into her, taking his revenge in the form of pleasure. Making her meow for forgiveness.
---
2. Baka no Imouto o Rikou ni Suru no wa Ore no XX Dake na Ken ni Tsuita [Episode 3]

Episodes: 4
Aired: April 2016 - July 2016
While her parents are away, Hana is being sent to stay with her older brother for a while. Due to being spoiled a lot by her parents, Hana is very simple-minded. She only has two real interests, her big brother and drinking milk. She also has no concept of boundaries and thinks nothing of stripping her clothes off when she gets too hot. After stumbling across her brother's erection, he quickly tells her that she'll be able to drink milk from it. Also that his milk will make her smarter. Since that one little lie, all kinds of sexual antics ensue. Eventually leading to Hana dressing like a cat. Her brother tells her that cats are smart, so she should act like one to increase her intelligence.
She starts off by licking as much of her body as she can reach, in order to clean herself like a cat would. Her next task is to catch "Mr. Mouse." Her brother's penis is playing the role of the mouse. After missing the first few times, she takes advantage of her brother's gloating and pounces! She catches Mr. Mouse in her mouth and sucks hard, trying to get at his milk.
---
1. Kanojo ga Nekomimi ni Kigaetara

Episodes: 1
Aired: June 2015
While playing video games with her boyfriend, Haruna bets him that if she wins he has to take her to a fancy restaurant. However, if she loses, she has to do whatever he says. After her crushing defeat, he requests that she wears cat ears and a tail.
After he inserts the beaded tail into her ass, he starts filming her in various poses. She starts to feel hot and bothered as the beads rub inside her. As further punishment, he makes her go outside in her sexy catgirl outfit. She makes it down the first flight of stairs before her fear of getting raped causes her to turn back. Upon her return, as a peace offering, he starts paying careful attention to her pussy. Filling her with pleasure as a form of apology for making her go outside. Unable to take anymore teasing, Haruna begs him for sex. He insists that she meow when she begs. Annoyed by the thought she might be some kind of pervert, she starts meowing like he asked. Overjoyed at her cuteness, he gives her what she's been craving and thrusts his cock into her. Soon she starts meowing all on her own as she embraces how much she enjoys being a cat.
---
Final Thoughts
As the old Disney song goes "Everybody wants to be a cat." Anyone who's been on the internet for more than five seconds knows how much cats are adored. So what's more adorable than a cat? A sexy girl-cat, of course! Let us know in the comments some of your favourite feline females.
---