It's that time of year where most people look to the future, in particular, 2018. While we're certainly all for that, for this article, Honey's Anime would like to reminisce about some of the remarkable hentai that was released in 2017. We felt hentai producers Mary Jane had the best year in 2016. While their content is present on this countdown, there was an incredible emergence from another studio.
We also had some of the usual suspects such as PoRO, Collaboration Works, and Pink Pineapple. In case you missed it last year, this list is based on NEW hentai series that were created and released in 2017. There's no series overlap from 2016 here. Keep that in mind when you're reading through this list as it will explain why some popular releases were omitted. Without further delay, let's dive into the best new hentai of 2017!
10. Katainaka ni Totsui de Kita Russia Musume to H Shimakuru Ohanashi

Episodes: 2 (as of Dec. 2017)
Aired: Nov. 2017 – ?
Katainaka ni Totsui de Kita Russia Musume to H Shimakuru Ohanashi is a story about two brothers who live together. The younger brother Kouta, is a successful businessman, while Kenta struggles to find employment. Envy ensues when Kouta brings home his new wife, Alisa. She's from Russia and is interested in Japanese culture. Understandably, Kenta can't keep his eyes off this blonde bombshell. Kouta informs Alisa that he has to take an important business trip and will be gone for some time. This leaves Alisa alone with the perverted Kenta, who has other plans.
We begin this list with the only entry to crack this countdown from the ever-popular hentai producer, Collaboration Works. As of the writing of this article, there have been two episodes released for Katainaka ni Totsui de Kita Russia Musume to H Shimakuru Ohanashi, with a third episode expected in February 2018. This series offers brilliant visuals, (as is the norm for Collaboration Works) tremendous masturbation scenes and over the top situations and stupidity. While Katainaka ni Totsui de Kita Russia Musume to H Shimakuru Ohanashi is technically NTR, the emotions this series elicits aren't as harsh as some of the more notorious NTR hentai.
---
9. Tensei Kendo no Harem Colosseo

Episodes: 3 (as of Dec. 2017)
Aired: May 2017 – ?
Tensei Kendo no Harem Colosseo is based on the light novel by Hisasi and Habara Tetsu. A member of the cunning Velk tribe, Rigucio, the barbarian is captured and forced to do battles in a coliseum with various members of the slave trade. One of his top priorities is to please the royalty and have staged battles to rile up the crowd with newcomer Duranta. She's an elf, best known for her clumsiness, caring, and inexperience. Together the two will have to put on the ultimate show, by any means necessary.
Next on the docket is a PoRO produced series that has gone on to find some longevity. Tensei Kendo no Harem Colosseo started back in May and gave us three juicy episodes. The story remained consistent between the three episodes, including the main character Rigucio. With that being said, the most enticing part of this series is that each new episode features different female(s). The sharp contrast between the first two episodes is appreciated. Between a busty elf, mature loli, and two royal sisters, this series brought enough to the table. Tensei Kendo no Harem Colosseo is expected to continue in January 2018.
---
8. Tamashii Insert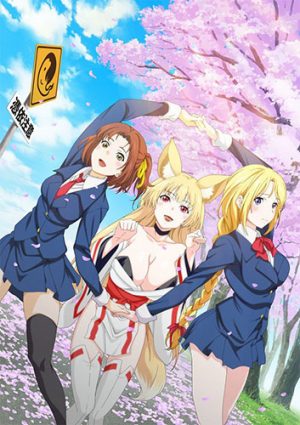 Episodes: 2
Aired: Jul. 2017 – Oct. 2017
Everything hasn't gone as smoothly for Naoto Takahashi since his father decided to get remarried six months ago. Naoto is trying to make it an easy transition with his new stepmother, Sachiko and little sister, Yui. One night while he's home alone he finds a peculiar app on his cellphone that claims to allow him to "understand everything about your girl of choice!" Despite Naoto's skepticism, he decides to give it a try once his sister, Yui comes home. His results were not what he expected.
The Mary Jane effort, Tamashii Insert swings in at number eight. This two episode series was easily our favorite hentai to come from producers, Mary Jane in 2017. It took from the magical device genre, to be more specific, a mysterious cell phone app. Tamashii Insert was one of the more unique hentai releases in 2017. The way the app was structured to have Naoto's consciousness transferred to other people was quite clever. It left Naoto in some interesting situations that you don't often see in hentai. Tamashii Insert was a breath of fresh air.
---
7. Jitaku Keibiin

Episodes: 4 (as of Dec. 2017)
Aired: Mar. 2017 – ?
The story is about Kareki Tsunetaka, who has been his father's home security officer for the last twenty years. He's equipped with some of the best equipment out there to make sure nothing goes unnoticed. Kareki isn't overly fond of his new mother-in-law. He thinks that she only married his father for the family's fortune. His mission is to protect his house from his mother-in-law and her two daughters. With his ability to survey the entire house, no secrets will be off limits.
Jitaku Keibiin had the most individual releases on this countdown in 2017. What we loved about this series is that it progressively got better and better. Each episode left us wanting more and by the time the fourth episode came out, we continued to want more. There were four females in total throughout the series and the first three episodes focused on one of the females in the household. The fourth episode sort of wrapped it all together by providing us with quick bursts of h-scenes between all the females involved. The production value dropped slightly in the fourth episode, but in large, this series was exceptional.
---
6. Imouto Bitch ni Shiboraretai

Episodes: 2
Aired: Oct. 2017 – Nov. 2017
The story of Imouto Bitch ni Shiboraretai revolves around an unassuming brother and sister who were unaware of what was about to transpire. The brother was invited to an overly friendly mixer at a karaoke lounge. Unbeknownst to Mina, she would get an invitation to a similar gathering. Naturally, they both find themselves at the same mixer. In addition to that, the stakes are raised as the group decides to play the King's Game. Mina and her brother don't want to ruin the mood so they play along, to some surprising results.
We've reached that point in the countdown where we're going to see our favorite hentai studio in 2017, T-Rex, really shine. If you've been following our monthly hentai countdowns throughout the year you shouldn't be surprised that Imouto Bitch ni Shiboraretai was going to land a spot on this countdown. Both episodes brought us incestuous relations between different brothers and sisters. The first episode was a thrilling scenario with the two meeting at a mixer with other people around them. While the second episode took place in a more intimate location and utilized a glory hole for much of the action.
---
5. Meikoku Gakuen: Jutai-hen

Episodes: 2
Aired: Apr. 2017 – May 2017
The story is about a teacher named Asada who has been selected to become the savior of the school he teaches at. The shroud is an unnatural occurrence that drives up women's libidos and turns them into sex fiends. They lose control over their libido due to mana deprivation. In order for these girls to have a regulated libido, Asada will have to replenish all the students' mana, by injecting them directly with his seed. Luckily for Asada, he has prepared himself for this duty.
Midway through this stimulating countdown, we come across another hentai animated by T-Rex. Meikoku Gakuen: Jutai-hen gives us an absurd premise and builds tension in its atmosphere. The colorful, yet dimly lit sequences really bring out some of the action that takes place in this series. Apart from Meikoku Gakuen: Jutai-hen well-detailed visuals, this series brings out the mother lode of female characters, each bringing their own appeal to every h-scene. Meikoku Gakuen: Jutai-hen is one of the best supernatural hentai to come out in 2017 and will be remembered as such.
---
4. Baka Dakedo Chinchin Shaburu no dake wa Jouzu na Chii-chan♡

Episodes: 2 (as of Dec. 2017)
Aired: Jun. 2017 – ?
On a smoldering hot day, Kota Muroto came across a classmate, Shiina Chiari at a convenience store near his house. Kota finds Shiina extremely erotic and couldn't help but notice how she was provocatively eating her popsicle. Shiina came up to Kota and had a proposal for him. If Kota is able to improve Shiina's grades, Shiina will repay him handsomely. Kota accepted the proposal because he thought he'd have a chance to lose his virginity with her. Shiina claims she has a boyfriend, but she's willing to make sure Kota doesn't walk away empty-handed.
Baka Dakedo Chinchin Shaburu no dake wa Jouzu na Chii-chan♡ brings several different fetishes to the table, but the standout is clearly oral sex. For fellatio enthusiasts, this is their favorite hentai of 2017. The first episode of Baka Dakedo Chinchin Shaburu no dake wa Jouzu na Chii-chan♡ is simply a showcase for oral sex and it's often done in very erotic circumstances. Shiina uses her body in many provocative ways ensuring that each h-scene never seems dull. Whether it's her well-oiled paizuri, a makeshift glory hole from cardboard or reliving Kota's stress in a bathroom stall, this series never fails to deliver a stimulating experience.
---
3. Baku Ane 2: Otouto Ippai Shibocchau zo! The Animation

Episodes: 1 (as of Dec. 2017)
Aired: Nov. 2017 – ?
Despite its name, Baku Ane 2: Otouto Ippai Shibocchau zo! The Animation comes to us more of an alternate version to the original. In this iteration, Munetaka's girlfriend invites him to meet up at the Hotel LA LA so that the two can get 'well acquainted'. After a disappointing effort by Munetaka, he's left with an extremely dramatic situation. Fortunately, Munetaka is blessed with three loving sisters who are there to comfort him after his ordeal. What he didn't expect was to have all of his sisters fighting over him in an incestuous harem for the ages.
Baku Ane 2: Otouto Ippai Shibocchau zo! The Animation was arguably the most anticipated hentai in 2017 and it didn't disappoint. The anime studio Seven, took on the task of animating it, while Pink Pineapple was once again behind the production. Baku Ane 2: Otouto Ippai Shibocchau zo! The Animation gives us everything we loved from the previous Baku Ane; loving sisters, excellent cosplay and of course, bakunyu.
The production value is rather high for a hentai as Baku Ane 2: Otouto Ippai Shibocchau zo! The Animation featured an OP (with lyrics), ED and even made parodies from popular anime, including Dragon Ball Z.
---
2. Oide yo! Mizuryuu Kei Land

Episodes: 2
Aired: Aug. 2017 – Sep. 2017
The story of Oide yo! Mizuryuu-kei Land revolves around an overly sexualized adult theme park titled Mizuryuu-kei Land. It's a sexual paradise where almost anyone can go to and relieve stress. Throw away all your feelings of guilt and aversions against sex and totally let loose. This is a place where you can escape reality and have your dreams come true. Two friends walk into the park with hopes of finding sexy girls, unfortunately for one of them; he starts to generate feelings for a girl, which leads to complications.
While many people's favorite hentai of 2017 might have been our previous selection, we couldn't help but be enamored with the setting and character design of Oide yo! Mizuryuu Kei Land. We feel it was T-Rex's best effort of the year. It's not too often in a hentai where you see such a pleasing backdrop amongst the horde of salacious activities. The idea of going to a sexual theme park and essentially having the freedom to do whatever you want with the staff, while they're completely engaged to this idea, is mind-numbing. Oide yo! Mizuryuu Kei Land is a visual marvel in 2017.
---
1. Shikkoku no Shaga The Animation

Episodes: 1 (as of Dec. 2017)
Aired: Feb. 2017 – ?
The story in Shikkoku no Shaga The Animation is set in a 12th-century fantasy world where everything is not what it seems. During what's known as the Heian period, monsters are running rampant on the land. Mountains, forests, and cities aren't even safe. After being rescued in the forest by a special monk named Shaga, a boy named Ushiwaka must be protected from the forces of evil. Ushiwaka and Shaga set out to the safe lands known as Ooshu, experiencing dangers along the way.
Despite the fact that Shikkoku no Shaga The Animation was released nearly a year ago, it wasn't going to be forgotten. Shikkoku no Shaga The Animation blends together nearly everything you want in a hentai (including a story) and delivers what felt as close to a real anime as you're going to see in a hentai. We don't believe every hentai should be made like this, but we long for more series that actually feature a promising story and characters, much like the hentai of years past. We're hoping to see another episode of Shikkoku no Shaga The Animation in 2018.
---
Final Thoughts
That concludes our look back at some of the best hentai series from 2017. We believe we highlighted the most exhilarating and popular hentai on the market for 2017. In addition to that, roughly half of these listed series are expected to see future releases. We look forward to that!
What did everyone think of our list? Did we omit one of your favorite new series from 2017? Regardless, we want to hear from you in the comments section below. Here's to a splendid 2018!