Spanning from 2000-2010 nurse hentai was one of the more common genres of hentai. It seemed like every studio was involved with this genre at the time. There was never a shortage of nurse series. The hentai producers, Discovery, were a prominent producer of this genre and a couple of their series have cracked this list.
Nurse hentai hasn't been quite as common in the last several years. As you advance through this list you will find out that this countdown is an indication of that. Only two selections from this list were made beyond 2011. What we looked for while making this list, was the amount of nurses involved in sexual acts, the amount of screen time nurses received, the visual quality and finally, the popularity of the hentai. Now that it's been established, it's time to present some top-notch nurse hentai.
10. Boku no Yayoi-san

Episodes: 2
Aired: Feb. 2015
Boku no Yayoi-san is about a nurse named Yayoi Nijihara, who's been widowed for the last five years. Her husband, a former leader of a biker gang has a younger brother who's been living with Yayoi ever since the accident. Hiro has always shown interest in her but he never made any advances on Yayoi. With his current arrangement and Yayoi being single, Hiro's feelings have developed even further. It's up to Yayoi to decide if enough time has passed for her to move on and reciprocate those feelings.
Opening up this nurse-filled countdown will be the first part of a two-part series, Boku no Yayoi-san. The nurse featured in this series is a woman who goes through a conflicting, if not chaotic, part of her life. It started with the accident with her husband, where she loses him permanently. It follows up with her brother-in-law showing interest in her. It finally spirals out of control when she meets a former member of her husband's biker gang. Yayoi receives several unwanted visits from the deviant and proceeds to blackmail her into doing sexual favors, which includes having sex at work with her nurse attire on. Vanilla fans beware.
---
9. Tokubetsu Byoutou

Episodes: 2
Aired: Oct. 2007 – Mar. 2008
Tokubetsu Byoutou is about a heinous doctor, Ryouko Makimura, who produces two sexual enhancement pills; one for females and one for males. Ryouko intends on testing these sex pills on her unsuspecting colleagues without any remorse. The doctor knew there would be some side effects, but even she wasn't ready for what was about to transpire between her 'guinea pigs' and her new drug. These unwanted side effects produce body deformation, making these nurses lustful victims of this devious doctor.
Unlike our previous selection, Tokubetsu Byoutou includes a plethora of h-scenes that take part in a hospital. In fact, all of the h-scenes take part in the hospital. Tokubetsu Byoutou has considerably worse visuals than most of the series on this list. What it lacks in the visual department, it certainly makes up for, in terms of exploitive nurse action. The head nurse Ryouko, uses and abuses numerous nurses in the hospital ward and conducts certain 'experiments' on them. In addition to nurses, Tokubetsu Byoutou also features plenty of yuri and futa.
---
8. Innocent Blue

Episodes: 2
Aired: Nov. 2005 – Aug. 2006
Innocent Blue is about a nurse named Saeki Nozomi, who's taking care of her male cousin who recently became ill and needed medical attention at his local hospital. The married Saeki is not the only family member there to 'assist him', he also has the pleasure of his younger sister Yumi helping out. Yumi is a trainee studying to become a nurse, but she has strong feelings for her brother, which makes things even more heated between the two girls.
Incest fans rejoice, Innocent Blue has you covered for all your nurse and incest needs. Innocent Blue is very taboo. It showcases incestuous relations between cousins and also brother and sister. The female cousin is a nurse and the sister is a trainee, studying to become a nurse. Innocent Blue introduces a doctor who takes advantage of these girls in their workplace. We like this inclusion because it checks off most of what we were looking for on this countdown; nurses, doctors, and patients having sexual relations while inside a hospital. Like many other hentai titles that have 'blue' in them, this features NTR.
---
7. Anata no Shiranai Kangofu: Seiteki Byoutou 24 Ji

Episodes: 2
Aired: Mar. 2009 – Nov. 2009
Yousuke Juumonji had an unfortunate accident that landed him in at the Himegaoka Central Hospital. During his checkups, Yousuke enjoyed the courteous staff and was already feeling better about his mishap. Gradually he becomes stimulated from being surrounded by all these attractive female nurses. One day he receives a strange email from some unknown sender. Yousuke quickly realizes that this hospital has more going on than meets the eye. With the knowledge he acquires, he's now able to satisfy his sexual desires.
If you can believe it, Anata no Shiranai Kangofu: Seiteki Byoutou 24 Ji is actually one of the newest entries on this countdown. Only two other series on this countdown wrapped up after this hentai. Anata no Shiranai Kangofu: Seiteki Byoutou 24 Ji is another of many inclusions to feature dark, non-con situations. The patient decides to 'go to town' on the nurses and he uses the location to his advantage. Whether he's using hospital instruments, bedding or the washrooms, he utilizes his environment particularly well. If you're into urination, bondage or gangbangs this will delight.
---
6. Seijun Kango Gakuin (Nurse Me!)

Episodes: 3
Aired: Oct. 2002 – May 2003
Seijun Kango Gakuin takes place at the Aobadai General Hospital Nursing Academy where nurse trainees are about to earn their nurses hats. These trainees have to go through a religious nursing ceremony to make it official. One of the new nurses happens to be an innocent girl named Yumi. She doesn't realize that taking care of her patients also includes sexual stimulation. For a person who's never been on a date, this is going to be a large undertaking for Yumi. From the first day, she started work she was confronted with erotic lessons that will push her to her breaking point.
It's certainly possible after all these years that Seijun Kango Gakuin has fallen off the radar. After all its 15 years old. We found the perfect opportunity to present this series to you folks. The opening gives off a religious vibe, where it goes on to explain how important a nurse is to the world. Yumi's spirits are high and she's ready to tackle anything. Right then and there, you know something grim is about to happen. Shameful acts are committed to these nurses as they're put through the 'cleaners' and learn obedience quickly. Seijun Kango Gakuin is a wild ride!
---
5. Chijoku no Seifuku

Episodes: 2
Aired: May 2016 – Jun 2016
Chijoku no Seifuku is based on the game by Bishop. It tells a story about an electrician named Yoshimoto. He takes great pride in his work. While he does do an exceptional job, he has a darker side to him that he later reveals to his customers. Unknowingly to his customers, he installs cameras in their rooms or electronics to gain some sort of sadistic pleasure. In addition to visual pleasure, he also uses footage from these customers in order to blackmail them with the intention of turning them into sex slaves.
The medial portion of this countdown brings us one of our favorite hentai on this countdown. The reason that Chijoku no Seifuku is ranked at number five is that it doesn't have as much nurse action as others listed. It's largely contained in the second episode. The visuals are outstanding in Chijoku no Seifuku. That's nothing new for a T-Rex animation. What we love about this pick is that the voluptuous nurse, Aya, is shown in great detail performing various sexual acts. In addition to the normal nurse getup, she's also seen wearing her street clothes and a micro bikini during her h-scenes. Nurse fetish or not, check this hentai out!
---
4. Dorei Kaigo (Slave Nurses)

Episodes: 3
Aired: Jan. 2003 – Jul. 2003
In the middle of nowhere, up in the hills of the Tanagokoro Village, resides a local inpatient hospital where the protagonist, Yousuke Kawahara arrives at. Yousuke has been having unusual dreams as of late. When he arrived he never expected that his dreams would come true. Every night at this hospital the nurses have an uncontrollable urge for sexual release. These nurses will go to great lengths to satisfy this urge; including having sex with patients, doctors and other staff. Not knowing why these nurses are going through these urges, Yousuke suspects there's a sex ring taking place.
This is another case of an older hentai receiving a pretty decent story, complete with some hated villains. Dorei Kaigo is not going to break any new ground with its story, but it holds up remarkably well for a 14-year-old hentai. Some of these characters are memorable, in particular, the villains. What we love most about this series, is that it features an ample amount of group scenes, often times with yuri involved. There are numerous dark moments in this series, with bondage being used effectively to illustrate that.
---
3. Chinetsu Karte: The Devilish Cherry

Episodes: 2
Aired: Jun. 2009 – Jul. 2009
Chinetsu Karte: The Devilish Cherry is a story about a young man who uses his charm to seduce the beautiful nurses that come to his room to care for him. Takumi's main nurse is a vibrant girl named Shiori, who takes over as his tutor while he remains in the hospital. Between Takumi's charm and Shiori's dedication to her job, she begins to take care of Takumi's requests, no matter how demanding they are. Each time she comes back to his room, these requests get more sexual. It's not long before Shiori cracks and her impulses take over.
The number three pick brings us back to the unsettling confines of a traditional hospital. The primary focus on Chinetsu Karte: The Devilish Cherry is the beautiful Shiori. Yes, there are two other females that get in on the action in this two episode series, but Shiori takes the cake. She's naïve and falls for Takumi's charm. It's not long before she's being used around the hospital, not just by Takumi. There's a gangbang sequence, drugs being administered by a doctor and nurses wearing some of their erotic uniforms while pleasing their patients.
---
2. Rensa Byoutou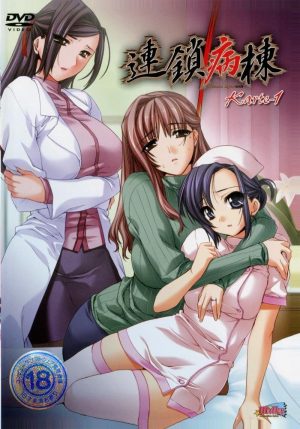 Episodes: 2
Aired: Jun. 2007 – Sep. 2007
Kiyosato Hospital is where Shuji's father passed away during an operation while Shuji was in college. Nearly ten years later, Shuji finishes medical school and is assigned to a familiar place, Kiyosato Hospital, of all places. The memory of his dad dying still haunts him to this very day. Now that Shuji is a doctor at Kiyosato Hospital, he's able to further investigate why exactly his father died. Shuji learns that the doctor that operated on his father is now the assistant director of the hospital and is married to Shuji's former girlfriend, under dubious circumstances. This ignites Shuji to launch a full investigation on Dr. Takao.
Rensa Byoutou focuses on a mystery about a death and Shuji's quest for revenge. In addition to that, Shuji's former girlfriend gets thrown into the fray, and it brings much drama to this series. There's a lot of emotional attachment from these characters in this hentai. What some people might enjoy with this offering is that it's not all doom and gloom, like some of these other entries on the countdown. Rensa Byoutou has some wonderfully crafted h-scenes and the ending should leave you with a smile on your face.
---
1. Yakin Byoutou (Night Shift Nurses)

Episodes: 10
Aired: Dec. 2000 – Jan. 2004
Ryuji Hirasaka is a delusional man who was scarred during his university life after he had witnessed a tragedy that involved a mortally wounded female that he tried to save. Fast-forward many years later and Ryuji is now working as a gynecologist at the renowned St. Juliana Hospital. After many years of mental trauma, his delusions start to take over and Ryuji develops a sadistic side to him, leaving all of his co-workers in the crosshairs of some insanely erotic experiments. These nurses will be stripped of their inhibitions and restraint.
Our number one selection should come as no surprise to anyone. Night Shift Nurses is one of the most iconic hentai of all-time. When we think of nurses in hentai, it's the very first series that comes to mind. Apart from the title, there are several other reasons why we think that. Night Shift Nurses is the lengthiest nurse hentai out there. This series comes packed with 10 episodes and that doesn't even include the sequels and spinoffs. For people who aren't familiar with this series, it focuses on a deviant doctor who uses sinister conventions and blackmails his way into these unsuspecting nurses' private parts.
---
Final Thoughts
Now that we've reached the stimulating conclusion of another stirring hentai countdown, we've got to know – were you shocked by our number one choice? It doesn't seem like it would shock many people, but your opinions are very much welcome.
There's a surplus of hentai that features nurses. We only ranked ten, but we feel confident that we covered the best of the best. We encourage you to leave a comment below and tell us how we did. Was there a glaring omission? You tell us!