Let's talk about arousing situations; what are the first things that come to mind? If office sex is one of them, then we have a list for you! It's not inconceivable to imagine a scenario where the thrill of potentially being caught is a turn-on. In fact, it can make a situation even more stimulating. The idea of an indecent act being played out for sexual pleasure can be euphoric in its own right.
One of the major reasons is because office sex is able to elicit many emotions including, anticipation, joy and even fear. For this particular article, we would like to round up some of the best hentai that takes place in an office environment. On that note, it's time to bring you the list, so sit back and enjoy this naughty countdown.
10. JK to Ero Giin Sensei

Episodes: 2
Air Date: Sep. 2012 – Apr. 2013
Kicking off this list we'll start with JK to Ero Giin Sensei. It's based on the game by Blue Gale Light. The story tells a tale about Hatsune, the third eldest daughter of the Aoyama family, who becomes infatuated with Yuutarou Kashiwagi. Yuutarou aspires to lead his country and is getting closer to his goal. While Hatsune's older sisters are away for the night, Hatsune is sent in to do their job with Yuutarou. This kicks off a series of sexual encounters that eventually assist with Yuutarou's rise in the political-fueled race.
For our number ten pick, we wanted to showcase an anime that featured enough office h-scenes to carry this selection onto the list. The reason for it being at the number ten spot is because of the story, characters, and situations just weren't as impressive as some of our other picks. JK to Ero Giin Sensei offers more than enough office scenarios between Yuutarou and Hatsune. Hatsune is essentially used as a tool for Yuutarou to maintain a clear mind throughout his campaign. With scenes involving Hatsune cleaning under and on his desk, as well as other means of satisfaction it was clear that Yuutarou had it made.
---
9. Hataraku Otona no Renai Jijou The Animation

Episodes: 1
Air Date: Dec. 2016
Hataraku Otona no Renai Jijou The Animation has a rather simple plot. The central setting is located at a café and bar hybrid. During the day it's a café and then at night, it reworks into a bar. A variety of people from around town meets up after work looking for thrills during the evening. When it comes to the salacious Oga, he's more than ready to offer all these girls some stimulating action. His suggestive manner leads a co-worker, a childhood friend and one of the bartenders from that establishment on a wild 'ride.'
What's great about Hataraku Otona no Renai Jijou The Animation is that it almost immediately jumps right to an office h-scene. The opening h-scene involves two co-workers that stayed later than the rest of their colleagues. This led to a naughty scenario involving chairs and even a copying machine. Nothing was off limits for them. Jumping to the last half of the anime and you're treated to scene with a nervous bartender who is dressed in a maids outfit. She and Oga head to the back room to relieve some stress; involving a sex toy and a tense moment where they almost got caught in the act.
---
8. JK to Ero Konbini Tenchou

Episodes: 3 (as of Mar. 3)
Air Date: Feb. 2016 – ?
This next selection is our second PoRO animation to make the list. JK to Ero Konbini Tenchou is about two female students who work part-time at a convenience store called Clover. Throughout their daily tasks, they're harassed by their roguish manager; such acts include, stalking and spying on them with cameras as they change and use the bathroom. One night after the girls leave work, Yui realizes that they left their food in the change room. Shiori offers to go back and grab it. What she doesn't realize is that the manager set her up to look like a thief.
How about an anime that strictly consists of h-scenes in an office environment? That's what we bring to the table with our number eight selection. JK to Ero Konbini Tenchou offers countless sexual acts that involve a manager of a convenience store and his female co-workers. H-scenes aren't restricted to just the back office, oh no, in fact, there are several when the store is open for business. Shiori pleasing the manager from underneath the counter is one example. Whether Yui and Shiori are dealing with inventory or cleaning washrooms, the manager has his way with them.
---
7. Idol☆Sister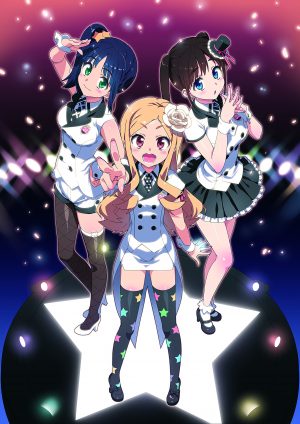 Episodes: 1
Air Date: Dec. 2014
This next story involves an idol group by the name of Platinum Kiss. It's a newly established group that consists of three girls, Ayaka Takano, Maki Kamii and Maina Ooizumi. The perverted older brother of Ayaka happens to be their manager. One day before a large event, Ayaka's brother is nowhere to be found and they become increasingly nervous about the situation. After getting busted for peeping on the group, the manager is able to calm their nerves in a way that's satisfactory to all individuals involved. Prior to their performance on stage, they have another performance to take care of.
Although brief in its episode count, Idol☆Sister comes off as one of the better anime to involve not only h-scenes in a change room at a venue, but also deliver the goods in terms of females. There are three idols represented in this hentai and all three of them have roughly equal participation in this lust-driven episode. When the three cute idols become nervous before an act, they end up dealing with it by having sex. One lucky guy gets to feel the unmitigated pleasure from all three of these girls in a memorable group scene that eclipses more than 15 minutes in length.
---
6. Rin x Sen: Hakudaku Onna Kyoushi to Yaroudomo

Episodes: 2
Air Date: May 2010 – Jul. 2010
Things were going smoothly for the 24-year-old Urara, she was working steadily and she was about to marry her fiancé in the coming months. Suddenly, her fiancé's business falters and he disappears without warning. Not long after, Urara has Yuuji, a debt collector comes to her door. Without any immediate means to pay off her fiancé's debt, she takes up Yuuji's job offer as a teacher at a school full of delinquents. Unfortunately for Urara, she won't be the one teaching the lessons at this school.
One of the reasons why we loved adding Rin x Sen: Hakudaku Onna Kyoushi to Yaroudomo to the list was because of the constant action between two different teachers in the workplace. Both Urara and Asuka are manipulated by the many lowlifes that they work for, and also by the students that attend the school. It quickly turns into one big blackmail scenario with Asuka and Urara used and abused in countless group scenes taking place all over the school. The sheer amount of bodily fluid that's exchanged within the school is what makes this series stand out.
---
5. Ero Manga! H mo Manga mo Step-up♪

Episodes: 2 (as of Mar. 3)
Air Date: Dec. 2015 – ?
We've made it to the midway point of the countdown and it's now time to focus on an anime that is based on the erotic game by Clock Up. Ero Manga! H mo Manga mo Step-up♪ is a story about a young man named Kazuya Okazaki who has always had an affinity for ero manga. After completing high school, destiny seemed to call his name, as he found a "members wanted" notice on a signboard. With a strong knowledge of ero manga, Kazuya was tasked with the job of revitalizing an ero manga producing company. It's then that the company seizes the opportunity to have a healthy and steamy working relationship with Kazuya.
Ero Manga! H mo Manga mo Step-up♪ was able to meet our expectations and more when it comes to the criteria for this countdown. For starters, the entire crop of h-scenes takes place in an office building. From there, we are introduced to several of Kazuya's desirable co-workers, who have little shame when it comes to exploiting their sexual nature at work. From an inspiring blowjob by the chief editor to several BDSM scenes, and even good and bad endings to each scenario, this hentai is sure to make things interesting.
---
4. Chijoku no Seifuku

Episodes: 2 (as of Mar. 3)
Air Date: May 2016 – ?
Chijoku no Seifuku is based on the game by Bishop. It tells a story about an electrician named Yoshimoto. He takes great pride in his work. While he does do an exceptional job, he has a darker side to him that he later reveals to his customers. Unknowingly to his customers, he installs cameras in their rooms or electronics to gain some sort of sadistic pleasure. In addition to visual pleasure, he also uses footage from these customers in order to blackmail them with the intention of turning them into sex slaves.
As mentioned before Yoshimoto takes pride in his work and when his job enables him to travel from place to place he's able to exploit many of the females that he encounters at their workplace. There are two particular females that feel the brunt of his desires. One is a pink-haired lady who has a lustful experience in the change room of the department store she works at, and the other is a blue-haired nurse who gets taken advantage of when she gets caught masturbating in a room by herself. Viewers are sure to get a 'rise' out of this one.
---
3. Cafe Junkie

Episodes: 2
Air Date: Oct. 2008 – May 2009
Our number three pick is arguably the most well-known hentai from Suzuki Mirano. Cafe Junkie is about a guy named Masaru, who hasn't landed a job, despite almost finishing up his college degree. During his leisure time, he enjoys visiting Hidamari, a cafe that his childhood friends, Nanami and Kurumi work at. Both those girls have always liked Masaru, but they became lustful with him after realizing that he has another childhood friend coming to visit him. Masaru has a tough decision on his hands.
Café Junkie is yet another one of these series that conducts a large portion of the h-scenes in the workplace. What makes this particular hentai stand out is that the series creator is able to utilize the setting for these characters perfectly. Both Nanami and Kurumi are often times found doing salacious acts with Masaru during work hours. Whether that's giving a blowjob from under the bar, or simply using the tables for support, it's clear to us that the environment is employed in a way that makes sense. The thrill is there for the characters and viewers.
---
2. Mankitsu Happening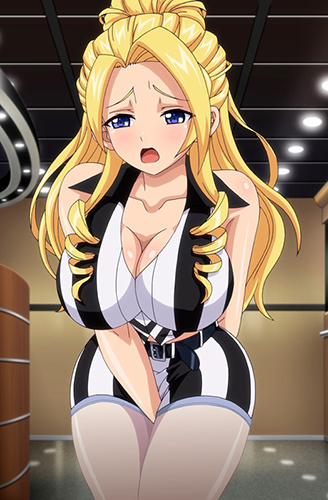 Episodes: 4
Air Date: Mar. 2015 – Aug. 2015
The hits keep coming from Collaboration Works as yet another fantastic piece of work comes to our number two spot. After several unsuccessful jobs, Keiichi finally lands a job working under his best friend Rei, who serves as the manager of a manga café. In addition to that, Keiichi also found out that his cute childhood friend Kururu, happens to be a regular customer there. The problem Keiichi is now faced with is the likelihood that he will not be able to restrain himself from the pleasures of being around those lovely females.
Mankitsu Happening continues the trend on this list of hentai that almost exclusively takes part in the workplace. The reason that Mankitsu Happening is ranked at our number two spot is because of its fantastic animation, variety in females and its ability to add some comic relief to an extremely steamy hentai. Four different females are represented in this office oriented series with three of them consistently using their workplace for acts of passion. Whether it's on top of a counter, against a bookshelf or in a room discreetly, there's more than enough heated action to go around the office.
---
1. Eroge! H mo Game mo Kaihatsu Zanmai

Episodes: 6
Air Date: Aug. 2011 – Mar. 2016
The number one choice brings us yet another Collaboration Works piece. Tomoya is an eroge enthusiast. His dream is to land a job at an eroge studio. After seeing an ad from the eroge studio Flower, he quickly realizes that his dream could become a reality. Tomoya feels that he could bring a wealth of knowledge and insight into what makes an eroge click. His understanding eventually pays off, as he lands a job as a pseudo-consultant in order to teach them the ins and outs of an effective eroge.
For us, Eroge! H mo Game mo Kaihatsu Zanmai was a no brainer. When you think of hentai office sex, this is the premier series that should come to mind for most enthusiasts of this genre. It dedicates six episodes that is sure to quench your sexual appetite; all the while incorporating a plethora of h-scenes that take part in the office. With each episode being 30 minutes apiece and four females consistently being featured in sexual situations, it's hard to go against this pick. Eroge! H mo Game mo Kaihatsu Zanmai is truly the culmination of this wild countdown that we've been on. If office sex is a major turn-on, this is the pinnacle.
---
Final Thoughts
That will bring us to the end of another delightful countdown. Since we all can't experience some of our major turn-ons, for various reasons, hentai is one of the better options to seek out for that moment you crave.
We've now reached the portion of the article where we would like to hear from you. What is your take on office sex? What did you think of this list? Are there any omissions that immediately come to mind? As always drop a line in the comments section below!
---