Tittyfuck/Paizuri is a form of sexual activity that's at the forefront of many hentai series. It doesn't matter the genre. Whether it's your classic vanilla sex or the darker non-con hentai, there's usually at least one tittyfuck/paizuri scene in them. It's pretty standard stuff. With that being said, it wasn't exactly easy narrowing down to just ten.
This tittyfuck/paizuri countdown is filled with a variety of positions and scenarios. Not every scene is going to feel the same. In fact, a couple of these series utilize smaller breasts to switch things up some. Additionally, there are various group scenes which add much to the excitement. Without further ado, let's get this countdown started!
10. Tsugou no Yoi Sexfriend?

Episodes: 4
Aired: Nov. 2012 – Jan. 2015
This next choice tells a daring, harem fantasy that I'm sure many males wouldn't mind finding themselves in. We're talking about a story that revolves around Yuu Arahama, who's sleeping with five girls. He refers to them all as sex friends, nothing more, and nothing less. Yuu has commitment issues, so naturally, he turns down a wedding proposal from Misako. One night after admitting to Misako that she isn't the only one he's sleeping around with; she demands they all meet up to settle the matter once and for all.
We're going to immediately start off this countdown with a hentai series that symbolizes quality and quantity, Tsugou no Yoi Sexfriend? The quality shines through with its fantastic visuals. The quantity could relate to its episode count, but we're going to highlight its tittyfuck/paizuri scenes. Between the four episodes, there are four tittyfuck/paizuri scenes. Three different females partake in the lubricating action; with one of them taking place on a beach while Ryouko has her bikini top on. The other notable scene is when two of the girls take turns stimulating Yuu with their breasts. Is variety the name of the game in Tsugou no Yoi Sexfriend?
---
9. Kyonyuu Reijou MC Gakuen

Episodes: 2
Aired: Feb. 2017 – Mar. 2017
The story revolves around a high school student named Ikenoue who comes across a magical music box. Once he comes in contact with it, he becomes imbued with influential mind control capabilities. Naturally, a libidinous Ikenoue plans to use his new-found mind control abilities to take advantage of these gorgeous girls at his school. No one is safe from his perverse music box of mind control terror; Ikenoue even commands the leader of the disciplinary committee into doing his biddings. His goal is to become headmaster of the school and have all the students become his sex slaves.
It would be a shame for the hentai studio T-Rex to animate such a lovely hentai series without taking advantage of the female characters massive mammaries. Kyonyuu Reijou MC Gakuen is full of voluptuous ladies that use their ample assets to stimulate the main character. Their breasts are larger than their heads for goodness sake and get used in such erotic ways. Whether it's the combination of tittyfuck/paizuri and oral sex or double tittyfuck/paizuri from two females at the same time, Kyonyuu Reijou MC Gakuen delivers some quality breast content that we can all appreciate.
---
8. Oni Chichi 2: Revenge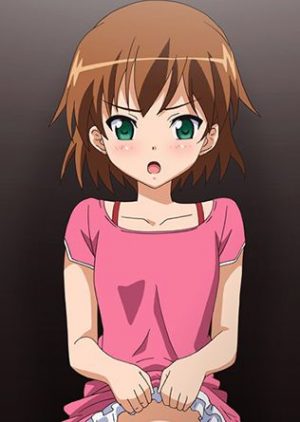 Episodes: 2
Aired: Nov. 2013 – Mar. 2014
Oni Chichi 2: Revenge has no relation to the characters in Oni Chichi. Kenichi, a father of four, discovers that his daughter's school is holding a training camp. Natsume, Akira, and Fuyu are all interested in going, but they need a chaperone. Eager to affiliate himself with that, Kenichi offers to chaperone his three daughters. Needless to say, the girls aren't overly thrilled about this because they know what kind of training regimen he will put them through.
Oni Chichi 2: Revenge marks the first of three PoRO releases to be featured on this breast fetish countdown. It comes as no surprise as PoRO tends to showcase several tittyfuck/paizuri scenes throughout the series they produce. What makes this such a great inclusion to this list is that numerous tittyfuck/paizuri scenes in this series include bikini tops being worn throughout this stimulating practice. Take for example Fuyu in episode one, she has her bikini straps pulled on while Kenichi takes advantage of Fuyu's tremendous assets on the beach.
---
7. Tensei Kendo no Harem Colosseo

Episodes: 4 (as of Feb. 2018)
Aired: May 2017 – ?
Tensei Kendo no Harem Colosseo is based on the light novel by Hisasi and Habara Tetsu. A member of the cunning Velk tribe, Rigucio, the barbarian is captured and forced to do battles in a coliseum with various members of the slave trade. One of his top priorities is to please the royalty and have staged battles to rile up the crowd with newcomer Duranta. She's an elf, best known for her clumsiness, caring, and inexperience. Together the two will have to put on the ultimate show, by any means necessary.
If we had published this article two months ago, Tensei Kendo no Harem Colosseo wouldn't have made this list based on its first three episodes. The latest offering from January, episode four incorporates one of our favorite tittyfuck/paizuri scenes in hentai. It's a lengthy tittyfuck/paizuri scene that includes not one, but two females. One female has her breasts wrapped around his manhood, while the other female proceeds to stimulate his genitalia with her mouth. Needless to say, this makes for one heck of an erotic experience and we hope to see more of this scenario in future hentai.
---
6. Honoo no Haramase Oppai: Ero Appli Gakuen The Animation

Episodes: 1 (as of Feb. 2018)
Aired: Aug. 2017 – ?
One fateful day a guy named Majime was taking a stroll in the park when he found a cat in distress and needed to be saved. He was quick to the point and got that cat out of a sticky situation. What Majime didn't imagine would happen next, is that the cat started talking to him. Moreover, this bizarre interaction became even more absurd when he received a "Love Smartphone" complete with ero-apps. This gives Majime the ability to fulfill any of his desires with any girl of his choosing.
The number six spot brings us one of the newest series to be included on this list, Honoo no Haramase Oppai: Ero Appli Gakuen The Animation. This episode was one of the better single episode releases in 2017, in large part to the fantastic tittyfuck/paizuri scenes presented in its 27 minutes of runtime. It shouldn't come as a big surprise given that "oppai" is in the title of this series. With a variety of females, scintillating tittyfuck/paizuri scenes and fantastic breast fluidity, Honoo no Haramase Oppai: Ero Appli Gakuen The Animation is a no-brainer for breasts enthusiasts.
---
5. Nuki Doki! Tenshi to Akuma no Sakusei Battle

Episodes: 2
Aired: May 2013 – Sep. 2013
The battle between angels and demons has reached the pinnacle of their feud. In order to finish this competition, they're going to have to try and win Yamato's heart, by any means necessary. Neither one will be satisfied as the runner-up. This sets off numerous attempts by both angel and demon to sexually satisfy Yamato, in ways that he couldn't even imagine. It's the ultimate race between an angel named Sera and a demon named Firika to see who comes out on top.
The medial portion of this list brings us the last of the PoRO inclusions to this list, Nuki Doki! Tenshi to Akuma no Sakusei Battle. This is a two episode titillating experience that delivers many erotic scenes; most notably, the tittyfuck/paizuri scene between Firika and Yamato in the school storage room. It's one of the lengthiest individual tittyfuck/paizuri scenes on this countdown and with that, it brings a wide variety of camera angles to really drive home how lucky Yamato is. The other noteworthy scene takes place at the beginning of the second episode with Sera sporting a pink nurse's outfit pleasuring Yamato to no end.
---
4. Kanojo x Kanojo x Kanojo: Sanshimai to no DokiDoki Kyoudou Seikatsu (Kanojo x Kanojo x Kanojo)

Episodes: 3
Aired: Dec. 2009 – May 2011
Haruomi is the main character who vacated temporally to stay at his relative's house due to a volcanic eruption that took place near his home. While at his relatives, he gets reacquainted with three cute sisters that he later indulges on. This hentai delivers an average storyline about the Orifushi's family-owned ice cream shop. The eldest sister, Natsumi inherited it when her parents died. This anime showcases the hardship and eventual triumph of the shop. When Haruomi is not having intercourse with his relatives, he helps at the families struggling ice cream shop.
The great thing about Kanojo x Kanojo x Kanojo: Sanshimai to no DokiDoki Kyoudou Seikatsu is that it brings together nearly a complete package of hentai goodness, which includes some optimal tittyfuck/paizuri scenes. Honey's Anime has covered this hentai on various topics and now you can add tittyfuck/paizuri to the list. Between the three episodes, Kanojo x Kanojo x Kanojo showcases four quality scenes where three females take part in the activity of tittyfuck/paizuri. Our favorite of the bunch happens to be the scene with Mafuyu in the bathroom during episode three. It's just so endearing seeing Mafuyu utilizing her smaller boobs to stimulate Haruomi.
---
3. Real Eroge Situation! The Animation

Episodes: 1 (as of Feb. 2018)
Aired: Jan. 2018 – ?
Imagine a world where your favorite eroge situations come to life. For the libido-driven student Shinobu, this happened to be the case. Shinobu received a peculiar letter in his locker that stated that there would be a confession in the classroom after school with masturbation being a focal point. Sure enough, the popular girl in his class, Ayame, showed up and wanted to partake in lewd activities with Shinobu. From there, things started to get weirder and weirder with both his childhood friend Yuri and his unrequited love, Kanna all professing their love for him. Shinobu has to decide who's the best for him.
When it came down to ranking these ten hentai, Real Eroge Situation! The Animation was the hardest one to rank. Honestly, it could very well of been our number one pick. What more could you ask for when ranking tittyfuck/paizuri hentai? As of this writing, it's a single episode hentai that prominently includes tittyfuck/paizuri scenes. In its lengthy 28 minute duration, we counted four exciting scenes where breasts were overwhelming Shinobu's manhood. This included varying sizes of boobs, driven by three horny females looking to gain the upper hand and win Shinobu's love and devotion.
---
2. Harem Time The Animation

Episodes: 2
Aired: Oct. 2012 – Jan. 2013
Dropping in with our number two pick is a scintillating story about Satou Reiji who becomes the new master at the Kamiyama House. The reason for this is because of Satou's lineage that traces back to having a rich father who had recently just passed away. At first, everything seemed normal until he was notified of a certain catch. In order for Satou to legally own the house, he's going to have to provide an heir to his newly found riches. Now Satou is tasked with selecting a wife from the countless number of maids that serve in the Kamiyama House.
Harem Time The Animation brings a lot to the table; several different stories, many females, hence the harem and of course loads of boobs. With so many girls it only made sense for some of these characters to use their assets to the best of their ability. Harem Time The Animation doesn't particularly feature many lengthy tittyfuck/paizuri scenes, but what it does do is add a ton of quick-burst sequences that are extremely well animated. The plethora of females just pushes this over the top as many of the tittyfuck/paizuri scenes factor in numerous females.
---
1. Resort Boin

Episodes: 3
Aired: Dec. 2007 – Apr. 2009
The title of this next selection is pretty straight-forward. Resort Boin is about a student named Daisuke Ichijou who's sent down to a southern island during spring break in order to assist with his grandmother's resort. As you can imagine this resort is chock-full of beautiful girls. What Daisuke was not expecting was to have a handful of girls desire him. Six girls will be in complete competition for Daisuke's attention. Nothing is off limits, even Maya, Daisuke's cousin watches in the distance with a keen eye.
When it comes to complete packages in the world of hentai, none offer as many quality tittyfuck/paizuri scenes like Resort Boin does. This 2007 effort makes this the oldest series to crack our countdown. We selected Resort Boin as our favorite tittyfuck/paizuri hentai for a variety of reasons. For starters, there are three tittyfuck/paizuri scenes in the opening episode alone, with a staggering series total of eight. Of those eight, five different females partake in delivering some quality tittyfuck/paizuri. Finally, Resort Boin deserves this spot because the tittyfuck/paizuri sequences offer an array of scenarios. Both character positions and locations truly define what these tittyfuck/paizuri scenes are about.
---
Final Thoughts
That will bring us to the end of another stimulating hentai countdown from Honey's Anime. It's interesting to note that out of the ten selections nearly half (four) of them were released in the last year. It has certainly been a great year for oppai in general.
Now that you've read through this list, what are your thoughts? Do approve of our list? If not, what would you have added to this countdown? Be sure to let us know in the comments below.
---