También puedes leer este artículo en:Español
We know you've been waiting for it and now here it is; it's time to talk about the big wig of the hentai community. Pink Pineapple is easily the industry leader when it comes to producing hentai. Who knew when they released their first series titled, Kisaku Spirit in 2004 that they would go on to have this sort of career?
With well over 180 hentai series in their catalog, it's easy to see why Pink Pineapple has become one of the most resilient and dependable in the business. They produce a wide variety of genres and manifest some of the most sought-after, highly regarded smut in anime. It's now time to let this countdown showcase why they are masters at their craft.
10. Soushisouai Note The Animation

Episodes: 2
Air Date: Feb. 2013 – May 2013
Soushisouai Note The Animation offers four different stories set between two episodes. The first story involves a double date that leads to some fun times at a karaoke bar. Story two involves a girl who has a very peculiar fetish and acts on it with one lucky guy. The third story is about the firm president of the swim club who gets caught swimming naked after hours by a fellow member. Finally, the fourth story follows three gamers who go shopping together and the horny females can't control themselves and they all end up at Yurie's house to finish what they started.
One of the reasons why we love Soushisouai Note The Animation so much is because of the variety in stories that this anime gives us. Now, we understand that sometimes too many short stories can lead to less action. However, we don't feel that this is the case for Soushisouai Note The Animation. In fact, we praise this hentai because it's able to give us four erotic scenarios between two episodes and they feel like we got just enough out of them. If you're big into tan lines the first story in episode two will be adequate enough for you.
---
9. Fella Pure: Mitarashi-san Chi no Jijou The Animation

Episodes: 1
Air Date: Mar. 2014
Keiko Mitarai is a beloved and honored student council president. She is viewed by her peers as being intelligent, gorgeous and solemn. To many, Keiko is regarded as being the perfect person. What people don't know about Keiko is that she has a fervid love for fellatio. Instead of letting her emotions run wild on other guys and potentially ruining her reputation, she decides to target the least expecting person, her brother. With their parents often out traveling, the two siblings are left alone for Keiko to quench her sexual appetite.
Fella Pure: Mitarashi-san Chi no Jijou The Animation knows exactly what it wants to portray and it does it extremely well. This is one of the better fetish anime out there. This anime has fantastic art and animation. It's greatly detailed, with its oral scenes and there is enough liquid being exchanged to get your heart racing. The highlight for us was the homemade glory hole devised between Keiko and her brother. It's used in several naughty instances that really promote the overall taboo nature of their relationship.
---
8. Baku Ane: Otouto Shibocchau zo! The Animation

Episodes: 1
Air Date: Aug. 2014
The story of Baku Ane: Otouto Shibocchau zo! The Animation takes off after a soccer player named Ryoushirou Hayasaki finds himself on the disabled list after receiving an injury. He's sent home to rehabilitate his contusion. In his parent's absence, his four elder sisters will be there to take care of him, After Noemi finds salacious letters and videos in Ryoushirou's bag they get together for a family meeting to discuss his punishment. Ryoushirou's return home is not exactly going how he envisioned it.
The first thing that makes this a tremendous hentai, is the length of this anime. Baku Ane: Otouto Shibocchau zo! The Animation clocks in at just under 34 minutes, making it the longest single episode on this entire countdown. With close to 34 minutes of endless lust, it's bound to please all hentai fans. Perhaps the greatest attribute to this anime is the sheer amount of cosplay that takes place in it. Both Mio and Yurine delight their brother in ways that can only be described as fetish overloads. Check this one out and see what we mean.
---
7. Shikkoku no Shaga The Animation

Episodes: 1 (as of Apr. 5)
Air Date: Feb. 2017 – ?
The story in Shikkoku no Shaga The Animation is set in a 12th-century fantasy world where everything is not what it seems. During what's known as the Heian period, monsters are running rampant on the land. Mountains, forests, and cities aren't even safe. After being rescued in the forest by a special monk named Shaga, a boy named Ushiwaka must be protected from the forces of evil. Ushiwaka and Shaga set out to the safe lands known as Ooshu, experiencing dangers along the way.
Shikkoku no Shaga The Animation is the newest series from Pink Pineapple to make its way onto this list. Released just over a month ago, Shikkoku no Shaga The Animation has really made headways in the hentai community. For starters, it has an impressive story that really sets the mood for all the h-scenes that follow. Another great feature of this hentai is the exquisite characters and art style. You will simply get lost in its wonderful world full of beautiful scenery and ladies. We look forward to seeing what will come next for this series.
---
6. Hatsu Inu The Animation

Episodes: 2
Air Date: May 2007 – Jul. 2007
Hatsu Inu The Animation can be best described as a girl who immensely loves her vibrator. Fujino is a stunning individual who is often described as being a bit reserved. One day while being on a crowded train, Fujino gets caught using her vibrator by her eventual boyfriend, Fukaya. Despite the two being in a relationship, Fukaya can't help but be threatened by Fujino's prized possession, her vibrator. In order for the couple to thrive, Fujino is going to have to prove to Fukaya that he's more important to her.
As the synopsis implies, this anime features a strong reliance on Fujino's vibrator. Often times in hentai, a male's rival tends to be another male, sometimes many sick individuals, but in the case of Hatsu Inu The Animation, it's a sex toy. That oddity makes this an excellent choice for our number six pick. You just simply don't see something like this come often in hentai. There are ways to make guys jealous but not often does a vibrator become the catalyst of those feelings in hentai. Fukaya's determination is stimulating.
---
5. Harem Time The Animation

Episodes: 2
Air Date: Oct. 2012 – Jan. 2013
Dropping in at the midway point is a scintillating story about Satou Reiji who becomes the new master at the Kamiyama House, after being informed that his lineage, traced back to having a rich father who had recently just passed away. At first, everything seemed normal, until he was notified about a certain catch. In order for Satou to legally own the house, he's going to have to provide an heir to his newly found riches. Now Satou is tasked with selecting a wife from the countless number of maids that serve in the Kamiyama House.
Just like the title would indicate, Harem Time The Animation does a wonderful job at portraying an envious harem situation between Satou and seven other females. What's not to love about a guy getting pleasured by seven outrageously gorgeous females? Just the idea of that should rev your engine. The anime executes some of the best group scenes in all of hentai, showcasing what these maids are willing to do in order to satisfy their master. With seven different girls, there's bound to be one that will fit your preferences.
---
4. Lovely x Cation The Animation

Episodes: 2
Air Date: Mar. 2015 – Jul. 2015
Dropping in at number four is one of the more romantic series on this list, Lovely x Cation The Animation. Spring is in the air, and the main protagonist confines himself in an apartment alone, enjoying his easygoing school life. After getting advice from his uncle, the main protagonist sets himself up to find romance and a relationship, despite the fact that he has zero experience on that front. He will meet several girls, each with a distinct personality, but they all share one thing in common, love.
What we love most about this series is the feeling of romance you get from watching this. It's few and far between when you find a hentai that really evokes true romantic feelings for these characters. Lovely x Cation The Animation brings you several different love stories that focus on their relationship and not squarely on lust. The art and animation play a large role in how these are perceived as a romantic anime. The females facial and body reactions really tell the story during each h-scene. There genuinely seems to be a connection between each lover.
---
3. Koiito Kinenbi The Animation

Episodes: 2
Air Date: Dec. 2012 – Mar. 2013
Koiito Kinenbi The Animation delivers several stories and situations spread out between two episodes. The prominent stories involve the Okunaga family which consists of the younger sister Anna, the eldest sister Kanako and their mother Yurie. Kanako's boyfriend Yuuichi becomes the beneficiary of the family's lust. The other story is about a girl named Aisha who is taking place of Santa Claus delivering presents. While visiting her last house, she slips and falls, suddenly being woken up to a horny male who is taking advantage of her. Furthering the story a year later, Aisha's younger sister Sasha visits and things start to heat up in the cold winter's night.
Now we're getting to the portion of the countdown where we're going to see some highly praised series from Honey's Anime. This was listed in our top 10 hentai of all-time, and with good reason. This series features some erotic situations between a mother and daughter who fight over the daughter's boyfriend. To top it off, the boyfriend then gets to dabble with his girlfriend's sister, as if her mother wasn't enough. If this series art and situations don't get you going, you better check your pulse!
---
2. Rance 01: Hikari wo Motomete The Animation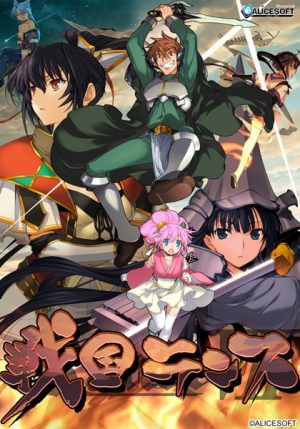 Episodes: 4
Air Date: Dec. 2014 – Jun. 2016
Rance 01: Hikari wo Motomete The Animation has one of the more compelling storylines on this list. It offers a more cohesive plot that could easily have been made into an ecchi anime if it wasn't for the h-scenes. The story is about a level two swordsman named Rance who is from the small town of Ice. He's a member of a local guild and takes on odd jobs when money is needed. He's out to save nations from demons while saving damsels in distress; ultimately for his biggest reward, sexual release.
Rance 01: Hikari wo Motomete The Animation is arguably one of the best fantasy series in the world of hentai. It features a wonderfully executed story that follows Rance saving the day and getting his reward. His reward is some lovely females who are willing to let Rance have his way with them for a variety of reasons. Rance already has a personal sex slave who he takes advantage of in most episodes, but that isn't enough for his sex-driven appetite, as he invests in his libido and pleases numerous females to quench his thirst. This is a fantasy cornerstone in the hentai community.
---
1. Stringendo: Angel-tachi no Private Lesson (Stringendo)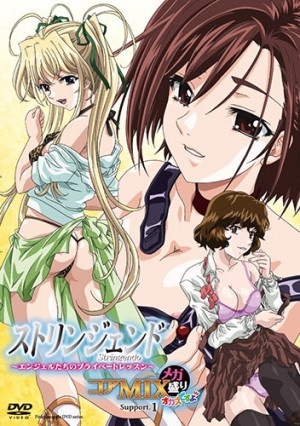 Episodes: 12
Air Date: Jan. 2006 – Apr. 2012
This is it folks; we have made it to our number one Pink Pineapple hentai! Stringendo is a robust series that spans twelve remarkable episodes. In these episodes, it showcases popular high school girls who aren't able to control their sexual desires. Without a proper way of containing all that lust, they decide the best thing to do is take advantage of their social status and prey on the less popular guys at school, in various alluring settings. These guys lives will never be the same again.
It should come as no shock to Honey's readers that this is the number one Pink Pineapple hentai. It's drawn a lot of admiration from us, including being named number one on our top 10 hentai of all-time. There's really nothing that can compare to this series. There are a dozen episodes to choose from, varying between a handful of stunning girls who are slapped in numerous scenarios that are all too stimulating. Whether it's in a parking lot, a movie theatre, a school, a karaoke bar, or even at a public bath, there's no end to these scintillating moments.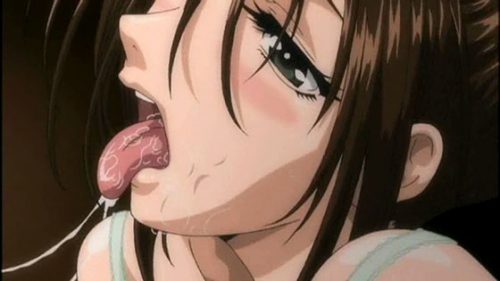 ---
Final Thoughts
That will conclude another spicy countdown on Honey's Anime. After viewing this list you should have an understanding as to why Pink Pineapple is, as far as we're concerned, the king of hentai. Every one of these series deserves to be viewed at least once. For some of you, they have already been viewed many times over.
It's time for our loyal readers to weigh in with your opinion on the subject matter. With such a vast selection of hentai to choose from, what are some of your favorite Pink Pineapple hentai? We eagerly await your response in the comments section below!
---