It's that time once again to examine another one of the more prominent hentai producers, Pixy. Over the last ten years, Pixy has been able to capture audiences with some of the best gangbang and monster cock hentai on the market. If you're a fan of those genres, chances are you've watched a Pixy anime or two.
While Pixy hasn't released a new series since July of 2012, they've undoubtedly left their mark on the hentai industry with some of their classics that we will present to you. Pixy was active from June 2006-July 2012, releasing a total of 25 series and specials. This countdown is going to feature ten of the most exhilarating of the bunch.
10. Uchuu Kaizoku Sara

Episodes: 4
Air Date: Apr. 2008 – Feb. 2010
In a galaxy that's ravaged by war, there are numerous power-driven warlords who oversee the galaxy and hope to capture and humiliate a female space pirate by the name of Sara. To this point, Sara has been effective at avoiding these malevolent foes, but after the silver knight Sylia gets used by evil aristocrats, all bets are off. These aristocrats are the driving force for the corruption in the galaxy, thanks in part to their slave trading business. Now, these hellish twins look to break down and mold the sought-after space pirate, Sara.
We're going to start with a series that should please many yuri and futa fans alike. Uchuu Kaizoku Sara brings a myriad of genres into its 4 episode series, including monster cock, humiliation, and experimentation. The core focus of this series is how the high and mighty space pirate, Sara becomes humbled from the sinister villains known as Cecil and Karin von Gielen. Uchuu Kaizoku Sara is not your traditional vanilla hentai, and for someone who's looking for something a bit on the wild side, this series should more than suffice.
---
9. Elf Hime Nina

Episodes: 3
Air Date: Oct. 2010 – May 2012
The story of Elf Hime Nina showcases a rivalry between brothers and an elven princess named Nina. After Kyle and six others disposed of the evil overlord, he was thought to have inherited the throne of the kingdom. That wasn't the case, however. Kyle's younger brother Syll was afforded that privilege, but it didn't last long as Kyle stole the throne in a devious plot that seen Syll almost murdered in the process. Ever the opportunist, Kyle, sets his sights on Nina, who happens to be in love with Syll.
One of the best aspects of Pixy is they're known for adapting lengthy series. While Elf Hime Nina is the shortest series to make this list in terms of episode count, there's still plenty of material to enjoy in this three episode hentai. Elf Hime Nina is an optimal pick if you're on the search for that niche genre of elf hentai; so much so that we ranked Elf Hime Nina as our number two elf hentai on the market. Elf Hime Nina brings a lush and vibrant contrast between the females and their setting. One could easily make the argument that this hentai is one of the best looking Pixy series.
---
8. Ikusa Otome Suvia

Episodes: 4
Air Date: Dec. 2007 – Aug. 2009
Ikusa Otome Suvia is about how the Valkyries failed to save the Norse god, Odin and he's now being held captive in the land of the dead by the trickster, Loki. In order for his sinister dreams to come true, Loki must find two keys that are well protected in the presence of two powerful Valkyrie's, Sigurd and Suvia. With some of the Valkyries fallen and becoming sex slaves for these demonic beings, it's only a matter of time before Sigurd and Suvia fall victim to Loki's insatiable desires.
Ikusa Otome Suvia dedicates the majority of the time telling a story of possessive desires. Loki not only longs for those two keys from the Valkyries but he wants to win both girls over, particularly Suvia. Loki plays mind games with the girls and little by little demonstrates his dominance, as he tries to get them to cave and give into their sexual needs. Ikusa Otome Suvia is one of many Pixy adaptations that focus on 'mind breaking' situations to see how long Suvia and Sigurd can hold out.
---
7. Ane☆Haramix

Episodes: 4
Air Date: Aug. 2006 – Sep. 2007
Akitoshi Takami is now living with his older sister Hitomi since they're both parentless. Akitoshi has always had an infatuation with his older sister. His dreams of Hitomi have got more and more perverted over the years. One day, a mysterious girl named Mina shows up at their house and introduces herself as Death. Mina explains she's there to collect Akitoshi's soul as his time on earth is up. However, after conversing with Hitomi, Mina decides that if Akitoshi can father a child within a week's time, he will have ten more years to live.
Ane☆Haramix is one of Pixy's oldest adaptations and it still holds up rather well visually for a hentai that started 11 years ago. This inclusion on the countdown offers a welcomed change, as the previous selections on this list featured many exotic and non-con sequences. Ane☆Haramix illustrates a straightforward plot, detailing the life of two siblings and throws in some charming comedic efforts, especially with the Reaper known as Mina. This series is a lot more light-hearted than most of Pixy's content, keep that in mind.
---
6. Taimanin Asagi

Episodes: 4
Air Date: Feb. 2007 – Aug. 2008
In a world where demons and humans coexist, there's a sacred bond between the two races to never harm each other. In the dangerous city streets of Tokyo, that bond was shattered and numerous humans and demons bent on destruction, teamed up and formed wicked organizations. In the wake of this injustice, a duo of kunoichi will try and defend the city from its enemies. Unfortunately for the kunoichi Asagi, her rival Oboro, who she thought she dealt with, is back and seeking revenge. Oboro will not stop until Asagi and her partner Sakura are mentally and physically broken down.
Taimanin Asagi is perhaps Pixy's most well-known series to date. It features a plethora of sequels, spinoffs, and specials. Taimanin Asagi is not only known for having one of the largest universes within the hentai industry but is also known for having one of the most malevolent villains, that, of course, is Oboro. She's a scathing and manipulative individual who you will quickly love to hate. If you're into dark supernatural hentai swarming with demons, this is a must-watch.
---
5. Kangoku Senkan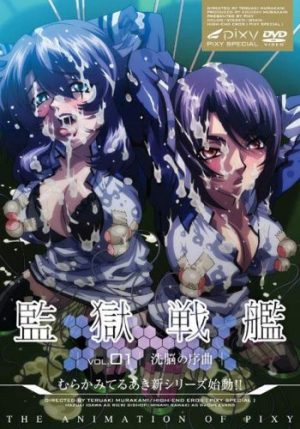 Episodes: 4
Air Date: May 2009 – Dec. 2010
Our next pick is a science fiction space adventure involving a space criminal by the name of Donny Bogan. He happens to be captaining a ship representing the Neo Terrors. Donny has been building resentment and plotting a plan to get back at New Solar commander Lieri Bishop and her aide Naomi Evans for sabotaging his mission four years ago. His plan is to kidnap them at the Titan Space Station and then bring them aboard his ship so he can brainwash them and use them for his sexual desires.
Rolling our way to the midway point of the countdown and we've got a treat for you. Kangoku Senkan uses a revenge plot for the villain, Donny Bogan to exploit. In this non-con hentai that highlights Pixy's best sci-fi adaptation, the h-scenes are built at a fervid pace. From the camera angles to the speed and ferocity of the h-scenes, you really sense the pent-up hatred that Donny has for these girls. Both Naomi and Lieri are tough soldiers but go through a whirlwind of changes throughout the series. Kangoku Senkan features many of the common traits that Pixy has in their hentai including, exploitation, experimentation, and gangbangs.
---
4. Koutetsu no Majo Annerose

Episodes: 4
Aired: Jul. 2012 – Nov. 2014
The corrupted city of Amidahara is home to many of the most sinister humans and demons imaginable. The respected witch, Annerose is able to form a binding spell with Rikurou Tachibana and turn him into her undead servant. Annerose and her servants take on a case about a girl named Miki and her missing brother. Unfortunately for Annerose, the case leads to her having to grudgingly work with an adversary from her past. That's not the only thing Annerose and her crew has to worry about, as a malevolent force off in the distance is brooding over the destruction of the entire world.
Koutetsu no Majo Annerose is the last series that Pixy adapted into an anime. For that reason, the first thing that should jump right out at you is the striking visuals. Koutetsu no Majo Annerose takes place in a shadowy town but the lights and colors contrast extremely well with the often dark backdrops. What we love most about this series is that it features some of the hottest females of any Pixy release. All five girls are a blessing to see in action and Annerose's ability to transform when a new moon rises make her pleasantly versatile.
---
3. Tentacle and Witches

Episodes: 4
Air Date: May 2011 – Nov. 2012
Ichirou Tachibana is a perverted student that has a crush on his teacher, Yuuko Morino. He's also captivated by her secret; she's a witch. One day while Ichirou was peeping on Yuuko, his classmate, Lily Ramses Futaba demonstrates the power of a witch and attempts to turn Ichirou into her familiar servant. Lily's plan goes awry and in ends up turning the lecherous male into a lustful tentacle monster. In order for Ichirou to maintain a semblance of his humanity, he has to extract sexual energy directly from witches.
You guessed it; this series focuses plenty on tentacles and witches. If you're craving for a wonderful piece of tentacle hentai, look no further. Despite the efforts shown with that genre, there's more to the series than just that. Tentacle and Witches supports a colorful cast of characters that bring varying personalities and appearance to the table. In addition to the visually pleasing aesthetics, this series is able to blend in comedy to lighten up the sometimes grim sequences, particularly towards the second half of the series.
---
2. Himekishi Lilia

Episodes: 6
Aired: Jun. 2006 – Jul. 2010
Himekishi Lilia tells of a fantasy driven tale about a princess named Lilia who is destined to become the new leader of her kingdom. However, not everybody is willing to accept that scenario and her defiant brother, Dirk, has his own agenda. Dirk makes a pact with a demon in order to capture Lilia and extract the holy energy that she possesses. In order to do that, Dirk will have to get Lilia to reach her highest level of sexual ecstasy. Dirk captures their own mother and threatens her very life if Lilia doesn't comply with Dirk's corrupt ambitions.
Although Himekishi Lilia is Pixy's debut effort, it sets the bar high for every future release from them. Yes, Himekishi Lilia is their oldest piece of work, but that doesn't stop it from being one of their best pieces today. This series encompasses everything that you go on to expect from a Pixy adaptation and with it being six episodes long, it's able to fit more than enough content in for virtually any sort of hentai enthusiast. Himekishi Lilia may not be as visually grasping as some of our other selections on this list, but it does just about everything right, as far as story, characters, h-scenes and content to carry it to our number two pick.
---
1. Makai Kishi Ingrid

Episodes: 4
Air Date: Jun. 2009 – Aug. 2010
Tokyo, the now diabolic city is the host of a dark existence that's sweeping and changing the very landscape. Hell Knight Ingrid is tasked with taking care of a treacherous doctor named Sabato Kiryuu. Determined as ever to settle the score, Ingrid runs into Sabato in a church where she gets caught off-guard and gets captured by the diabolic doctor. Now with the authority to do whatever he wants with Ingrid, he encourages monsters to defile and disgrace her body all in a sinister plan to keep Edwin Black from saving her.
Here we are with our favorite series to be produced by Pixy. The reason why we love Makai Kishi Ingrid so much is because of its outstanding visuals, characters, and story. This series is very much in the same vein as Taimanin Asagi, as it takes place in the same universe. In fact, these characters were portrayed so well in this series that the blue haired, Murasaki went on to be featured in Taimanin Asagi 3. Makai Kishi Ingrid focuses on what Pixy does best and that's action, compelling stories, demons, and gangbangs. We feel this hentai was the apex of Pixy's work.
---
Final Thoughts
As we come to the conclusion of our ten favorite Pixy series, we feel confident that we got the best of the best. Pixy bolsters a strong catalog of content, so regardless of where these hentai rank on this list, there should be enough to please most fans of this entertainment.
One thing is for sure; Pixy's hentai won't be forgotten. Since there are still about ten more series that didn't make the cut, it's probable that a few you enjoyed didn't make it. If you're one of those people, we would love to hear what series you would have added onto this countdown. Regardless, your input helps shape Honey's Anime, so give us a shout in the comments section below!
---