When you think of hentai studios it's hard to argue against PoRO being at the apex of their industry. Over the last eight years, PoRO has made some of the best-looking hentai on the market. Their first piece was released in 2009 titled, Triangle Blue. Although it had moderate success, it wasn't until two months later when they brought out Oni Chichi that they really found their footing. However, with great success, there's bound to be some negativity.
There aren't many other genres that split the hentai community more than NTR. For most, you either loathe it or love it. When it comes to PoRO, they do have some of the most well-known NTR series, which by default, gives them a bad rep from some. Despite all of that, PoRO has become one of the best studios in the world of hentai and that doesn't look like it's going anywhere anytime soon. So let's all kick back and enjoy this stimulating list together.
10. Uhou Renka

Episodes: 2
Aired: Jun. 2012 – Nov. 2012
When it comes to PoRO there was a lot of competition for that number ten spot. As with most top ten lists, it could have gone a number of ways. Ultimately, we couldn't say no to Uhou Renka. This hentai tells a story about a guy named Ryouhei, who returned to his old stomping grounds near the countryside. That's when he met a well-endowed girl, Karen. She is the heiress to Toyohira-ya, a lodging house within Ryouhei's hometown. With the assistance of Ryouhei's ex-girlfriend's sister, Nagisa, feelings become clear and Ryouhei's situation escalates quickly.
This hentai quickly establishes what's going on with the story (we use that term loosely) and then it jumps right into the h-scenes. Karen and Ryouhei go at it in a variety of ways and locations. It sets the tone for the remainder of the series, as this is all that really happens throughout these two episodes. We're treated to a ton of outdoor sex and a threesome with toys by a pool. Its runtime between both episodes is about an hour, and approximately twelve minutes of it does not involve a character having sexual relations. If you care nothing about the story, this is your bag.
---
9. Bloods: Inraku no Ketsuzoku 2

Episodes: 2
Aired: Jul. 2011 – Nov. 2011
Our next pick on this lust-filled countdown brings us some incestuous action. Bloods: Inraku no Ketsuzoku 2 follows the Sagimiya family who is cursed with receiving sexual arousal when they're around their blood relatives. Both Misaki and her twin brother Shun are repulsed by this and try their best to resist their impulses. Eventually, Shun loses his composure and shows his passion to his other sister Kaguya. After witnessing what her brother and sister have done, Misaki gives into the temptation.
What makes this even more interesting from the last selection is that both girls in this hentai look extremely similar to the ones in Uhou Renka. If you were to color swap their hair and change their eye color, you wouldn't notice a difference visually. The reason we have this one at the number nine spot is because the h-scenes were done better. Instead of spontaneous sex throughout, there is some build up before the intimacy. What really puts Bloods: Inraku no Ketsuzoku 2 over the edge is the costumes, in particular, the fox outfit from Misaki… Wowah!
---
8. Machi Gurumi no Wana: Hakudaku ni Mamireta Shitai

Episodes: 4
Aired: Feb. 2010 – Sep. 2014
Number eight is a hentai that's been covered heavily on Honey's Anime, and with good reason. The story takes place in a rather unusual town that services men with female sex slaves. Atsuko Takagi is a caring high school teacher who gets caught up in a whirlwind of sexual activities after one of her students posts salacious photos of Atsuko in their classroom. In order for things to not get blown out of proportion, Atsuko must do as she is told from a variety of males throughout her school and newly settled town.
This is our first pick on the countdown that really delivers an interesting story to us viewers. While we know storylines always take a backseat in the world of hentai, you can't help but notice when one comes along with an interesting plot. Machi Gurumi no Wana: Hakudaku ni Mamireta Shitai presents us with four episodes that truly develop the female cast. When these girls are subjected to sexual intercourse, it comes off as being more important. This, in turn, becomes more satisfying for the viewers.
---
7. Chu Shite Agechau: Oshikake Oneesan no Seikou Chiryou

Episodes: 2
Aired: Feb. 2013 – Jun. 2013
The negativity that surrounds the hentai community about PoRO's characters being comparable in the looks department seems to ring true. We'll have more on that later. As for the story, well…. It's about a clueless male named Akira, who is unaware of the changes that most go through during puberty. He knows very little about sex, so his older sister Yuu, takes it upon herself to personally teach him the ways. Fortunately for Akira, he has more than just his sister willing to teach him on how to become a man.
At the beginning of this hentai, Akira is caught pleasuring himself to Machi Gurumi no Wana: Hakudaku ni Mamireta Shitai. Yuu pokes fun at how similar both her and Atsuko look. You could certainly make a case for the similarities, appearance-wise. The strong points from this hentai are the ability to wonderfully convey desirable scenarios. In addition to the doctor wanting to give Akira 'special treatments', a determined Yuu and a curious Sana all take part in educating and 'nursing' Akira back to health. It all leads to some scintillating h-scenes that leave you wanting more.
---
6. Nerawareta Megami Tenshi Angeltia: Mamotta Ningentachi ni Uragirarete

Episodes: 4
Aired: May 2014 – Jan. 2016
Continuing on with the countdown, we come across another four episode series. This one however, just wrapped up last year and should still be fresh in some people's minds. In case you forgot, the story takes place after demons arrive and attack the earth; all the while using man's lust to replenish their strength due to absorbing the carnal energy. Enter Yuuri, who becomes an Angel Goddess in order to combat the sinful creatures. Immediately after becoming an Angel Goddess, Yuuri is tasked with taking down an even bigger threat than originally thought.
The cover of this hentai is a bit misleading, and despite offering a couple scenes with tentacles, it mostly strays from that. The first two episodes focus mostly on Yuuri's actions towards the demons (and teachers) while the last two episode primarily focuses on Suzune, the erotic Angel Goddess. Suzune is depicted as a strong individual and a sensei to Yuuri, but ultimately she ends up on the wrong end of these sinister demons pleasures. Both girls are driven to save the world but become tools of lust in order to save the ones important to them.
---
5. Fukubiki! Triangle: Miharu After

Episodes: 2
Aired: Apr. 2010 – Jan. 2011
The midway point of the countdown brings us a doozy of a hentai. Fukubiki! Triangle: Miharu After starts with Miharu and Ushio finally starting to date and enjoying their newly found relationship. Things don't stay peachy very long after an incident leads to Miharu hospitalized and she awakens with amnesia. After Miharu leaves the hospital she seems to be a different person. No longer is she the bubbly outgoing girl Ushio once knew. While trying to sort out that situation, Ushio is confronted with Miharu's sister, Futaba, who is looking to take advantage of her sister's dilemma.
Right at the beginning of the hentai, we're treated to a wonderful h-scene with the new lovers, Miharu and Ushio. It really demonstrates how sexually forward Miharu was before her accident. From there we watch the female perspective, as Miharu is now shy and reluctant to do anything. It's a nice way to change-up a character which makes the h-scenes even more erotic. Don't forget to check out Fukubiki! Triangle: Futaba wa Atafuta ♥ it covers more sultry scenes with Ushio and Futaba. It also has a brief cameo of Airi from Oni Chichi.
---
4. Himesama Gentei!

Episodes: 2
Aired: May 2012 – Oct. 2012
This next offering is one series from PoRO that often gets overlooked. Clearly we feel strongly about this one coming in at the number four spot. The story is about a princess named Selina who moved to Japan to stay with her distant relative Yuu. Shortly after that, another princess gets exiled to Japan and things start to get interesting. Selina and Yuu aren't very supportive of Olivia due to her snobby and demanding nature. Regardless of how they feel, Olivia will try and claim Yuu for herself, one way or another.
One of the best aspects of watching this hentai is witnessing the intimacy in nontraditional environments. It's stimulating to see both princesses bringing up the idea of being caught as they enjoy the act. There were several scenes where the thrill of being caught was emphasized. Places such as a limousine, a forest, a table with guests sitting there, and at a beach. It seemed like every h-scene was able to capture that element wonderfully. It really did make those scenes more pleasurable; including the final scene that involved Miku, Selina, and Yuu. Himesama Gentei! is worth your time.
---
3. Oni Chichi 2: Revenge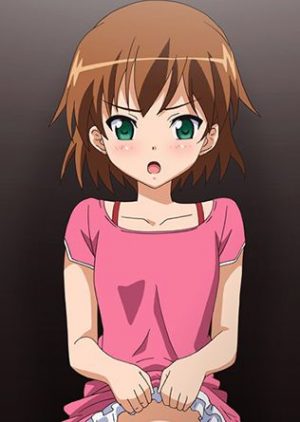 Episodes: 2
Aired: Nov. 2013 – Mar. 2014
Our number three pick is one of two Oni Chichi series to make the cut. Oni Chichi 2: Revenge has no relation to the characters in Oni Chichi. Kenichi, a father of four, discovers that his daughter's school is holding a training camp. Natsume, Akira and Fuyu are all interested in going, but they need a chaperone. Eager to affiliate himself with that, Kenichi offers to chaperone his three daughters. Needless to say, the girls aren't overly thrilled about this because they know what kind of training regimen he will put them through.
One of the things Oni Chichi 2: Revenge shares with its 'sister series' is the incestuous tone of the hentai. Both fathers are more than willing to get it on with their daughters. For this particular anime, Kenichi has three daughters to choose from and he doesn't take it easy on any of them. There's a lot to like in this hentai, with all three girls sharing a variety of h-scenes. Each girl offers a much different experience, in terms of appearance and personality. Do the girls get their revenge? We'll leave that for you to find out.
---
2. Nuki Doki! Tenshi to Akuma no Sakusei Battle

Episodes: 2
Aired: May 2013 – Sep. 2013
As the countdown continues to roll on, we feel we're now bringing you the best of the best from PoRO. The battle between angels and demons has reached a pinnacle of their feud and in order to finish this competition, they're going to have to try and win Yamato's heart, by any means necessary. Neither one will be satisfied as the runner-up. An angel named Sera and a demon named Firika contend to see what race ultimately comes out on top.
The moment that you start this hentai you realize you're in for a special treat. Now, the theme for this series isn't unique per se, but the characters in this offer something that most hentai don't cover. A female angel and a female demon provide magical possibilities that spice up your typical h-scenes. An example of this would be in the first episode when Firika performed fellatio on Yamato while they weren't in the same location. That right there is something unique that we can totally get behind. Be on the lookout for the sequel, Nuki Doki! Tenshi to Akuma no Sakusei Battle - Revolution coming out in February 2017.
---
1. Oni Chichi: Rebuild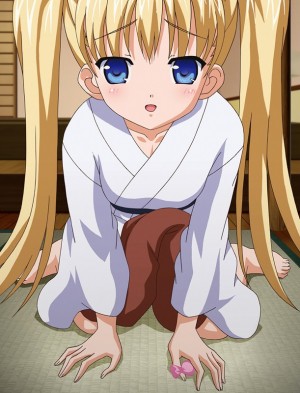 Episodes: 3
Aired: Dec. 2013 – Dec. 2014
The number one pick goes to Oni Chichi: Rebuild. Rebuild is the fourth OVA in the original Oni Chichi series. In this three episode installment we have our first look at Kayoko, the mother of Airi and Marina. Kayoko looks to re-establish or "rebuild" if you will, her relationship with her kids and most importantly Kouzou. What she doesn't know is that Kouzou has been having sexual relations with their daughters. In addition to that, Airi has become a little jealous of a new student named Yuka, who Kouzou has grown a fondness for.
There's a lot to cover in this hentai as we truly feel this is the best release PoRO has had thus far. Oni Chichi is one of the highly regarded hentai series of all-time and we felt that Oni Chichi: Rebuild is what epitomizes it. It covers three episodes, with a plethora of varied h-scenes and Oni Chichi's highest female count to date. Airi, Sana, Marina and Yuka all get themselves involved physically. There's a group scene between Sana and Airi that includes video recording. With a surplus of fellatio scenes, cosplay and locations, it's easy to see why this is the best that PoRO has to offer.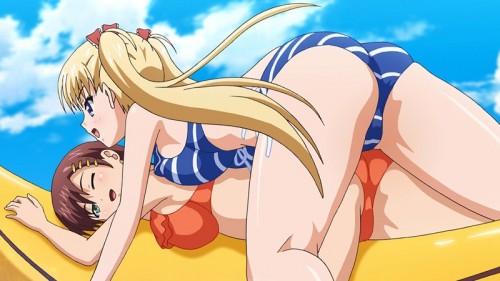 ---
Final Thoughts
That concludes our list of the best PoRO hentai to date. What you've seen here, is a full-on list of lewd. PoRO is a master of their craft and this list should reflect some of their best work released.
We want to hear what you have to say about this. Do you feel that we presented the best list possible? Are you perhaps burned about some of the rankings? Regardless, let us know in the comments section below!
---