If you're looking for something other than the same old boring vanilla series then you're in luck. Today we are going to be taking a look at 10 anime that are based around the thoughts of pain and pleasure, that's right, we are looking at the sadism series! Sadism is a new theme in many hentai, but the shows that represent the genre still have a lot to offer. If you're looking for an anime that will bring out your sadistic side, then look no further than the 10 shows below that are filled with concepts of pain and pleasure.
10. Dropout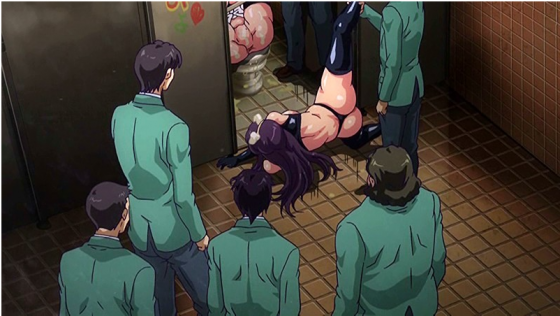 Episodes: 2
Aired: February 26, 2016 - March 25, 2016
Dropout is the story of students who become devices for public relief. If you can't make the grades in the world of Dropout, then you will become available for public use. This concept really comes to a head during the second episode of the show with the concept of public toilets.
Dropout begins by introducing us to girls with bad grades who love to suck dick. The sadistic tendencies really come out in the second episode though. In the episode, the girls are installed as public toilets where the men can go to relieve themselves at any time. One boy finds his favorite personal toilet has been installed in the bathroom and is tied up. This greatly upsets him and the pair begins to have rough sex.
---
9. Pinkerton

Episodes: 3
Aired: July 22, 2016 - February 24, 2017
Pinkerton is the story of a class monitor who gets on the male student's nerves. To get her back they decide to introduce her to the world of sex. One again the second episode of the show is more geared towards sadism than the whole anime is.
In the second episode, the hall monitor finds herself lying on a bed and being toyed with by her classmates. They even hook massaging patches to various parts of her body to give her additional pleasure while the play with her tits. As the episode moves around more classmates get in on the action and the hall monitor soon begins jerking off multiple cocks at once. When the boys get there feel of the handjobs, they lay her done and begin to have sex with the girl back to back.
Later on, she is forced to wear a vibrator while class is in session leading to her quickly becoming embarrassed.
---
8. Crimson Girls: Chikan Shihai

Episodes: 3
Aired: May 25, 2012 - September 20, 2015
Crimson Girl is a sadism anime based on the name of the author Crimson. The hentai is about two girls who rides trains to protect girls from possible molesters. This, of course, turns into a problem as the two girls find themselves being targeted by men well-versed in the art of pleasure.
The first of the two girls is surrounded on the train by men. The group slowly begins rubbing up against her until they start playing with her breasts. Soon after, they wander down to her pussy where they begin to tease her even more before stipping off her clothes. They begin to finger the girls bringing her to a point of ecstasy before she runs off of the train at the next stop. Later they find the same girl again and manage to bring her back to a hotel room where they record their experience.
---
7. Aku no Onna Kanbu

Episodes: 2
Aired: November 18, 2011 to March 23, 2012
Aku no Onna is a story about an underdog who acquires a special power and uses it to get revenge on his bosses. This is, of course, after they spent years putting the man down and trap him in a forcefield with their enemy.
The story opens with the man forcing one of his bosses to masturbate in front of him. After watching her pleasure herself for a bit he takes the initiative to lean her back and shove his dick inside of her pussy. Before long he is having the same woman suck his dick while he sits in a chair. He even gets to release his load all over her when he's done embarrassing her further. The rest of the show is all about the man forcing the girls to commit to embarrassing sexual favors for him.
---
6. Amai Choubatsu: Watashi wa Kanshu Senyou Pet Season

Episodes: 13
Aired: April 2, 2018 to June 25, 2018
Amai Choubatsu has an interesting set-up as the anime is directed at portraying a sadistic relationship. The anime begins when an innocent girl is imprisoned for embezzlement. Shocked and scared the judge then sends her to prison where she meets the warden Aki.
The first episode opens up with Hina stripping down in front of Aki so that he can search for her. As he does, he teases her a bit and then insults her for reacting to his touch, before beginning to finger her. The anime goes through this same premise again and again as Aki punishes Hina for disobeying his orders or simply just being in the wrong place at the wrong time, before long the pair are even having sex.
In one episode he even pleasures her while she is meeting with her fiance and by the end of the season, she is completely submissive to his commands.
---
5. Ryuudouji Shimon no Inbou

Episodes: 2
Aired: October 20, 2017 - April 20, 2018
Ryuudoji is another hentai with a fun and interesting premise surrounding a sex slave program. The protagonist Ryuudouji is cordially invited to the school to help train young women in the art of being a sex slave. The only problem is that Ryuudouji is completely sadistic about his training.
One of the first scenes shows a girl being tied up so that Ryuudouji can ram into her from behind. This, of course, involves him training her ass and using a vibe in her pussy at the same time. Before long it cuts to a scene of another woman who is tied to a desk while sucking his dick while he looks over the information of his next sex slave. He soon gets bored of the blow job and starts pounding into her from behind, telling her that she is just a slut.
---
4. Yabai! Fukushuu Yami Site

Episodes: 2
Aired: February 28, 2014 to April 25, 2014
This anime revolves around three girls who are captured by the protagonist and then tortured one by one for information. The protagonist, of course, is extremely sadistic and pleases the girls sexually to get them to come clean.
From the very first scene, one of the girls is tied up and teased by the protagonist. He even makes sure to broadcast the teasing online for several different viewers to watch. He even takes her virginity on screen and cums all over the girl for his viewers.
Before long he even lowers her down to make her clean off her dick before flipping her over to finger her ass.
---
3. Kutsujoku

Episodes: 2
Aired: November 1, 2019 to December 6, 2019
Kutsujoku is a two-episode anime with short episodes. The series revolves around a man named Souichi who gains the ability to control others. He decides to use this power to bend the women around him to his will and create a personal harem.
The show opens up with one of the first girls masturbating while using the corner of her desk. Before long it jumps to another who is holding up her skirt for Souichi while the two are in public. The girl allows him to finger her and then play with her tits as she shoves a vibrator into herself. Before long Souichi is sleeping with the girls and filing them with his cum. Sadism at its finest.
---
2. Idol Kyousei Sousa

Episodes: 2
Aired: February 24, 2017
Idol Kyousei Sousa is another sadistic sadism anime on the list written by Crimson. The story revolves around an idol who gets a new manager. The manager, of course, is a little bit more than creepy and quickly takes advantage of the young girl.
The sex starts when the manager enters the girl's room alone and takes out his phone. As it turns out, he can control a woman just by bringing up his camera and placing his finger on various parts of her body. After teasing her using his special app for a bit, he then moves on to actually touch the idol starting with her huge tits. Before long she even wakes up tied to a chair where the producer is forcing a vibrator against her clit.
---
1. Kyonyuu Reijou MC Gakuen

Episodes: 2
Aired: February 24, 2017 to March 31, 2017
Kyonyuu is a sadism anime about a proper school full of students who hold themselves to strange rules. The women are forced to obey the protagonist every word and this causes the students to have sex with the main character.
In the first sex scene, one of the women pulls out her huge tits and then guides the man through having sex. She even ends up lowering herself down on top of him before riding his dick and letting him fondle her tits. In the next scene, another girl is using her huge boobs to give the man a tit job before allowing him to pound her from behind.
---
Pain is Pleasure
If you're looking for a bit of sadism in your hentai then check out the titles above. The girls all dished out punishments by the males and they love it. Each series offers something a bit different like creampies or tons of bondage so that you can find the perfect show for your needs. Know of any other sadism hentai, let us know in the comments below!?
by N. Calamity
---