También puedes leer este artículo en:Español
In the shounen-ai world, usually a seme is a character who is strong-willed and would do anything to make the guy he loves fall for him. As far as we know, a seme character is taller than the counterpart uke, manlier, and stronger. He is sweet when he needs to be sweet, and protects his beloved from whatever.
What's more, do we need to mention it? A seme character is, by definition, the one who tops under the sheets! With so many shounen-ai anime, it is only obvious that this description is bound to be just an archetype. In fact, there are seme characters who are very uke-ish on the inside; some other ones who are very cold towards their beloved ones; and some other ones who weren't even gay to begin with. We mean, the anime world is so huge that it's impossible to define clearly how a seme character should actually be. Anyway, with this list we'll talk about the ten seme anime boys that we prefer, as they are very near to the archetype we mentioned above!
10. Ryunosuke Oohara from Tight Rope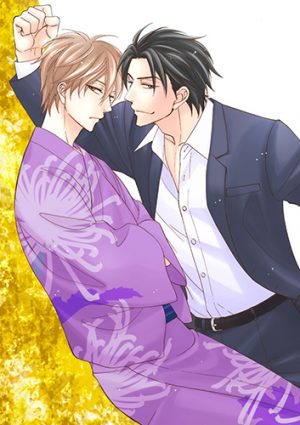 Episodes: 2
Aired: May 2012 – June 2012
Let's start this list with Ryunosuke Oohara, heir of the fourth boss of a yakuza clan and a troublemaker as he can't seem to step back from fights! As we said, being a yakuza heir, he's supposed to act accordingly, but Ryunosuke doesn't care. He doesn't want to succeed his father, and opposes to the idea with all his might. The reason? Well, he is in love with Naoki and his plans in life are to build a happy family with him, and quit being a yakuza.
As we can see, Ryunosuke is a perfect seme character, maybe he is even too perfect. He doesn't mind being straightforward, in fact he tells Naoki that he loves him whenever he has a chance to do so. Ryunosuke is willing to throw his family behind and all in the name of his love for Naoki... who will give our Ryunosuke a very hard time!
---
9. Ryouma Ichijou from Love Stage!!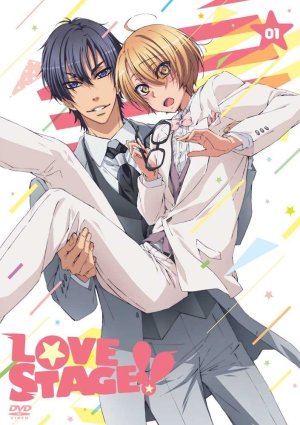 Episodes: 10
Aired: July 2014 – September 2014
Let's move on with a very funny seme, and a very funny show! Ryouma Ichijou from Love Stage!! is one of those seme who didn't know he could be into guys. What we can say about this character is that he was tricked by the appearance of Izumi Sena, the boy he fell in love with. In fact, Izumi happened to play the female role during a shooting with Ryouma, starting the misunderstanding.
When Ryouma overcomes the shock felt after discovering Izumi was actually a boy, and after realizing that he loved Izumi in spite his being a boy, he suddenly turns into the perfect seme. He is very sweet, caring and loving. His peculiar trait, though, is his way to support Izumi – who doesn't like Ryouma in the beginning – when nobody else does. It's impossible to forget how Ryouma was the only one to cheer for Izumi and his dream to become a mangaka, while Izumi actually sucked a lot at drawings!
---
8. Hikaru Kusakabe from Classmates (Doukyuusei)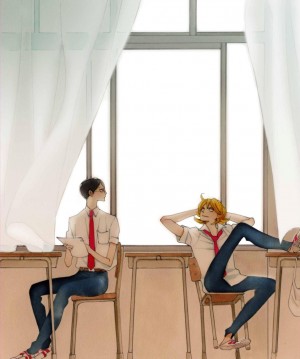 Episodes: 1 (movie)
Aired: February 2016
Hikaru Kusakabe from Classmates had to be in this list. For starters, we need to mention that this story is simply just too sweet and full of very tender moments. Hikaru is a student who plays guitar and is well-liked by the girls. When he comes to know better Rihito Sajou, his exact opposite and his classmate, and offers to help him with the upcoming school festival, their feelings gradually starts growing.
The astonishing trait of Hikaru's character is his way of loving without being afraid, and that's perfectly seme-ish. For Hikaru, it's just as simple as breathing; he loves Rihito and he has to show him how much he loves him. As an ex lady-killer, Hikaru may look a bit frivolous at first, and make Rihito step back, but he is actually in love with Rihito very much and thanks to his determination, their love will slowly bloom.
---
7. Nowaki Kusama from Junjou Romantica

Episodes: 12
Aired: April 2008 – June 2008
Let's move on with this "typhoon" of a seme, Nowaki Kusama! Nowaki, together with Hiroki, forms the Junjou Egoist couple in the Junjou Romantica universe. He is an orphan who did every kind of job to be able to stand on his own feet, and guarantee himself the possibility to study. For as admirable as he already is, we really need to say that he is even better, as he manages to stay beside Hiroki without trying to kill him... and it takes a huge amount of patience.
Nowaki crosses paths with Hiroki – a teacher – by chances, one day in the park, and for Nowaki it's love at first sight. Like every good seme character, he has to find a way to get to know Hiroki better, and so he convinces him to be his tutor. After a little struggling, the two end up together, and it's very clear how much of a cool seme Nowaki is. He is caring, loving and he likes to do housework. What's more, he is very daring, and so he jumps on Hiroki whenever he gets the chance to do so. We already mentioned it, but he manages to stand Hiroki... Isn't he just too perfect?
---
6. Iason Mink from Ai No Kusabi

Episodes: 4
Aired: January 2012 – April 2012
Iason Mink is a controversial seme who showed love for his Riki in a very unusual way. For starters, he is the number 1 antagonist in Ai No Kusabi, if it explains a little how much of a controversial character he can be. In the Amoi planet, controlled by a computer called Jupiter, people with light hair who are considered elite, can take dark-haired people as their pets for a brief time. Iason Mink meets Riki and takes him as a pet, but keeps him longer than allowed and rumors start spreading about their relationship.
Iason Mink considers Riki as a pet, but in his distorted way of acting, he actually cares for Riki a lot. He is interested in Riki at first, and that interest turns slowly into obsession. the step is very short from obsession to love, and in fact in the end he falls in love with Riki. This character deserved a position in this list right because he is a seme who is basically the total opposite of the seme archetype we mentioned up above. He is elegant and calm on the outside, but he is actually passionate and ruthless. And yet this non-conventional seme is intriguing in his distorted way of loving Riki.
---
5. Ryuichi Asami from Finder Series

Episodes: 2
Aired: February 2012 – August 2015
Well, talking about non-conventional and yet intriguing seme, Ryuichi Asami needed to be mentioned. He is a crime lord who came to know Akihito Takaba when the poor boy took pictures of his business dealings. Talking about strangeness, as a punishment for trying to corner him, Asami took Takaba home just to rape him. This is how their obsessive love story begins!
What we need to mention is that Asami is not a character who will say "I love you" and other sweet stuff like these. His peculiar trait is exactly the fact that without saying a single word, he makes it clear that Takaba belongs to him. This means that he protects Takaba with all his might, not allowing others to get closer, neither allowing Takaba to run away. In fact, every time Takaba manages to run away, one reason or another will draw him closer to Asami once again. That's called "seme power"!
---
4. Zen Kirishima from Sekaiichi Hatsukoi: Yokozawa Takafumi no Baai

Episodes: 1 (movie)
Aired: March 2014
Sometimes a seme happens to be a single father who struggles to be a good parent, a cool boss and a loving partner. It's the case with Zen Kirishima, the editor-in-chief of Japun who has always admired Takafumi Yokozawa for his way of taking work so seriously. When Yokozawa has his heart broken by Takano, Kirishima is there ready to take the pieces and put them back together.
We see a lot about Kirishima's character during the movie: he is a worrywart father, constantly wondering about how his little daughter feels. Then, he turns into a very strict boss, when the right time comes; then again he can become childish with the person he loves, Yokozawa. Be careful, though, because Zen Kirishima is actually very near to the seme archetype! He is caring, loving, and sweet. Kirishima can be very straightforward, and if not with words, he acts very spontaneously. Facing the brokenhearted and reluctant Yokozawa, he goes as far as to tell him that he doesn't need to forget about Takano, because he will accept every part of Yokozawa wholeheartedly!
---
3. Youji Kato from Embracing Love (Haru Wo Daite Ita)

Episodes: 2
Aired: March 2005 – May 2005
Youji Katou and Kyousuke Iwaki both started as actors in the AV industry, and both are trying to become greater actors and shake off the AV actor label. Katou is beaten by Iwaki during an audition, but something very strange happens between the two and Katou starts to have feelings for Iwaki, who – like every good uke – is very reluctant at first, giving our poor Katou a very hard time.
Katou is a very interesting character. He is strong and accepts criticism, and he is not ashamed of his past as an AV actor. On the contrary, he uses his past to show everyone how he managed to climb on top. As for him being a seme, well, he is so fond of Iwaki and so determined that he can't be put down by Iwaki's refusal. What's more, Katou shows to understand very well the weak side of Iwaki, and act accordingly to make sure his beloved one gains at least a bit of self-esteem.
---
2. Masamune Takano from Sekaiichi Hatsukoi

Episodes: 12
Aired: April 2011 – June 2011
The editor-in-chief of the Emerald department at Marukawa, Masamune Takano, meets the person who was his first love – Ritsu Onodera – when he started working in his same shoujo manga division. Takano doesn't reveal to Onodera that he has recognized him, and that he remembers everything about their past. And yet a lot of funny gags keep on happening because the way Takano and Onodera interact is very amusing!
Takano is grumpy, bored, and tired. The flip side of his character, though, is a hardworking man who actually knows what to do when push comes to shove. Even though he loves Onodera – who never admits that he loves Takano back – he doesn't treat him kindly at work. Pretty much the contrary, we'd say. That's how they start bickering, looking like children arguing over a candy. Of course, that's just an act. When the moment is right, Takano is able to be sincere with Onodera, and prove us to be a seme under all the perspectives. From high-school onward he could never forget about Onodera, and he still loves him after all those years. He covers Onodera's back every time he needs to, and he is very jealous when Onodera interacts with other girls. Now tell us if he didn't deserve our 2nd position!
---
1. Tetsuhiro Morinaga from The Tyrant Falls In Love (Koisuru Boukun)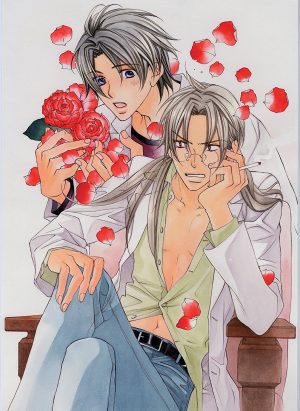 Episodes: 2
Aired: June 2010 – November 2010
Life is hard when you're a student in love with your upperclassman who hates gay people more than anything else! That's what happened to our poor Tetsuhiro, who fell in love with Souichi Tatsumi, a tyrant with a bad personality who, due to an accident happened in the past, became a homophobic shouting that all gay men should be erased! Well, it's funny to see how he will find himself followed around by our Tetsuhiro, who loves him for... five years!
We put Tetsuhiro as our first position because he shows very clearly how love can be blind sometimes. Tetsuhiro is an example of patience and dedication. Plus, he has all of what a seme should have, starting with looks and finishing with his way of acting. He loved Tatsumi, because he was able to see over his facade, and managed to keep it a secret from him, suffering in silence, because he didn't want to be hated, nor he wanted to hurt Tatsumi or give him any more trouble. He is treated as a slave, as a number zero, and yet for the sole reason to be able to stand next to Tatsumi, he is happy with the way things are. What's more, when he talks about Tatsumi with his friend Hiroto, he never badmouths him; on the contrary he has always a good word for Tatsumi, and he is able to see all his bright sides. He is understanding, cheerful and honest. When he will finally become one with Tatsumi, he will prove to us to be a perfect seme, showing a manliness out of the ordinary and making the tyrant Tatsumi quiver and waver!
---
Conclusion
With the lovely Tetsuhiro, our list of seme came to an end. We'd have loved to mention other amazing characters like for example Chiga from Hey, Class President!, or Soubi from Loveless, but having to choose, we had to put these ten in the list. These ten guys are totally different from each other, and yet they share that manliness which is typical of a seme character who is ready to protect the man he loves. What do you think? Do you agree with this ranking? We are always open to receive other points of view so feel free to comment below and let us know what you think!
---