Feeling attraction towards a family member, even if momentarily, is uncommon, but hardly an-alien-spaceship-crashed-on-my-backyard kind of rare. In fact, one of the most common targets of this are siblings, blood-related or not.
Sisters can be older, younger, bratty, healing, or outright cold, but no matter their type, one cannot deny their appeal. For a boy, they are the closest female referents and, if their ages are close, they could be a comrade in the travel of sexual development as they start experiencing the changes that teens go through, which may or not encourage licentious experimenting.
Are you ready to take a bite of this forbidden fruit and finally understand why this fantasy is so freaking popular? Then, come forward and enjoy our Top 10 Sister Hentai Manga!
10. Anemone

Mangaka: Wataru Sahara
Genre: Hentai
Volumes: 1
Published Date: May 2015
This manga tells the story of an elder sister who finds that her baby brother is into loli manga, and confronts him about it. In real life, infinite disgust and jokes would follow, but fortunately, that's not the case for our protagonist, whose older sis decides to educate him in the pros of adult girls, mainly by sucking and fucking him dry. The lucky bastard, how many out there wished for this kind of education?
This manga is, sadly, short and very fast-paced, leaving you with the sensation of having watched a movie in fast forward, but a satisfying enough one that's worth your time. The drawings are simple but enticing, and the one-shot nature of it is perfect if you are just looking for a quick read focused on some brother-sister action.
---
9. Dangerous? Sisters

Mangaka: Bosshi
Genre: Hentai
Volumes: 1
Published Date: October 2014
If you find your loli sister dressed in skimpy clothing, reading your ero-manga in your room, what would you think her goal is? Of course, being given a cunnilingus, or at least that's how it is in this manga where Futaba, the loli sister, decides to take advantage of her body being in the perfect fetish zone of her brother, and gain some sexual experience. Things escalate on this matter before another younger sister enters the stage, Hitomi, a brown-skinned who is referred to as "master" by our loli heroine, and a few pages later we see why.
Short, easy to read, and with great ahegao faces; no wonder why this work is so well liked. These dangerous sisters definitely have some loose screws, but we love it. And so will you, if you give it a try!
---
8. Sister Complex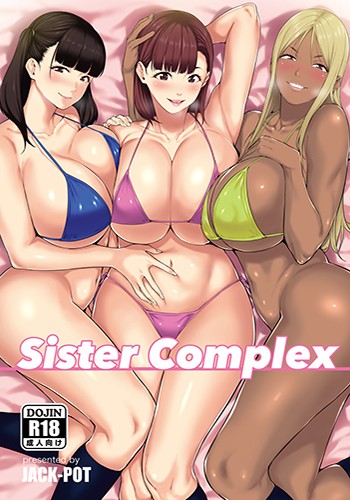 Mangaka: Jyura
Genre: Hentai, Harem
Volumes: 1
Published Date: December 2018
Being a poor, innocent shota cannot be said to be the aspiration of many kids. Instead, most of us spent our days wishing to become adults as soon as possible—beautiful times where everything was simpler… yet we didn't know. Yuu, our main protagonist of Sister Complex, is approached by the sexy gal friends of his older sister, who want nothing more than to ride him to kingdom's come.
Of course, this is not enough to satiate his libido, and by the suggestion of his new sexfriends, he ends up entangled with the person that created his fascination with older girls in the first place: his elder sister! In a few words, +20 pages of pure lightweight fun.
---
7. Traumerei

Mangaka: Riosuke Yasui
Genre: Hentai
Volumes: Unknown
Published Date: May 2016 – May 2017
Famous people being totally different to their public persona in a space they are comfortable in is totally normal, but even with this precept it would be hard to imagine that the top idol in Japan and leader of the best seller group Traumerei, Misora Amano, is an addict to masturbation. Yes, you read it well! Because of the restrictions enforced on idols, most of them cannot have boyfriends, so this has led to Misora accumulating a hundred-people's worth of lust, and her brother, Mahiro, is often a witness to her sessions of self-pleasure.
One day she stumbles upon the perfect idea: it's troublesome for her to be found on another's male house, but fucking her brother's brains out would be the perfect solution. This girl is a 10/10 for trouble-solving skills! From there, this guy's life starts getting more promiscuous and problematic, especially when the other idols of Misora's group get involved in his life. This manga is of great quality, but sadly, the sister element is rather small.
---
6. MarudaSister

Mangaka: Nakani
Genre: Hentai
Volumes: 1
Published Date: April 2015 – July 2016
MarudaSister is a manga focused on boys being seduced by their non-chalant sisters and their erotic bodies. There is a healthy amount of emphasis on their breasts, so if you are also a fan of big funbags, this manga can be a great choice to pass some time, in a way the nut approves.
Besides all this perks, one of the greatest things of this work is "emotionless sex"; as you read it, it somehow feels as if you were watching one of those old, black and white silent movies. Funny and unique as Hell! As you read more and more, it is hard to maintain a good grasp on your memories regarding each and every work, but not every manga has what it takes to be remembered for a long time. Still, the reactions of the girls are as magnetic as they can get, so prepare yourself, because this is going to be a pretty memorable ride.
---
5. Saimin DVD: Aneki to Otouto no Baai

Mangaka: DATE
Genre: Hentai
Volumes: 1
Published Date: February 2014
This story starts when our protagonist, tired of being treated as a minion by his older sister, decides to take the matter into his own hands, paying a classmate for a DVD with "hypnotic powers." To his surprise, the disk works perfectly and he is able to feel up her sister, messing up with her a little to pay her back for her attitude.
Nonetheless, as each of his internal barriers go crumbling, he starts aiming a little bit higher on the degree of his ministrations. First, a boob massage, then touching her down there, until no longer holding himself back and finally penetrating all the way to her womb. Just to make it more fun, shameful, and kinky, she comes back to her senses as soon as he enters, but is immobilized by this immense force and can only watch as her brother uses her. Unfortunately, as some other entries on this list, this manga is very short, but the length is compensated by the arousal the "bratty sis hypnotized to be fucked" brings to the table. Spicy.
---
4. Nee, …Shiyo

Mangaka: Pijya
Genre: Hentai
Volumes: 1
Published Date: April 2015 – May 2017
This manga is a anthology composed by 9 stories with no general focus beyond what appears to be mostly wholesome, although kinky, sex. It is a shame for the purpose of this list, that only the first two are centered on sisters and their lovely relationships with their brothers. Despite that, these two pieces—directly related, as they use the same characters—are so greatly drawn and storyboarded that when it comes to incest, they are very much deserving of at least a mention.
As a side perk, not only can you quickly "slay" your urges for sister material, but when you finish, you can have a selection of other varied material which quality is not lesser than the brother-sister entanglement you may have just read. Also, the mangaka is known to like chubby girls, having them star in many of his stories.
---
3. Ane Koi (Elder Sister Love)

Mangaka: Yuzuki N'
Genre: Hentai, Romance, Harem
Volumes: 1
Published Date: June 2010 – August 2011
As the English title suggests, this is a collection of stories focused on incest between older sisters and younger brothers. Nonetheless, it is a bit different than most of this type of manga; as you all know, this kind of anthologies are basically independent short one-shots stringed together by a theme. Ane Koi, however, aims for the best of two worlds, and succeeds by having a "long" linear story behind these non-related short stories. Genius!
The two first arcs, who are the longest and sufficiently good to be their own manga, are absolutely spectacular. Just so you can have a taste, for the first one, we got Mao, an elder sister that has strived to be the best for her brother, Akimasa, and make him feel proud of his perfect sister. Then we have Rio, the energetic blonde cosplayer, a cousin who was basically adopted into their house as another sister and now misses playing with Akimasa and Asami. We are shown how years of feelings bottled up explode grandly, as each girl ends up crossing the line with Akimasa and fervently confessing their love. Sweet as hell!
---
2. Seikatsu Shuukan (The Older Sister Experience for a Week)

Mangaka: Michiking
Genre: Hentai, Harem
Volumes: 1
Published Date: February 2014 – August 2015
Our main male character is an older brother living together with his three sisters, who is mysteriously turned back into a young boy. Oh, and whatever magic effect made him regress, also made him irresistible to his siblings! So, they end up fucking him as if there was no tomorrow almost in a reverse-rape fashion... but it is subverted when you realize that the young boy is actually an adult, and he actually enjoys making a mess out of his sisters.
All in all, Seikatsu Shuukan is a spectacular manga that's almost a mirage passing through a myriad of fetishes and spectrums, leaving everyone satisfied. It is somehow revenge-themed, but also romantic; it is between an older brother and his younger sisters, but also between a shotacon due to the transformation. When you add the absolutely gorgeous drawings, the plot twists, and the fact it even got a hentai anime adaptation, what more can we say?
---
1. Sister Breeder

Mangaka: Takeda Hiromitsu
Genre: Hentai
Volumes: Unknown
Published Date: January 2007 – June 2014
From the God of Hentai Manga himself, master of fucked-silly expressions and owner of peerless high quality graphics, Takeda Hiromitsu, Sister Breeder is one of his greatest hits of all time. A 233-pages treasure that collects several stories, but even if each and every one of them is great, you should focus on the main one, the one that gives this manga its title, Sister Breeder, showcased in more than one hundred pages of pure glory.
Shouta Oomiya has maintained an inappropriate type of contact and skinship with his sisters, Rena and Aina, often lifting their skirts and kissing them when they were just kids—talk about precocious! In the present, he has not changed a bit...
One day, Rena found him on Aina's bed, and seeing how it would end, she decides to serve as a shield for her little sister, offering herself up to Shouta. What she didn't know was that her brother was a freaking sex machine, and she pays for her ignorance when she goes from strong self-assured student council president to willing sex slave.
---
Final Thoughts
Incest between brothers and sisters is not well seen, but it sparked great stories in hentai anime and manga, and even if they won't recognize it, more than one has at least once felt some sort of attraction or excitement watching their sisters—and this event has occurred through the large annals of human history. Although we are not qualified to explain the reason for it, we can say it is as kinky as it is blood-pumping. As an extra argument, if humanity does descend of a single pair of ancestors, our very origins would be tied to incest. Amazing.
Did you enjoy our list focused on sisters in hentai manga? Let us hear your opinions in the comments section!
by Gabriel D.
---