También puedes leer este artículo en:Español
Welcome back hentai lovers! You know how those lovely oppais come in all shape and sizes. Most people prefer them huge and bouncy, and some others like them better when they're smaller. The truth is there are breasts for all tastes and they're all equally glorious.
This time we have prepared something very special for all of you who have a special thing for lolis and small breasts. Here you will find the cutest little girls with the smallest tits in hentai anime. So, if you're into girls with smaller boobs than yourself then check out our list. It's nippletastic!
10. Hanako Hasegawa from Toshi Densetsu

Episodes: 4 (to date)
Aired: January 2016 – Not yet finished
Toshi Densetsu is a bit of a dark and bizarre hentai anime. It begins with Hanako Hasegawa alone in a classroom waiting for his crush to come in so she can declare her love. Sadly for Hanako, an old teacher with a big libido and a taste for young girls appears instead of her crush, so she ends up getting raped and she dies shortly after. Then Hanako becomes a ghost and the story gets a bit more complex.
Hanako is a great option to start our list with because even though her breasts are rather small, they're still some squeezable juicy tits. Her teacher obviously noticed those nice soft boobs and wanted to try them out. Hanako is great for those who like breasts to be small but not too small. She's the perfect in-between.
---
9. Kasumi Kobayashi from Suki de Suki de

Episodes: 2
Aired: June 2012 – September 2012
Most of the titles on this list have rape scenes, which is quite common in loli hentai, and Suki de Suki de is one of them. Suki de Suki de tells different stories about girls who have incestuous feelings and relationships with their own brothers. One of the stories on episode two is about Kasumi Kobayashi, who is blackmailed by her brother's friend and forced to have sex with him.
Kasumi has to do everything her brother's friend asks her to do, which includes stripping, blowing, and talking to her brother on the phone while she gets banged. Here we can really get to appreciate Kasumi's boobies, which are indeed small but still quite juicy. Kasumi's little tits do have a cute little bouncing in them.
---
8. Inagaki Sae from Shoujo Kyouiku / Girl's Education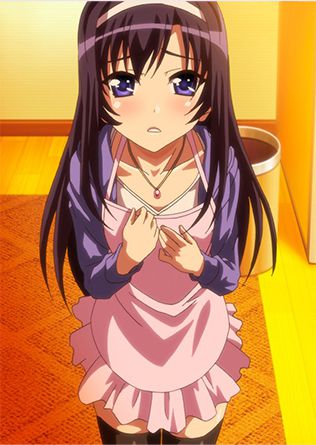 Episodes: 2
Aired: May 2015 – July 2015
Shoujo Kyouiku is about a teacher who's been so busy throughout his life that he's never had time to find a girlfriend. Now, he's 30 years old and he's finally found someone who loves to cook for him and take care of him, although that someone is one of his students, the lovely Inagaki Sae. Shoujo Kyouiku actually looks like an interesting and decent show, you know, apart from the very random ghost girl who loves to drink urine right from the teacher's penis.
Inagaki Sae is a beautiful high school girl and an awesome character. She's not exactly a loli, but she does have a bit of boobs; not much but just enough to keep you busy for a while. Inagaki is a dream come true for this high school teacher… until he's sent to jail that is.
---
7. Ai-chan from Seikatsu Shidou!!

Episodes: 2
Aired: October 2016 – November 2016
Seikatsu Shidou follows Narashi Bouto, a high school teacher and counselor who loves giving guidance to his female students as much as he loves taking advantage of them. Narashi Bouto has sex with many of his students, sometimes with their consent and others as a form of punishment. He often spanks them or leaves them naked and tied up in uncomfortable positions.
The first girl Narashi has sex with on the first episode is Ai-chan, his favorite student. Ai-chan is a lovely girl who's in love with Narashi and lets him do whatever he wants to her, even if that means rubbing himself against her pussy and licking her very modest breasts in the locker room. Ai-chan's boobs are barely squeezable but truly charming.
---
6. Konatsu from Yokujou Bazooka

Episodes: 1
Aired: October 2013
Yokujou Bazooka is probably the only anime on our list where the female character is not underage (so you won't have big moral issues watching this one). Yokujou Bazooka is about a guy who's struggling to pass his admission exam, so he hires a tutor to help him study. The tiny and cute Konatsu is his tutor, who teaches him everything he needs to know about Math, English and Science, although things get wild when she has to teach him sex education.
After spending so much time together, Konatsu eventually realizes how much she loves her student, so she decides to give him a practical lesson on sex. This lucky guy gets to undress Konatsu and enjoy her small but tasty lumps. Konatsu is the living proof that hot teachers don't necessarily need to be well-endowed to be hot.
---
5. Nao from A-Size Classmate

Episodes: 2
Aired: February 2016 – April 2016
In A-Size Classmate we get back to some more raping. Nao is a bit of a tomboy who always likes to be in control and tell her study partners what to do. This time however, Nao is alone in a room with two of her study partners she can't control and who seem to be dangerously horny. They will only get back to their studies once Nao satisfies their sexual cravings.
Here we get to see the lovely tomboy Nao being abused by two guys at the same time. They play with every part of Nao's body, including her very small breasts which can be hard to grab and squeeze but that look super sweet. And you know what they say, if you can't grab them, then just lick them.
---
4. Miyu Utsumi from My Imouto: Koakuma na A-Cup / My Sister: Little-Devil with an A-Cup

Episodes: 2
Aired: July 2012 – September 2012
My Imouto is one of the funniest and most entertaining shows on this list. It's about the Utsumi siblings, Miyu and her onii-chan Mitsuru. Miyu loves making her older brother's life a living hell, although that changes forever when their parents leave them alone for a day.
Mitsuru realizes how Miyu is insecure about her bust size, and as the good brother he is he tells her he prefers small boobs. That's how they start having a fight that ends up in the two of them having sex in their living room. Miyu finally stops caring about her small breasts and she lets her brother have fun with them. Those tits may be just tiny lumps but they do seem like a lot of fun.
---
3. Kanae Koda from Ecchi na Shintai Sokutei

Episodes: 1 (to date)
Aired: December 2016 – Not yet finished
Ecchi na Shintai Sokutei is one of those hentai anime that feel super wrong. However, many people are into really young and childish lolis like Kanae Koda. This story begins with a teacher measuring his female students. And when we say measuring we mean every single part of their bodies, including their super small boobs.
Kanae Koda gets late to class that day, so she has to stay after hour to be measured. This is when her teacher takes advantage to rub her pussy with a ruler and touch Kanae's little boobies. Although "little boobies" might be saying too much since Kanae practically has no boobies at all. She just has slightly noticeable nipples and curved lines at the sides of her chest. If you're into extremely small tits, then you're in the right place.
---
2. Manami from 300 En no Otsukiai

Episodes: 1 (to date)
Aired: September 2016 – Not yet finished
If you have the slightest moral sense then you probably won't be able to enjoy this show. On the contrary, if you want to see the smallest, youngest and cutest loli having sex in exchange for candy then this is the show for you. That's pretty much what 300 En no Otsukiai is all about. The young Manami loves candy and as long as she gets some of those sweet treats she doesn't mind going off with strangers who touch her inappropriately.
Manami goes out to the park every day with a perverted young guy who buys her candy just so he can undress her and touch her female parts. Being the youngest loli out there, her tiny boobs are hard to compete with. Manami has what we like to call inexistent boobs. They're just small pink nipples that look very soft and smooth. This show may feel very wrong, but if you want to see the smallest tits around, you won't find any smaller.
---
1. Komako Semenovich from Shoujo Ramune

Episodes: 2
Aired: October 2016 – February 2017
And finally we have one of the super beautiful lolis from Shoujo Ramune. This show is about Kiyoshi, an old pervert who has moved to a quiet rural part of Tokyo to open a candy shop and be around little girls all the time. This is how he meets the lovely girls, Chie, Tenka and Komako. All of these girls have extremely small breasts, especially Komako Semenovich, who has such a white skin that all we can see of her tits are her sweet pink nipples.
We really get to appreciate Komako's tits when she masturbates with a popsicle stick in the bathroom thinking about Chie. Komako may not have smaller breasts than Manami (from 300 En no Otsukiai) but she has almost the same boob size being a considerably older loli. Besides, Shoujo Ramune is a bit more watchable than 300 En no Otsukiai (as we mentioned, that show just feels super wrong).
---
Final Thoughts
Well, that's it for our list of the smallest tits in hentai. We hope you've enjoyed it and that you've had your fair share of little lumps. If you're a fan of small boobies then now you should know what to search next. And even if you're not really into small boobs you could try to give them a chance. Small breasts need love too you know?
Go ahead and tell us what you think of our list and of small boobs in general. You are also more than welcome to give us some other recommendations as well. Share your thoughts with us!
---