También puedes leer este artículo en:Español
We're back at it once again, with more supernatural hentai. After nearly two years and plenty of new series to talk about, we thought it was only right to bring you another list full of supernatural goodness. This new list will feature some holdovers, but we certainly injected some new blood as well.
When it comes to supernatural hentai, which series immediately jump out to you? We have a strong feeling that we've included some of those on this countdown. Expect some of the best moments from supernatural hentai as Honey's Anime once again brings you a top ten filled with various supernatural series.
10. Demonion: Gaiden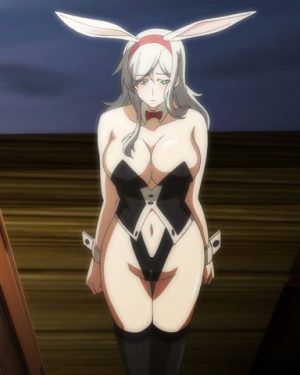 Episodes: 2
Aired: Nov. 2014 – Mar. 2015
Two hundred years ago, the world was plagued by a war which was brought out by the womanizing demon by the name of Astaroth. He abused and pillaged numerous human kingdoms. Fortunately, a group of heroes was able to subdue him and seal him away. Fast-forward to present day and Astaroth has returned from his slumber thanks to a shift in the earth's crust. With the prospect of the earth's destruction hanging in the balance, various adventurers descend to Astaroth's underground lair to put an end to him once and for all.
We're going to commence this countdown with a series that includes the word "Demonion" in the title. Right away, without any prior knowledge of this series, one would surmise that it's going to be about the supernatural. Of course, since this hentai made the list, I don't need to tell you that. Flanked by his trusty demon servants and commanders, Astaroth systematic takes down kingdom by kingdom and in the process humiliates the humans he encounters. This anime includes many supernatural elements such as demons, magical demonic powers and an interdimensional doorway that gets used on a beach.
---
9. Residence

Episodes: 3 (as of Feb. 2018)
Aired: May 2017 – ?
Deep in the fog-shrouded forest, lays a strange anomaly about an old Victorian-style mansion that features some unsightly traditions. There's a tale of old ghost stories that claim that this special mansion is haunted. Rumors are that if you enter the mansion, you will be transformed into a beautiful woman. After hearing rumblings about this mansion is full of treasure, a treasure hunter named Bullet decides it's in his best interest to try his luck with these supernatural elements in order to become rich beyond belief.
As of this writing, we're three episodes deep into Residence and this series has become a standout in the supernatural department. Released in 2017, Residence was arguably one of the best supernatural hentai to come out last year, in terms of atmosphere and setting. Its chilling location set in an ominous looking Victorian-style house really brought a sense of dread throughout. This series brings together a wide range of supernatural elements, including, body possession, gender-bending powers, eternal life and other various dark arts. If you like some horror splashed in your hentai, this is one for you.
---
8. Tentacle and Witches

Episodes: 4
Aired: May 2011 – Nov. 2012
Ichirou Tachibana is a perverted student that has a crush on his teacher, Yuuko Morino. He's also captivated by her secret; she's a witch. One day while Ichirou was peeping on Yuuko, his classmate, Lily Ramses Futaba demonstrates the power of a witch and attempts to turn Ichirou into her familiar servant. Lily's plan goes awry and it ends up turning the lecherous male into a lustful tentacle monster. In order for Ichirou to maintain a semblance of his humanity, he has to extract sexual energy directly from witches.
Much like our number ten pick, this selection also gives you a general idea of what to expect for our English readers. Tentacles and witches are indeed featured throughout this series. There are several attractive witches that partake in sexual intercourse. One of the witches, Lily, uses a charm she bought from a suspect vendor on her classmate with the intention of making him her familiar. Unfortunately, it was a counterfeit and he became a monster with tentacles. Becoming a monster has its perks for Ichirou, such as being able to become invisible, and he certainly takes advantage of it.
---
7. Koakuma Kanojo The Animation

Episodes: 2
Aired: Dec. 2013 – Feb. 2016
Koakuma Kanojo The Animation is three stories split into two episodes that center on a peculiar DVD that is rumored to curse anybody who watches it. The first story showcases Mika becoming cursed from watching the DVD. She gives her classmate Kazuya more than he can handle. Story two follows a curious student named Kana who decides to watch the mysterious DVD. Kana's sister, Mai watches from the shadows while the two discover that the rumors are indeed true. The final episode tells a story about what can go wrong when an aphrodisiac is introduced between two girls and a guy.
Koakuma Kanojo The Animation is the first of four hentai to make a return in this updated supernatural list. The reason we couldn't leave this series off this revised list is that it's truly steeped in horror and supernatural. We immediately get treated to a girl named Mika Akuno who watches the cursed DVD and she transforms into a demon whose breasts enlarge when aroused. The cursed DVD doesn't stop there though, as it claims another victim. This time another girl receives something completely unexpected, male genitalia. This series uses a supernatural DVD that can, and will, do anything to the unfortunate viewers.
---
6. Meikoku Gakuen: Jutai-hen

Episodes: 2
Aired: Apr. 2017 – May 2017
The story is about a teacher named Asada who has been selected to become the saviour of the school he teaches at. The shroud is an unnatural occurrence that drives up women's libidos and turns them into sex fiends. They lose control over their libido due to mana deprivation. In order for these girls to have a regulated libido, Asada will have to replenish all the students' mana, by injecting them directly with his seed. Luckily for Asada, he has prepared himself for this duty.
Meikoku Gakuen: Jutai-hen was one of the first really solid supernatural hentai released in 2017. It brings together some fantastic visuals and a wide range of female sexual activity. This unnatural shroud descends upon the academy and increases everybody's sexual desires tenfold. The ominous shroud turns the female's eyes a shade of purple and leaves them in a hot mess. It's hinted at the end of the anime that there's more to this shroud than meets the eye, including what appeared to be the start of a dark ritual.
---
5. Nuki Doki! Tenshi to Akuma no Sakusei Battle

Episodes: 2
Aired: May 2013 – Sep. 2013
The battle between angels and demons has reached the pinnacle of their feud. In order to finish this competition, they're going to have to try and win Yamato's heart, by any means necessary. Neither one will be satisfied as the runner-up. This sets off numerous attempts by both angel and demon to sexually satisfy Yamato, in ways that he couldn't even imagine. It's the ultimate race between an angel named Sera and a demon named Firika to see who comes out on top.
This series comes packed with tremendous visuals by PoRO. What makes this an outstanding supernatural hentai is the fact that both an angel and demon are fighting over one guy. They both use their powers to try and charm Yamato. Those attempts lead to some outrageously stimulating situations that would only be made possible through demonic or angelic powers. Firika demonstrates her powers by paralyzing Yamato in midair and proceeds to take advantage of him. In addition to that, Firika is able to give oral sex to Yamato despite the fact that they're in different locations.
---
4. Bible Black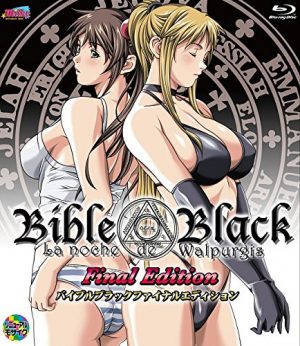 Episodes: 6
Aired: Jul. 2001 – Jun. 2003
A high school student named Minase found a book of magic in one of the isolated parts of the school. The book he found is full of black magic and he decided to use these spells to benefit his sex life. Because of the book he was able to manipulate fellow students in performing extreme sexual acts on him and his friends. As he delved deeper into this evil book he was unaware of the potentially fatal outcome that it brings to the user. After the origin of the book was revealed to him he decided to come to his senses and try and separate the darkness from him before it's too late.
Bible Black is quite possibly the most well-known hentai on the market. It's best known for many things, including futanari. Its story is dark and surprisingly deep for a hentai. There are many supernatural themes in Bible Black, including, satanic rituals, blood sacrifices, demons, body possession and black magic. That black bible is the source of many insidious events that transpire throughout the series, including the spawning of one of the most recognizable hentai villains of all-time, Reika Kitami. There's really not many other hentai that can compete with Bible Black in terms of sheer supernatural aspects.
---
3. Toshi Densetsu Series

Episodes: 4
Aired: Jan. 2016 – Jan. 2017
Toshi Densetsu Series offers up four self-contained episodes that pull from the very reaches of supernatural and horror. The first episode involves a female student who was abused by her teacher one night after school. She eventually succumbed to her injuries and died thanks to the malevolent teacher. She returns to the school as a ghost and meets a lovely teacher. In order to transcend into heaven, she needs to seek out his help in more ways than one. The next few episodes continue to offer up some urban legends that bring lewd ghosts to the forefront.
When it comes to supernatural hentai, there isn't much anime that can appeal to such a wide range of fans like Toshi Densetsu Series. We think that the variety offered in this hentai outclasses any other of the inclusions on this list. Each episode focuses on different tales of a ghost, each uniquely using their own methods and powers to intrigue the viewers. In Toshi Densetsu Series there's loli and shota content with a supernatural twist. The female ghosts are able to manipulate their bodies in order to take on a more voluptuous look for themselves.
---
2. Koutetsu no Majo Annerose

Episodes: 4
Aired: Jul. 2012 – Nov. 2014
The corrupted city of Amidahara is home to many of the most sinister humans and demons imaginable. The respected witch, Annerose is able to form a binding spell with Rikurou Tachibana and turn him into her undead servant. Annerose and her servants take on a case of a girl named Miki and her missing brother. Unfortunately for Annerose, the case leads to her having to grudgingly work with an adversary from her past. That's not the only thing Annerose and her crew has to worry about, as a malevolent force off in the distance is brooding over the destruction of the entire world.
Koutetsu no Majo Annerose really brings everything together when it comes to supernatural hentai. Some supernatural series has excellent highlights but lack in other departments, whether that's visuals, story, or characters. We feel that Koutetsu no Majo Annerose delivers what you would want from a supernatural hentai. It brings a plethora of characters, an interesting story, magical powers and stunning visuals to boot. This series pulls from many of our previous eight picks on this countdown. It has death and resurrection, body manipulation, witches, demons, and experimentation.
---
1. Shikkoku no Shaga The Animation

Episodes: 1 (as of Feb. 2018)
Aired: Feb. 2017 – ?
The story in Shikkoku no Shaga The Animation is set in a 12th-century fantasy world where everything is not what it seems. During what's known as the Heian period, monsters are running rampant on the land. Mountains, forests, and cities aren't even safe. After being rescued in the forest by a special monk named Shaga, a boy named Ushiwaka must be protected from the forces of evil. Ushiwaka and Shaga set out to the safe lands known as Ooshu, experiencing dangers along the way.
This is not the first time that Shikkoku no Shaga The Animation has managed the number one spot on our countdowns. Frankly, it probably won't be the last time either. While we do think that Koutetsu no Majo Annerose could have been in this spot, we felt that Shikkoku no Shaga The Animation edged it out in terms of overall quality. While watching Shikkoku no Shaga The Animation we have to sometimes remind ourselves that this is a hentai, the budget is much larger than most. The art style is charming and it really lends itself to the elegant locations. The highlight for us is the hideous creature transformations.
---
Final Thoughts
That will conclude our thrilling update on supernatural hentai. Like with most updated lists, we want to try and focus on some of the newest hentai, and we feel we got that covered. Four of our choices on this countdown had a release sometime in 2017. We hope we were able to introduce new series to you.
Now that we have come to the end of this article, we'd love to hear what you have to say. Did you like the new inclusions on this updated list? Are we still missing some of your favorite supernatural hentai? Let us know in the comments section below.
---
---
Supernatural and porn - not usually two genres that anyone imagines being paired together. But that's where the beauty of hentai comes in! If you like both supernatural stories about demons, witches, covenants, magic and more, but you also like sex, supernatural hentai had got you covered. Our list of the Top 10 Supernatural Hentai Anime is full of stories that have a supernatural or horror element behind their sex stories. Of course, you can still expect beautiful characters and sexy action, but expect it to be between demons or with some black magic involved.
If we wanted boring and usual we wouldn't be watching hentai right? So let's have fun with some supernatural hentai anime! There is sure to be something for every old fan or curious newbie to check out on our list.
10. Tokyo Requiem

Episodes: 2
Aired: Apr. 2005 – Mar. 2006
Tokyo Requiem takes place in, you guessed it, Tokyo! And while on the surface Tokyo may appear the same city we know today, underneath of it lurks a dark secret. Beneath the city there exists a cult of people that have been silent for years, living in secrecy from the rest of society and planning their ultimate move - and now the time has come for them to strike! In an attempt to awaken an ancient god, the cult has kidnapped four mikos (geisha-in-training) to offer as sacrifices...
The plot line is simple but it doesn't make Tokyo Requiem any less worth checking out! The story of a cult is always an intriguing one, especially dark ones like this that will do whatever they need to, to get what they want. And in the case of wanting to awaken their ancient god, they have no problems putting their captive mikos through hell and back - and since this is a list of our Top 10 Supernatural Hentai Anime, you can bet it's sexual. Tokyo Requiem is a dark story with a lot of non-consensual sex, and hentai that is directly related to cult activities, so if you like the darker side of the supernatural this is the hentai for you!
---
9. Ane☆Haramix

Episodes: 4
Aired: Aug. 2006 – Sep. 2007
Ane☆Haramix is a story about death, to be quite frank from the start. Takumi and Hitomi have lived alone since the death of their parents - with Takumi always hiding his dark, secret lust for his elder sister. Everything changes one day though when a girl named Mina - otherwise known as Death - comes to take Takumi's soul because his lifespan has ended. Not about to go without a fight, Takumi, of course, begins to scream, which attracts Hitomi's attention. After she also begs for his life from Mina, the mysterious girl proposes that if Takumi can become a father within the next week, she will extend his lifespan by an extra ten years.
Sounds like quite a strange deal, doesn't it? And that's exactly how Ane☆Haramix begins! Though, a week is not a very long time to find a suitable girl to father a child with. Luckily for Takumi, his distraught sister wants to do anything to save his life - and now it is the time for his dreams about her to become reality. While an incest-driven hentai may not be for everyone, for those who do like it and are also interested in the supernatural Ane☆Haramix is perfect! It has the elements of dark magic and death that are directly connected to sex, and what more could you ask for when looking for a dark new hentai to enjoy?
---
8. Ringetsu The Animation

Episodes: 3
Aired: Jul. 2006 – Sep. 2006
Ringetsu The Animation is the story of the cursed Rindo family, who long ago were cursed by a monster that they would only ever bear female children. Finally, though the opportunity had come up to break this curse once and for all by using a member of the spiritually strong Higetsu family, which has only ever been the way to fight against it. The chosen member is of the Rindo family that the task falls to is Naoto, who has to have a child with one of the four Higetsu sisters. The problem is, he has to do it before the next red moon and time is ticking away!
Ringetsu The Animation doesn't have quite the same supernatural elements that many of the other anime on our list of the Top 10 Supernatural Hentai Anime have - it doesn't have horror, or vampires, or demons and monsters. It does, however, revolve around the story of a curse that must be broken, and the attempts to do as much. It's a different kind of supernatural story but it is one all the same! And since Naoto has not just one but four Higetsu sisters to have sex with in an attempt to have a child, Ringetsu The Animation certainly isn't lacking in hentai action, either. So if you're someone interested in a light supernatural story that has something different from the average hentai without going too extreme, Ringetsu The Animation is a great place to start!
---
7. Koakuma Kanojo The Animation (Cute Devil Girlfriend)

Episodes: 2
Aired: Dec. 2013 – Feb. 2016
Koakuma Kanojo The Animation actually tells two different stories across its two episodes, but both of them are connected by a common factor - a cursed DVD. According to the rumour, anyone who watches the DVD will fall under a mysterious curse! The first story is about shy schoolgirl Mika Akuno, who despite having a crush on her classmate, cannot bring herself to confess to him. After watching the cursed DVD though, the once innocent Mika is turned into a horny demon - and then nothing will stand in the way of her crush! In the second story two sisters, Kana and Mai, who decide to watch the DVD to calm down their classmates who are terrified of the rumours. But what if the rumours are true?!
The story of cursed electronics is a common one in Japan considering it is the country that brought us the story behind The Ring and its haunted VHS tape and is one of the world's technological capitals. While Koakuma Kanojo is not a horror anime, the cursed DVD is still a similar element that gives the story its supernatural twist! All of the sex in the story is started by the curse that the DVD puts on its viewers, after all, so without the DVD there would be no hentai! So if you're looking for something that isn't quite horror but is still about curses and demons, and the tropes of responsible electronics, check out Koakuma Kanojo The Animation!
---
6. Itadaki! Seieki

Episodes: 1
Aired: Mar. 2014
It was only a matter of time before a list of the Top 10 Supernatural Hentai Anime would have a vampire story, Itadaki! Seieki is it. However, it's not your average vampire story at all! The vampire herself, Mari Setogaya, actually hates the taste of raw blood even though she needs to drink some kind of bodily fluid to survive. Lucky for Kanzaki, the boy she reaches out to through a love note, blood isn't the only bodily fluid that works! But there is even more to Mari than meets the eye, and the longer she is with Kanzaki the more another power has begun to awaken in her!
Itadaki! Seieki may only be one episode long, but it is packed full of hentai action with a vampire twist. Clearly, there are other bodily fluids that Mari can enjoy other than blood, especially from a boy so excited to receive his first "confession" from a girl. Plus Mari herself is an interesting concept for supernatural lovers - she's a vampire, and beyond her typical fangs she also had a set of wings to play to the imagination. Itadaki! Seieki will keep you wishing for more and wanting there to be more than just one episode, especially as Mari's character's plot continues to unfold!
---
5. Taimanin Asagi 2

Episodes: 2
Aired: Oct. 2015
In Tokyo Bay, there exists a manmade island called Tokyo Kingdom, in Taimanin Asagi 2. Tokyo Kingdom was created to become a second city centre for Tokyo, but the idea never took off in the end, especially due to the only access to it being to cross a 10-kilometre bridge. However, that bridge did attract another sort of crowd - criminals, anarchists, and immigrants, not to mention some inhabitants of Hell! Thus, Tokyo Kingdom has devolved into a city of crime and danger that most people would rather avoid. But at its very core there does exist some order around a strict business district and a very popular red light district....
The setting for Taimanin Asagi 2 is a dystopian idea of a much darker future Tokyo. That in and of itself already makes a unique backdrop for a hentai. Add in the supernatural element of demons from Hell itself being in the streets and adding to the sex happening in the red light district in the middle of this crime ridden city and you've got a supernatural hentai. If you're intrigued by the idea of a darker future where everything has literally gone to hell, give Taimanin Asagi 2 a try. It has plenty of demons to go around!
---
4. Toshi Densetsu Series

Episodes: 2
Aired: Jan. 2016 - Ongoing
Toshi Densetsu Series is a new, ongoing hentai that also has different stories for each episode similar to Koakuma Kanojo. However, so far the stories in Toshi Densetsu Series have been different ones without as much of a common element other than an overarching supernatural theme to the sex. The first episode follows the story of the ghost of an elementary school girl that was tragically raped and killed. Now she has come back as a ghost, and has started to use a teacher to be able to finally move on and find her place in the afterlife! The second episode is also about a cursed DVD, though this one is supposedly haunted by another ghost girl. And this time, the only way to help her move on into the afterlife is through even more sex of course!
With two stories so far that involve sex being used as a tool to help ghosts move on to the next world, Toshi Densetsu Series is a very clearly defined supernatural hentai. With each episode telling a different story, it keeps the pace fast and interesting, always offering something new to enjoy as well! And besides, sex with a ghost is definitely something unique to hentai and beyond what you can find in average porn, giving Toshi Densetsu Series an even more unique appeal. The series may be new, but it is already very promising, so be sure to check out Toshi Densetsu Series and continue to be on the lookout for even more new episodes as they are released!
---
3. Bible Black

Episodes: 6
Aired: Jul. 2001 – Jun. 2003
Bible Black takes place at an academy that, 12 years prior on the night of Walpurgis when evil is at its strongest, something mysterious happened with a secret coven. At the start of the series, the main character Taki Minase has discovered a previously lost book, and now is using it to invoke dark spells that lead to sexual benefits for himself and his friend, Ayumi Murai by forcing people to fall in love with them. However, the deeper in he gets, the more is revealed about what happened 12 years ago – can Taki get out in time, before he is lost forever to the darkness?
While it may be a bit older, Bible Black is arguably one of the most famous and widely known supernatural hentai. A bit longer than average with six episodes, it really has a lot of time to tell a full story rather than rush through a plot that may be sacrificed some in place of sex. Instead, Bible Black is able to tell its dark story of curses and black magic while still having plenty of time for sex as well – and there is quite a lot of it, don't misunderstand us! And all the hentai scenes in Bible Black are related to occult activities, with plenty of BDSM, pleasure/pain, and forced intercourse to fit into the dark themes of the story. It keeps the hentai central to the plot while still having quality sex scenes!
---
2. Demon Busters: Ecchi na Ecchi na Demon Taiji The Animation

Episodes: 1
Aired: Sep. 2015
Demon Busters revolves around the story of Kou, a high school boy who is a proud member of his school's public moral committee. However, his school is facing a very real danger, especially to its public morals - it is in danger of falling into a giant orgy from demons born of the students' lust and sexual cravings! Luckily for Kou, who wants to do anything to stop that from happening, he is discovered by two girls named Konoka and Lizeraeshka. These girls are called "demon busters," and have the ability to destroy these demons. They can't do it without Kou's help, though!
With a bunch of demons threatening to turn a whole school into an orgy, you can already see the supernatural hentai plot being shaped with Demon Busters. Adding more to the story, it turns out that Kou has the unique ability to become a kyuumashi, or someone who can absorb the lust and cravings that are giving birth to the demons. When he uses that ability, though, it can't help but make Kou himself incredibly horny and it also lets him see all girls naked! So between demons born from lust and magical abilities that let people see naked women, Demon Busters is undeniably a part of our Top 10 Supernatural Hentai Anime list.
---
1. Koutetsu no Majo Annerose (Witch of Steel: Annerose)

Episodes: 4
Aired: Jul. 2012 – Nov. 2014
Koutetsu no Majo Annerose takes place in the fictional city of Amidahara, a dark place full of humans and demons - and the powerful witch Annerose, one of the most important citizens of the city. The story begins centred around the jealousy of Annerose's servant, Mitico, towards her new servant, Rikurou, a human she has bonded to herself with dark magic. However, that is only the beginning of the story, because soon Annerose and her quarreling servants are swept up in a missing person case. The mystery leads them to a group whose leader, Lee Mayfeng, is one of Annerose's oldest enemies.
Amidahara sets the scene for the supernatural tone of Koutetsu no Majo Annerose with its setting already swirling with dark magic. When you add in the elements of undead servants, people that can be resurrected from being cut into many pieces, and eternal curses you have a great supernatural anime indeed. And when on top of that, the lead character Annerose is dripping with sexual tension towards her servants and had an enemy willing to sexually humiliate her - well, you have a supernatural hentai! So if you're looking for a supernatural hentai that also has a mystery and serious plot to it, Koutetsu no Majo Annerose is the best fit on our list of the Top 10 Supernatural Hentai Anime.
---
Final Thoughts
From demons, cults, vampires and witches, and everything in between that is full of dark magic supernatural stories to entertain, thrill, and scare us all at the same time! And when you're a supernatural junkie who is also looking for some sexy action, there's no better place to turn than supernatural hentai. Our list of the Top 10 Supernatural Hentai Anime has plenty of different kinds of stories that explore a wide variety of supernatural themes, so we hope at least one had intrigued you!
Did we forget your favourite supernatural hentai anime? Are you excited to check out one of these, or want to talk about the ones you have seen? Please let us know below because now it's your turn to talk!
---