When you think of swimwear, what comes to mind? For us, it's the setting. More often than not swimwear is associated with beaches and swimming pools. Having said that, there are examples of females that just enjoy wearing bathing suits and will do whatever it takes to please their partner. It's no secret that swimwear can be a very alluring fetish.
There's no shortage of hentai featuring swimwear. What we wanted to do is cover the hentai that does swimsuits justice. By that we mean, that a series must cover multiple h-scenes, with a variety of females showcasing myriad swimsuits. Now that we got that out of the way, it's time for Honey's Anime to bring you a moisture-inducing countdown full of the best swimsuit action in hentai.
10. 15 Bishoujo Hyouryuuki

Episodes: 3
Air Date: Aug. 2009 – May 2011
15 Bishoujo Hyouryuuki is a fantastic way to start this countdown. We would like to fill you in on the story that is behind this completely original concept. Now when we say story, there isn't too much to say really. This anime is about a guy named Kazuma and 15 beautiful girls who wash up on a deserted pacific island, thanks to a devastating storm. Kazuma then traverses the island in hopes of finding some of these girls. He does so, and that brings out some very peculiar scenarios.
What better way to kick off a list about swimsuit oriented hentai than to bring you a series that involves a tropical island harem. Episode two already makes this a worthy inclusion with an exquisite photo-shoot of two gorgeous sisters in tight bikinis. The two share many provocative poses before getting down to business. Episode three features a more traditional bathing suit from the genius Ema, but things turn ugly for the student president Misao when Ema's genetically engineered yam uses its tentacles to please. It's all just an experiment gone right for Kazuma.
---
9. Haramasete Seiryuu-kun!

Episodes: 2
Air Date: Jun. 2011 – Jan. 2012
This next pick on the countdown is an interesting selection. Haramasete Seiryuu-kun! involves a boy named Tougo Seiryuu who's been in high demand as of late. There are numerous females who are in competition with each other in order to have the privilege of Tougo impregnating them. Specifically, two friends named, Suzaku Natsuhime and Kitami Genbu. They will do anything it takes to persuade him in this fervid competition. However, there is a suspicious plot underlining the whole situation.
The reason why we liked this selection so much was because of how the hentai displays the many different types of swimwear in just two episodes. The first episode has a more modest swimsuit from the student council president Suzaku but things really pick up in the last episode where Suzaku is accompanied by her love rival Akiha and an unsuspecting Kitami. Together the three of them sport some very creative swimwear, including ribbon based bikini and a bandage bikini covering just enough of their 'private parts.'
---
8. Bi-chiku Beach: Nangoku Nyuujoku Satsueikai

Episodes: 1
Air Date: May 2011
A tour to a southern island has been arranged by the recently formed idol group, "Live un veil." There's no shortage of fan support, eagerly anticipating this upcoming event from the three group members, Nanami, Nagisa, and Kaede. One day a fan named Ryou receives a suspicious parcel that includes film for a camera and an envelope that contains a ticket for the tour. In addition to that, it came with a note attached claiming "If you take a photo using this film, their libido will become uncontrollable...." Now with a plan, Ryou looks to take all the photos he can.
Bi-chiku Beach: Nangoku Nyuujoku Satsueikai is the only hentai on this list that contains just one episode, but don't let that fool you into thinking that this doesn't have enough swimsuit scenes in it. What makes this more stimulating than your average hentai is the fact that every time Ryou takes a picture of these idols, they become more lustful, which makes these scenes even more enjoyable. There are three excited idols in numerous swimsuits, covering four h-scenes, what more could you ask for in a single episode?
---
7. Sora no Iro, Mizu no Iro (Color of Sky, Color of Water)

Episodes: 2
Air Date: Jul. 2006 – Jun. 2008
The story of Sora no Iro, Mizu no Iro talks about shared love between three students. Both Natsume Sorayama and Asa Mizushima are in love with Hajime Saisho. Instead of fighting over his affection, they've decided to share Hajime equally. The problem for these desirable girls is that summer is drawing to a close and when that happens they will have to leave Hajime. Before that happens, these girls plan to take advantage of their situation and experience some intimate moments with Hajime.
We now come to the oldest series on this list, Sora no Iro, Mizu no Iro. This series exhibits a few h-scenes that of course, include swimsuits. The first scene on episode one features a stimulating sequence that involves Asa and Hajime as Asa is taking a shower in her blue traditional swimsuit. It's not long before the two get closely acquainted. The highlight of this entire series is the scene at the beginning of the second episode, this time involving Natsume and Hajime. Natsume is showing off her pink and white frilled swimwear while naughtily getting it on with Hajime in the pool, while it's getting filled up by other swimmers.
---
6. Resort Boin

Episodes: 3
Air Date: Dec. 2007 – Apr. 2009
The title of this next selection is pretty straight-forward. Resort Boin is about a student named Daisuke Ichijou who's sent down to a southern island during spring break in order to assist with his grandmother's resort. As you can imagine this resort is chock-full of beautiful girls. What Daisuke was not expecting was to have a handful of girls desire him. Six girls will be in complete competition for Daisuke's attention. Nothing is off limits, even Maya, Daisuke's cousin watches in the distance with a keen eye.
It's not hard to imagine why we included Resort Boin to this countdown. This was one of the first series that came to mind when we were compiling a list. After all, a tropical resort is bound to offer up many females in swimwear and that's where we will start. Resort Boin features a plethora of swimsuits and that includes several scintillating h-scenes. One particular segment that stands out to us is the giant plant that has its way with Mika, who is dressed in a lovely green, white and orange bikini. If you're looking for an overload of swimwear, this is an ideal option.
---
5. Oni Chichi 2: Revenge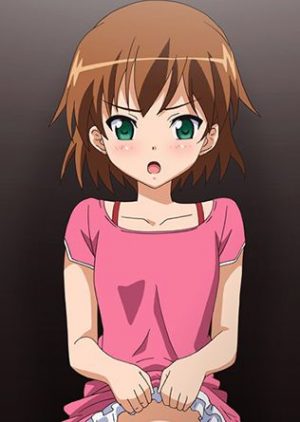 Episodes: 2
Air Date: Nov. 2013 – Mar. 2014
We're halfway there, let's keep going! Oni Chichi 2: Revenge has no relation to the characters in Oni Chichi. Kenichi, a father of four, discovers that his daughter's school is holding a training camp. Natsume, Akira, and Fuyu are all interested in going, but they need a chaperone. Eager to affiliate himself with that, Kenichi offers to chaperone his three daughters. Needless to say, the girls aren't overly thrilled about this because they know what kind of training regimen he will put them through.
These two episodes are very much entrenched with girls in sexy swimwear. Not long into the first episode, Kenichi starts to fondle Akira. The most unexpected, but pleasurable experience with this scene is that Akira is wearing her black and white bikini with a pink apron over top. This adds some extra flavor as it's able to cover multiple fetishes in one scene. In total there are four h-scenes that exhibit these alluring swimsuits. Three of them include Akira in her aforementioned black and white bikini, one with the innocent Fuyu in a white and blue bikini and finally, one with Natsume in a red bikini.
---
4. Ojousama wa H ga Osuki: The Animation

Episodes: 2
Air Date: Apr. 2010 – Jul. 2010
Continuing on with the countdown we come across an adaptation of the eromanga illustrated by Bosshi. Ojousama wa H ga Osuki: The Animation is about how different the sex lives are for two different princesses. One princess is a complete nympho who prefers to have her male companion submissive. The other princess is almost the exact opposite, but at the end of the day, she wants her male companion to please her. With the help of her two maidens, everyone's excitement levels will be at an all-time high.
What makes Ojousama wa H ga Osuki: The Animation a powerhouse in the form of swimwear hentai is the fact that it covers several lengthy swimsuit h-scenes. The highlight of this series is during the second episode where the trio of females, Eri, Mari and the head maid all try to nurse Tatsuya back to health. The trio nails out two different fetishes during this group scene of desire. The girls are cosplaying as sexy swimsuit wearing nurses. Even if this was the only swimwear scene in the entire series, it would be worth the inclusion alone. Lucky for us, it wasn't.
---
3. Oni Chichi: Refresh♥

Episodes: 4 (as of May 2017)
Air Date: Aug. 2015 – ?
Here we are with Oni Chichi: Refresh♥, a continuing story about Airi, her friend Sana and of course the fervid sex drive known as Kouzou. The three of them shed the school setting and take a trip to a sunny beach. Despite the public location, this doesn't stop Kouzou from taking advantage of his daughter in the most opportunistic ways imaginable. While this is happening Airi and Sana have their eyes on the lifeguard, but not everything is what it seems at this beach.
Oni Chichi: Refresh♥ features a bevy of swimsuit action behind its four episodes on the beach. What makes this an obvious choice for this countdown, is that these girls, Airi and Sana are almost exclusively wearing their blue and white and orange bikinis respectively. There's a wide-range of scandalous activity happening on the beach, fantastic angles and supremely curvy ladies. Even the most recent episode, episode four, includes some hot yuri action. Our favorite scene came from episode two with Kouzou and Sana reacquainting with each other in an isolated cave.
---
2. Gakuen de Jikan yo Tomare

Episodes: 4
Air Date: May 2015 – Oct. 2015
We're almost there! Gakuen de Jikan yo Tomare tells a story about a mother and son that were abandoned by a rich aristocrat. The bastard son vowed revenge on his father who left them behind like last week's trash. In order to get his revenge, he targets what his father treasures the most, his two daughters and his prestigious school. After the boy receives a magical time-freezing device from a mysterious witch, he enters the school with evil intentions and a score to settle.
Here's another lengthy series to grace us with its presence on the countdown. The reason Gakuen de Jikan yo Tomare is our number two selection is because it dedicates three 29 minute episodes to swimsuit wearing females in non-consensual situations with one guy that has a clear motive. What makes this arguably one of the best swimwear hentai off all-time apart from the dedication, is the variety of females he encounters in swimsuits and how much different this series sets itself from others in this fetish-linked countdown. If you have a serious hankering for hentai with females in swimsuits, Gakuen de Jikan yo Tomare has to be in the conversation.
---
1. Mizugi Kanojo: The Animation

Episodes: 4
Air Date: Jan. 2009 – Nov. 2009
We've now reached the pinnacle of our countdown. Mizugi Kanojo: The Animation's story brings together a pair of lovers Mizuho and Hiro. After Hiro suggests that Mizuho has put on a little weight, Mizuho decides that she wants to take up swimming to get her body back into perfect form. Hiro even offers to coach her since she can't swim very well. With the help of Hiro, Mizuho quickly finds out that learning how to swim isn't the only excitement she has been getting from her coach.
Of course, we had to select the series that has Mizugi in its title. Mizugi is a Japanese term for a woman's swimsuit or bathing suit. With that, you can expect tight swimsuits and some tantalizing scenarios. In fact, these swimsuits are so tight that you can literally see through them, despite the fact that some of them are dark colored. That's the extra fanservice we come to expect from hentai. What makes this our number one pick is that we haven't seen so many swimsuits shown off and used as provocatively as they are in this series. Mizugi Kanojo: The Animation is literally a swimwear paradise and deserving of this spot on the countdown.
---
Final Thoughts
We've now come to a close on our pleasure-soaked swimsuit countdown. We hope you were able to enjoy this list for what it was and use these recommendations for your viewing pleasure. We feel strongly about our selections and satisfaction is guaranteed.
As always, we would love to hear from you! Did your favorite swimsuit-laden hentai make the list? If so, which series do you feel most strongly about? Leave a comment below and we can discuss it. Check back early and often as Honey's Anime will continue to offer hentai lists full of varying fetishes.
---