The school is the most iconic setting in anime because, well, it's where young people spend half of their lives and a majority of the anime protagonists are teenagers. Despite anime's pervy and liberal nature, Japan respects their education and encourages kids to attend school instead of spending their life in truancy and unemployment. In the hentai side of things, high schools, especially private all-girls schools, are the perfect hunting grounds for predators preying on young women who know no better. There are many kinds of predators, but the top 3 are the fellow students, the stalkers behind street corners, and of course the teachers. And there are role reversals as well, like students taking advantage of a young teacher on her first day of work. In the world of school hentai, it's hunt or be hunted.
For this list, we're going to name 10 recent hentai shows for the past 4 years featuring teachers who are the givers or the takers. Please excuse the French. And to be very specific, the teacher must be one of the main characters or key characters who are important to the story. Teachers are your second parents, your guardians, and your best friends at school. Now, 4 years may not sound "recent", but unlike TV anime, animating a hentai series can take years to complete.
Now that's all cleared up, let's jump right into the Top 10 Teacher Hentai Anime!
10. Saimin Class

Episodes: 2
Aired: December 2016-February 2017
Our faceless hero (or he just has long bangs?) got himself a special lighter that has the power to hypnotize people and well, like any young lad of his teenage years, he put the lighter to good use and hypnotized everyone in school! The lighter has become his own personal harem maker!
Surprisingly, Samin Class is very tame considering the theme of the hentai is sex through hypnotism containing only basic rape with no gangbanging. Our hero fucked every big-breasted girl in the school including his very busty teacher. I guess he was turned on after seeing that masturbation break in between classes. It's unfortunate he didn't pick the teacher in the end, though.
---
9. Nerawareta Megami Tenshi Angeltia: Mamotta Ningentachi ni Uragirarete

Episodes: 4
Aired: May 2014-January 2016
Demons are driving men mad by releasing their animalistic lust and raping every woman they see. Thankfully, powerful magical girls arrived to cleanse the city of all evil. One of the new warriors for good is Yuuri and it's up to her to hold off the evil and free every man from this curse. But the demons aren't just gonna sit back and watch a magical girl ruin their plans! In a life or death struggle, Yuuri is faced against her greatest foe yet: Her perverted PE teacher!
If you want a more traditional hentai involving magical girls and tentacles, Nerawareta Megami Tenshi Angeltia: Mamotta Ningentachi ni Uragirarete (try saying that 5 times in a row) is definitely the show you need to see. It has busty magical girls, horny teachers, horny innocent bystanders, and tentacles.
---
8. Mesu Kyoushi 4: Kegasareta Kyoudan

Episodes: 3
Aired: October 2015-January 2017
Kazuya is a faceless high school student with an attitude problem due to his school having familial connections and like any horny kid with power, he blackmails and rapes every beautiful teacher he sees. There's nothing much to say about Mesu Kyoushi 4 other than its rape stories and why would be expecting anything else? It's hentai! Watch it for the porn!
The characters are forgettable and you can't really take pity to these teachers for being not the sharpest knives in the drawer (ironically enough), but they're beautifully drawn and animated by Studio PoRO that you'll forgive them they somehow got a college diploma.
---
7. Kuro no Kyoushitsu

Episodes: 2
Aired: May 2015-July 2016
Mr. Daisuke Uehara is a young teacher who landed himself a teaching career to one of the most prestigious schools in Japan. However, he's more interested in ruining the lives of the students rather than securing their future.
Blackmail is the usual theme in hentai because romance before sex is so casual and it's a hassle to wait for the girl to be fully in love with you. And our teacher-hero-rapist knows this very well! Daisuke is aware the girls are giving him signs that they're in love, but instead of going through the motions, he jumps ahead and rapes the girls instead. There were some kinky moments and the art is very attractive, so Kuro no Kyoushitsu is still a good watch, albeit rape isn't really a good thing. Who can blame him? Like every girl in hentai, they're dumb as a rock.
---
6. Ecchi na Shintai Sokutei Anime Edition

Episodes: Unknown
Aired: December 2016-Ongoing
How in the world a guy managed to end up doing physical exams to girls and the girls doesn't seem to mind a grown man is within arm's reach of their supple, young and ripe bodies? Oh you silly hentai stories, you!
The show is fairly new and we're not sure how long this is, but one thing is for sure is the story revolves a teacher enjoying his life as a teacher in charge of physical examinations that often involves measuring a girl's height, weight, and body sizes. In during one of these exams, our lolicon hero noticed one student Koda Kanae didn't participate. The next day he asked Kanae to take the physical exam and things got out of hand when our lolicon of a teacher couldn't handle his lust and ended up fucking Kanae.
The art style is very cute with attractive loli designs, and it kinda makes you feel guilty watching this because the girls, especially Kanae is still in their grade school year. Hey, hentai covers all fetishes.
---
5. Shoujo Kyouiku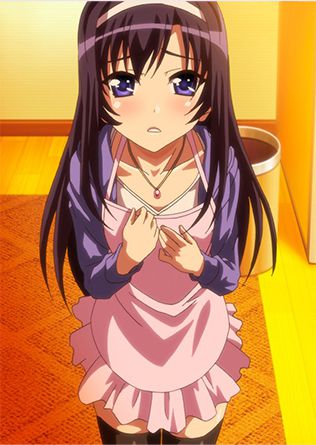 Episodes: 2
Aired: May 2015-July 2015
Love has eluded Shiraishi Youichi throughout his life and working as a teacher limited his opportunities, but love has finally arrived thanks to one of his students Inagaki Sae. The two engage in a forbidden romance, but our hero doesn't seem to mind. Episode 2 is an alternate setting where Youichi's student, an aspiring photographer named Hinada Asami, has fallen in love with him.
Shoujo Kyouiku comes in two flavors and depending on your fetishes, you'll either like the casual hearty comedy sex of episode 1 (featuring Hanako of the Toilet for some reason) or the more extreme, sex toy-filled escapade of episode 2. Sae and Asami are great girls who are madly in love with their sensei and for once, no blackmail and raping. Phew.
---
4. Shoujo-tachi no Sadism the Animation

Episodes: 2
Aired: September 2016
A group of girls coaxed their teacher into having sex and while the teacher did try to do the right thing like resist the temptation to deflower his students, he gave in after the aphrodisiac has taken its toll and ended up creating a harem of students.
Basic harem stuff and the nice thing about this hentai is it's very lighthearted and sometimes funny like how they casually planned an orgy to get pregnant. Not sure exactly why the girls have taken a liking to the teacher since the hentai focused on the sex with little character development. Thankfully, the girls were given enough personality for the viewers to care. The story plays like a harem anime, but the main guy actually ended up fucking every girl. It does make you wonder why they didn't get pregnant since the first episode, though...
---
3. Ienai Koto The Animation

Episodes: 2
Aired: March 2015-March 2016
Ienai Koto is a collection of stories involving a teacher ending up on the wrong end of the stick. Episode 1 is about a female teacher finding out her student and also younger sister is having sex with unknown men. To save her sister, the steadfast teacher takes her sister's place. Straightforward! Episode 2 tells the story of a slutty teacher who has caught doing something kinky and she is forced to do more kinky stuff. Straightforward!
Episode 1 is, again, another blackmail episode and if you're already bored of that, don't fret! Episode 2 is still somewhat blackmail, but it's comedic and very kinky in nature and the teacher is getting fucked by fellow teachers. One piece of advice: Don't get drunk, especially in hot spring resorts.
---
2. Pretty x Cation The Animation

Episodes: 2
Aired: March 2015-July 2015
Pretty x Cation is a collection of stories involving a group of people madly in love. Out of the 4 stories, the first 1 features the love story of a country girl and teacher, Yakuouji Komachi, and her student. No rape, no mind breaks or anything offensive, Pretty x Cation is one of the few hentai shows that are the best way to introduce fans new to the hentai world.
With high-quality art and animation and good stories in hentai standards, why isn't this number 1? The story of Komachi and her student-turned-lover is very cute and romantic with well-animated sex scenes, but that's pretty much the only teacher and student experience in the series. What we want for our number one is a hentai show that focused on teacher-student relationship and our final and number 1 entry is none other than…
---
1. Genkaku Cool na Sensei ga Aheboteochi!

Episodes: 2
Aired: June 2015-July 2015
Souma has fallen in love with the girl next door Rin since he was a kid. Years later, our hero Souma is now in high school and Rin is now his teacher. One day Souma sent an anonymous love letter to Rin, but being a strict teacher, Rin showed the letter to the class and ripped it in two. Humiliated, Souma went to the school nurse Hazuki for some advice and comfort. Hazuki offered her help in getting the two together and things went silly after that.
The story of this show has some substance and you'll end up liking the three characters and how they ended up having sex like how the nurse set up the two to get together while getting in on the fun along the way. It has some blackmail, but it's not malicious like the ones in this list. It's one of the instances blackmailing someone was a viable option to get them in your control.
Hardcore, well-drawn with a story focusing on a student wanting to love a teacher and ended up bedding two hot women (and impregnating them while he's at it), Genkaku Cool na Sensei is number one mainly for its focus on the student-teacher relationship. Although, it's hard to ponder if the the guy has to graduate and get a job so he can support two kids.
---
Final Thoughts
And there you have it, folks! The school grounds is a melting pot for interesting hentai scenarios like students sexually harassing students, students doing indecent things inside gym storage rooms or even in classrooms after class, teachers taking advantage of female students with low grades, or even students blackmailing teachers for higher grades. Be it malicious intent or raging hormones, these rarely happen in real life, thankfully.
The 10 shows listed aren't exactly the best of the best for they are very recent hentai shows and some of them can't hold up to all-time greats like Teacher's Pet or Bible Black, but they're still very good experiences. Let's just hope these shows will serve as a foundation for future titles that will be the new generation of all-time greats hentai fans will enjoy.
So what do you think? There are a lot of hentai shows featuring teachers having sex students, and obviously, they won't all fit in 10 slots, so if one of your favorites didn't make it, please leave a comment below and share with us!
---