También puedes leer este artículo en:Español
Japan has many weird or even bizarre fetishes ranging from bukkake to necrophilia, and perhaps the most popular and certainly old (we mean ancient old) fetish is the tentacle erotica. What is tentacle erotica? In its simplest term, it's a fetish involving a human being (usually a woman) engaged in sexual activities with creatures or monsters that have tentacles.
There are lots of tentacle hentai anime out there, but we're going to focus on 10 hentai anime that shows tentacles, but also tell a story be it good or bad, or a justification why tentacles exist in the anime. The tentacles must be part of the story or are a literal part of key characters, and they may or not be frequently shown.
Oh and yes, this list contains pornography, blood and gore, rape, and an assortment of very offensive material. And if you do try and watch any of these, please avoid the English dub version. So yeah, you have been warned.
10. Inyouchuu The Animation

Episodes: 2
Aired: October 2006-December 2008
Demon hunter Mikoto, Sui, and Yamato are at school late at night fighting supernatural beings. After failing to kill the monster, the three students retreated to the nearest swimming pool to freshen up. Little do they know they walked into a trap and they're at the mercy of the monster they tried to kill.
Yep, that's the summary of the plot. Actually, the story is barebones and the rest is filled of nonstop tentacle rape scenes. And that's the reason why this is number 10. If you want pure tentacle action with some story to justify the tentacle's existence, then look no further.
---
9. Makai Kishi Ingrid (The Dark Knight Ingrid)

Episodes: 4
Aired: June 2009-August 2010
Demon City Tokyo. A place populated by both humans and evil spirits. Peace has been kept for ages by an unspoken agreement between humankind and the demons. But now, humans have fallen from grace, and formed a secret criminal organization with the demons. Ingrid is a demon hunter who brings justice to the city by hunting down demons preying on helpless humans. Due to her acts of justice, Ingrid is known as the Dark Knight that struck fear to the hearts of wrongdoers.
Like a majority of hentai anime with tentacles, The Dark Knight Ingrid's time is focused on Ingrid getting raped by monsters and sometimes subjected to inhumane experiments. There is a story somewhere and is actually okay, but you won't get to see it develop until the last episode because the bulk of the runtime is Ingrid and fellow demon hunter Yatsu Murasaki, getting raped nonstop and turned into sex slaves. Yeah, it's ugly. These types of stories are just backdrops for the rape.
---
8. Kuro Ai: Hitoyozumakan Inkou Rannyuuroku (Dark Love)

Episodes: 2
Aired: April 2005-June 2005
Gojo "Nowaki" Tetsuya has been summoned to help train girls in the Gekkokan to satisfy the lust of men. The Gekkokan is a secret underground brothel that is popular amongst the rich and powerful as the go-to place to satisfy their lust by engaging in sexual acts so depraved that one might wonder if they're truly human beings. However, the true purpose of the brothel is far more insidious for it's a gathering place to make a pact with the demons.
Dark Love is something that is very hard to recommend because it's one of the most depraved, hardcore, and probably one of the most offensive tentacle hentai out there. Dark Love didn't care about subtlety and the girls are subjected to tentacles that are way too overdone - like the victim's belly deforms after getting inserted, and tentacles exit out their mouths. The tentacles range from the typical fleshly phallic ones, to the more extreme like mini tentacles popping out on a tentacle or pointy ones that look like small hooks. Ouch. Yeah, it's very ugly.
---
7. Himekishi Lilia (Princess Knight Lilia)

Episodes: 6
Aired: June 2006-July 2010
Princess Lilia is the next in line to rule over the kingdom from her brother Dirk. Like any jealous power-hungry relative vying to take control over their father's kingdom, he made a pact with a demon to capture Lilia and have them extract her hidden power by subjecting her to the highest level of sexual ecstasy through humiliation, rape and offering her body to the demons.
This anime has everything ranging from rape to incest. Majority of the runtime is indeed full of sexual acts, only a small fraction actually involves tentacles that come out of Dirk after, you know, agreeing to something. With this power, Dirk has taken over the kingdom and he actively rapes her sister, Lilia, and his mother, and periodically abuses Lilia by letting her get raped by monsters to extract her power. The story, no matter how miniscule, is very okay and the ending is, for all intents and purposes, a good one. Yeah, stories in hentai aren't really Shakespearean.
---
6. Mahou Shoujo Ai (Sexy Magical Girl Ai)

Episodes: 5
Aired: August 2003-February 2005
In a quaint little town, many mysterious deaths are occurring, and these incidents are so bizarre, rumours were circling around that something supernatural is causing all of this. Enter our dimwitted and unfortunate hero Akishima Akitoshi, a typical high school student who happens to encounter a mysterious new student named Kagano Ai, who happens to arrive the same time these deaths are occurring. Coincidence? Akitoshi found out the hard way when he saw Ai fighting one of these monsters.
Story is pretty straightforward: Monsters appear and it's up to Ai and Akitoshi to fend them off, Ai conveniently makes a mistake, monsters rape her, and yeah, they go out and investigate who is responsible for these attacks. The level of these sexual acts are very extreme like, uh, Ai getting impaled by a steel column… through her… privates… But the art and animation are superb though! There are some tentacle moments, but there are a lot of normal sex scenes that are very-well drawn and tame. Oh, we did mention hentai stories aren't really Shakespearean, right?
---
5. Bible Black Gaiden

Episodes: 2
Aired: May 2002-August 2002
A group of girls led by Takashiro Hiroko are conducting fortune telling for fun and research on the occult. They made a big break when they found an ancient magic book from a used books shop (it happens), and started translating its contents. With their newfound power, they began accepting sexual requests or vengeance, by charming or cursing their targets. Things get more dark as they explore more of the contents found in the book, and, well, obviously the book is evil.
This is a short hentai with only one tentacle scene. That may be a disappointment, but considering its length and its focus on the story, one scene is just enough. Bible Black Gaiden focuses heavily on occultism and there are a few disturbing scenes near the end that involves the usual occult trope of human sacrifice.
---
4. Youjuu Kyoshitsu (Demon Beast Invasion)

Episodes: 6
Aired: May 1990-May 1994
A million years ago, the Earth was ruled by the dinosau—wait, according to this anime, the Earth was ruled by giant beasts with tentacles. When the Earth's climate is changing, these beasts left the planet to a distance part of the galaxy. However, they didn't forget about their mother planet, so they sent vanguards to try and take back the planet by creating alien-human hybrids so they can adapt to the atmosphere. To stop the alien invasion, the Interplanetary Mutual Observation Agency is founded to intervene and eliminate the aliens they call "Demon Beasts."
Pretty straight forward sci-fi hentai with tentacles and a decent story. Heck, it even got a sequel to try and tie up loose ends. There's an abundance of tentacle rape scenes here, but not too brutal like the other hentai listed in this article. The budget for this hentai is surprisingly good with very detailed art and animation. If you're into alien-type hentai, then Demon Beast Invasion is a good way to start.
---
3. Tentacle and Witches

Episodes: 4
Aired: May 2011-November 2012
Tachibana Ichirou was peeking at a shed and saw something unexpected: His female teacher Morino Yuko is actually a witch. Unfortunately for him, he was caught in the act by another witch named Lily Ramses Futaba. Fearing that Ichirou will compromise their true identities, Lily casts a spell to stop him that somehow backfired and Ichiro turned into a tentacle monster. You don't see that everyday, that's for sure!
Ichirou was turned into a monster and in order for him to survive or keep himself sane, he requires magic. But since he is turned into something that was beyond the Lily's control, he must feed on magic indirectly through sexual intercourse with a witch... tentacle style. There's a story about magic and a guy who turned into a monster somewhere, but really, it's all about the characters, the humor and the surprisingly not-so offensive sex and, sometimes, romantic sex. Talk about a blessing in disguise!
---
2. La Blue Girl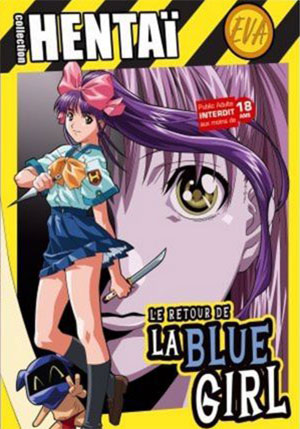 Episodes: 6
Aired: June 1992-September 1993
Mido Miko is the descendant of the most powerful clan of female ninjas. They are tasked to keep the Shikima, horny beings from the demon realm, away from humans. As any typical hentai show goes, a powerful force is trying to open up the realm of the humans to the realm of the demons. It's up to Miko and her sexcraft ninjitsu to save the world.
La Blue Girl has every fetish you could think of. The main difference of this hentai is it doesn't involve hideous deaths and murders because La Blue Girl is more on the comedic side and pokes fun at tentacle erotica itself. While the hentai is comedic in nature, the sexual acts aren't to laugh about — tons of explicit scenes every few minutes and sometimes they involve monsters and those slimy tentacles! But seriously, La Blue Girl is one of the most popular and successful hentai anime that an anime fan should at least check out… if you've got the stomach for this sort of thing.
---
1. Choujin Densetsu Urotsukidoji (Urotsukidoji: Legend of the Overfiend)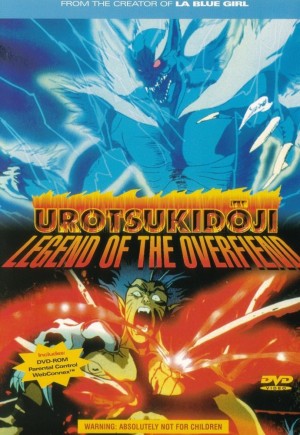 Episodes: 3
Aired: January 1987-April 1989
According to legend, the human realm is not the only realm on Earth. In fact, there are two more realms exist: the Demon Realm called the Makai, and the realm of half-man, half-beast called the Juujikai. There is an old tale saying that every 3000 years, a supreme being called the Overfiend, will emerge from the human realm and bring balance to the three realms. After hundreds of years of searching, Jyaku Amano, a Juujikai, sensed the Overfiend residing within the human, Nagumo Tatsuo. Soon after. Tatsuo was attacked by the Makai because they believe what's residing within Tatsuo is not the Overfiend, but rather an evil being that is set on destroying all realms.
Urotsukidoji is often considered the granddaddy of hentai anime that arguably popularized monster sex, tentacles, explicit scenes (monster rape, death, gore, etc.) while telling a gruesome, yet interesting story. Its influence to the genre alone is what made Urotsukidoji number 1 on this list. If you've seen any recent explicit hentai anime, chances are they were inspired by Urotsukidoji.
---
Final Thoughts
So there you go!
We know, the list is filled with mostly rape and unspeakable abuse of women, and sadly that's one of the main draw of tentacle erotica. Modern tentacle erotica is mostly shameless rape and it's not for everyone and it will likely to remain that way. If you have the iron will for it, you will find these tentacle anime on the list a very unique experience.
So what do you think of tentacles and how they are used in hentai? Are you willing to give the genre a try or mentally lock it in your head and pretend this sort of genre never existed? Please let us know by leaving a comment below!
---