También puedes leer este artículo en:Español
Today, we're digging towards a more relatively niche genre in hentai; sex toys. Of course, there are a variety of hentai that include the use of sex toys, but perhaps not as many as you think. Some series showcase just one quick scene with toys, while others use it as a primary focus. For this article, we're going to emphasize hentai that uses the latter.
A lot of these inclusions on this countdown obviously include a variety of toys in them, but what makes many of these similar is their theme; sex slaves. As you advance through this list it will become more and more apparent that slavery and toys go hand in hand. With that said, it's time to get this countdown started!
10. Ryuudouji Shimon no Inbou

Episodes: 1 (as of Mar. 2018)
Aired: Oct. 2017 – ?
Ryuudouji Shimon no Inbou is about a sinister group, in particular, a former science teacher named Shimon, who receives an ominous invitation to join a prestigious school. When he enters the school he soon realizes that this isn't your ordinary school. There's a deep and dark secret that only a select few know about. Shimon is instructed to train these students as sex slaves by any means necessary. These women need to be primed so they are compatible with enthusiastic buyers in the marketplace for sexual release.
The start of this list is a piping example of the aforementioned sex slaves. Ryuudouji Shimon no Inbou is about the training of sex slaves and the main character, Shimon, often utilizes several different toys to break these individuals. Shimon uses vibrators, dildos, whips, rope and various other exercises to stimulate his 'projects'. Ryuudouji Shimon no Inbou is very much a BDSM hentai. As of this writing, there's only one episode, but we could imagine by the time the next episode comes out this series will have moved up on our list.
---
9. Dorei Kaigo (Slave Nurses)

Episodes: 3
Aired: Jan. 2003 – Jul. 2003
In the middle of nowhere, in the hills in the Tanagokoro Village resides a local inpatient hospital where the protagonist, Yousuke Kawahara arrives at. Yousuke has been having unusual dreams as of late. When he arrived he never expected that his dreams would come true. Every night at this hospital the nurses have an uncontrollable urge for sexual release. These nurses will go to great lengths to satisfy this urge; including having sex with patients, doctors and other staff. Not knowing why these nurses are going through these urges, Yousuke suspects there's a sex ring taking place.
We've already hammered out the point about sex slaves and sex toys working cohesively in many of these featured hentai. Dorei Kaigo is no exception. It literally has "Slave" in the English title of the series. Going from the newest hentai to one of the oldest on this list, Dorei Kaigo shares many similarities to our previous selection. BDSM is the name of the game, and with that comes a variety of stimulating toys such as rope, dildos, a multi-use whip, strap-on and a ball gag.
---
8. Mesu Kyoushi: Injoku no Kyoushitsu

Episodes: 3
Aired: Jun. 2009 – May 2010
This next choice is based on the adult game by Bishop. Mesu Kyoushi: Injoku no Kyoushitsu is a story about a sexual deviant named Takuya Misawa who takes advantage of female teachers in his school. Although he's a student at the school, he's capable of pulling off some malicious acts against his prey. One after another, no teacher is safe from Takuya. His next target is Miyuki Toudou, a teacher who plans to keep her chastity until her marriage with Eiji Sanada.
Continuing on this erotic countdown and we come across a hentai that features a fiendish character, by the name of Takura Misawa. The reason we bring attention to this particular character is because he's often the one utilizing sexually pleasing toys on his unwilling participants. What makes Mesu Kyoushi: Injoku no Kyoushitsu standout, is that it doesn't always use the 'traditional' sex toys to bring pleasure to his sex partners. Yes, there are the usual dildos and vibrators but Takura is able to optimize his surroundings by proceeding with unusual choices, such as a carrot and ruler, to spice things up.
---
7. Dainiji Ura Nyuugakushiken The Animation

Episodes: 1 (as of Mar. 2018)
Aired: May 2017 – ?
Dainiji Ura Nyuugakushiken The Animation is based on the doujin manga by Migumigu. The story is about an outstanding female student named Youko Shirayuri who gets summoned to the principal's office. Once there, she's shown all sorts of candid photos of her "indecent" activities on the school campus. Shocked at the sight of these photos, Youko is faced with a dilemma. In order for her to remain at this school, she's going to have to bend to the whims of these intolerable teachers and enroll in "other" activities.
If Dainiji Ura Nyuugakushiken The Animation is to ever receive any more episodes, it's a safe bet that it will move up on our countdown. The reason we say that is because episode one brings toys to the frontline. It's very rare to find a hentai that primarily focuses on sex toys and practically runs with it throughout the entirety of a series. Dainiji Ura Nyuugakushiken The Animation has been able to do just that. The first ten minutes is littered with beads, vibrators, shackles and the peculiar use of water guns. Experimentation is paramount for this series.
---
6. Discipline Zero

Episodes: 2
Aired: Jan. 2010 – Jun. 2010
Discipline Zero is based on the game by Active and it precedes the events of the first Discipline series with Hayami Takuro. In this prequel, Leona Morimoto arrives at the famed St. Alcadia Academy where she aspires to become the head of the social club. Leona's strong personality enables her to rise to the ranks quickly becoming highly respected. Leona subjects her peers to severe punishment should they not listen to her orders. Leona's peers are not the only ones to be on the receiving end of punishment as her teachers face the same fate thanks to the rising power of Leona.
The overall tone of Discipline Zero tends to lend itself to a lot of BDSM, which ultimately leads to many toys being used throughout. Leona, one of the main characters in the series very much possesses a dominant personality and she puts on a full display of bondage and other acts. There's the use of syringes, a golf club, ball gags, whips, a strap-on and even a tennis racket. As the title would indicate, it's full of sexual discipline. Discipline Zero certainly offers some of the most diverse sex toys in all of hentai and is well worth a watch.
---
5. Gakuen Saimin Reido

Episodes: 3
Aired: Apr. 2010 – Sep. 2012
Futoshi has never really been able to get along with many of the students in his school. He's been bullied countless times over. His luck is about to change, however, after receiving a parcel from his inventive father. The package Futoshi received consists of a cell phone that on the outside looks like any normal phone, but he soon finds out that's not the case. The letter in the package states that it has the power to hypnotize anyone. Skeptical at first, he successfully tried it out with his neighbor; now Futoshi has revenge on his mind for his bullies.
With the halfway point upon us, it's only natural for things to start to heat up, and we feel Gakuen Saimin Reido does just that. There's a variety of reasons why we think that way, for starters, this series uses a magical device to satisfy Futoshi's urges. He starts out sexually repressed and he's later able to play out many of his fantasies. Another reason this is a superb choice is due to the number of females in this series. He's able to punish his enemies while using toys in the process. Whether it's a musical instrument, clamps or an Onahole the quality of this series is sure to please.
---
4. Tokubetsu Jugyou 3 SLG The Animation

Episodes: 2
Aired: Jan. 2014 – Jul. 2014
Kengo Ishizuka is given the opportunity to work at his former high school as a teacher. While there, he's earned the role of maintaining the old section of the school. Kengo isn't exactly what you would call a model employee and with his status as a teacher, he's afforded many opportunities to indulge in his twisted fantasies. With the aged building barred for students, this gives the sinister teacher an opportunity to exploit his job. This prompts Kengo to set his sights on a couple students and even a co-worker.
Looking at Tokubetsu Jugyou 3 SLG The Animation purely from a BDSM point of view, it arguably reigns supreme on this countdown. The entire story focuses on a sleazy teacher who uses his instruments of pleasure to inflict unwanted stimulation to various females. Of course, many of his toys are used prominently in the practice of BDSM. Discipline gets taught by using toys such as a tongue press, breast harness, piercings, and clamps. Additionally, rope, vibrators, and beads factor in amongst other items. If you're looking for a lighter-toned hentai, Tokubetsu Jugyou 3 SLG The Animation is probably not for you.
---
3. Maki-chan to Now.

Episodes: 4
Aired: Feb. 2012 – Dec. 2014
The story takes place during the early summer months at approximately midnight. Seiichi, an eroge writer, was so immersed in his work he needed a break. He decided to step outside on his balcony to get some air. In the moonlit sky, he heard some unusual noises coming from his neighbor's side of the balcony. Upon further inspection, he found Maki, his neighbor, masturbating in the moonlight. This well-proportioned girl was in sheer ecstasy and Seiichi wasn't sure how to take it. The lewd Maki not only becomes Seiichi's sex-slave but she brings her sister Yuki into the mix.
While ranking this list one of the factors was overall enjoyment. Many of the previous picks might have featured sex toys more prominently, but few (if any) can match the same type of quality that Maki-chan to Now. presents, especially in the visual department. That being said, there's still more than enough toys in this series to warrant a high ranking on this list. The first two episodes are bare, but the last two spring out some thrilling toy action. One of the highlights includes Seiichi and Maki's sexual encounters in an S&M room at a love hotel.
---
2. Hatsu Inu 2 The Animation: Strange Kind of Woman – Again

Episodes: 2
Aired: Sep. 2008 – Dec. 2008
The story Hatsu Inu 2 The Animation: Strange Kind of Woman – Again features the familiar faces from the first installment, Fujino, Fukaya, Mita and the nurse. Fujino and Fukaya travel to the sex shop to buy a new vibrator for Fujino because Fukaya accidently breaks her old one. While there, the two experience a lustful encounter that leaves Fukaya wondering why Fujino hasn't been herself lately. Her reaction to their lovemaking was subpar and he insisted that Fujino become more vocal during intercourse. With the assistance of Mita and the nurse, Fukaya and Fujino hope to get their sex life back on track.
This next pick was the catalyst for this countdown, Hatsu Inu 2 The Animation: Strange Kind of Woman—Again. When it came to compiling a list of toy related hentai, the Hatsu Inu series was the first to jump into our minds, and with good reason. After all, Fujino's dildo has nearly as much value as Fukaya! The toys are very much a focal point. What makes this hentai standout from the majority of these listed on this countdown is that it doesn't focus on BDSM or any dark themes. It's lighthearted fun while supplying us with enough dildo action to earn its number two spot on the countdown.
---
1. Yakin Byoutou (Night Shift Nurses)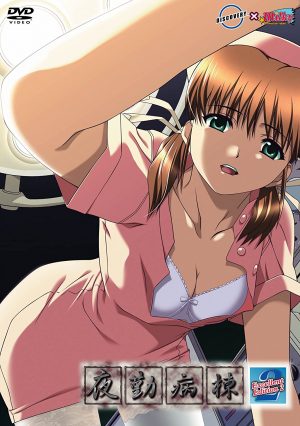 Episodes: 10
Aired: Dec. 2000 – Jan. 2004
Ryuji Hirasaka is a delusional man who was scarred during his university life after he had witnessed a tragedy that involved a mortally wounded female that he tried to save. Fast-forward many years later and Ryuji is now working as a gynecologist at the renowned St. Juliana Hospital. After many years of mental trauma, his delusions start to take over and Ryuji develops a sadistic side to him, leaving all of his co-workers in the crosshairs of some insanely erotic experiments. These nurses will be stripped of their inhibitions and restraint.
Yakin Byoutou is by far the oldest series on this list and every time we write about it, it seems to be ranked at number one. After all, what Yakin Byoutou does, it does supremely well. This series explores many different genres of hentai and it just so happens to include a variety of sex toys throughout its ten episodes. The experimentation that Ryuji Hirasaka puts these nurses through very much includes some unique toys. Not all of them are meant to bring physical pleasure to the recipients, such as a speculum, but Ryuji makes it work effortlessly.
---
Final Thoughts
As we touched upon previously, BDSM is ever-present on this countdown and many of these series feature some, if not all aspects of BDSM. With this list, we feel like we've pointed you in the right direction for hentai that strongly uses toys for pleasure or discipline. You now have a strong foundation to work with.
After reading this article, one thing is clear, sex slavery and sex toys go hand-in-hand. What's your biggest takeaway from this countdown? We're you pleased with the selections, and if not, what would you have added to this list? Be sure to let us know in the comments section below!