Hentai anime are usually known to have a drastic amount of kinks such as netorare, gore, and rape. Over the years, the number of such hentai has only increased, and conversely, ones that don't have these unsettling fetishes have become harder to find. Even though there are Vanilla Hentai out there, they don't come out as often, and among those that do, finding ones with the best content is very hard. But, you don't have to worry because we've done all the work for you. That's right! This list is about the 10 Vanilla Hentai we think deserve to be in the best category. These hentai have the most gleeful and vehement sex that you'll ever see, and the best part is that it's all consensual. So without further ado, let's get into our list of the top 10 Vanilla Hentai anime.
10. Seikatsu Shuukan The Animation

Episodes: 1+
Aired: March 2019 - Ongoing
Shuntarou is caught by his three sisters while masturbating to the thought of them using their panties. One morning, he wakes up to the shock that his age has reversed and for some bizarre reason, this makes his sisters want to fuck him. Of course, they don't know this little boy is the same brother who they detest. Calling himself Koharu, he takes full advantage of this and makes sure to fuck each of his three sisters in ways they never imagined.
All three of Koharu's sisters are actually perverts. Ayaka is a Shotacon, Fuyuno gets sudden strong sexual urges out of nowhere, and Chiaka harbors secret feelings of love for him. In our opinion, the best thing about this hentai is probably its fluid animation during sex, thanks to Studio Seven, and it makes sure that you are hooked to it once you start watching. One such scene takes place right at the beginning where due to Koharu's insane luck, Ayaka and he end up taking a bath together. Ayaka decides to clean his body with her voluptuous boobs because why not and this gives Koharu an erection. Seeing this, Ayaka decides to take care of his little brother's problem and the two have some fervent sex which leads to Koharu cumming in his own sister several times.
---
9. Araiya-san! Ore to Aitsu ga Onnayu de!?

Episodes: 8
Aired: May 2019
Tsukishima gets a day job as a bath attendant at a local bathhouse. Thanks to the power that is blessed to the hentai protagonists, his school's volleyball team comes over. Among the girls is Yuzuki Aoi, who Tsukishima has a queer interest in. While massaging Yuzuki, he gets carried away and ends up fingering her. As it turns out, Tsukishima is really good at massages because Yuzuki asks for it again, and even confesses to him which leads to them fucking several times after that.
Araiya-san! Ore to Aitsu ga Onnayu de!? is a masterpiece when it comes to vanilla hentai. You don't often see mutual love bloom in hentai, but in this case, that's exactly what happens. What's more, Yuzuki's Tsundere nature towards Tsukishima makes it all the more enjoyable. She secretly loves him but enjoys being cold to him on purpose. All this melts when she gets a taste of Tsukishima's cock though. She craves his touch on her supple skin again and again, and Tsukishima can't get enough of fucking his love interest either. From there onwards, these two share a very frenzy relationship, which often results in them having sex. For all the Vanilla fans out there, Araiya-san! Ore to Aitsu ga Onnayu de!? is a must-watch.
---
8. Kimi Omou Koi

Episodes: 1+
Aired: December 2018 - Ongoing
At Shimuro Aikido Dojo, Aoi is next in line to take her father's place as the successor, thanks to her exceptional skills. Being the head of a dojo would mean regular interaction with men, but that's something Aoi is terrible at. To find a solution to this problem, she seeks the help of her childhood friend Shin'ichirou, who has had feelings for her ever since they were kids. Shin'ichirou suggests some endurance training in the form of massages, and things quickly take a turn for the good when this training leads to our main characters having deep and passionate sex.
In our opinion, Kimi Omou Koi is one of the hidden gems among Vanilla Hentai because of its delivery. The hentai builds up the connection between Aoi and Shin'ichirou in a way that you feel like you've known them for years. The sex scenes are very well animated and are sure to leave you satisfied. This Hentai features a decent amount of tease with Shin'ichirou fucking Aoi's tits while she's blindfolded. If you're not sure how to feel about Vanilla Hentai, Kimi Omou Koi will surely make you fall in love with this category.
---
7. Shishunki Sex

Episodes: 1+
Aired: June 2019 - Ongoing
Set in a high school, Shishunki Sex revolves around Akane and Okazaki. Akane is the representative of her class, and Okazaki is your average student who enjoys bringing dirty magazines to school. Being the example for everyone that she is, Akane punishes him for it, but that day on her way home, she finds a dirty magazine lying on the ground which changes her forever. Intrigued by its contents, Akane explores her body and masturbates several times a day. Soon after, Okazaki finds out that she's just as much a pervert as he is and he talks her into having sex with her.
While reluctant at first, Akane undergoes a vigorous change of character as the hentai goes on. She goes from being unsure about letting Okazaki have his way with her body, to begging him to fuck her. For Okazaki, this is something right out of a dream as he is implied to have feelings for Akane. Getting an opportunity to fuck your crush doesn't come up often, and if it does, you take it with both hands. That's exactly what Okazaki does and he makes sure to use every inch of her body to make himself feel good. By the end of it all, both Akane and Okazaki are satisfied, but this is just the start of their relationship. We're sure there's more to come in the future.
---
6. Joshi Ochi! 2-kai Kara Onnanoko ga..Futte Kita!?

Episodes: 9
Aired: July 2018 - August 2018
Aikawa Sousuke lives in a run-down apartment where one day, a girl suddenly falls from the ceiling and lands right on...his dick. The landlady, Yuki, catches them in the act, and their life takes a very interesting turn. Yuki gives her own room to Unyuu, the girl who fell from the ceiling and shares Aikawa's room for the time being. After getting into further trouble, all three of them end up sharing one room where, to Aikawa's luck, they engage in various steamy sexual activities throughout the series.
Aikawa's relationship with both of these girls is very fascinating. He's in love with Yuki, and although she hates to admit it, she feels the same way about him. They don't have sex right from the beginning of the series, but it's very rewarding because once they do, all the episodes of build-up feels like it paid off. Yuki is a virgin, but her lack of experience makes watching her having sex even more enjoyable. Aikawa is in total control all the time, and Yuki's cute little nuances, such as closing her eyes and breathing heavily after Aikawa penetrates her and gripping on his body with her legs are something to enjoy. Meanwhile, Unyuu starts having sex with Aikawa right from the moment she lands on his dick. She even has a few booty calls with him because she can't get enough of Aikawa. Both Unyuu and Yuki end up falling for Aikawa, and Aikawa has two pussies to bury his dick in, instead of one. Great, isn't it?
---
5. Amakano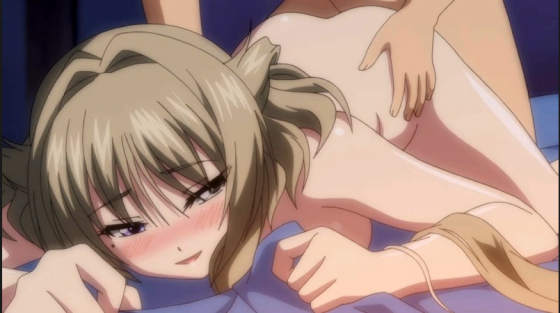 Episodes: 4
Aired: February 2016 - January 2017
Yuuki moves to a hot-springs town named Yomase town to help his grandparents with the troubles of shoveling snow at their boarding houses. Things take a very intriguing turn when his grandfather tells him to try and find a life partner. Normally, one would think that finding love isn't as easy as it sounds, but this is the world of hentai and instead of one, Yuuki has three girls ready to choose from. Koharu works at a local cafe, Saiyuki is a shrine maiden, while Mizuki is his housemate.
This Hentai has a total of 4 episodes, with each one focusing on Yuuki's relationship with one of his girlfriends. There is nothing too extreme in this hentai and the sex between Yuuki and each of the girls is very pure. We think this hentai is for those who are new to Vanilla because it features everything we love about this category like plot development, passionate sex and the undiluted relationship between two people in love. The story is not too hard to follow, and just like the other Hentai anime on this list, the animation makes it something special.
---
4. Baku Ane Otouto Shibocchau zo!

Episodes: 1
Aired: August 2014
Ryoushirou Hayasaki returns to his home to rehabilitate after getting injured while attending football training. His four hot sisters are to take care of him in the absence of his parents, and boy do they do that in the best possible way. After Ryo is caught with some smutty stuff in his bag, his sisters decide to punish him and cure him of his 'lolicon rehabilitation' in ways that he imagined would never be possible.
A Vanilla list wouldn't truly be complete without Baku Ane Otouto Shibocchau zo!, would it? This Hentai anime features some of the most gorgeous and sensual animation we've seen in hentai anime. Ryo's sisters are very keen on curing him to the point where they let him do anything to their bodies and use them as his toys if it means that it'll rid him of his attraction to lolis. Ryo does just that and asserts his dominance on his sisters with his massive cock tearing their bodies apart. His sisters are more than happy about this, and they even do multiple cosplays to make sure their little brother feels good while fucking them in every lewd way possible. We think Baku Ane is a must-watch for everyone!
---
3. Menkui

Episodes: 2
Aired: May 2011 - August 2011
Menkui focuses on two different short stories within one episode. Both of these short stories are a joy to watch because they have some of the most intense sexual action we've seen, with little focus on the story building. The first story features Shou, who is your average hentai protagonist looking to confess his feelings to his crush. Unsurprisingly, she rejects him right away. We're glad that this is a Vanilla Hentai, otherwise, Shou would be forcing himself on Manami right away, but he doesn't give up! Instead, he makes sure that Manami accepts not only his love but his dick on the very day he gets rejected. Talk about dedication! The second part of the episode focuses on a girl who is in love with her childhood friend, but fails to make an impression in his eyes. This is because of his strange obsession with maids that she needs to get into to make sure that he doesn't overlook her anymore.
Both the story parts feature similar kinds of stuff with the lead up to the action being rather short, but the sex in itself being very fulfilling. This hentai anime makes sure to highlight the essence of Vanilla Hentai by showing characters fall deeply in love with each other. However, the show also isn't afraid to implore some of the most erotic sexual scenarios that we've seen in hentai. Shou succeeding in taking the virginity of Manami right after she rejects him is the kind of stuff we all love to see in our Vanilla Hentai. He makes Manami squirm in pleasure and she realizes what she's always been missing out on. From there onwards to Shou's relief, Manami becomes a slut for his cum, and they live happily ever after. Menkui might have stories that are unrelated to each other, but both of them are worth watching, and we recommend it because it is easily one of the best Vanilla Hentai anime that we've watched.
---
2. Nee Summer

Episodes: 2
Aired: December 2011 - April 2012
Nee Summer focuses on the sizzling relationship of Yuuta and his cousin Kei Higashide. Yuuta decides to spend his summer vacation at home and study for the college entrance exams. Kei offers to help him study, but her constant vexing causes him to develop feelings for her. A vacation where he was supposed to study for the exams turns into one where he falls in love with his cousin and ends up fucking her; a lot.
Nee Summer is slightly different from the other hentai on this list, because of the relationship between Kei and Yuuta. They may be cousins, but Kei cares about Yuuta a lot, and she doesn't want him to get hurt at all costs. She's the perfect Nee-san anyone could ask for, and the fact that she's in love with Yuuta makes it even better! Both episodes of this hentai are filled to the brim with incredible sex scenes that are sure to satisfy you. We love it when a lustful girl in hentai like Kei openly proclaims to the guy that her body is for him to use as he likes. When she says this to Yuuta, he does just that gives his super-hot cousin the dick that she's seen drooling over throughout the series. Kei and Yuuta have a lot of steamy hot sex in the living room, bathroom, and even on the beach as the story progresses. By the end, Yuuta's exams don't even matter, but we're completely fine with that, and we're sure that Yuuta is as well.
---
1. Ane Yome Quartet

Episodes: 2
Aired: October 2015 - March 2016
The Hanabishi family are set to depart on a long overseas trip, but they're worried about their four daughters being left all alone. The son of their next-door neighbour, Kouki, gets himself caught up in this mess when he announces he'll take care of them after he leaves. This leads to the Hanabishi family deciding that Kouki should get to marry one of their daughters. All the Hanabishi sisters love him like he's one of their own siblings. A long summer where he gets to enjoy the company, as well as the sexy bodies of the four Hanabishi sisters finally kicks off.
As with all the best Vanilla hentai out there, Ane Yome Quartet features legitimate love brewing among our characters. The personalities of the Hanabishi sisters differ vastly, but every one of them loves Kouki in their own way, and they would go to any lengths to make sure he chooses them. The sex in this hentai is very diverse as well, thanks to the four sisters. Yurina likes to take control during sex and doesn't let Kouki get too ahead of himself, while Monome does everything Kouki wants him to. Saori likes to do all the household stuff and those with a maid fetish will generally love her because that's basically the essence of her character. Anzu's love for Kouki is just as great as the other sisters, but she has no qualms about labeling him a 'playtoy'. As you can see, there's something in this hentai for everyone, whether you like girls who dominate during sex, or those who are submissive, or even those who pose as maids to make sure their master enjoys having sex with them. Ane Yome Quartet is defined worth checking out, in our opinion.
---
Final Thoughts
Vanilla Hentai anime are very underrated and few people care to check them out. However, there are some great hentai that we think people miss out on by not checking out this fantastic category. If you're new to Vanilla Hentai, we hope that watching a few of these will get you hooked on them because they're all some of the very best out there. With that, our list of the top 10 Vanilla Hentai anime concludes. We hope that you liked the picks we made.
But now, it's time to hear from you guys. Which Vanilla Hentai do you guys think is the best out of the lot? Is there any that you think we've missed? Let us know your thoughts in the comments below!
by Shousei Katakuri
---