In most hentai anime, we often see innocent virgin girls getting deflowered in a variety of creative ways. Not much attention is given to the inexperienced virgin boys, taking the literal plunge into manhood for the first time. Well today we're going to shine the spotlight on those overlooked boys (and men) in these next ten hentai anime. Let's pop some cherries!
10. Itadaki! Seiki

Episodes: 1
Aired: March 2014
When Kanzaki receives a love letter from a classmate, all kinds of fun scenarios enter his mind. Getting kicked in the face wasn't one of them! His admirer, Mari, is actually a vampire that lured him away so she could drink his blood. When she bites him however, she finds she doesn't like the taste of blood. Luckily, one bodily fluid is as good as any other. She can survive on sweat, tears, spit or semen. Having never had a sexual encounter with a girl before, he opts for the most fun choice. Kanzaki pulls out his penis, telling her to suck it straight from the tap! Eventually, Mari wants to try enjoying her new food source with her "other mouth". She climbs on top of her dinner and he slides into her easily. Kanzaki then takes a moment to appreciate his first taste of what being inside of a girl feels like, before aggressively thrusting into her. Finally, he can brag to his friends he's not a virgin anymore!
---
9. First Love [Episode 1]

Episodes: 3
Aired: March 2012 - October 2012
The entire premise of this hentai anime is all about falling in love for the first time. The first episode focuses on Ani. A hardworking young man who lives with his hikikomori sister, Kasumi. They've always had a close bond in the past, but as they grew up they grew apart. One evening, Ani's date suddenly cancels on him. He decides not to waste the restaurant reservation and take out Kasumi instead. She hasn't left the house in months and this could do her some good.
After a pleasant evening with her, he drunkenly stumbles his way into a refreshing shower. Only to find his body reacting in an unexpected way to his sister's embrace. Before he has time to question it, Kasumi has snuck into the shower and is sensuously stroking her brother's cock! It turns out she's always had feelings for Ani and she wants to have sex with only him.
---
8. JK Bitch Ni Shiboraretai [Episode 1]

Episodes: 2
Aired: August 2016 - September 2016
This hentai anime features several girls that love to have sex. One girl in particular, nicknamed Skank, has made it her mission to take the virginities of 100 boys. Her next target already has a crush on her and gladly allows her to suck his dick. What she wasn't planning on, is this boy keeps complimenting her. As she pulls down her panties, showing off her pussy, he calls her beautiful. This is quite unusual for her. She finally gets what she was craving when he slides his thick cock inside her. Afterwards he thanks her for the experience, telling her that he will treasure that memory forever. Immediately she's driven wild with desire, only wanting to have sex with him from now on.
---
7. Iizuka-Senpai x Blazer: Ane Kyun! yori The Animation

Episodes: 1
Aired: November 2016
Tomoya has been best friends with his senpai, Iizuka since middle school. They eventually promise to start dating officially once Tomoya passes his high school entrance exams. One morning, Iizuka goes to wake up Tomoya to show off her new high school blazer. Overcome with lust at how grown up she looks, Tomoya is itching to get Iizuka out of her uniform. He's eager to look over every inch of her warm body, but she reminds him that they haven't started dating yet. Iizuka compromises by allowing him to have sex with her under the bed covers.
The sunlight peeking through the closed curtains, plus the closeness of the two horny teenagers underneath the sheets, really gives the scene a sense of hot, sweaty intimacy. The music is the icing on top which really evokes the feeling of youthful nostalgia.
---
6. Boku to Sensei to Tomodachi no Mama

Episodes: 2
Aired: August 2019 - October 2019
A curvaceous teacher notices her young student, Aizawa, taking candid photos of her underwear. Aroused by the brazen attitude of this boy, she decides to "punish" him. Alone in her office, she demands he show himself to her. Pressing her large breasts against the nervous boy's face, she rubs his penis against her thigh. Finding his virgin reactions endearing, she continues meeting up with Aizawa. After she finds out he's been masturbating at home without her permission, she claims him as her own by allowing him to enter her. She teases him ruthlessly, pinning him against the wall until he comes inside her. His frantic apologies only makes her want him more.
After the exam period is over, she rewards Aizawa by taking him to a hotel. What she wasn't expecting was for the inexperienced young man to suddenly start taking charge and doing everything he can to pleasure her instead!
---
5. Ano Ko to Ii koto [Episode 2]

Episodes: 2
Aired: October 2015 - December 2015
In this comedic take of the Brother/Sister genre, our virgin boy has a date planned with a girl he met online. Nervous about the prospect of having sex for the first time, he asks his younger sister, Ami, to help him practice. Annoyed by her older brother's ineptitude, she begrudgingly agrees to help him.
She gives him a test to begin with. If he can endure a foot job for five minutes without cumming, she'll let him have sex with her. Unfortunately, she gets too carried away taunting her brother, and he lasts the full five minutes. Not content with just allowing the ravenous pervert to have his way with her, she encourages him to lick her pussy first. Which he turns out to be surprisingly good at. After finally giving him permission to enter her, he turns out to have really good stamina for a virgin. Once her favour is completed, Ami realises that her brother is genuinely attracted to her. So she rewards him by mounting him and riding his cock raw.
---
4. Tiny Evil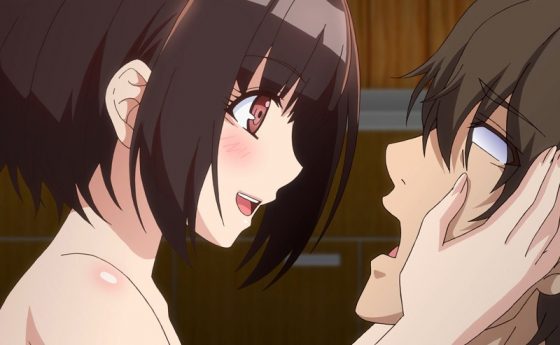 Episodes: 4
Aired: September 2018 - February 2019
A lonely, unemployed, young man decides to lose his virginity once and for all by summoning a succubus. A young succubus named Miyu knocks on his front door instead of materializing out of the summoning circle he drew. She gets straight to work "milking" the life out of our virgin hero. Using her hands and mouth, she makes him cum over and over. Miyu eventually uses her succubus powers to keep him perpetually hard. By this point, he's begging her to let him thrust his penis inside her. She hesitates and admits that she is a virgin too. Due to not being a full-fledged succubus yet, that's why she had to knock on his front door. He apologizes for embarrassing her and she slowly lowers herself onto his cock. Miyu discovers riding him cowgirl style makes it much easier to achieve her goal of killing him with orgasms. Yet, he wakes up the next morning alive and well.
---
3. Gibo no Toiki: Haitoku Kokoro ni Tadayou Haha no Iroka (Do You Know the Milfing Man?)

Episodes: 2
Aired: May 2006 - October 2006
When young Kaito is caught sniffing his step-mother's panties while masturbating, he flees to a bar run by an older friend, Nao. He begs her to let him spend the night, since he can't face the shame of being confronted by his step-mother, Sayo. Nao agrees on the condition he keeps her company. Kaito being oblivious to the not-so subtle hint, she resorts to getting the teenager drunk and taking advantage of him. Kaito wakes up to see the beautiful barmaid sucking his dick.
Determined to make a man of the virgin boy, Nao peels off her panties and lowers herself onto Kaito's hard cock. It doesn't take long for him to explode like a firework. Nao insists she's not done with him yet until he makes her feel good. Which he does with gusto, a virgin no longer.
Gibo no Toiki: Haitoku Kokoro ni Tadayou Haha no Iroka (Do You Know the Milfing Man?) PV

---
2. Lovely Heart [Episode 1: Aina-chan]

Episodes: 1
Aired: November 2019
High school student Aina Endou falls madly in love with her homeroom teacher, Tanaka-sensei. She constantly pesters him with cute nicknames, seductively sucking on lollipops and inappropriately clinging to his body. He decides to confront his student about her behaviour after school. While teasing him as she usually does, Aina discovers that her sexy teacher is actually a virgin.
Simple flirting is no longer enough as Aina takes matters literally into her own hands… and mouth! She ducks under the table, while Tanaka tries desperately to be a good teacher and keep his rambunctious student in line, she swaps her lollipop for her teacher's cock. Aina admits that this her first time too, sitting on the table and spreading her legs. Tanaka starts to passionately thrust into her, as the young girl tightly wraps her legs around his waist. Eventually, he stops protesting and accepts that he's a terrible teacher as the pleasure overtakes his senses.
Lovely Heart PV

---
1. Amanee!: Tomodachinchi de Konna Koto ni Naru Nante!

Episodes: 1
Aired: December 2013
Ryouichi goes to his friend Yuu's house to play videogames. He's surprised to see Yuu's aunt Yui there, wearing just her black lace underwear and a white button-up shirt. At first, he thinks Yui is just an overly friendly person, pressing up against him while he plays. But that changes when she notices his erection from staring at her breasts.
After making fun of Yuu for being a virgin, he gets defensive and mentions that Ryouichi is too. Suddenly Yui seems a lot more interested in teasing the boy, softly licking his ear while he tries to continue playing. Luckily, Yuu is too engrossed in the game to notice when his aunt starts stroking his best friend's cock! So as not to arouse suspicion, she swiftly swallows all of Ryouichi's cum before her nephew can look away from his game.
Wanting to play with her new boy toy, she encourages Yuu to head out to buy the latest game he's been after. Once he leaves, she tells Ryouichi to think of each step towards sex like a video game, coaching him through each of the "levels". The look of guilt on Ryouichi's face only excites her further as he thinks of how he's leaving his friend behind on the road to maturity.
---
Final Thoughts
At the end of the day, being a virgin is nothing to be ashamed of. For some, it's a personal choice. For others, they just haven't found the right person yet. The innocence of a virgin is something to be treasured. Once that moment is gone, it's gone forever. Share with us your thoughts in the comments.
---