A hentai anime is deserving of the "X-Ray" tag as long as it has that kind of scene you have seen many times, where we are shown an internal take of any of the participants' bodies while they fuck. One of the most common examples is when the animation displays the uterus of a girl being filled, or when we can see the guy's dick going in and out of the lady's vagina or anus.
In appreciation for this theme and all the wonderful moments it has given us, we have prepared a list for you to join us in our celebration of X-ray, may Röntgen forgive us.
Without further ado, our Top 10 X-Ray Hentai Anime recommendations!
10. Kaa-chan no Tomodachi ni Shikotteru Tokoro Mirareta. The Animation

Episodes: 1
Aired: October 2020
"Widows are fair game," they say. We know, the phrase is scummy, but the logic behind it is hard to deny. They are only humans after all and have inescapable physical needs, so obviously, when the person whose role entailed—among many other things—keeping that woman happy and satisfied, dies, one could hardly blame the husbandless wife to look for someone else to occupy that space.
Naobou's mom has Shi-chan, a widowed brown-skinned MILF, as a close friend. One day, Naobou is furiously masturbating when Shi-chan discovers him, unleashing her repressed desires. With a beautiful MILF, relaxing sex, and several good scenes where we are treated to an internal vision of Chi-chan being inseminated, this very recent work cannot bear not being mentioned!
---
9. Wagaya no Liliana-san The Animation

Episodes: 1
Aired: January 2019
The story starts when Tatsuya, our protagonist, encounters a girl on the street, Liliana, and decides to invite her to live with him for a little while. Before they can notice it, a year passes and their cohabitation is still continuing, but the passage of time slowly changed things. As they go through each day, being a little more conscious of each other is unavoidable, until the hidden feelings between Tatsuya and Liliana can not be kept under wraps anymore, coming to an exploding and very satisfying resolution.
One of the wonderful things about this work is its story, so masterfully crafted for a hentai anime. The plot has a sweet and enticing buildup that robs the consumer of any words and makes them silently enjoy the progression; they go from strangers to lovers, but very slowly—it took Tatsuya a year to touch Liliana's beautiful white mane. Nonetheless, when we arrive at the moment where they tenderly make love, we know the wait was worth it.
---
8. Dropout

Episodes: 2
Aired: February 2016 – March 2016
In a dystopian academy, those who get poor grades become "dropouts," and their duty as students who failed is physical labor, all to ensure the other students can stay relaxed and maintain their good grades. What does this physical labor entail? Being a sexual object, a cum dumpster for their assigned student to do with as they see fit. Such is the case for Reika, who was at the top of her class before falling to dropout status and now must sexually serve her classmate Niimi so he can keep acing those tests!
As you might have already noticed, Dropout is a light-weight dark hentai dealing with gangbang, sexual slavery and similar themes. The art is very particular and although you'll find some imperfections here and there, it is otherwise good, with its rough and warped expressions that send a shiver of pleasure down your back. As if it wasn't enough, most of the penetration that occurs has at least one X-ray moment! A must-watch, without a doubt.
---
7. Muramata-san no Himitsu (Muramata's Secret)

Episodes: 2
Aired: July 2020 – September 2020
Kaji is a very recent addition to a company employee's roster. Unfortunately, he tends to be chewed out by the higher-ups for his frequent mistakes. The pressure would make anyone consider switching jobs, but even greater than this demerit is the advantage that presents Muramata, a female senpai who is always covering up for him and cheering him up. Although, this loyal and humorous co-worker has a secret that she has kept hidden all this time: her forked tongue.
This is vanilla hentai with an interesting story, very peculiar animation—courtesy of Queen Bee, after all—and a female lead whose waifu power is out of this world. The plot progression of this office romance is sweet, wholesome, and kinky at the same time, a golden recipe that can leave anyone satisfied. There are plenty of reasons for you to consider it a great watch, but to top it off, Muramata-san no Himitsu basically invented a new kink!
The internet now knows that forked tongues are sexy as hell… but forked tongues plus X-ray vision to see the sexual mischief they unleash? Definitely exciting!
---
6. Yarichin Kateikyoushi Netori Houkoku

Episodes: 2
Aired: May 2020 – June 202
If you were the owner of a successful company, married to a woman whose lustful nature you can no longer satisfy due to health issues; what would you do? Of course, call your trusted subordinate and request him to relieve your wife's loneliness by fucking her with passion. Our protagonist is suddenly entrusted with the mission of sexually comforting the boss' spouse while recording it. What our dear boss didn't expect was for our main character to go further and include his daughter—who, by the way, was saving her virginity for her father—in the trajectory of his spiral of debauchery.
It is a special kind of NTR because the person being cheated on requested it, but it is also reversed when the protagonist decides to over-achieve and properly take possession of all his household, fucking the brains out of the boss' wife and daughter. All shown with excellent animation and voice acting, together with our much-appreciated X-ray scenes each time a heroine receives a dose of baby batter.
---
5. Saimin Seishidou (Hypnosis Sex Guidance)

Episodes: 4
Aired: February 2019 – December 2020
Hajime Tanaka, our protagonist, uses his skills on hypnosis to place 3 unbreakable suggestions on the whole student body. First of all, he is a sex counselor sent by the government. Secondly, before engaging in amorous acts like sex or kissing, they must pass through him for guidance. Finally, all orders must be obeyed and the sex counselor is always right. With this hypnosis in place, his classmates do not think of anything weird as their girlfriends offer themselves up to our main character.
Saimin Seishidou is a plotless yet greatly animated ugly bastard hentai. The sex scenes are absolutely gorgeously drawn and colored, and although there is not much of a story, it accomplishes what it set out to do, making the viewers indulge in their libido and enjoy the mesmerizingly intense scenes. Each chapter basically comes with a long scene involving the occasional main heroine, a short interlude with a couple of side-girls, and then another routine with the main female lead.
---
4. Succubus Stayed Life

Episodes: 2+
Aired: August 2020 – Ongoing
Matsukawa, our protagonist, is living a normal high school life until a fellow classmate, Sakuramachi, requests him to have a reunion concerning a school event at his house. He of course accepts, and once they are in the house, Sakuramachi jumps on him and deprives him of his virginity by riding him as it was the last day on Earth. A nice evening overall, but it's far from being over as Sakuramachi is a self-proclaimed succubus who tries her best at proving her statements by sucking our boy dry!
Getting into the more technical details, the art is something many fans have criticized, especially those who have read the doujin it originates from. Still, it features absolutely exciting scenes, with an emphasis on the intra-uterus and intra-buccal scenes, which, through the use of X-ray vision and sensually hypnotic movements, managed to catch the viewers' attention.
---
3. Youkoso! Sukebe Elf no Mori e

Episodes: 4
Aired: February 2018 – August 2020
Arriving at Alfheim, a parallel world solely populated by female elves, Yuichi is told that said planet is dying, and the only way to save it is by adhering to a prophecy that foretold that a human male would come and save the world via baby-making. Some save lives by going into raging fires, others operate in a table, but saving lives through sex? Anyone could wish to be that kind of hero!
Yuichi will face some obstacles on his way to saving Alfheim, as not all the elves are in agreement with this prophecy. Being the prideful bunch they are, they hate the mere idea of falling into such disgraceful and vulgar behavior. This work is a vanilla harem with a smooth frame transition, amazing quality lightning, and god-tier character design. The cherry on top? Each time a girl takes Yuichi's member inside, we are able to keep watching and enjoy even the smallest details thanks to X-ray vision!
---
2. Isekai Harem Monogatari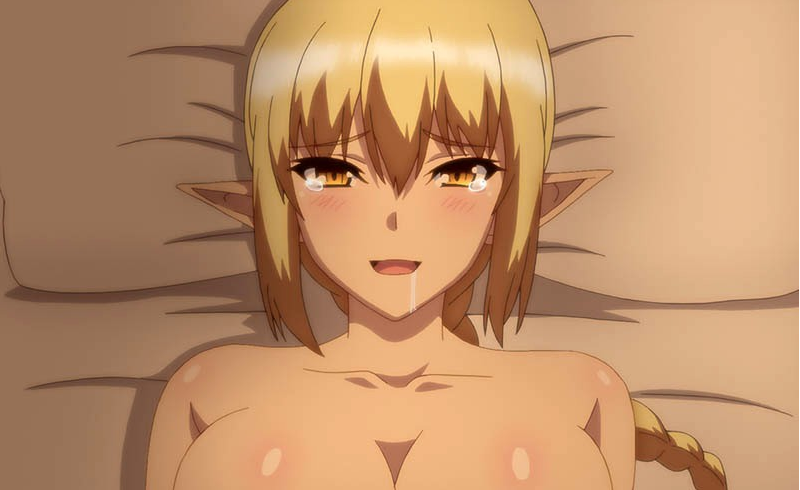 Episodes: 4+
Aired: July 2020 – Ongoing
99% of able males masturbate; it is a fact. However, it's not as if that is their only calling in the world. It's just a way to relieve stress and satisfy one of their basic needs. For our protagonist, Naoki Oikawa, it means much more than that—masturbation is a hobby, an art, a way of life!
Luck smiles his way one day when amidst a session of pleasing the nut, he is teleported to another world, where he is received by three beautiful girls that tell him this world has its fate hanging upon a thread due to the imminent revival of the demon lord, and the only way to save it is to consume his semen and get stronger.
This absolute beast of a newcomer in the hentai world has managed to claw his way to the top of many a connoisseur; it's easy and relaxing to watch, and with its vanilla harem thematic, it sets the example for any upcoming isekai hentai anime series. After all, each and every aspect of this work is absolute gold, from the sensual movements to the voice acting and the colors. Oh, and X-ray scenes are included!
---
1. Baku Ane: Otouto Shibocchau zo! The Animation (Bombastic Sisters)

Episodes: 2
Aired: August 2014 - November 2017
Baku Ane: Otouto Shibocchau zo! tells 2 separate stories. The first one is about a soccer player who suffers an injury and is sent to rest at home for healing, but as he arrives at his house, a collection of porn magazines left by his friends are exposed to the two sisters he lives with, making them worry about his mental health and promising to show him the wonders of a real woman. The second one focuses on a guy named Munetaka, who experiences an epic failure while trying to have his first sexual experience with his lover due to a buried trauma. Luckily for him, his elder sister, his cousin, and the girl who provoked the trauma join the fray trying to cure him of his affliction.
The main theme of this hentai is obviously incest, but no area is left unattended; you will find yourself just dumbly watching Baku Ane and all the blood-pumping situations depicted on it. And it goes a step further regarding X-ray, because not only are we shown the insides of the heroines' mouths and vaginas, but the second part even has a scene where they depicted a spermatozoon entering the ovule of one of the girls! The absolute apex of X-Ray hentai!
---
Final Thoughts
X-ray can be found on most hentai, and it is something that we cannot have in porn or real life… at least for the time being. That novel experience makes it absolutely great, as it allows us to see beyond what our mortal eyes permit, enabling us to follow all the action no matter if it takes place in such an enclosed space.
Could you imagine Tom without Jerry? A hotdog without sausage? A politician without lies? What would the world be? Well, X-ray is already an irreplaceable part of hentai as a genre, either in manga, anime or games, and we can't imagine how much less exciting these works we know and appreciate would be if we didn't have it.
What are your thoughts on X-ray scenes? Do you have any suggestions you would like to share? We are looking forward to your comments!
by Gabriel D.
---