Boys Love, or Yaoi, is a fluffy side of the anime universe full of cuteness, tenderness and characters who can make you fall in love at first sight. Yaoi couples are usually made by a character who takes the lead – called "seme" – in everything, until the bed sheets, and the one who needs to be conquered – called uke. We are sure you fans of BL stories out there already know what we are talking about! This ranking is meant to mention only ten among all the yaoi anime couples. As it proved to be a hard task, we hopefully chose the best couples; the ones that made our hearts beat faster and maybe shed some tears. Stick with us until the end, and you won't be disappointed!
10. Youji Katou x Kyousuke Iwaki from Embracing Love (Haru wo Daite Ita)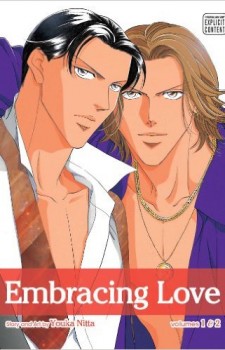 Episodes: 2
Aired: March 2005 – May 2005
Let's start this ranking with a couple to be considered as old, but gold! Katou and Iwaki are AV actors, who dream to become popular actors worldwide and put and end to their AV careers. Working in the same field, they know each other, but one day they meet for an audition. Something very unusual is asked to them, and both of them are reluctant to accept, but it's their rivalry that gives the final push. Iwaki beats Katou, and after that audition onward, Katou starts to have feelings for Iwaki, who will give Katou a very hard time instead.
Katou x Iwaki is one of the most loved couples. They totally complete each other; while Katou is still childish, but has no problem in accepting his past as an AV actor, Iwaki is mature, and still he is ashamed of his past. These two will act accordingly and will become one the other's strength. Katou is very passionate and doesn't miss a chance to show Iwaki how much he loves him. He will become the self-esteem that Iwaki is lacking. On the other side, Iwaki is shy and doesn't easily show how he feels, and yet he will become Katou's guidance. This is just a couple that can make your heart melt!
---
9. Ryunosuke Oohara x Naoki Satoya from Tight Rope

Episodes: 2
Aired: May 2012 – June 2012
Ryuunosuke Oohara is the heir of the fourth boss of a yakuza clan. Since he is a hot-headed troublemaker who can't seem to step back from fights, his life is a constant mess, having to deal with bullies, his father's enemies, and the likes. Being a yakuza heir, he should act accordingly, except that he really doesn't want to inherit the position. Ryunosuke, opposed to his personality, has one very sweet dream: to build a happy family with Naoki, who is his first and last love, and quit the yakuza for good.
This is a very lovely couple. In this series, no one seems to act as the world would expect them to. Ryunosuke, who should be the bully type, is just a boy who dreams a life beside his beloved one. He is straightforward and feels the need to tell Naoki about his own feelings every single time he got a chance to do so. Naoki, who is expected to be frail and shy, is one though monster who can kick asses and really cares about Ryunosuke's future as the heir of the clan. Eventually, the will resolve their feelings for each other and give us unforgettable tender moments!
---
8. Hikaru Kusakabe x Rihito Sajou from Classmates (Doukyuusei)

Episodes: 1 (movie)
Aired: February 2016
Classmates is a sweet story full of teenage angst and trouble. It revolves around a guitar player – Hikaru Kusakabe – and an honor student – Rihito Sajou – who are probably on opposite sides in basically every single thing, and yet fall in love with each other as soon as they meet. During the preparations for the chorus festival, something happens and they decide to practice together. While spending time together, the sympathy they felt in the beginning turns into something totally different and love strikes their hearts – and ours.
This is a very cute couple; as Kusakabe and Sajou's personalities may clash, they will find a way to dovetail their differences and make them work perfectly. As Kusakabe is very confident and popular with everyone, Sajou feels very insecure. Kusakabe's love will act as a powerful motivator for Sajou to believe in himself. And when it's Kusakabe's turn to feel insecure, Sajou will put aside his shyness and show him how far his love can go. This teenage couple – holding all what teens bring with it – made our heart beat faster, that's why it had to be in this ranking!
---
7. Nowaki Kusama x Hiroki Kamijou from Junjou Romantica

Episodes: 12
Aired: April 2008 – June 2008
Let's move on the 7th position, with a drama couple made by a "typhoon" and a cute crybaby, who is all but a baby! Nowaki and Hiroki form the second couple presented in the Junjou Romantica universe – the Junjou Egoist couple. As the name suggests, there's a huge amount of ego and possessivness in both Nowaki and Hiroki, but that's the exact reason why they are so dramatic and loved. They cross paths one day in the park, and for Nowaki is love at first sight. Hiroki, who has a difficult past where he was used and then rejected by the man he loved, is very reluctant, insecure, introverted and with not even a tiny bit of self-esteem.
Dealing with Hiroki is a hard task for Nowaki, but he is an orphan who grew up all by himself, so he is skilled at dealing with difficult situations. His love towards Hiroki blooms day by day, and Nowaki will eventually find a way into Hiroki's heart. As for the egoism and possessiveness we were mentioning above, well, this drama couple depicts two characters so madly in love with each other that they can get blinded by jealousy. Thanks to Nowaki the "typhoon" who is a perfect seme, and to Hiroki's cowardly side, this is a couple that managed to take a permanent place in our hearts!
---
6. Ryouma Ichijou x Izumi Sena from Love Stage!!

Episodes: 10
Aired: July 2014 – September 2014
Since we mentioned the drama couple, now we need to mention the comedy couple! With a great amount of idiotic gags and absurd situations is, this couple is loved right thanks to a lighthearted atmosphere surrounding this show. Ichijou Ryouma is a popular actor, who was tricked by Izumi's appearance. In fact, during a shooting, Izumi is literally forced to play the female role, and it made the misunderstanding start!
After overcoming the great shock of being in love with boy, Ryouma turns into the very man that everyone would love to have for themself. Ryouma is caring, loving and supportive whatever Izumi decides to do. Izumi, after resolving his feelings and understanding to love Ryouma back, finally turns into the cute boy he is meant to be. But that's when the problems arise, and the comedy couple will make you burst into laughter with the most absurd gags, and a big range of other characters who are just as funny! We love a couple like this.
---
5. Nezumi x Shion from No.6

Episodes: 11
Aired: July 2011 – September 2011
Our 5th position is a couple made by two strong-willed characters who gained a lot of popularity as soon as the show started. Nezumi – his name means "rat" – is a boy living outside the city of No.6. Shion is an honor student living in the comforts of the city. As the two come from a totally different backgrounds, as soon as they meet, something starts blooming. Shion helped little Nezumi when he appeared covered in blood in front of his house; that is an act that will start a chain of events leading Shion to be degraded from his high position in the society and – years after – to come to understand what actually lies behind the sparkling city of No.6.
This is a couple that moved everyone to tears. When Nezumi reappears years after, and saves Shion from danger, settling the debt he had toward him, the two starts to interact and Shion finally opens his eyes. Nezumi shows Shion the truth lying behind the doors of the city, and that is the starting point for Shion to grow up and understand the real world. There aren't many sweet moments shared by the two, but the ones that are shown are tender and sweet, able to make your heart melt. Nezumi has his own way of showing Shion how much he cares, while Shion is straightforward and will teach Nezumi how to interact with others better. Their love story is as simple as it looks: they love each other and that's all it takes for them to act accordingly.
---
4. Haru Kaidou x Ren Kaidou from Super Lovers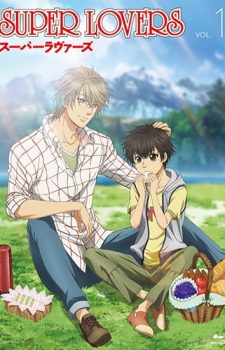 Episodes: 10
Aired: April 2016 – June 2016
This non-conventionally beautiful couple is made of an older seme, and a younger uke. It's a couple that easily won our hearts over! Haru and Ren are brothers, but Ren was an adopted child. These two met in Canada, when Haru's mother called him back in America to help with taking care of the little beast called Ren. Haru and Ren are eight years apart, and while they easily manage to create a deep brotherly bound in the beginning, as Ren grows up and moves in Japan to live with Haru, things start to change.
Their story is probably the sweetest among the couples in this ranking. Haru falls in love with Ren, and treats him as a frail flower to be protected. He isn't afraid of showing how much he loves his little brother, despite everything. On the other hand, there's Ren. He is introverted, and keeps maintaining a poker face in spite the situation, making it hard for Haru to figure out whether he is suffering, or he is happy. But Ren loves Haru with all of his heart, and he will figure out his own way to express his affection. This couple will face a lot of hardships, and ghosts from the past will knock at their door, but nothing is more powerful than the love they share!
---
3. Masamune Takano x Ritsu Onodera from World's Greatest First Love (Sekaiichi Hatsukoi)

Episodes: 12
Aired: April 2011 – June 2011
After years from their first meeting, the editor-in-chief Masamune Takano meets once again the man who was his first love during high school: Ritsu Onodera. As he recognizes Onodera as soon as he meets him, Onodera doesn't. So Takano decides to play tricks on him, and starts acting accordingly. Their subtle game goes on and on, until Onodera finally realizes that Masamune Takano is the same person as Masamune Saga, his first love, who changed surname name when their parents divorced. Since their love had ended because of a misunderstanding, they both hold lingering feelings for each other and step by step they will manage to regain what a silly mistake had taken away from them.
With these premises, it could look like we're talking about something melodramatic. On the contrary, these are just the premises for a lot of funny moments between the two of them; Takano never hides his feelings, and jump onto Onodera all the time, unexpectedly and suddenly, making it clear how much he loves him. Onodera is your typical uke who wants to put some distance, but the truth is that he is just too shy and introverted to admit what he actually feels. While watching this show, the lighthearted moments and the spicy ones have a nice balance that make it enjoyable to the fullest! Takano and Onodera are the perfect match, and they totally deserved a mention.
---
2. Toyohi Utsumi x Chiharu Kashima from This Boy Is A Professional Wizard (Kono Danshi, Mahou ga Oshigoto Desu.)

Episodes: 4
Aired: February 2016
Let's move on our 2nd position and our sweet couple made by a wizard and a common boy who is a wanderer around the world. Chiharu is the captain of the Wizard Bureau's Crisis Countermeasure Division so it goes without saying that he is a man full of responsibilities and duties. He crosses path with Toyohi one night, at the usual pub where he goes to drown his thoughts into alcohol. As the two meet and engage a conversation, Toyohi falls instantly in love with Chiharu. Being Chiharu completely deprived of self-esteem, he can't easily trust the young Toyohi and so he will have to struggle to win the wizard's heart over.
Toyohi is very sure about the fact that Chiharu is the one for him, and most likely the only reason that could make him stop from wandering around and settle down. This guy will put all of his efforts to court Chiharu, but the wizard is shy and the victim of a cruel past that turned him into a very insecure person, who now thinks that Toyohi's interest is merely toward him as a wizard. When they will finally overcome the misunderstanding, and Chiharu will find the courage to be himself, they'll have their happy ending. We cheered for them and loved their tenderness, that's why we gave them our 2nd position!
---
1. Zen Kirishima x Takafumi Yokozawa from Sekaiichi Hatsukoi Movie: Yokozawa Takafumi no Baai

Episodes: 1 (movie)
Aired: March 2014
Finally, we arrived to our 1st position. This time is a fierce love story directly extrapolated from Sekaiichi Hatsukoi universe. The story was born as a light novel first, but thanks to the popularity gained by Yokozawa and Kirishima apparitions during the Sekaiichi Hatsukoi series, it was adapted into a movie that was very appreciated by the fans.
Zen Kirishima is a single father, struggling to be a good parent and an admirable boss at the same time. He is the editor-in-chief of Japun, and has always admired Takafumi Yokozawa – who works in the sales department – for his being very serious about his work. These two amazing guys get closer and closer when Yokozawa is in a bad period of his life: his beloved person – Masamune Takano – has left him brokehearted, and due to some circumstances, Kirishima makes his apparition in Yokozawa's life.
Kirishima has a difficult past; his wife died and he was left with a little daughter to take care of. We can see a lot of his character during the movie. He is a worrywart father, constantly worrying about how his daughter feels. At the same time, he is a boss who is hardworking and very strict, but still loved by his subordinates. Then again, he is a lover, a very caring and attentive one. His great personality comes in contact with Yokozawa's one. Yokozawa is called the "wild bear", because he is said to have a very difficult character. The flip side, though, is that he is just introverted and discontent with his life.
Kirishima is the one bringing light into Yokozawa's world, and vice versa. Kirishima will wait for Yokozawa to open up and overcome his past love delusions, while Yokozawa will become the strength for Kirishima to face his life as a parent. This couple depicts a hot daddy and a tsundere man who are just the perfect match for each other; they deserve our first position, as they made our hearts burst with cuteness!
---
Final Thoughts
With this beautiful couple, our ranking comes to an end. It was very difficult to try to point out why these couples deserved a mention, over the other amazing yaoi couples existing in the BL universe. There's a couple for each taste, but whether you prefer the cuter ones, or the dramatic ones, we hope you enjoyed this list. Please, by all means, share your thoughts in the comments below!
---