También puedes leer este artículo en:Español
The word "yaoi" is an acronym to say that there's "no climax, no meaning and no fall", in Japanese. That's why, by using this word, one could think that yaoi genre is just some kind of hentai branch, directed towards a female audience. This definition, as years passed, lost its true meaning. While it's true that yaoi genre represents homosexuality, it's even true that, as years passed, this genre evolved and now it turned out to actually have a meaning, a climax and often a cliff-hanger. That's why now we often refer to yaoi using the words "boys love".
The reason for this evolution from a mere boy-on-boy action genre, to an entirely new genre full of love stories, good plots and very well-made characters, is thanks to a very enthusiastic fandom. While boy-on-boy action still remains, the plots gained a meaning and became many, so now we can find yaoi manga with every kind of sub-genre, from fantasy to sci-fi. This is a list meant to mention only 10 among all the good yaoi manga. Stick with us until the end to discover what a very good yaoi manga is made of!
10. Ten Count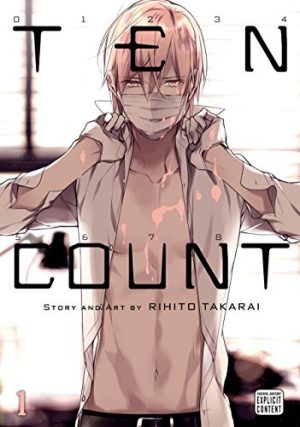 Mangaka: Takarai, Rihito
Genre: Yaoi, Drama, Psychological, Romance, Slice of Life, Smut
Volumes: 5
Published Date: July 2013 - ongoing
Ten Count is a story revolving around a man – Tadaomi Shirotani – who has mysophobia (a fear for contamination and germs). While his life is a continuous struggle, as he has to deal with his phobia on daily basis in whatever he does, one day he meets another man, Riku Kurose. Kurose is a psychiatrist, and seeing Shirotani's mysophobia, offers to help him. Shirotani has to note down ten of the most difficult things to do with his condition, and try to face them day after day. That is just the beginning of a strange affection, that will take both of them to face the skeletons in their closets.
As always, Rihito Takarai gives us a very beautiful art style, together with an amazing plot. Ten Count's popularity is only obvious seeing how this story leaves you craving for more chapter, after chapter. Both Shirotani and Kurose are well constructed characters, with a difficult past that turned them into what they are. While Shirotani will see in Kurose something like a lifeline and a starting point to turn back and face the past, Kurose will do the same. Their relationship is a full of ups and downs; Shirotani runs, and Kurose chases after him. But they eventually will resolve their feelings. This story is a must-read if you like yaoi genre!
---
9. Delusion Elektel (Mousou Elektel)

Mangaka: Nekota, Yonezou
Genre: Yaoi, Comedy, School life, Slice of life
Volumes: 4
Published Date: April 2009 – November 2012
After a drama couple like Ten Count's one, we need to cheer up and smile in front of this amazingly funny couple made of an idiot boy called Shunpei Yamana, and his delusional best-friend Fumihiro Motoki, who is secretly in love with him. Shunpei and Fumi have spent their time together since they were children. Fumi is gay, but he never dared to tell Shunpei, afraid that his best-friend could push him away. One day, though, Fumi musters all his courage and comes out of the closet, saying to Shunpei that he's gay and he has a boyfriend. Now shocked Shunpei makes fun of the entire thing in the beginning, but after meeting Fumi's boyfriend wonders why Fumi didn't choose him. That's how their love story begins!
Yonezou Nekota is an amazing mangaka that never ceases to create masterpieces for yaoi genre. Delusion Elektel is one her most popular series. The comedy part is what make this manga good, even when some drama strikes. Shunpei is your typical cheerful high school boy and is a little narrow-minded, while Fumi is an introverted and reflective fellow. They are on opposite sides; an optimist idiot, and a pessimist one. Their love story will bloom one hard step after another, and they will grow up together. With an amazing art style, hot parts and very fluffy ones, this manga is a milestone for yaoi genre.
---
8. Under the Umbrella, with You (Kasa no Shita, Futari)

Mangaka: Junko
Genre: Yaoi, Drama, Romance, Slice of life
Volumes: 1
Published Date: June 2011 – October 2011
Kasa no Shita, Futari is a slice of life drama revolving around Keisuke Mio, a high school boy who is bored with his life. Popular with the ladies, he in unable to keep one, as he cannot really please them. One day, a sudden downpour forces him to seek shelter under the awning of an apartment, and that's where he meet Yugi Kakeru. Keisuke's life changes, as he starts to hang out with Kakeru and his university friends. But it's when Keisuke discovers Kakeru's loneliness that he falls in love with him and the situation turns for the worse.
Junko's stories are usually fluffy and funny. This one is a rare exception, and probably the most touching. Kakeru is in love with a guy who only uses him to release his sexual frustration, and Keisuke is in love with Kakeru. While Keisuke tries to force his way in Kakeru's heart, Kakeru pushes him away. After a series of dramatic turn of events, Keisuke and Kakeru stop seeing each other, only to meet years after and finally face each other. This emotional, little masterpiece is bound to make you smile and cry, and cheer for Keisuke who'll put all his efforts to become a man worth Kakeru.
---
7. No Touching at All (Doushitemo Furetakunai)

Mangaka: Yoneda, Kou
Genre: Yaoi, Drama, Romance, Slice of life
Volumes: 1
Published Date: September 2008
Let's switch to a golden mangaka like Kou Yoneda. While Twittering Birds Never Fly is still ongoing, we decided to focus our attention to her first manga. Doushitemo Furetakunai is a one volume masterpiece revolving around a boy with a dark past – Toshiaki Shima – and his boss, Yousuke Togawa. On his first day in the new company, Shima meets this stinking man in the elevator, only to realize he is his boss. After hanging out together, they start a relationship as sex friends, but they eventually fall in love with each other. It could seem just as easy, but the past is difficult to delete, and even harder to overcome.
Kou Yoneda put all her efforts in her first manga, and it turned out to be wonderful. The art style is amazing, and the characters' psychology is very well analyzed. Shima, who dated his previous boss, remained with a broken heart and a cowardly attitude towards love. Togawa, who had his family destroyed when he was a child, and therefore had always dreamt to build a happy family, has to face the incontrovertible wall that Shima built up. When pushes come to shove and Togawa confess, Shima runs away in spite loving Togawa from the bottom of his heart. This is a very touching story, that can touch your hearts chords and shake them very badly. An absolute must, moreover in you're enjoying Twittering Birds Never Fly.
---
6. Black Cat Boyfriend Series (Kuroneko Kareshi Series)

Mangaka: Sakyou, Aya
Genre: Yaoi, Drama, Fantasy, Romance, Smut
Volumes: 7
Published Date: 2012 - ongoing
Kuroneko Kareshi series is a yaoi manga with a bit of supernatural. It starts with the premises that in the world, 0,01% of human are werecats. While some of them can turn into feline completely, the weaker ones cannot. Of course, among all the werecats, you can find every kind of feline from domestic cats (the most common) to leopards. This story revolves around Shingo, a domestic black cat, and Keiichi, a popular actor, who is a leopard.
Aya Sakyou is famous for a very neat and precise art style, and fluffy stories with struggles but happy endings. Kuroneko Kareshi series is probably her hotter and most popular work. While Shingo, who was a stray cat without parents, blames his being a cat for every nasty behavior, Keiichi feels offended, since he is a cat as well. After they start a purely physical relationship, the first to fall in love is Keiichi. Shingo likes Keiichi, but since he's always being abandoned during all his life, he is afraid to open up completely. Shingo and Keiichi are just too cute for words. While it's true that this yaoi manga is very hardcore, it's also true that there are a lot of emotional parts as well. If you are looking for a right amount of love, sex and drama, this is a must-read!
---
5. Tatsuyuki Oyamato the 4th (Yondaime Ooyamato Tatsuyuki)

Mangaka: Beriko, Scarlet
Genre: Yaoi, Comedy, Drama, Romance, Smut
Volumes: 1
Published Date: July 2015
What about yakuza boys love stories? Yondaime Ooyamato Tatsuyuki revolves around Tatsuyuki, a man who has just had his heart broken and has to succeed his father and take the lead of the yakuza group. The problem is, he doesn't care at all. Tatsuyuki just wants to think about his broken heart, play around and stay away from his family business. Seeing his behavior, his father sends him in a branch office in Fukuoka. There he meets Nozomi, a teacher who claims to be his fated person. That's how Tatsuyuki's life changes entirely!
Scarlet Beriko has the power to put you into the story and let it absorb you. Yondaime Ooyamato Tatsuyuki has the power to make you laugh, and cry at the same time. Nozomi is so sweet it hurts, and has a very hurtful past he has yet to overcome. Tatsuyuki has his own reason not to join his family business. While the events are against their love, their love is just stronger than anything else and it will bloom even in the storm. Just keep an eye on Scarlet Beriko, as all of her stories are painfully beautiful, and make sure to read Yondaime Ooyamato Tatsuyuki as it is probably her number 1 masterpiece!
---
4. Assassin's Dagger of Flattery (Kobi no Kyoujin)

Mangaka: Ike, Reibun
Genre: Yaoi, Action, Adult, Drama, Romance, Smut
Volumes: 2
Published Date: October 2012 – October 2015
Did we mention yakuza and boys love before? Well, Kobi no Kyoujin is another yakuza story, but completely different from Yondaime Ooyamato Tatsuyuki. If some of you read its prequel – Bi no Isu – you must know this is a continuation of Kabu and Nirasawa's story. Nariaki Kabu is the successor of the Umezaki group, while Nirasawa is one of the underling Kabu personally raised. While living together, their need for each other will become some psychotic obsession, and they will end up being addicted to each other.
Reibun Ike is famous for his amazingly realistic art style, and details. Kobi no Kyoujin can be considered her best work, as it has a solid plot and two characters very deeply analyzed. Kabu loves Nirasawa, but he has to think to the group first, so he tries to put some distance between them; Nirasawa is blindly in love with Kabu, to the point that he will risk his life countless times for him. While when dealing with other people, both Kabu and Nirasawa are very serious and composed, when they're alone Nirasawa turns into this cute boy craving for Kabu, and Kabu is immediately captured. If you feel ready to deal with a mature love which doesn't need words to be expressed, yakuza evil deeds and hot ikemen, Kobi no Kyoujin is what you're looking for!
---
3. Escape Journey

Mangaka: Ogeretsu, Tanaka
Genre: Yaoi, Drama, Slice of life, Romance, Smut
Volumes: 2
Published Date: February 2015 - ongoing
On his first day of college, Naoto has an unexpected reunion. He meets Taichi, his ex-boyfriend. Naoto and Taichi had dated for about one year during high school, but after arguing over a trivial thing, they had decided to break up. After breaking up, they hadn't even talked to each other again. After overcoming the shock to find his ex-boyfriend in the same college as him, Naoto decides to put aside his resentment, and try to be friend with Taichi once again. Very soon, both of them realize how simply being friends is impossible for them. It's lovers, or nothing.
Tanaka Ogeretsu has a talent for keeping readers on a razor's edge. Her stories are usually fluffy and full of love, but before that part there's always something keeping you with bated breath. As the art style is a masterpiece per se, this story has a good plot that represents the reality of two gay boys that have to hide to live peacefully their love. Naoto is very open, cheerful and sweet, while Taichi, who has a past where his mother betrayed his father and abandoned him, is more cautious. A lot of trouble will strike them, and a third person will try to force their way between them, but their love is just peerless and will always win in the end. We suggest you all to catch up with Ogeretsu Tanaka's stories, as they are all equally beautiful masterpieces in the yaoi genre.
---
2. Mou Ichido, Nandodemo.

Mangaka: Aniya, Yuiji
Genre: Yaoi, Drama, Slice of life, Smut
Volumes: 2
Published Date: April 2014 – December 2015
When Tarou's live-in boyfriend – Takahiro – has an accident and loses his memories, both their lives change completely. Tarou will find himself dealing with a man who doesn't remember what their relationship was, and that he loved a man. Takahiro will have to struggle to catch up with the two years that went missing after the accident. Eventually, love will find a totally new way to strike Takahiro. Once again, with all the efforts needed, their fated love will bloom.
This drama, yaoi manga is a rare gem from Yuiji Aniya's wise pen. In spite the contents, this manga faces the drama from a lighthearted point of view. Instead of focusing on the memory loss, it focuses on the deeds that Tarou will plan in order to have his boyfriend back. While Tarou is very open towards his being gay, Takahiro refuses the idea completely in the beginning. Later, he will understand how you cannot decide who you fall in love with. As the title suggest, once again, no matter what, their feelings will match and their love story will give you this emotional, touching happy ending. If you like non-conventional characters, and a bittersweet story, Mou ichido, Nandodemo. is bound to become your piece of cake.
---
1. Like the Beast (Honto Yajuu)

Mangaka: Yamamoto, Kotetsuko
Genre: Yaoi, Comedy, Slice of life, Romance
Volumes: 9
Published Date: July 2008 - ongoing
Our first position comes with another golden mangaka who never gets tired to astonish us! As once again we talk about a yakuza boys love, this one has a peculiarity: it's about a prohibited love story between a cop and a yakuza! Tomoharu Ueda is a cop that saves Aki Gotouda from an underwear thief. For Aki, it's love at first side. Aki doesn't lose time, and immediately confess to Ueda, but Ueda is at a loss of what to do. When he decides to give Aki a chance, in spite their relationship being lovey-dovey and sweet, Ueda will deal with every kind of situation and will understand how difficult it can be to date a yakuza!
This fluffy, cute story had to be our number 1 position. Kotetsuko Yamamoto is amazing in whatever she does, but her most popular story is Honto Yajuu. Its popularity is thanks to a beautiful art style, but above all, thanks to these two amazing characters and their relationship. Aki is like a time-bomb ticking, and in spite looking scary, he is very sweet when Ueda jumps him. Ueda is blindly in love with Aki, so much so that he is willing to go beyond the fact that Aki is, to all intents and purposes, a delinquent. The comedic gags are just too funny, and the situations absurd, to say the least. We had no doubt about our first position, as this story wields all what you are searching for in a yaoi manga. If you still haven't read it, it's time for you to meet Aki and Ueda, and enjoy their crazy adventures!
---
Final Thoughts
See? We gave you a proof about yaoi having a solid plot, amazing characters, and a lot of sub-genres. It proved to be a hard task to choose only ten, among all the amazing yaoi manga we know. We decided on these, as they are clear examples of how a good boys love manga looks like. It's not like we forgot mangaka like Harada, Yuu Moegi, Youka Nitta... We just didn't have enough positions for all of them! So, what do you think? We hope you enjoyed the ride, and don't forget to comment below!
---