Honey's Anime has been focusing on a lot of hentai-related topics, but anyone with a keen eye has already noticed the lack of yuri hentai content. Time for a change of pace, then! While yuri, especially hentai, is rare in animated form, yuri is thriving in the manga space with monthly publications like Yuri Hime and a ton of yuri-only original manga found in conventions, most notably Girls Love Festival. Honey's Anime will list 10 yuri hentai manga titles that are popular among the Western yuri fanbase. The list of yuri manga titles is staggering, but not all made their presence aware in the West. This list is a compilation of the ones that did.
The manga titles featured in this list is exclusively yuri (not yuri-like, no bait-and-switch stories, and no bisexuality), so don't worry, you won't be seeing any dicks here!
10. Anmari sono Kinisasenaide

Authors: Comaku
Genres: Adult, Harem, Hentai, Yuri
Volumes: 1
Published: 2016
Let's start this list with something short and extremely kinky yuri hentai manga. Anmari sono Kinisasenaide translates to "Don't make me so turned on" is a three-chapter story of Shirakawa Kaede, a newly-hired secretary assigned to assist the company president Houjou Asuka. There's a bit of a problem Kaede is trying to fix, though: Asuka is into her and Asuka won't stop until she gets what she wants. Kaede constantly ignores the sexual advances of her horny boss because Kaede doesn't want to mix business with pleasure. Kaede wants an open relationship and doesn't mind having sex with other girls, but will Kaede allow her boss Asuka into her relationship? Well, it's up to Asuka because Asuka wants Kaede all to herself.
Anmari sono Kinisasenaide is short, but man, this yuri hentai manga is fucking hot. Kaede constantly lets out her sexual frustration every night on her roommates because Asuka is teasing her at work all the time. The sex scenes are short, unfortunately, but overall, Anmari sono Kinisasenaide is one kinky yuri harem experience.
---
9. Musume no Kanojo

Authors: Mira
Genres: Adult, Hentai, Yuri
Volumes: 1
Published: 2016
Keiko is a single mom living just fine with her daughter Mayu. Upon arriving at her home, Keiko is hearing the unmistakable sounds of sensual moans of her daughter Mayu making love with her girlfriend Saori in the living room. After interrupting her daughter's intimate moment with her lover, and pretending she didn't see anything, Keiko shows some courtesy by inviting Saori over to spend the night with them… with her daughter's insistence, of course. Keiko is in for the shock of her life when Saori enters the bathroom with her and Saori is touching her in places she hasn't been touched in years. It turns out, Saori is more interested in Keiko than Mayu!
A yuri list isn't complete without age gap stories! Short, but extremely kinky, Musume no Kanojo or "My Daughter's Girlfriend" is simply a story of a middle-aged woman rediscovering the joys of sex and her body being rejuvenated by a teenage girl.
---
8. Watashi no Shumitte Hen desu ka?

Authors: Comaku
Genres: Adult, Hentai, School Life, Yuri
Volumes: 1
Published: 2015
Fujimaya Maiko has an interesting hobby: she loves staring at girls' butts. Maiko goes to school on a women-only train and gets to see lovely butts every day as they climb up the stairs. But butts aren't created equal and Maiko loves looking at the plumpiest, the thickest butts there are, and when she finds one, she goes to the bathroom and lets off her lust. Recently, Maiko has taken an interest in one of the girls taking the train because she has the most perfect butt. But Maiko's curiosity gets the best of her as the girl confronts her and Maiko admits her obsession with butts. The girl, Tsuzuki Risa, doesn't mind because she gets turned on when a girl looks up her skirt!
Watashi no Shumi tte Hen desu ka?, also known as "Is my Hobby Weird?" is an 8-chapter story of one girl's fascination with butts and finding the perfect one. After the introduction of the two main characters Maiko and Risa, the rest of the chapters revolve around the two having sex whenever they can and get into kinky situations. Watashi no Shumi tte Hen desu ka? is kinky, has a ton of sex scenes and a cute story with a respectable length.
---
7. Office Sweet 365

Authors: isya
Genres: Adult, Hentai, Yuri
Volumes: 2+
Published: May 19, 2018 - Ongoing
Office Sweet 365 is a romance yuri hentai manga by mangaka isya, centering around a group of hard-working women in a business company focusing on selling lingerie. And… yeah, honestly that's it. Currently, there are 5 chapters available, each containing full-colored yuri stories starring one of the employees of the lingerie company, and each chapter always ends up in sweet, delicious lesbian sex.
One thing to note here is that Office Sweet 365 is one of the very few original yuri hentai manga series (along with isya's other work Rule of Zero) that are officially published in English and are fully uncensored. Office Sweet 365 is only available digitally, but in return, you get high quality beautifully drawn uncensored content. Pretty much a win-win!
---
6. Earth Girls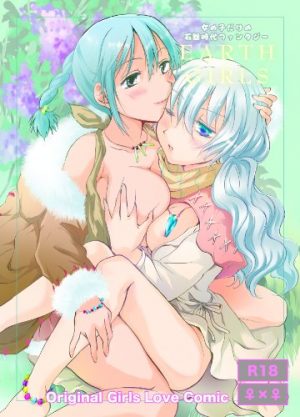 Authors: Mira
Genres: Comedy, Hentai, Yuri
Volumes: 3
Published: August 11, 2013
Earth Girls takes place a few tens of thousands of years ago, after the Ice Age ended and humans were still living together in small tribes. The story starts with a young girl named Sakina who braves a fierce storm and saves a young girl from getting blown away by the winds. The girl's name is Yume and she's from a women-only village on Smoke Mountain. In this small village devoid of men, the 30-or-so girls work together as a community ruled by a chieftain named Kidaha.
Basically speaking, Earth Girls is about a female character who ends up living in a village populated by women with their own unique personalities, motives, and taste in women. Character development is a big focus on Earth Girls, but at the same time, it doesn't neglect what makes a yuri hentai manga, especially a yuri hentai manga by Mira: Age gap yuri.
---
5. Rule of Zero

Authors: isya
Genres: Adult, Hentai, Yuri
Volumes: 1
Published: December 31, 2016
After retiring from being a professional lesbian prostitute, Haibara Rei goes back to normal society by looking for a respectable job. But her life as a prostitute comes back to haunt her when the job she's applying for is managed by one of her former clients whom Rei was in love with. Shimokita Ichika, now Rei's employer, frequently visited "the shop" in order to let loose and became madly in love with Zero-sama, the masked mistress of "the shop" and her constant sex partner. Ichika doesn't know Zero-sama is Rei and that secret must never be known because anyone who knows Rei's identity will be marked for assassination.
Rule of Zero is a 5 chapter story of a woman breaking free of her past and living peacefully with her lover Ichika, all while concealing her identity as Zero-sama. And of course, a yuri hentai manga isn't complete without lesbian sex scenes and Rule of Zero has beautifully drawn scenes in every chapter, especially fully-colored chapters 4 and 5.
---
4. Lady x Lady

Authors: Homura Subaru, Chiruko Aoi, Mira, Kodama Naoko and Paishen
Genres: Adult, Hentai, School Life, Yuri
Volumes: 1
Published: January 25, 2019
Homura Subaru, Chiruko Aoi, Mira, Kodama Naoko, and Paishen are prominent yuri authors from both the professional and indie space who have teamed up to create Lady x Lady, a yuri hentai anthology doujinshi containing 5 original yuri short stories.
Obedient Girlfriend — Ema bullies her girlfriend Saori to have sex in the school hallway.
11 at Night With an Idol — Harumiru is one of the most popular idols in Japan and she spends her private life with Marino, a woman who only sees Harumiru not as an idol, but as Miu, the woman she loves.
Punishment Night Club — Yuzuka Hachijou is a high school student who hangs out in a lesbian night club district as Lily-chan or Aya-chan and scams older women out of their money. But the tables have been turned when Hachijou's victims strike back by forcing Hachijou to give them the love they paid for.
Corrupted First Love — High school student Mizuki secretly admires her adult coworker and married woman Shiori, and things get steamy real fast when Shiori commits adultery on the bewildered Mizuki.
Love and Thirst — Two women have been living together for so long that their routine is the same day in and day out. Will this cycle of monotony continue or will the two finally express what they really feel for each other?
Lady x Lady has everything from tons of lesbian sex, age gap romances, exhibitionism, orgies, high school lovemaking, and adult life. Each story is different, short, and this variety makes for an interesting experience, but Lady x Lady won't weigh you down with cliffhangers or dread of an annoying melodramatic arc that will span several chapters. Short, sweet, and extremely hot, these words sum up Lady x Lady very nicely.
---
3. YuriCam: Yurika no Campus Life

Authors: Harada, Shigemitsu
Genres: Adult, Comedy, Harem, School Life, Yuri
Volumes: 5
Published: May 14, 2010 - Jan 11, 2013
Kamishiro Yurika is a straight girl who just wants to have a boyfriend during her college days. But for reasons beyond her control, she has the natural ability to seduce every woman in Hakusen Women's University, even when her actions weren't intentional. Rumors of Yurika bedding women spread across the campus like wildfire with bogus claims like Yurika having slept with 5000 women both young and old, and that some of them dropped out of college because Yurika got them pregnant! And that's not her only problem: the business company owned by Yurika's dad goes bankrupt and her dad has no choice but to cut off her tuition and allowance. With no money and no place to stay, Yurika is forced to rely on her lesbian sex appeal to become a gigolo and leech off other women.
Sexual content is not abundant and not very explicit compared to the titles of this list, so YuriCam is more story and hilarious situations of Yurika ending up seducing every woman she sees in order for her to earn money, get free lodging and free food. Each volume centers around a main story arc that eventually leads to Yurika seducing every girl and having to deal with a new lover while keeping the rest of her girlfriends in check, or otherwise she'll have no place to stay. Funny, lewd, and with a great main character, YuriCam will tickle your funny bone and make you all hot and bothered at the same time.
---
2. Shoujo Sect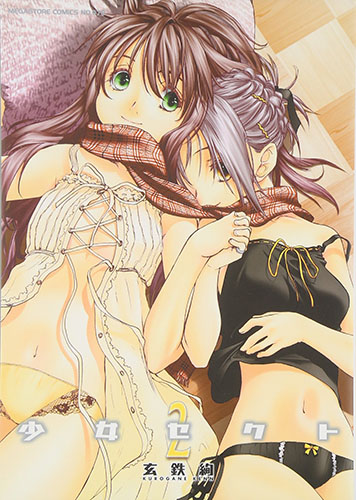 Authors: Kurogane Kenn
Genres: Drama, Hentai, Romance, School, Yuri
Volumes: 2
Published: Jun 17, 2003 - Sep 17, 2005
Naitou Momoko is the school's disciplinary committee and she is often at odds with Shinobu Handa, the school's delinquent who does nothing but slack off during class, is not interested in studying, resulting in failing grades, and is more interested in building a harem of girls and indulging herself in alcohol. This isn't the first time the two meet, however—Momoko and Handa met when they were children and after they were reunited years later, Momoko has forgotten about Handa and the promise they had made together. Handa still fondly remembers their time together and Handa still hopes that one day, Momoko will remember. Shoujo Sect is a story of a group of girls in an all-girls school and their relationships.
Considered as one of the most beloved yuri hentai manga in the west, Shoujo Sect blends fantastic art, a competent love story between two girls, strong side stories with strong supporting cast of girls, and tastefully done lesbian sex scenes all packed into two volumes filled with drama and heartbreak. Shoujo Sect got a 3-episode hentai anime adaptation titled Shoujo Sect - Innocent Lovers, but the adaptation failed to capture the charm of the original source material due to its brief length, less than competent art and animation, and omitted lots of character development in favor of sex scenes. The manga adaptation offers more and gives a more satisfying conclusion of Naitou Momoko and Shinobu Handa's childhood romance.
---
1. Haitoku no Finale

Authors: Mira
Genres: Adult, Harem, Hentai, Yuri
Volumes: 2
Published: Aug 17, 2014 - Dec 30, 2014
Shy, timid and nervous on her first day in high school, Hozumi Moe is one of the few girls who have the privilege of studying and living within the dormitories of Ousen Girls Academy, a prestigious school for girls sitting on top of a quiet hill overlooking the ocean. Moe quickly adjusts to her school life and makes some very good friends, but one girl has caught Moe's eyes—the third year student Iori Ran. Beautiful, talented, dependable, and the daughter of Ousen Girls Academy's school board president, Ran has completely stolen Moe's heart. On one seemingly normal evening, Moe notices her roommate Haruno sneaks out of their room every night and Moe follows her. What Moe sees completely turns her life upside down—in the basement of an abandoned building is a lesbian sex den where the girls in the dormitory indulge in pleasure and depravity, and to Moe's disbelief, her crush and senpai Iori Ran is a regular member of the secret lesbian sex cult.
Haitoku no Finale, also known as Corruption's Finale, is a lengthy yuri manga with a story focusing on girls having nightly lesbian orgies. The story starts out simple, but the story drastically changes when Moe's personality turn from a shy girl into a merciless dominatrix after joining the sex cult while constantly longing for Ran's love. Beautiful art style filled with naked bodies and bodily fluids, a lengthy story with great character development, Haitoku no Finale is one of the best yuri hentai manga you can read.
---
Final Thoughts
And there you have it! As we've mentioned before, there are a lot of yuri hentai manga out there, but sadly a lot of them never got the attention of the Western anime fanbase. But with the rising trend of digital distribution, and the continued rise of yuri in the West, professional or even independent authors are publishing their works online and it's now easier than ever to purchase their manga, and, in turn, Western publishers will see the appeal of yuri and make them all available in English and uncensored.
With all that said, what do you think of our list? Did we miss a yuri hentai manga title? We would love to know your thoughts, so please leave a comment down below!
---
---