Yuri hentai is very rare and in fact, there are only 2 Yuri-exclusive hentai in existence. Though it sucks we won't get to see two girls kissing, hugging, and even holding hands in one dedicated package, we do get a ton of Yuri kissing in non-Yuri shows. With so many hentai shows out there, which ones have the best Yuri kiss scene? And are they any differences in Yuri kissing found in non-hentai? Well, you're about to find out!
No big rules here: The list will contain our Top 10 Yuri kiss Scenes found in hentai anime only. Since we're selecting hentai shows, be prepared to read (and see?) some pornographic content.
10. Bible Black Gaiden

Episodes: 2
Aired: May 2002-August 2002
A group of girls led by Takashiro Hiroko are conducting fortune telling for fun and research on the occult. They made a big break when they found an ancient magic book from a used books shop (it happens) and started translating its contents. With their newfound power, they began accepting sexual requests or vengeance, by charming or cursing their targets. Things get more dark as they explore more of the contents found in the book, and, well, obviously the book is evil.
The story is short and mostly contain hetero sex, but there's one girl who has a particular taste in women and will do whatever it takes to get what she wants. And when finally have the girl in her clutches, well, you know, things happen. Plus Bible Black is known for very detailed art, so a typical Yuri kiss here is as arousing as the sex scenes themselves.
---
9. Ai Shimai (Immoral Sisters)

Episodes: 3
Aired: April 2001-September 2001
Kitazawa Yukie is your average housewife who got into a traffic accident with a wealthy spoiled kid named Nogawa Takedo. During a discussion on how to settle the damages, Yukie unwittingly signed an agreement with Takedo to pay the fees with her body. After that, a series of events unfold involving Yukie, her two daughters Rumi and Tomoko, and Takedo's plot to get back at his father.
Immoral Sisters is a story of abuse of power and blackmail but actually it has a decent story and the twist, in the end, was very unexpected and funny. While the majority of the sex scenes involving the sisters getting raped over and over again, there's this one moment the two sisters found comfort with each other and deepened their relationship with one steamy night.
---
8. G-Taste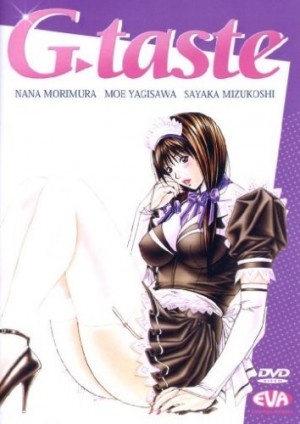 Episodes: 7
Aired: December 1999-April 2003
G-Taste is a compilation of 3 stories featuring a cast of beautiful women and their uncontrollable sexual urges and desires. Out of the 3 stories, the arguably the most popular one is the 2nd story about a teacher named Sayaka having trouble to suppress her sexual urges and after a series of "on-the-phone student counseling", she encounters female student Misuzu having the same urges as her.
Though the kiss between student and teacher was brief, it marked their new and rather forbidden relationship of two girls ending up together due to their sexual urges. It doesn't hurt the fact Sayaka's fellow teacher help set up everything. Now that's working together to help students in need.
---
7. Cream Lemon

Episodes: 38
Aired: August 1984-March 1993
Cream Lemon is a collection of stories ranging from soap opera to drama. And it features a lot of various types of sexual preferences that are too many to list, but the most important of all is there are a lot of Yuri stories here. Regardless how perverted or how surreal the stories are, Cream Lemon is a classic with interesting stories and characters.
This series is huge and there are many good Yuri kissing scenes, but if we're to pick one, the story Escalation is a great choice. The story is like a pornographic version of Maria-sama ga Miteru involving an all-girls catholic school, a hopeless young main character and an amorous senior with their relationship starting after, of course, a forbidden kiss between girls.
---
6. Kao no nai Tsuki (Moonlight Lady)

Episodes: 5
Aired: December 2001-July 2004
Kuraki Suzuna is the daughter of the Kuraki Family with deep Shinto faith, and every few decades, the daughter of the Kuraki must perform a ritual rite that has been passed down the family for a thousand years. As the ceremony is fast approaching, the Kuraki family has given Suzuna her husband-to-be, Hayama Koichi, a handsome young man who somehow resembles the man Suzuna saw in her dreams. As Koichi settles in the family mansion, a strange spell envelops everyone and releasing their sexual desires.
What's up with stories involving some mysterious energy that gets people very horny? Like the majority of the entries, Moonlight Lady has one of the most beautiful art styles out there and what better way show it is through Tomomi's loyalty to Suzuna. After finishing one of her meditations, Suzuna went for a bath and unexpected Tomomi showed up and gave her a surprise oral stimulation.
---
5. Nikutai Ten'i (Body Transfer)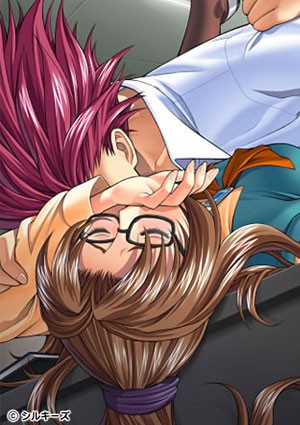 Episodes: 2
Aired: December 2003-March 2004
Body Transfer is a story of a group of students swapping bodies and got stuck in limbo after seeing a strange artifact delivered to the archaeology club. This artifact triggers the sexual desires of its victims and when they reach their highest sexual pleasure, they randomly switch bodies again. With their sexual desires in full throttle, the students going out on a full on orgy and endlessly swap bodies.
While the show has a fair share of hetero sex, Yuri sex wasn't left out and the scene where the two girls cannot control their sexual desires make love in front of everyone sleeping is one of the best and hottest moments in the show. If you keep on seeing scenes involving a girl getting all the smooches while all tucked inside a sleeping bag, then the source of the GIF or WEBM is most likely from Body Transfer.
---
4. Stainless Night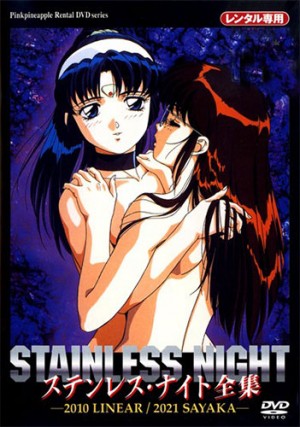 Episodes: 2
Aired: December 1995-March 1996
A capsule emerged from the sea and in it is a beautiful android girl that goes by the name of Linea. Without any memories, Linea wandered into the woods and eventually meet three girls in a robotics research facility. Sayaka, one of these girls, has taken into liking Linea and then one night, things became steamy and unexpected.
Stainless Night could have been the first Yuri hentai anime in existence, but sadly it ended up being a futanari hentai. Linea is an android who can satisfy both sexes so she is also equipped from what appears to be a pulsating purple glowing penis. Or maybe it's just a silly way to censor the genitalia?
Regardless, Stainless Night boasts superb 90s hand-drawn animation with the animators taking great effort in making one of the most detailed and beautiful kissing between girls ever.
---
3. Front Innocent: Mou Hitotsu no Lady Innocent (Another Lady Innocent)

Episodes: 1
Aired: March 2005
Front Innocent is a story of a girl named Fey returning home to her father, an influential baron with a peculiar fetish for half-naked maidservants. Fey hurried to a secluded building with her lover John and childhood friend Sophia inside. And that's about it. Episode 2: Never ever.
Front Innocent is no doubt the most well-drawn and well-animated hentai out there. Everything is painstakingly drawn from the backgrounds, characters and every sweaty nasty detail of every character's privates and pubic hair. The majority of the sex scenes are hetero, but Yuri stole the show as it was the finale with Fey and Sophia in one steamy night. A kiss between lovers is a prelude to sex, they say, but this is not always the case. After a long passionate night, the two ended their tryst with one simple yet warm kiss.
---
2. Shoujo Sect: Innocent Lovers

Episodes: 3
Aired: July 2008-November 2008
Adapted from the Yuri manga of the same name, Shoujo Sect: Innocent Lovers tells the story of two girls meeting for the first time at a young age. Before the two went home, the two shared a kiss and that kiss will forever bind them even if they're separated. Or so the typical story goes. Ten years have passed, and one of the girls forgot and while the other still cling on to this love. Will these two girls rediscover the love they shared back in that fateful park, or will one of them live her unrequited love forever?
In terms of Yuri-exclusive hentai, Shoujo Sect: Innocent Lovers is the first Yuri hentai in existence and currently the longest with 3 episodes. While the story focuses on model student Naitou Momoko and delinquent Handa Shinobu, Shoujo Sect has a few side stories involving the love lives of other girls. Since this anime is Yuri, there are lots of good kissing scenes to mesmerize at and quite frankly, love making isn't really exciting when the kissing sucks (not literally sucking).
---
1. Sono Hanabira ni Kuchizuke wo - Anata to Koibito Tsunagi

Episodes: 1
Aired: July 2010
An OVA featuring the couple from the third visual novel of the same name, Sono Hanabira ni Kuchizuke wo - Anata to Koibito Tsunagi tells the short story of Sawaguchi Mai and Kawamura Reo and how they went from confession to love-making.
Sawaguchi Mai returned her feelings Kawamura Reo and like any tsundere, Reo pretends Mai was just joking. Unfazed, Mai proved her love by reaching towards Reo for a passionate kiss. As they caress each other's lips, Mai sticks out her tongue, inviting Reo into a cute albeit short French kiss. It's not the hottest kiss out there like you saw in Stainless Night or Body Transfer, but it's certainly one of the cutest.
Shoujo Sect: Innocent Lovers has a great and tragic story for a hentai, but it suffers from its short length. There were lots of going on in the show by cramming a lot of side stories, making everything feel rushed. Sono Hanabira is number one mainly because the story is focused on one couple in one easy to digest story, it's actual Yuri with no cop outs or twists, and has arguably the cutest kissing moments in hentai history.
---
Final Thoughts
Is there a striking difference between Yuri kissing in hentai and non-hentai? Yes. When two girls kiss in non-hentai, a kiss is a mark of their love and they're bounded forever (for the most part) as lovers. Yuri kissing in hentai is still a mark of love, but under normal circumstances, it can act as a catalyst for the sex, for the act of making love.
This list is a reflection of this. There are lots of yuri kissing in hentai, no doubt, but it's more meaningful if the kiss leads to hot sex. It may sound simple-minded or even obvious to think of this, but really, you watch hentai for the sex and nothing much else.
So what do you think of the list? If you have any Yuri scenes in hentai, please let us know!
---