It didn't take Collaboration Works long to become recognized as one of the best hentai studios in the market. Their first series was released in 2011 titled, Eroge! H mo Game mo Kaihatsu Zanmai. From there they went on to release eight other series, all of which receiving critical praise. Since then, they've become a juggernaut in the world of hentai.
Collaboration Works list of content may be short, but we've come to appreciate the quality over quantity approach to their work. The majority of their series tend to release four or more episodes each. That means more emphasis and development between characters, which makes the h-scenes all the more enjoyable. Now that we have your attention, it's time to bring you the best of the best from Collaboration Works.
5. Baka na Imouto wo Rikou ni Suru no wa Ore no xx dake na Ken ni Tsuite

Episodes: 4
Aired: Apr. 2016 – Jul. 2016
The first choice for us on this countdown will have to go to one of Collaboration Works newest hentai, Baka na Imouto wo Rikou ni Suru no wa Ore no xx dake na Ken ni Tsuite. The anime is based on the eroge by Pita Fetish! The story revolves around a lonely university student who's always had an unhealthy appreciation for his younger sister, Hana. In fact, he moved away from her in order to make sure he didn't give into his feelings. Years later, he has Hana visit with him for the duration of the summer break. This is where they both start to discover new pleasures.
You simply cannot go wrong with a voluptuous female who thinks that more "milk" will make her smarter. That's the direction this anime took. This is the only hentai on this list that involves a steamy brother x sister romance. One of the main reasons why this was selected for this countdown was because it's coverage on fetishes and kinks. There is a great selection of cosplay including, maid, neko, wedding dress, bathing suit, as well as fun with foods. While the story is simplistic, the fantastic visuals and variety of h-scenes make this a quality effort.
---
4. Maki-chan to Nau.

Episodes: 4
Aired: Feb. 2012 – Dec. 2014
The story takes place during the early summer months at approximately midnight. Seiichi, an eroge writer, was so immersed in his work he needed a break. He decided to step outside on his balcony to get some air. In the moonlit sky, he heard some unusual noises coming from his neighbor's side of the balcony. Upon further inspection, he found Maki, his neighbor, masturbating in the moonlight. This well-proportioned girl was in sheer ecstasy and Seiichi wasn't sure how to take it. The lewd Maki not only becomes Seiichi's sex-slave but she brings her sister Yuki into the mix.
Immediately, this hentai separates itself from our last selection; in terms of main females. Unlike Hana, Maki is intelligent. She knows what she's doing with Seiichi, all the while exhibiting her sexual prowess. Both girls do indeed take charge in several instances, which makes for an outstanding product. The sexcapades take place in a variety of places, including, a subway train, a veranda and they even rent an S&M room at a hotel. This hentai isn't your typical vanilla product. It features toys, rope, candle wax and even urine. We can't recommend this anime enough.
---
3. Mankitsu Happening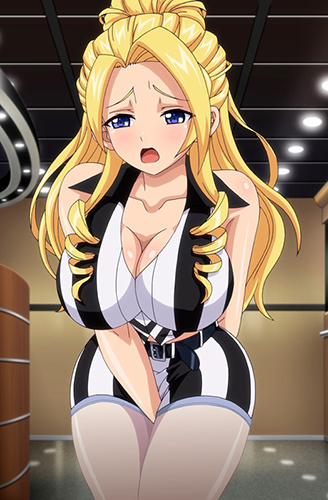 Episodes: 4
Aired: Mar. 2015 – Aug. 2015
The hits keep coming from Collaboration Works as yet another fantastic piece of work comes to our number three spot. After several unsuccessful jobs, Keiichi finally lands a job working under his best friend Rei, who serves as the manager of a manga café. In addition to that, Keiichi also found out that his cute childhood friend Kururu happens to be a regular customer there. The problem Keiichi is now faced with is the likelihood that he will not be able to restrain himself from the pleasures of being around those lovely females.
As you can imagine, Keiichi isn't able to control himself and gets into a lot of sticky situations, pun intended. What makes this a great hentai, apart from the obvious visual masterpieces that Collaboration Works consistently brings to the table, is the comedy. Yes, you read that right, comedy. Not many hentai are able to showcase lust-filled situations with comedic set-ups in an effective manner. In fact, most series just forget about it all together. It's a nice change of pace from a lot of the darker NTR and rape hentai that floods the community.
---
2. Tsugou no Yoi Sexfriend?

Episodes: 4
Aired: Nov. 2012 – Jan. 2015
This next choice on our countdown tells a daring, harem fantasy that I'm sure many males wouldn't mind finding themselves in. We're talking about a story that revolves around Yuu Arahama, who's sleeping with five girls. He refers to them all as sex friends, nothing more, and nothing less. Yuu has commitment issues, so naturally, he turns down a wedding proposal from Misako. One night after admitting to Misako that she isn't the only one he is sleeping around with; she demands they all meet up to settle the issue once and for all.
A deciding factor as to why this outranked Mankitsu Happening on this list was because of the premise of this hentai. This hentai allows you to live out a harem fantasy where each motivated girl is in competition with each other. The wonderful thing about this competition is that the girls are willing to share to a certain degree, which makes for this fantasy to become even more satisfying. This anime has five girls personalities made unique to go along with their appearance. Despite its high female count, they are all used regularly and we don't feel that any are favored over the other.
---
1. Eroge! H mo Game mo Kaihatsu Zanmai

Episodes: 6
Aired: Aug. 2011 – Mar. 2016
We started the list off with one of the newest series from Collaboration Works and now we're going to end it with the oldest piece from them. Tomoya is an eroge enthusiast. His dream is to land a job at an eroge studio. After seeing an ad from the eroge studio Flower, he quickly realizes that his dream could become a reality. Tomoya feels that he could bring a wealth of knowledge and insight into what makes an eroge click. His understanding eventually pays off, as he lands a job as a pseudo-consultant in order to teach them the ins and outs of an effective eroge.
This series is not only Collaboration Works oldest series, but it's also their longest series to date. As unconventional as a six episodic hentai might be, this series is able to tell a cohesive story and build up to phenomenal h-scenes. Even after six episodes, it left us begging for more content. Tomoya guides these girls physically, which initiates a plethora of sexy scenarios for us to invest in. The girls, the costumes, the environment and the story all wrap this series up wonderfully. If we were to introduce someone to a modern day hentai, this would be our number one choice.
---
Final Thoughts
That concludes our list of the Top 5 Collaboration Works Hentai. As you might have gathered by now, Collaboration Works is consistent. Their animation and art style are never dull. They might take longer to release new content than some of the other producers and studios out there, but their work is worth the wait.
How does this list make you feel? Were we right to omit the other four series? Tell us how you would rank these five in the comments section below. We're dying to hear your feedback!
---