También puedes leer este artículo en:Español
What comes to mind when you think of Valentine's Day? Is it relationships? How about Romance? Or perhaps even loneliness? Regardless of where you stand on that front, love is in the air, and we're here to deliver an intoxicating list of five hentai that positively captures the essence of what Valentine's Day has to offer.
It's not often one would associate hentai with the day of love, but once you finish reading this list, it will be easy to see why we're confident with our choices. We here at Honey's Anime wanted to be thorough with our selections. So please sit back and allow us to stimulate your brain with this alluring countdown.
5. Koikishi Purely☆Kiss The Animation

Episodes: 2
Air Date: Jul. 2013 – Feb. 2014
Our first choice on the countdown will go to a well-received hentai, Koikishi Purely☆Kiss The Animation. This series tells an intriguing story about two childhood acquaintances, Elcia and Kaname, who were saved by a daring knight from apparent death, due to a fire outbreak. From that point on, both Elcia and Kaname pledged that they will become modern-day knights. Numerous years later, the two realize their promise and fight side-by-side, upholding justice. During their righteous encounters, the two start sharing more than just a friendly relationship.
What makes this an exciting pick on our countdown is the relationship that develops between Elcia and Kaname. Immediately they form a bond with each other at a young age. The two hold true to their pact and become excellent knights. Through danger of their duties, the two end up growing mutual affection for one another. This leads to precarious situations where each of them has to go above and beyond to preserve each other's safety. There's a strong romantic theme throughout episode one, and it's delivered in a way that both intrigues and stimulates the mind.
---
4. Sono Hanabira ni Kuchizuke wo: Anata to Koibito Tsunagi

Episodes: 1
Air Date: Jul. 2010
It's about a second-year high school student by the name of Mai who always gets herself involved with a fellow student, Reo. Mai takes a liking into Reo and tries to get her to be more involved with the class. However, due to both females being headstrong about the situation, they generally end up fighting. Mai wonders if Reo simply doesn't like her, until one day, Reo confirms that she has it all wrong. Reo then confesses her love to Mai and things really take off from there.
One of the first words that come to mind when thinking of this hentai, is compassion. Sono Hanabira ni Kuchizuke wo: Anata to Koibito Tsunagi is able to exhibit a combination of two compassionate females who are wild about each other. Both Reo and Mai are very conscious of each other's desires and are both unselfish lovers. Although this anime is only one episode, it truly captures a romantic connection between Reo and Mai. If you're looking for lovey-dovey interactions, this would be it.
---
3. Amakano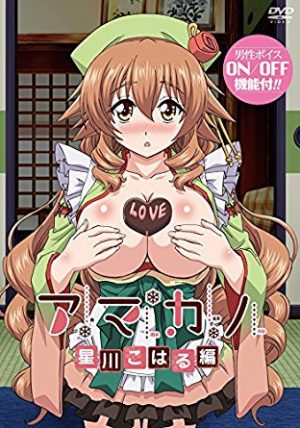 Episodes: 4
Air Date: Feb. 2016 – Jan. 2017
Yuuki, a kind spirited individual moved to the snowy hot springs town of Yomase-machi to assist his grandparents with shoveling snow. During the course of his time there, he met many wonderful people, including a shrine maiden named Sayuki, an exuberant housemate, Mizuki and a café mascot named Koharu. After seeing these three beautiful girls, his grandfather suggests he finds love while he still can. Now Yuuki has to decide which girl is best suited for him.
What makes Amakano an excellent choice to watch on Valentine's Day is the romantic setting and scenarios depicted in this story. The town of Yomase-machi is visually stimulating. It's snowy backdrop contrasts phenomenally well with the night sky. Yuuki and the girls seem to be enamored in their own isolated utopia. Scenes are littered with sunsets, candlelight, moonlight and a variety of baths. Yuuki and the girls are very considerate of each other and even cuddle before and after the h-scenes.
---
2. Pretty x Cation 2 The Animation

Episodes: 2 (as of Jan. 28)
Air Date: Nov. 2016 – ?
Pretty x Cation 2 The Animation is based on the visual novel of the same name. The opening act features a lovely girl named Honami and her lover Tetsuki. Tetsuki offers Honami to visit his house so he can show her how nicely the flower she gave him has grown. When they arrive, lustful feelings overwhelm them. The second-half story showcases the blossoming relationship between a waitress by the name of Suzuka and her boyfriend. After shopping at the local mall, Suzuka suggests they infiltrate her boyfriend's school. Once arriving, passion overtakes them.
In this series, it tells multiple stories of eroticism, love, and sensuality. These stories really stand out at being able to capture the essence of Valentine's Day. There are dates that take place between the couples in various locations, such as the mall and a water park. Gift giving is shared between the couples and spending time with each other in exhilarating locations. Examples would be at Suzuka's boyfriend's school where she suggests having sex or risqué locations at the waterpark. All of these scenarios become a thrilling experience for the couples.
---
1. Lovely x Cation The Animation

Episodes: 2
Air Date: Mar. 2015 – Jul. 2015
After going back and forth between the two Cation series on this list, we ultimately decided on Lovely x Cation The Animation as our number one pick. Spring is in the air, and the main protagonist confines himself in an apartment alone, enjoying his easygoing school life. After getting advice from his uncle, the main protagonist sets himself up to find romance and a relationship, despite the fact that he has zero experience on that front. He will meet several girls, each with a distinct personality, but they all share one thing in common, love.
We feel that Lovely x Cation The Animation is the model of what an exceptional Valentine's Day hentai would cover. This was literally meant for fans of passion and romance, something Valentine's Day is associated with. This series starts off with an endearing love story about a guy and a girl who pretend to be in a relationship. They did everything a normal couple would do. It was only a matter of time before true feelings started to generate between them. Each story offers different styles of girls, but the infatuation and yearning for one another are this series main focus.
---
Final Thoughts
That concludes our special Valentine's Day top 5 hentai countdown. We hope you enjoyed this list! Whether you're single or taken, this list should shine brightly for those who decide to watch these titillating series. It's surely one to add a little intrigue to the day of romance and desire.
Which series presented on this list do you prefer? Tell us about your favorite romantic hentai in the comments section below. We would love to hear your feedback!
---