We're back again with another list counting down some of the best hentai from the month of February. This month featured an extensive list; including some from the heavy hitters in the hentai industry, PoRO, Collaboration Works and Pink Pineapple. Content ranged from anticipated sequels to futa to loli and some exceptional vanilla episodes. It's safe to say that February was able to satisfy the majority of hentai fans around the world. Now that we have your attention, it's time to bring you these five arousing anime.
5. Saimin Class - Episode 2

Episodes: 2
Air Date: Dec. 2016 – Feb. 2017
The first hentai to make our list is the finale from the Saimin Class series. Episode 2 was released during the second week of February from the studio BreakBottle. BreakBottle is a fairly new studio to hentai, with only a handful of series to date. Although not their best effort, Saimin Class is still worth checking out, especially if you're into characters being manipulated by devices.
Saimin Class is about a student who uses a magical lighter to take advantage of students and teachers at his school. The ultimate goal for this sinister individual is to have as much sex as possible between all the females in his class. No one seems to be off-limits and he certainly doesn't take his time getting down to business. In addition to his sexually-fueled disposition, he intends on getting all of his victims pregnant. How he's able to get away with this heinous act is simple, he's able to utilize this special lighter that induces hypnosis on these girls.
When he's done with them he makes sure to wipe their memory clean of the act, leaving the girls wondering how they became pregnant. Saimin Class offers up several situations, including teacher x student and a group scene with three females taking turns on the main character. It really showcases the power he has over the ladies when he's in possession of this lighter. He's able to hypnotize these poor girls and completely take advantage of any given situation.
---
4. Green Eyes: Ane Kyun! yori The Animation – Episode 1

Episodes: 1
Air Date: Feb. 2017
Our next choice came out during the first week of February, along with another episode that made our countdown. What makes this a notable pick is that Green Eyes: Ane Kyun! yori The Animation is based on the manga that was created by a woman by the name of Yuzuki N'. The reason we highlight that is because of all too often we get hentai created by men living out their sexual fantasies, but when you add a touch of femininity to these pieces of work, it sure changes the dynamic of the product; in this case, for the better.
The story is about two siblings, a brother, and a blonde-haired, green-eyed beauty, by the name of Aisawa. Aisawa excels in nearly everything she does when it comes to school. She is often seen as a role-model and is envied by many. To put it short, she is essentially the perfect person. What makes things interesting is that her brother Haruto, is also enamored with her. But when their parents aren't around, Aisawa acts as if she is the queen of the house and uses Haruto as her servant of pleasure.
What makes this anime stand out immediately is how the female is the dominant one in the series. It's not completely rare for a hentai to have a girl dominating a guy, but it's certainly less common than the other way around. Another added touch with this hentai is that both, yes, both male and female characters aren't hard on the eyes. Surely that's the feminine touch coming into play that we mentioned above. Overall, if you're looking for some exceptional femdom situations this is a sound choice.
---
3. Shoujo Ramune– Episode 2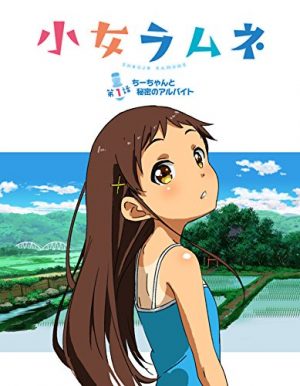 Episodes: 2
Air Date: Oct. 2016 – Feb. 2017
Our next stop on the countdown involves arguably one of the best loli hentai on the market. Yes, we're talking about Shoujo Ramune. Coming in with high expectations for episode 2, it's fair to say that it delivered pleasantly as the finale of the series. The producers Mary Jane had an outstanding 2016 and it's continuing nicely for them in 2017. Mary Jane has already had two episodes, in two months, ranked in our top 5 hentai countdowns this year. We suspect more to come.
This episode continues the story about three girls who love going to the candy store. All the while the girls form a relationship with the sexual deviant store owner, Kiyoshi. This time, Tenka is shown to be an aspiring idol and gets roped into doing what she thinks will help her potential career. In addition to that, Komako's actions from the previous episode are found out and used to inspire Kiyoshi for some sexual education.
Episode 2 hands out a strong helping of action with Tenka and Komako taking on the lion share of the work. There's a scintillating build-up between Tenka and Kiyoshi that delivers a pleasurable climax for many loli enthusiasts. Then we're treated to Komako getting intimate with Kiyoshi, something that was non-existent in the first episode. Komako's work with the onahole is a nice throw-in that you don't see too often in hentai.
---
2. Oide yo! Shiritsu Yarimakuri Gakuen – Episode 2

Episodes: 2 (as of Mar. 8)
Air Date: Oct. 2016 – ?
Another month goes by and yet another release from the ever-consistent studio named PoRO. So much so, it's hard to remember a month where they didn't have some sort of content for us. Oide yo! Shiritsu Yarimakuri Gakuen was closely considered to be our number one pick, but we ultimately decided against it because we felt our first choice had covered just a bit more.
In this episode, Shousuke is found sleeping in the nurse's office, only to get woken up when a moist pair of panties gets placed on his face. When he comes to, he realizes that he has the lovely Nana straddling him, much to his surprise. In the midst of Shousuke and Nana's sexcapades, Mira the student council president walks in on them and jealousy begins to spread. From there the two share Shousuke in a battle for lecherous supremacy.
Although short in length, this episode was a great piece of vanilla hentai. It starts with a tremendous h-scene from Nana and Shousuke. Nana clearly shows that she had been curious, practically yearning for a piece of Shousuke. The positions are varied, the action was non-stop and its location (nurse's office) was a thrill in itself. Things certainly picked up once the jealous Mira showed up. The group scene wasn't anything we haven't seen before, but it was especially scintillating because of how much the two were in competition with each other.
---
1. Shikkoku no Shaga The Animation – Episode 1

Episodes: 1 (as of Mar. 8)
Air Date: Feb. 2017 – ?
This is it, folks, we have come to the conclusion that Shikkoku no Shaga The Animation is our number one hentai for the month of February. Producers Pink Pineapple and the studio known as Seven were really firing on all cylinders with this release. Shikkoku no Shaga The Animation introduced an intriguing story adding another layer to an already impressive episode. A compelling story isn't needed to be considered a solid hentai, but it convinced us enough to put it on top for this month.
The story in Shikkoku no Shaga The Animation is set in a 12th-century fantasy world where everything is not what it seems. During what's known as the Heian period, monsters are running rampant on the land. Mountains, forests, and cities aren't even safe. After being rescued in the forest by a special monk named Shaga, a boy named Ushiwaka must be protected from the forces of evil. Ushiwaka and Shaga set out to the safe lands known as Ooshu, experiencing dangers along the way.
One of the reasons we felt that the story was able to deliver on all fronts is because it didn't feel rushed. Shikkoku no Shaga The Animation has the longest runtime on this list, clocking in at an astounding 27 minutes; which is approximately 4 minutes longer than the next closest on this countdown. A well thought out story with an occasionally brooding atmosphere, attractive characters, and above all, exceptional h-scenes. It was an easy choice to give this episode the number one spot.
---
Final Thoughts
That concludes our look at the best hentai releases in the month of February. This was a busy month in the world of hentai. There were about thirteen episodes for everyone, and we thoroughly scanned them all to bring you, folks, the best of the best.
With so many choices for hentai enthusiasts this month, we wouldn't be shocked if you were slightly overwhelmed. With that being said, we'd love to hear how you would rank your top 5. As always, keep it locked here at Honey's Anime for the latest and greatest hentai content on the web.
---