It's that time again, folks! February is over so let's look at what titles are worth checking out. Thankfully, there were 7 hentai titles that came out last month and 4 of them are brand new. We only added 3 of the 4 new titles because—unless there's nothing much else to watch—an adaptation by Queen Bee is, by default, always excluded from this list. If you want to know the title of the Queen Bee animation, go look up Yue ni Hitozuma wa Netorareta.
To be fair, Queen Bee adaptations aren't completely bad; there are some titles with very good stories. Now then, let's take a look at what we got in February and let's see if they complement the new fleshlight you just ordered. Owning sex toys is nothing to be ashamed of, by the way! We don't discriminate because, well, that's like the pot calling the kettle black. Right! On to the list!
5. Ero Konbini Tenchou - Episode 1

Episodes: 1+
Aired: February 2019 - Ongoing
Ero Konbini Tenchou is a sequel to JK to Ero Konbini Tenchou from 2016 and you can safely watch this without knowing the story of the prequel. But if you want the quick rundown of the story for both JK to Ero Konbini Tenchou and Ero Konbini Tenchou: Pervert male manager of a convenience store blackmails his female employees and fucks them 7/11… errr… 24/7. We deeply apologize for this horrible attempt at humor.
But anyway, the fatass manager Yoshihiro returns to the same store as a temporary manager and meets Miki, and she's one thorny high school girl. How do you discipline a very bad girl? A dose of blackmail should do the trick! Women get treated harshly in hentai and that's the point, especially in blackmail-monster-rape titles, and who would want it any other way? But in Miki's case, she deserves to get all the dicking. More or less. Sure, Miki hates the new manager Yoshihiro, gave him the cold shoulder, insulted him a few times and she tries to get rid of him by filing a false sexual harassment report, but the new manager was already stalking Miki by installing hidden cameras in the store locker room. You could also say that when Miki noticed the manager was bad news the moment she first saw him was "women's intuition." But, like every girl in hentai anime, she's quickly become submissive after seeing the all-powerful dick. If you enjoyed the prequel and PoRO's typical but attractive character designs, you will definitely enjoy Ero Konbini Tenchou. Though looking at the next episode preview, you should probably watch the prequel to get acquainted with the past victims.
---
4. Ane Chijo♥Max Heart - Episode 3

Episodes: 3+
Aired: August 2018 - Ongoing
The introduction of swimming scholar Reizei Kasuri—aka the third wheel—mixes things up a bit from the usual big-breasted-nympho-sucking-her-little-brother-dry-24/7 by adding some rom-com elements like jealousy, and Kira gets to fuck an athlete with a muscular figure and—according to our top researchers—a tight hole. You may not like it, but Kasuri is an example of what peak performance looks like.
By her voice and body language, Sarasa clearly hates Kasuri, and being the big sister nympho that she is, Sarasa exerts her dominance as the top bitch through sexual persuasion even in unexpected places—There's this scene where Kira and Kasuri go to a family restaurant where Sarasa is working as a waitress. Sarasa tries to spoil the "date" by distracting Kira's attention away from Kasuri by letting him touch her, at the risk of getting spotted by other people. Despite Sarasa's best efforts, however, Kasuri ends up inviting Kira to her home for some naked apron sex action. You could say it's a victory for Kasuri.
Ane Chijo Max Heart episode 3 is a nice change of pace and this being a PoRO production, it's always nice to see some vanilla action with attractive characters, especially the male main characters. If there's a big negative, it'd be that 9 minutes of the total 25-minute run-time are wasted on a lengthy recap segment. The preview for episode 4 looks good, though.
---
3. Kami Machi Sana-chan The Animation

Episodes: 1
Aired: February 2019
Takao Sana ran away from home due to poverty and ends up staying with someone she meets in a dating app called "DiaFre." The story presented in the hentai anime adaptation of Kami Machi Sana-chan is vague, so you need to go out of your way to look up the visual novel it was based on for the synopsis. The adaptation focuses more on the story after Takao Sana was taken in by male protagonist Hachijou Kei whom she met in the dating app, with flashback moments filling in the missing gaps.
The art style is low quality at best with backgrounds having upscaled pixelated textures. We're not completely sure these background textures came from the original visual novel source or not, but the low polygon and pixelated background details are noticeable. The nudity and sex are censored (unsurprisingly), but the strange thing is, the anime censors the term "high school" as well. Thankfully, the quality of the character designs and the sex scenes are slightly better but do keep in mind that this is a vanilla hentai anime. You'll definitely bust a nut or two at the lengthy love-making scenes, but the sex scenes are tame and they're more designed to titillate the viewers rather than encouraging them to squirt mayonnaise all over the TV screen or monitor non-stop. Protip: Never let anyone use a UV lamp near your couch, TV, keyboard, or mouse.
Though it's unfortunate we never get to see any threesome action between Kei, Sana, and Yuuka, let's be optimistic that the next episode (if ever) will focus on Yuuka.
---
2. Tiny Evil - Episode 4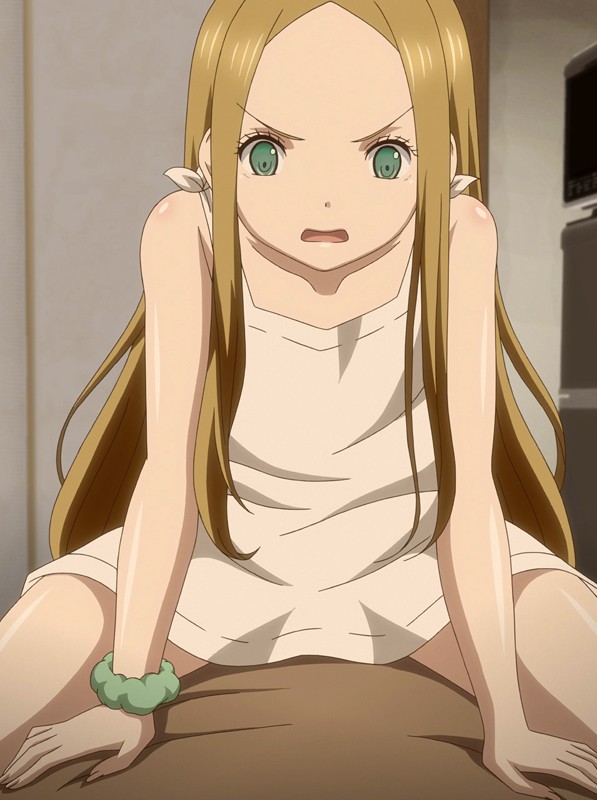 Episodes: 4+
Aired: September 208 - Ongoing
The story continues with the cursed doll Nina who has grown attached to college student Shuu by showering him with good fortune and sucking him dry as a way of thanks for not treating her as a piece of trash to throw away. This time around, episode 4 is more faithful to the source material and gives some of the background story behind the nature of Nina. If we're being honest here, the hentai anime adaptation did a good job giving the story some pacing, an additional sex scene and more believable character development between Nina and Shuu. And it's hard to complain when the adaptation gives you an extra episode with nothing but non-stop not-so-loli fucking and condom slurping action. The addition of new scenes helped solidify Nina and Shuu's relationship and you feel some sympathy when Nina gets upset that Shuu invited his girlfriend over.
Overall, Tiny Evil Nina Arc was very enjoyable with additional sex scenes, decent pacing, and femdom action, all wrapped up with a cute happy ending. And you should enjoy whatever happy ending you can get because the next Tiny Evil arc will be different, taking femdom to the extreme, and it will show you why this series is called "Tiny Evil."
...that is assuming we'll get another story arc.
---
1. Saimin Seishidou - Episode 1

Episodes: 1+
Aired: February 2019 - Ongoing
With the power of hypnotic suggestion, Tanaka Hajime has taken control of the minds of everyone at his school. Hajime implants every student with suggestions that he's a Sex Counselor, and encourages everyone to make an appointment for a special sex training with him before engaging in sex with their significant other. His first victim is Obata Yui, who is eager to understand the complexities of sex and how she can pleasure her boyfriend Tachibana Daiki. But of course, our hero Hajime is not going to give Yui's virginity to anyone else but himself.
The adaptation of Saimin Seishidou (so far) is hit and miss. The art style of the hentai anime is almost faithful to the source material and the art style is made even better with nicely done animations. Visually, the adaptation is one of the best with very little to complain about. Sex scenes are well-animated, the acting is great, and the dialogue is amusing with Hajime fucking Yui's brains out while giving her and her boyfriend some pointers on how to have a great sexual experience. See, Japan? You CAN make good-looking adaptations without signing a contract with The Devi—Studio Queen Bee for the animation. In the context of Studio Queen Bee, the word "animation" was used loosely here.
As for the downsides… almost everything else. The adaptation compressed 1.5 chapters into a 16-minute hentai episode by omitting important dialogue and background info of the girls who fell prey to Hajime's hypnotism. Why is episode 1 not 25 minutes or 30 minutes long, we don't know. The NTR elements would be extra effective if we knew more about the victims, but then again, everyone is brainwashed so a guy seeing another guy fucking his girlfriend is not rape, but rather it's "counseling" issued by the Japanese government. Taken as a whole, though, Saimin Seishidou is a promising ride filled with hot sex and beautiful virgin maidens waiting to get plucked. The same can't be said about Hajime: he's fucking ugly as sin.
---
Final Thoughts
And there you have it! Out of the 5 listed titles, Tiny Evil and Saimin Seishidou are worth following because the original doujinshi sources are fun and great to read. The stories and art style may not translate well in the hentai adaptations, but it's safe to say the upcoming episodes will be something to enjoy. You could just read the original doujinshi for more fleshed out dialogue and well-drawn panels if you want to, but sometimes, actual animation and voice acting makes for an experience only hentai anime can provide. Pick your poison, either way, you'll be having a great time.
---