Now that we're well into the new year, what better time to introduce something fresh for you fine folks. As you might know, we've thoroughly updated and overhauled our coverage of hentai on Honey's Anime this past year. Now, we want to take things a step further by continually presenting you with our favorite hentai releases on a monthly basis, starting this year. This will feature new episodes released in January from new or existing hentai series. Do you like the sound of this idea? We hope so! Without further ado, let's get things cracking!
5. Sagurare Otome The Animation – Episode 1

Episodes: 1
Air Date: Jan. 2017
Kicking off this list is a hentai that came out during the first week of January. It's now had a month to percolate in our brains, for better or for worse. Sagurare Otome The Animation is destined to split the hentai community based on its NTR content. It truthfully feels like you either love NTR or hate it, there doesn't seem to be much separation in between. Regardless of how you feel on the subject, we suggest checking this one out, if not just for its beautiful art style.
The story revolves around a woman named Mio who works as a masseuse. During her last day working at a private spa, her customer asks if he could get a couple salacious photos of her, to remember her by. Mio reluctantly agrees since she figures she will never see him again. Little does Mio know, the customer is her fiancée's co-worker and he brings him over for some drinks. After the two cross paths, things go from bad to worse for Mio.
Yuzuki, Mio's fiancée, passes out from having one too many drinks. With Yuzuki out of the mix, the customer Horii completely takes advantage of the situation. Sagurare Otome The Animation is visually stunning with vibrant colors to boot. Although not particularly extensive, clocking in at 17 minutes, it captures enough content, especially for a less than stellar story. If you're a fan of NTR this is most certainly for you.
---
4. Mesu Kyoushi 4: Kegasareta Kyoudan - Episode 3

Episodes: 3
Air Date: Oct. 2015 – Jan. 2017
Our next selection came to us during a very busy weekend in January. During the weekend of the 27th-29th, we've seen a total of five different episodes released in that span, and the third episode of Mesu Kyoushi 4: Kegasareta Kyoudan happened to be the second best piece of content that weekend.
There isn't much to say about the story that's presented in this episode. If you weren't thrilled about the previous two episodes you probably won't find anything too redeeming in this one. The episode starts off with the devious main character forcing himself on Takamine, who is one of the teachers at his school. Later on, in the episode, we find out that he had pictures taken of Takamine during their sexual encounter, unbeknownst to Takamine. Knowing that, the student decides to prey on his next target, the rich headmistress of the school.
The deviant blackmails the headmistress with the aforementioned pictures that were taken of Takamine. In order for her to keep the school's integrity, she mustn't let him expose her with those photos. Naturally, she complies with his wishes of wanting her body. What makes this an exceptional hentai is the lively art and fluid animation from PoRO. Both girls that are featured in this episode are extremely arousing and are placed in embarrassing situations; all fueled by the main characters perverse desires.
---
3. Toshi Densetsu Series – Episode 4

Episodes: 4 (as of Feb. 11)
Air Date: Jan. 2016 – ?
This next selection is the fourth release from the ever-popular Toshi Densetsu Series. Episode 4 was the only hentai to come out during the middle of the month. Despite that, it makes its way to our number three choice. Just like the previous episodes, Toshi Densetsu Series uses urban legends and supernatural powers to spicing up the scenarios.
In this episode, we're treated to a character named Mary who uses her phone to inform her 'victims' that she will be over to take their virginity. Using her supernatural powers, she is able to teleport to their location and offers his services to these sexless males. On a roof somewhere outside, Mary offered up a "slice of heaven" to her soon-to-be master. Believing that the rumors are true, he has little time to comprehend the situation, as Mary appears behind him. The loli sex doll phantom, known as Mary will do whatever it takes to please her victims and that could lead to some dangerous acts.
What makes this episode, or rather; the entire series appealing is the supernatural elements that are presented to us. This episode features a phantom-like character that has several different powers; including, teleportation and the ability to make her breasts larger to fill anyone's desires. Unlike previous episodes, it was decided on a blonde-haired girl, which adds more diversity to this series. In order to delight her master, Mary wears a very provocative bikini that elicited some strong feelings from us. If it wasn't for a lot of reused sequences during the h-scenes, this episode could have easily been the best of the month.
---
2. Amakano – Episode 4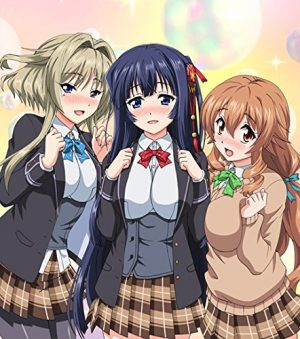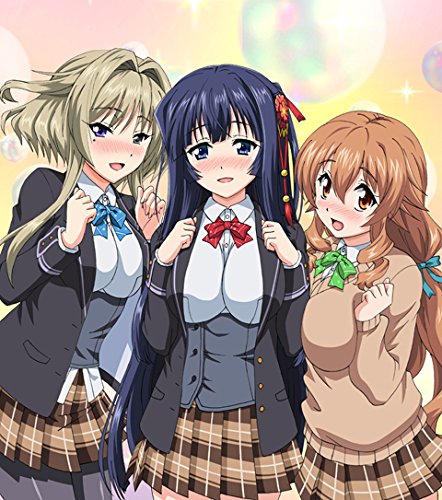 Episodes: 4
Air Date: Feb. 2016 – Jan. 2017
Creeping down our way to the number one spot, we hit a series that has been covered quite heavily as of late on Honey's Anime, and for good reason. Amakano is first and foremost one of the better series released during all of last year, and luckily for us, Mary Jane gave us one last episode in 2017 to drool over. Episode 4 was released during the first week of January and has been spoiling us ever since.
Yuuki, a kind spirited individual moved to the snowy hot springs town of Yomase-machi to assist his grandparents with shoveling snow. During the course of his time there, he met many wonderful people, including a shrine maiden named Sayuki, an exuberant housemate, Mizuki and a café mascot named Koharu. After seeing these three beautiful girls, his grandfather suggests he finds love while he still can. Now Yuuki has to decide which girl is best suited for him.
One of the deciding factors as to why this episode wasn't selected as our number one pick is because it felt rushed. Episode 4 clocks in at 15 minutes in length. The influx of scenes in such a short runtime wasn't the best scenario. Yes, it covered each girl, but with roughly 5 minutes apiece it left us wanting more. Overall this episode is still wonderful, with the sexy females, the romantic setting, and the passionate h-scenes. The one thing that caught us off guard (in a good way) was the hairjob performed by Sayuki. It's extremely rare to see such an act in hentai and we can appreciate that.
---
1. Pretty x Cation 2 The Animation – Episode 2

Episodes: 2 (as of Feb. 11)
Air Date: Nov. 2016 – ?
Here we are folks, we are proud to bring you our number one selection in hentai for the month of January 2017. Pretty x Cation 2 The Animation episode 2 (that's a mouthful) continues to deliver all the exceptional animation and arousing scenarios that you have come to expect from these Cation series. Even though this is only January, we wouldn't be shocked at all if this series becomes one of our favorites of the year. A bold prediction to say the least, but that's a testament to how highly we regard this series.
As with the previous episode in the series, the story divides itself between two different females and settings. In the first episode, we are treated to a scandalous relationship between a student and a teacher. The student happens to be dating his teacher but naturally, it's a well-kept secret between the two. The other story revolves around a romantically linked couple that ventures out to the snowy mountain observatory to take in the wonderful scenery. From there, the couple's temperatures start to rise and things escalate quickly.
After viewing this, we truly felt the connection between both couples. There's so much to say on the positive side of things for this episode. From the truly romantic locations to the stunning visuals, and even to the passionate love-making, it's not hard to see why this was our top pick. This is why we love these Cation series, they're one of the few quality hentai series that sincerely understands romance and it's reflected in their work.
---
Final Thoughts
That concludes our look at the best hentai releases in the month of January. We happily covered five of the eight episodes brought out to you. This is all in an attempt to highlight some of the best hentai content on the internet.
Since we pretty much covered all the releases in the month of January, please tell us how you would rank your top 5 in the comments section below. We'd love to see your input! As always, keep it locked here at Honey's Anime for the latest and greatest hentai content on the web.
---