It's that time again where Honey's Anime is proud to bring you our favorite hentai for the month of July. Unlike June, July featured more variety. Three of the five selections this month are new introductory series, which certainly piqued our interest. In addition to that, we had ten series to choose from this month from some of the best hentai producers out there! Without further ado, let's get to our favorite hentai for July.
5. Tamashii: Insert - Episode 1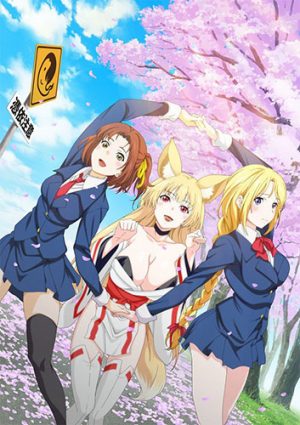 Episodes: 1 (as of Jul. 2017)
Air Date: Jul. 2017 – ?
We're starting off with the first of two new series to crack this list from the fantastic hentai producers, Mary Jane. Mary Jane has arguably produced some of the best hentai content in 2016 and based on this month's showing; they could easily earn that accolade again.
Everything hasn't gone as smoothly for Naoto Takahashi since his father decided to get remarried six months ago. Naoto is trying to make it an easy transition with his new stepmother, Sachiko and little sister, Yui. One night while he's home alone he finds a peculiar app on his cellphone that claims to allow him to "understand everything about your girl of choice!" Despite Naoto's skepticism, he decides to give it a try once his sister, Yui comes home. His results were not what he expected.
Tamashii: Insert is including in the sub-genre of hentai that's known to some as 'Magical Device'. Unlike most of the series in that sub-genre, Tamashii: Insert isn't nearly as cruel or unforgiving. The cellphone app brings a twist to the conventional magical devices. Exploitation is still present in this anime, but it's done differently, in that Naoto is partly transferred into Yui's body gaining control of her every movement. There's plenty of eroticism packed in this 15-minute episode, including to this point, the best masturbation scene of this year.
---
4. Jitaku Keibiin - Episode 3

Episodes: 3 (as of Jul. 2017)
Air Date: Mar. 2017 – ?
Jitaku Keibiin is back with its third and quite possibly best episode of the series. It came out on the final Friday of July and already has us in anticipation for the fourth episode. Each and every release from Jitaku Keibiin has cracked our top 5 list and we expect more of the same going forward.
The third episode of Jitaku Keibiin focuses on the conquering of Shouko, the mother of the two daughters. This episode follows the events of Kareki already having his way with the daughters in an attempt to drive off, what he deems as a gold digging family. Like her daughters before her, Shouko was caught doing something immoral via the video cameras in the house and she's blackmailed into doing Kareki's biddings.
This is more of the same that we got in the previous two episodes of this series. The idea is that Kareki will gather some footage of Shouko doing something embarrassing and blackmail her. Instead of the yuri action we got in episode two, this time we get a shouta h-scene; which won't be the last on this list. On top of that, Kareki ends up biting off more than he can chew, as Shouko really gives him some competition. Shouko's appearance and technique put this episode above any of the previous ones.
---
3. Toriko no Kusari - Episode 1

Episodes: 1 (as of Jul. 2017)
Air Date: Jul. 2017 – ?
Continuing on with this countdown we come across the second and final release this month from Mary Jane; Toriko no Kusari. What makes this an interesting pick is that both Mary Jane releases this month were new series, featuring its debut episodes. Not often do producers have multiple releases in a month and when they do, both aren't typically new series.
Toriko no Kusari is based on the game by Guilty. Mio Yunoki is a reputable school council president who's adored by many of her peers. As with many teenagers, when Mio's parents go on a trip overseas she becomes elated with the prospect of having more freedom. She's not home alone, however; she has her family maid, Shiori Oya to keep her company. Unbeknownst to Mio, she becomes the next target of these classless individuals. One day, Mio receives a package from a group of shady delivery men and before long; she's in a world of trouble.
Our five inclusions on this list are known for quality but aren't necessarily long with regards to runtime. Toriko no Kusari happens to hold the distinction as being the longest episode on this list at over 18 minutes. While we didn't take the duration into account while ranking this episode, we do feel it didn't hurt it any. Toriko no Kusari does an exceptional job at setting the tone for the hentai immediately at the beginning and it's made clear who the target(s) will be. This hentai features some fantastic camera angles and showcases some lovely females to boot.
---
2. Baka Dakedo Chinchin Shaburu no Dake wa Jouzu na Chii-chan - Episode 2

Episodes: 2 (as of Jul. 2017)
Air Date: Jun. 2017 – ?
Baka Dakedo Chinchin Shaburu no Dake wa Jouzu na Chii-chan's previous episode was Honey's Anime top hentai last month for us, but now episode two gets the second spot on our July countdown. It's not because episode two regressed a great deal, it was simply because there was more competition in July than in June.
The second episode continues with the two mutually benefitted students, Chieri and Kouta getting exactly what they want. The two have been studying together for a while now and Christmas has dawned upon them. Despite still being in a relationship, Chieri has become really close with Kouta and the two have spent many days and nights pleasing each other with carnal knowledge. It turned out to be a great success as both their hard work paid off, with Chieri's grades improving immensely.
As we mentioned before, this episode of Baka Dakedo Chinchin Shaburu no Dake wa Jouzu na Chii-chan is no slouch. This episode brings in an appealing love story about Chieri and Kouta as they learn and experience more of each other. The emotions run high as we find out the results of both of their hard work to increase Chieri's grades. Finally, we see some intercourse and Kouta proves that he has the endurance and stamina of a sex god. This is more of the vanilla hentai that some people will appreciate, especially following #3 and #4 on the countdown.
---
1. Mayohiga no Oneesan The Animation - Episode 1

Episodes: 1
Air Date: Jul. 2017
For the first time in five months, our number one selection will not be a Lune-Soft release. Not because there wasn't a Lune-Soft release this month, but because we felt Mayohiga no Oneesan The Animation deserved this position. It was released on July 7th by BOOTLEG.
The legend goes that "Mayoiga" (aka Mayohiga) is an illusionary house that grants great wealth to lost travelers. One day, a guy named Isami finds himself lost and stumbles across an establishment that calls out to him. It would seem that the legend of Mayohiga is actually true. The only difference is that instead of earning wealth, Isami receives love, pleasure, and sexual services from a couple busty maids, Natsuki and Akiha. It's fair to say that Isami's life will never be the same again.
Like many of our previous number one series, the studio, T-Rex did a fantastic job at animating and bringing the manga to life in this hentai. It's visually captivating with vibrant colors and stimulating females dressed in maid attire. We should inform you that this is a shota anime and that could very well deter some people away from this selection. Despite its genre, we feel that overall; it was the best hentai release of the month.
---
Final Thoughts
That will bring us to the end of another arousing list of our favorite hentai releases for the month of July. July is probably going to feature the largest assortment of hentai releases all of this year, so there's bound to be something for everyone this month.
July and August are going to be big months for the hentai community with more than your average amount of releases coming in the summer. With that said, what did everyone think about these five episodes that we selected? Were there any notable omissions in your eyes? Stay engaged, let us know!
Until next month, we hope you enjoy the recommended episodes that we've offered on this countdown.
---