It's that time of the month where Honey's Anime is proud to bring you our favorite hentai for the month of June. This month didn't particularly offer a strong lineup of introductory series. In fact, out of the seven releases for the month of June, only three of them were first episodes in their given series. That being said, there was definitely one new series to check out this month. This list features three recent entries in established series from 2016 and earlier, including one from as far back as 2012. Without further delay let's bring you our favorite hentai releases from June.
5. Love 2 Quad - Episode 3

Episodes: 3
Air Date: Aug. 2012 – Jun. 2017
We start this list off with a familiar face in the hentai industry, PoRO. What kind of list would we be making if we didn't find a way to include their work somewhere on this countdown? While their content has never made it to the number one spot for us this year, their consistency cannot go unnoticed.
The third episode of Love 2 Quad continues right where the second episode left off. Wataru continues to give the innocent-looking Honoka a lesson in sexual intercourse. The inexperienced Honoka is quickly learning how to adapt and please her older brother Wataru, utilizing her body to the fullest to get the job done. No locale is off limits when these two family members have the urge to fornicate.
There are elements in this hentai that most definitely carry over from the previous episode in this release. The most prevalent is the anal h-scenes, one at the start of this episode and one at the end. It's a lewd experience with Honoka bashfully deciding that she will continue to do whatever it takes to please Wataru. That transfers over into the final scene that takes place on the public transit. It offers up an exciting and very much stimulating experience for hentai fans alike.
---
4. Majuu Jouka Shoujo Utea - Episode 4

Episodes: 4
Air Date: Dec. 2015 – Jun. 2017
In a somewhat shocking appearance, Majuu Jouka Shoujo Utea has come back with its fourth episode of the series. If you follow and keep track with your hentai on myanimelist.net you would have been pleasantly shocked to see that a fourth episode came out, despite the series being listed as "finished", not long ago. Nevertheless, June 9th was the release of the fourth episode of Majuu Jouka Shoujo Utea from studio EDGE.
Inspired by the acts of heroism that was shown by the previous stars of this series, Kika wanted to prove to herself that she was capable of delivering a just service to humanity, in particular, her friend Tsubaki. Unfortunately, she wasn't up for the task and the magical girls had to save them both. After scouting them, the magical girls offered Kika and Tsubaki to become full-time members of their group but little did they know there's more to the magical girls than meets the eye.
The first thing that should stand out right away is the fantastic visuals in this episode, or well, the entire series, really. That's definitely the high spot of the series. EDGE did a tremendous job with its vibrant settings, bodacious characters, and fluid animation. The only complaint we had is that the h-scenes felt rushed. All in all, though, this is definitely worth checking out if you're a fan of futa or tentacles.
---
3. Menhera Ayuri no Yamanai Onedari: Headphone wa Hazusenai - Episode 1

Episodes: 1 (as of Jun. 2017)
Air Date: Jun. 2017 – ?
Continuing on with this countdown, our number three pick is the first new series to crack this list. Menhera Ayuri no Yamanai Onedari: Headphone wa Hazusenai was released on the last Friday of June and it was produced by Collaboration Works.
Menhera Ayuri no Yamanai Onedari: Headphone wa Hazusenai is based on the game by Grand Cru bourgeois. This series follows a struggling former idol named Ayuri Utakata who has fallen into a deep depression due to her failed success as an idol. Her contract will be up at the end of the month with her record label Eiwan Records. In order for Ayuri to remain with the label, her manager Keita Haruyama is given one last chance to produce a quality song or she can kiss her career goodbye.
Despite Menhera Ayuri no Yamanai Onedari: Headphone wa Hazusenai not living up to the hype of some of the other superb releases by Collaboration Works, this series still has a lot to offer. For starters, this hentai does indeed feature a relatively strong plot, albeit exaggerated. The story is easy to follow and understand, in some ways it feels as close to an anime as you're going to get in terms of this month hentai releases. Another great feature in this episode is the use of chibi characters to accentuate the comedic sequences of the story. If you're looking for something a little bit different in the story department this should suffice.
---
2. Tsumamigui 3 The Animation - Episode 2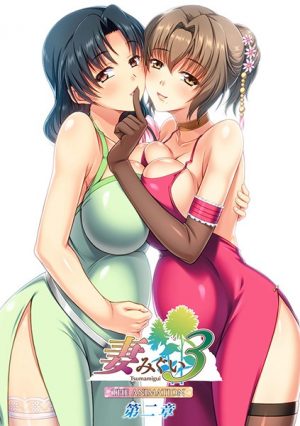 Episodes: 2 (as of Jun. 2017)
Air Date: Sep. 2016 – ?
The number two selection, Tsumamigui 3 The Animation was also released on the final Friday in June. This is the second episode of a series that was produced by Pink Pineapple nearly one year ago. This particular episode is noted for having the longest runtime of any episodes on this countdown, running at nearly 27 minutes.
The second episode does things a little bit differently with a teaser opening sequence with a mother/daughter combination sharing Akito. Following that scene, it's back to the unresolved feelings between two females and Akito. Miyuri and Sayoko both continue to use their bodies to please Akito, despite the fact that they're both married women. Eventually, Akito has to make a decision on where his true love lies.
Episode two of Tsumamigui 3 The Animation continues with its strong NTR elements, which could be a large deterrent for some people, while fans of the previous episode should be satisfied. The fantastic visuals are sure to set this series apart from any other on this list. The deep colors, the ample proportions and an overdose of liquids are all heavily featured in this episode. If you like cheating wives that come together to please a special individual then don't miss out on this selection.
---
1. Baka Dakedo Chinchin Shaburu no Dake wa Jouzu na Chii-chan - Episode 1

Episodes: 1 (as of Jun. 2017)
Air Date: Jun. 2017 – ?
Yet another Lune-Soft piece has made it onto our list and once again it reigns supreme as our number one selection. Baka Dakedo Chinchin Shaburu no Dake wa Jouzu na Chii-chan marks the fourth month in a row that Lune-Soft content has ascended to our top five hentai of the month. With the help of T-Rex's fantastic animation, it's safe to say the first half of 2017 for hentai has belonged to the work from Lune-Soft.
On a smoldering hot day, Kota Muroto came across a classmate, Shiina Chiari at a convenience store near his house. Kota finds Shiina extremely erotic and couldn't help but notice how she was provocatively eating her popsicle. Shiina came up to Kota and had a proposal for him. If Kota is able to improve Shiina's grades, Shiina will repay him handsomely. Kota accepted the proposal because he thought he'd have a chance to lose his virginity with her. Shiina claims she has a boyfriend, but she's willing to make sure Kota doesn't walk away empty-handed.
The studio T-Rex did a fantastic job animating this series. Baka Dakedo Chinchin Shaburu no Dake wa Jouzu na Chii-chan was able to really come to life with its superb visuals. If you're a fan of fellatio, this is a must watch. The entire episode is based around Shiina giving blowjobs in exhilarating ways to Kota. This is emphasized with lewd camera angles, excellent lip and tongue play and creative oral h-scenes, which includes a makeshift glory hole. If you want to see the most visually stunning release this month, then look no further.
---
Final Thoughts
That will conclude yet another stimulating list of our favorite hentai release for the month of June. While this might not have been the strongest month of hentai content, there was certainly a few noteworthy inclusions to this countdown.
We feel strongly about our five choices and we assure you we picked the best of the bunch for June. However, some people may rank these five a bit differently, and that's alright. We would love to hear how you went about ranking these five? What was your favorite episode this month?
Until next month, we hope you enjoy the recommended episodes that we've offered on this countdown.
---