November has only a handful of new hentai episodes released, but the downtime was probably perfect for anyone who was trying to beat No Nut November. Though to those who don't care, then here are 5 hentai titles that will keep you busy while we wait for new stuff coming out in December.
5. Muma no Machi Cornelica — Episode 1

Episodes: 1+
Aired: November 2018 - Ongoing
Demons known as succubi roam the world, luring men and draining their lifeforce. But after humans start hunting the seductive demons, the remaining succubi flee and find a place for themselves—a town where they can lure their prey and live in peace. Welcome to Cornelica, the Town of the Succubi. The story begins with Al, a young man who was saved by a succubus and he is currently helping out with community work. And since Al is a man, he is the prime attraction of the succubi residents.
If you're into age-gap sex, the main character Al is a shota and he's getting a lot of love from the two resident big-breasted ladies. The art and animation are good with no bizarre jerky movements and the current cast of succubi are beautifully designed. Which is good because, obviously, a bad-looking hentai isn't gonna get your dick happy for the entire 16-minute experience.
---
4. Ane Chijo♥Max Heart — Episode 2

Episodes: 2+
Aired: August 2018 - Ongoing
After their parents separated and their mother passed away, the eldest sibling, Kisaragi Sarasa, is raising her younger brother Kisaragi Kira. Unbeknownst to Kira, his sister Sarasa is madly obsessed with him and she has been secretly grooming him to be her object of lust.
Kasuri is a nice addition to Kira's harem, but it's hard to tell if a harem ending is possible. Sarasa really loves her brother Kira, spent years grooming him to be her perfect fucktoy/husband and she will not easily hand Kira over to some random bitch. Episode 2 ended in a cliffhanger, so it's hard to tell for sure how things will end.
---
3. Tinderbox — Episode 2

Episodes: 2+
Aired: September 2018 - Ongoing
While the exciting sexcapades of the perverted exhibitionist Amana ended in episode 1, we're still getting more gangbang action with the new main girl Hachimori Sumika. Whoring yourself to forget all your worries instead of drowning in booze is sort of a depressing story and that's exactly what happens to our heroine Hachimori Sumika—an innocent girl who is in love with her brother, Sumika whores herself to men in order to forget the fact that she can't be with her brother and he's already been taken away by her best friend Aya.
The art style is slightly-ish better than episode 1, though at the expense of a "slide show" style of animation techniques. The animation is not bad, but it makes you think Tinderbox might've been a better experience with actual animation. You can't have everything, unfortunately.
---
2. Boku to Nurse no Kenshuu Nisshi The Animation

Episodes: 1
Aired: November 2018
The story of Boku to Nurse no Kenshuu Nisshi tells the story of Takuya working in a hospital for training where Takuya is reunited with his childhood friend Mio who is now a nurse. An unfortunate accident happens when Takuya saves Mio and falls down the stairs, breaking his arm and leg. Feeling responsible for what happened, Mio becomes Takuya's personal nurse and decides to stay with Takuya until he's fully recovered. Will Mio be able to handle her job professionally or will her secret feelings toward Takuya result in something kinky instead?
Boku to Nurse no Kenshuu Nisshi is a 22-minute vanilla experience with a hearty amount of sex scenes and beautifully drawn art that will make anyone with a nurse fetish squeal with delight. It's probably one of the perks for having a great healthcare plan, huh?
---
1. Tiny Evil — Episode 2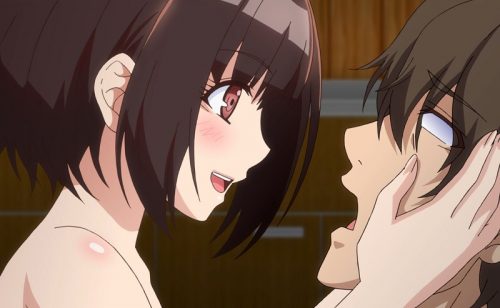 Episodes: 2+
Aired: September 2018 - Ongoing
Episode 2 of Tiny Evil is a direct continuation of episode 1 about a lonely and depressed man who has nothing to live for. After reading an article online on how to summon a succubus, the nameless 25-year-old man successfully summons Miyu, a succubus who is very happy to suck out his lifeforce until he's dead. The man doesn't seem to mind dying given his circumstances but at least he will die happy with his dick erect. Raise that flag high and proud, my man!
Tiny Evil is an adaptation of the popular doujinshi by MUK, and episode 2 of the hentai took some liberties of extending the story by giving Miyu some character development and more cowgirl action leading to a rather heartwarming ending. Let's cross our fingers for the rest of MUK's doujinshi to get hentai adaptations!
---
Final Thoughts
And there you have it! Overall, the titles from November 2018 were great with succubus action and some tasteful vanilla hentai. We gotta give the number 1 spot to Tiny Evil episode 2 though, because it's a great combination of great art, steamy sex scenes, and a cute story.
Oh and... Did anyone actually beat No Nut November? If you're one of the steel-hearted individuals, please give us a holler in the comments section below!
---