So how was No Nut November 2019? Great? Bad? Was it a fucking disaster after seeing a random lewd fanart, reading a manga chapter with an unexpected ecchi moment, or watching an anime episode with one of the girls suddenly flashing their pure white panties on the screen? If you did manage to hold out, congrats to you, buddy! But if you didn't give a fuck about No Nut Nonense and continued fapping anyway, that's good too. The point of that—other than to shamelessly pad out this article—is it's already December 2019 and if you missed out on the hentai anime titles from November, this is a good opportunity to tell you about them.
But of course, we're only talking 5 of the best hentai shows here, so get ready and let's jump right in!
5. Dokidoki Little Ooyasan — Episode 5

Episodes: 5+
Aired: May 2018 - Ongoing
Daisuki is happy with his life in the apartment because he gets to have sex with the little landlady Mayuri… for as long as he pays his rent on time, of course. Anyway, it's pay-the-rent day and Mayuri arrives at Daisuke's room on schedule. This time, though, Mayuri knows it's Daisuke's birthday and to show her appreciation to her number one tenant (the only tenant), Mayuri is going to bake him a "cake."
Dokidoki Little Ooyasan episode 5 is more of the same, so if you're expecting some twist or a change of pace, well, you're not getting it here. Being more of the same isn't exactly a bad thing because if you're watching Dokidoki Little Ooyasan solely for the guilt-free loli action with some femdom on the side, then episode 5 delivers. At this point in the series, we should say the femdom aspect of Dokidoki Little Ooyasan is the best part. Normally, lolis get the short end of the stick so they're the ones who get pinned down and get brutally raped or are the submissive types during sex because their partners are two times bigger than them. There are exceptions, of course, and Mayuri is one of those exceptions—she can take control and can outlast a muscle-bound gorilla like Daisuke. But yeah, Dokidoki Little Ooyasan episode 5 is another great episode, but if you're looking for something different. Let's hope episode 6 will show us something interesting. Or, you know, cross our fingers for the next Tiny Evil hentai anime episode.
---
4. Lovely Heart — Episode 1

Episodes: 1
Aired: November 2019
Schoolteacher and guidance counselor Tanaka is with troublemaker Endou Aina in the Guidance Office for an unspecified school infraction she committed. Things turn sexual, however, when Aina asks if Tanaka is a virgin and if he is really a virgin, Aina will be more than happy to help him lose it.
There's nothing much to say about Lovely Heart because the story is very straightforward, but the presentation is worth noting. The story is divided into two parts with a song performance halfway through the episode by our heroine Aina… which, admittedly, is very cute and provides context as to why Aina has a crush on Tanaka-sensei. The first part plays out from the perspective of Tanaka—He sees Aina as a promiscuous girl and he loses all reason after his lust takes over. The second part plays out in the perspective of Aina—Her slutty personality is just a facade, she's a virgin and is in love with Tanaka, and the story ends in a sweet tone that opens up for a possible sequel. As it currently stands, though, Lovely Heart is a great vanilla hentai and is animated by New Generation, the same studio known for their admiration of lolis (Toshidensetsu Series and Shoujo Ramune). Great sex, beautiful character designs, and everything is well-animated, you won't go wrong with Lovely Heart.
---
3. Aibeya The Animation — Episode 1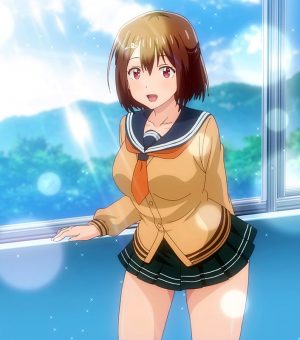 Episodes: 1
Aired: November 2019
Kouta ends up staying at his childhood friend Aki's home after Kouta's mother put their house for renovation and said mother travels abroad with his father. Left with no options, Kouta stays in Aki's room until his house is fixed. Is this a very unfortunate turn of events for Kouta and Aki? or is this a ploy by their parents who want them to be together as a couple?
The story of Aibeya The Animation is simple: one guy ends up living under the same roof as the girl, they fall in love and the two eventually have sex. But what makes the show great is the wholesome presentation—no hints of sexual abuse, rape, manipulation, very good character development, sex that doesn't involve any crazy acrobatics, and a supporting cast who, well, actually supports the characters with their relationship. But the best part about Aibeya The Animation is its deceptively high-quality vanilla sex scenes—the extra animation frames make the scenes feel different. If you enjoyed Aikagi The Animation from August 2019, you'll definitely love this one. Lastly, this OVA clocks in around 26 minutes so you have a ton of sex scenes to play around with and enjoy.
---
2. Love x Holic: Miwaku no Otome to Hakudaku Kankei The Animation

Episodes: 1+
Aired: November 2019 - Ongoing
Demi-humans and humans have settled their differences and the two races are coexisting in harmony. Enter Amano Taichi, a typical high school student who has a thing for demi girls and he flirts with them at school every day in hopes of scoring a demi-human girlfriend. He always fails because the demi girls don't like him, but you gotta give props to the guy for actually trying. One day, Taichi trips and locks lips with Aoe Kuon, the most popular demi girl in school. The accident causes some minor cuts on their lips, but it's nothing serious, so the two go their separate ways.
Or so it seems—Taichi has gotten really sick after the incident and he's been bedridden for a week, but eventually, he completely recovers. At school, Taichi notices something odd with all the demi girls: they're fawning over him for some reason. Taichi soon discovers his bodily fluids turned into some sort of stimulating essence after Kuon's demi-human blood got mixed into his human blood during the accident. His presence arouses the demi girls around him and, well, what else will our hero do after he becomes a literal walking aphrodisiac?
Interesting premise, demi girls, beautiful character designs, high-quality animation, and high-quality sex scenes courtesy of studio Seven, Love x Holic: Miwaku no Otome to Hakudaku Kankei The Animation episode 1 is one beautiful piece of work and it's instantly one of our favorite titles to have come out in November. And if you were in your No Nut November run, this hentai anime could've easily ended your run right away. Yep, Love x Holic: Miwaku no Otome to Hakudaku Kankei The Animation episode 1 is that fucking good. Let's hope episode 2 is even better and will have more demi girls.
---
1. Ore ga Kanojo o *su Wake — Episode 6

Episodes: 6
Aired: April 2018 - November 2019
Our story continues with Rinka devoting her time into prostitution, surrendering her body to the perverted desires of her clients. On one particular day, Ryuuji tells Rinka that there's a client waiting for her in the bedroom, and Ryuuji promises Rinka that he'll fuck her throughout the night as a reward after a job well done. It's kind of dirty to fuck a girl after someone else already came inside her, don't you think? Anyway, upon arriving to the bedroom, Rinka is dumbstruck at who her next client is—her father.
Man oh man, Ore ga Kanojo o *su Wake is just full of surprises with an ending that's more… more… what's the word… "shocking" than the Taser-to-the-Balls Ending from Jitaku Keibiin (2019) episode 2. Ryuuji has completely corrupted both Rinka and the mother Haruka, and both girls practically won't function without getting Ryuuji's cock. Like, to the girls, having sex with Ryuuji is as essential as breathing air. Rinka continues to sell her body to random strangers at Ryuuji's home or in the streets in exchange for Ryuuji's affection and, well, the privilege to suck his cock. The more money Rinka brings, the more loving she gets in return. Haruka, on the other hand, has it easy just being Ryuji's personal fucktoy 24/7.
So how did Ore ga Kanojo o *su Wake end? Well, it's not pretty and we think it's best you watch it and find out. Drugs, NTR, mind corruption, prostitution, bondage, some torture, and degradation of morality, Ore ga Kanojo o *su Wake is one hell of a hentai anime that we still highly recommend any hardcore hentai fan to check out.
---
Final Thoughts
And there you have it, folks, that was Honey's Anime Top 5 Hentai of November 2019! Love x Holic: Miwaku no Otome to Hakudaku Kankei The Animation and Aibeya The Animation are very good new titles and they're among the many hentai anime titles with the potential of being added to our upcoming Top 10 Best Hentai Anime of 2019 list. New episodes of Ore ga Kanojo o *su Wake and Dokidoki Little Ooyasan were unexpected, but they're still a welcome addition to an already great series (spoiler alert: Ore ga Kanojo o *su Wake and Dokidoki Little Ooyasan were in our Top 10 Best Hentai Anime of 2018).
So what do you think of the list and what are your thoughts on the hentai anime titles, especially Ore ga Kanojo o *su Wake? As always, please leave whatever is on your mind in the comments section below!
---