We've now made it to the month of October and things still haven't cooled down, in regards to new hentai. October has brought us an incredible catalog of hentai releases that are sure to please the masses. Our countdown consists of a variety of producers; including a newcomer to the list this year, Gold Bear. The content this month touches base on, incest, loli, aphrodisiacs, magic devices, and bondage. Kick back, relax, and let Honey's Anime bring you our five favorite hentai releases of October 2017.
5. Kime Koi! - Episode 1

Episodes: 1 (as of Oct. 2017)
Aired: Oct. 2017 - ?
Let us commence this countdown with the first of two releases from Mary Jane in the month of October, Kime Koi! This release is notable for having the shortest runtime out of any to make it on to this list, clocking in at less than 16 minutes.
Hajime is a student who finds himself in the all-too-familiar position of being in love. His affection is towards a well-developed classmate by the name of Megumi. Megumi is an immensely popular student and despite Hajime's feelings, he hasn't had the nerve to confess to her. That all changes one day when Hajime meets with one of his friends, Misa, and creates a potent drug that will surely increase Hajime's chances with Megumi. With the assistance of Misa, their plan seems to be foolproof.
The first thing that might come to mind is, "it's another aphrodisiac hentai". This genre has loads of content featuring some unique ways of telling stories and utilizing drugs as a tool of lust. Kime Koi! doesn't change the genre any with its take on a concupiscent-inducing drug, but the way it's used in the story is mildly refreshing. The potent drug isn't used with ruthless intent for revenge or unlawful intercourse; it's used to increase Hajime's chances with the girl of his dreams. It's a breath of fresh air and Misa, the creator of the drug, adds some extra spice to the story.
---
4. Ryuudouji Shimon no Inbou - Episode 1

Episodes: 1 (as of Oct. 2017)
Aired: Oct. 2017 – ?
Ryuudouji Shimon no Inbou came out on the 20th of October, making it the inclusion on this list that didn't come out on either the first or last Friday of the month. It was produced by Gold Bear, who are making their top 5 monthly hentai debut.
Ryuudouji Shimon no Inbou is about a sinister group, in particular, a former science teacher named Shimon, who receives an ominous invitation to join a prestigious school. When he enters the school he soon realizes that this isn't your ordinary school. There's a deep and dark secret that only a select few know about. Shimon is instructed to train these students as sex slaves by any means necessary. These women need to be primed so they are compatible with enthusiastic buyers in the marketplace for sexual release.
Just like several other releases by Gold Bear, the primary focus of this hentai is the training of sex slaves. Gold Bear doesn't have a ton of releases, but the content that they've produced over the last couple years has certainly given them a reputation for this subject matter. If you're familiar with their other content then you know what to expect. It uses a creep to set the tone of the episode. He's not afraid to get wild and punish people. Ryuudouji Shimon no Inbou uses a unique art style and follows up with frantic camera shots and movements.
---
3. Tensei Kendo no Harem Colosseo - Episode 2

Episodes: 2 (as of Oct. 2017)
Aired: May 2017 – ?
For the third time in as many months, a PoRO release has been selected as our number three choice. You would have to go all the way back to June to find a PoRO hentai that didn't rank at number three when included on our countdown.
The story for the second episode of Tensei Kendo no Harem Colosseo takes on a slightly different form. It depicts the behind-the-scenes nature of what happens prior to the battles in the Coliseum. One of the support characters from the first episode, Litius, of the Badger tribe, makes her presence felt immediately; sending Duranta to see the princess. While Duranta is out of the picture, it affords Litius some more one-on-one time with Rigucio; and she certainly takes advantage of it.
The second episode of Tensei Kendo no Harem Colosseo is a rather unique release for PoRO. What we mean is that the female star of this episode takes on the look of a flat-chested loli. PoRO is no strangers to creating lolis, but most of them are voluptuous, whereas this silver-haired minx is not. We have to give them credit for breaking the mold in this episode. There's a sharp contrast between the girls from episode one and two. The rest of the episode has your standard vanilla h-scenes. Loli enthusiasts should definitely check this episode out.
---
2. Tamashii: Insert - Episode 2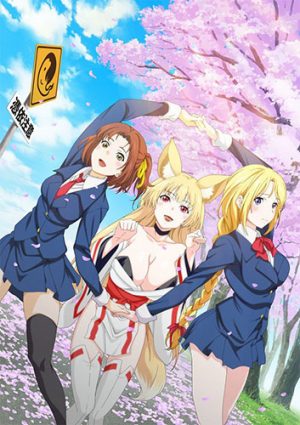 Episodes: 2
Aired: July 2017 – Oct. 2017
As we continue on with this sizzling countdown we have to mention that this is our other Mary Jane release on this countdown. In addition to that, it's the second time this year that we've included two Mary Jane series in one month on our top 5 monthly hentai countdowns.
The second episode of Tamashii: Insert continues with the same concept of having Naoto Takahashi use a magic app to further stimulate his curious nature. This time, however, Naoto decides to use it on a couple of his classmates, instead of his sister. Naoto uses the app to transfer his consciousness to several newcomers and finds himself in a sticky situation. To top it all off, he has a meeting with a powerful god who allowed him to possess people in the first place.
We believe that the second episode Tamashii: Insert took it up several notches in a variety of ways. The first reason was the addition of more females. The first episode featured one girl, whereas this episode gave us three to indulge in. The next thing was the expansion of the app. Naoto was thrown into a rather comical situation where he thought he was going to take advantage of Arisa. It turned out to be a scenario that no one would have guessed. Finally, the last bit we enjoyed was seeing what was behind the true power of that mysterious app, and boy, were we ever pleased.
---
1. Imouto Bitch ni Shiboraretai - Episode 1

Episodes: 1 (as of Oct. 2017)
Aired: Oct. 2017 – ?
If you've been following us throughout the entire year, you shouldn't be shocked at our decision for the number one hentai release of the month. At this point, I think we've started to sound like a broken record, but the collaboration effort between Lune-Soft and T-Rex has done it again, this time with Imouto Bitch ni Shiboraretai.
The story of Imouto Bitch ni Shiboraretai revolves around an unassuming brother and sister who were unaware of what was about to transpire. The brother was invited to an overly friendly mixer at a karaoke lounge. Unbeknownst to Mina, she would get an invitation to a similar gathering. Naturally, they both find themselves at the same mixer. In addition to that, the stakes are raised as the group decides to play the King's Game. Mina and her brother don't want to ruin the mood so they play along, to some surprising results.
Imouto Bitch ni Shiboraretai brings together more of the same great visuals you would expect from the studio, T-Rex. Everything is so vibrant and well-detailed. All three girls are voluptuous and are a treat to look at. The scenario that Mina is placed in would normally be considered taboo, but this is hentai we're talking about, all it does is add a bit of spice to the situation. The mixer party plays out erotically and once Mina adjusts to her brother, things really start to pick up. Our only wish was to see more action from the other two girls, but we understand who the focus was.
---
Final Thoughts
That does it here. We've come to the end of another thrilling monthly hentai countdown. While this month might not stack up as strongly as September, there was more than enough content to sink your teeth into. There were some pleasant surprises, most notably our fourth section, Ryuudouji Shimon no Inbou.
How did everyone else feel about this month's releases? Was Ryuudouji Shimon no Inbou a sleeper hit for you as well? Regardless of how you feel, we would love to hear your thoughts, so please leave them in the comments section below.
Until next month, we hope you enjoy the recommended episodes that we've offered on this countdown.
---