Spoiler warning: October 2018 is another great month for hentai; so much so that we're not listing another studio Queen Bee animation! We love to make fun of studio Queen Bee, but what can we do but be constantly disappointed at seeing popular manga getting the Flash animation treatment?
But yeah, no Flash animation hentai for the list for October 2018 and the new titles are some of the best we've seen. There is one returning title, so the list isn't completely new. Let's get started!
5. Dokidoki Little Ooyasan — Episode 3

Episodes: 3+
Aired: May 2018 - Ongoing
Our little landlady is back and this time with new costumes and roleplaying to encourage our hero and tenant Daisuke to pay his rent.
What else is there to talk about Dokidoki Little Ooyasan other than watching non-stop pseudo-loli sex topped with costumes, footjobs, and femdom action? Nothing much else, actually. More of the same thing, again, is essentially not a bad thing and Dokidoki Little Ooyasan is consistent with its content. If you're a fan of cosplay and roleplay sex, then Dokidoki Little Ooyasan will not disappoint.
---
4. Kyonyuu Dosukebe Gakuen — Episode 1

Episodes: 1+
Aired: October 2018 - Ongoing
Higashi Shouta enrolled in a prestigious school where girls learn manners and etiquette. But on the inside, the girls are nothing but classy—they're all uptight bitches and the school's popular club, the Ladies Club, is notorious for toying with men through sex and the members boast having slept with more than a hundred men. On one seemingly normal day, Shouta happens to pass by the club and overhears that the girls are still virgins. To no one's surprise, Shouta gets caught by the members of the club and forced to join in order to silence him. Luckily for Shouta, he's the right person to help these girls actually live up to the reputation of the Ladies Club.
It's not correct to call Shouta a shota, but due to his short height compared to the girls, he might as well be one. Kyonyuu Dosukebe Gakuen is both an amusing and kinky hentai anime with the right amount of femdom and humiliation scenes. It does kind of suck that episode 1 focused on one girl, though let's cross our fingers we'll get to seem some threesome or foursome action in the next episode.
---
3. Kyonyuu JK ga Ojisan Chinpo to Jupo Jupo Iyarashii Sex Shitemasu. — Episode 1

Episodes: 1+
Aired: October 2018
Episode 1 is a collection of 3 stories featuring middle-aged men who are fortunate enough to have women acquaintances who are into older men. These men are your typical fat, ugly and balding types, but as we stressed before, you hardly see their faces 90% of the time. Actually, the hentai was kind enough to pixelate their faces.
Kyonyuu JK ga Ojisan Chinpo to Jupo Jupo Iyarashii Sex Shitemasu is a fantasy for men who are worried that their old age won't get them teenage pussy. Other than that, the next episode will likely have an orgy and potential partner swapping, so it's something to look forward to.
---
2. Hatsujou Switch Otosareta Shoujo-tachi The Animation — Episode 1

Episodes: 1+
Aired: October 2018 - Ongoing
Oshio Tsubohachi is a genius acupressurist and he has the ability to spot pressure points in women that, when pressed, instantly turn them into sex-starved sluts. With his power to turn even the most iron-willed girl into a nymphomaniac, Tsubohachi scours the streets for delicious prey. Once he flips the girl's switch, only his dick can switch it back off.
Speaking of ugly men having their way with the ladies, Hatsujou Switch Otosareta Shoujo-tachi The Animation is exactly that, but this time, our hero uses acupuncture points to submit the girls to his will. It's not exactly hypnotism because the girls are fully aware of their actions, but their bodies can't handle the arousal and end up willfully bending over to get creampied by a random stranger. There's a bit of NTR and some form of poetic justice, so some of the girls had it coming.
---
1. Oyasumi Sex — Episode 1

Episodes: 1+
Aired: October 2018 - Ongoing
Oyasumi Sex is a very simple vanilla incest hentai with an unexpected decent character build-up. The episode is split into different parts from the perspective of the brother and the perspective of little sister Yui. The brother, Akira, is determined to raise his little sister after their parents passed away; but as years go by, Akira is finding it difficult to play the father figure while ignoring Yui is growing up into a woman. From Yui's perspective, she has a crush on her brother but she can't conjure up the courage to express her feelings, though she already accepts his love by letting Akira touch her body while pretending to be asleep.
Vanilla hentai still has its audience and Oyasumi Sex is a good example of one. It has no extreme sexual acrobatics or gangbang, but it's the build-up of the story that gives meaning to why two people end up making love. Perverted feelings aside, Oyasumi Sex is October's number 1 hentai title to check out.
---
Final Thoughts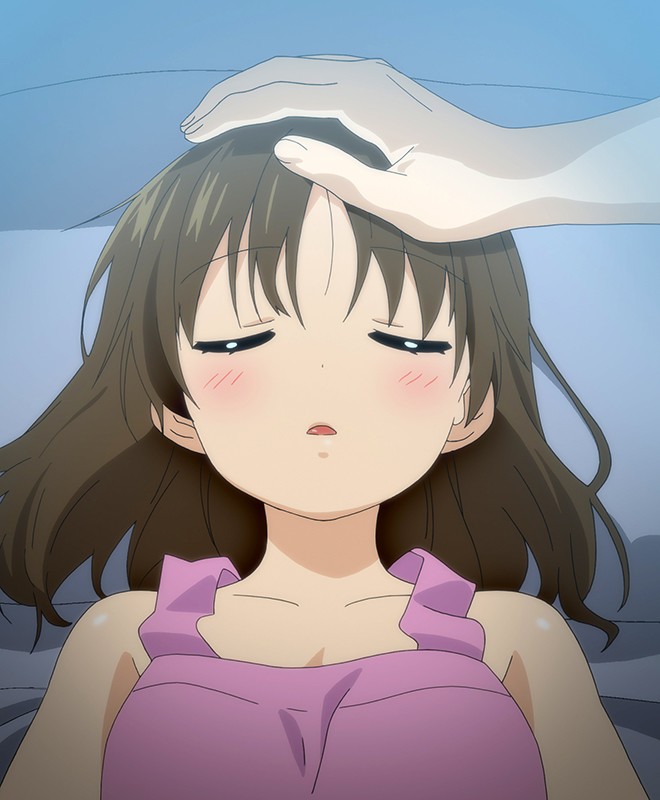 And… that's our list for October 2018, folks! What do you think, though, dear reader? There's a comment section below, so, you know, start typin', fellow perverts!
---
---