We've now entered the fall season and while temperatures are starting to cool down in the month of September, things are scorching in the world of hentai. This month had eight serious contenders to make our list but unfortunately, we only have five spots for them. Regardless, hentai enthusiasts should rejoice with the sheer amount of content we received in September as this month was one of the biggest, in terms of content released this year.
5. Jitaku Keibiin - Episode 4

Episodes: 4 (as of Sep. 2017)
Aired: Mar. 2017 - ?
Kicking off this list is a hentai that has made an appearance on our monthly top 5 hentai countdown with each and every single episode released to date. Jitaku Keibiin has now reached its fourth episode in this scintillating series from Suzuki Mirano.
The fourth episode in Jitaku Keibiin features all the previous females from the first three episodes, including Yuki's green-haired friend, Narumi, from episode two. The past episodes of this series each focused on one of the girls in the Tsunetaka household. In this episode, all the girls are featured and share the spotlight. Kareki, the son of the house, now has complete control over Sayaka, Yuki, and Shouko. These females will bend to any whim as Kareki continues to exploit them for his own personal justice.
In our opinion, Jitaku Keibiin is a series that continues to get better and better with each new installment. The reason our rankings haven't reflected that is because each month varies, in terms of quality releases. September just so happened to be a month with an above average amount of depth and it left Jitaku Keibiin at number five. Despite its ranking, Jitaku Keibiin brings forth its best effort with four different girls getting in on the action; individually and as a group. The females of the Tsunetaka household are sure to please.
---
4. Toriko no Kusari - Episode 2

Episodes: 2
Aired: Jun. 2017 – Sep. 2017
Toriko no Kusari was released on the second Friday of September; making it one of two inclusions on this countdown to see its release in the first half of the month. This is the finale episode to Mary Jane's sole release of the month.
Episode two of Toriko no Kusari continues where the first episode left off. Konomi and Rinka walk in on Yui in a compromising position at the school's pool. Before the girls could react, Demura, a teacher at the school, zapped the two unsuspecting girls with a stun gun and brought them to the science room. Demura has a hidden agenda and is working with the malevolent males from the first episode. Demura wants to test out his new drug on Konomi and Rinka, without their consent.
Toriko no Kusari continues down a dark path with the continuation of non-con sexual relations between Mio's group of friends. Unlike the last episode, this one has three females partake in lengthier h-scenes. Apart from a brief situational break, the entire episode is drenched with sexual intercourse. The remaining bits of the story are uncovered while the loathsome males get what they want. If you were a fan of the first episode and expected even larger breasts from the rest of the group, you won't be disappointed.
---
3. JK to Ero Konbini Tenchou - Episode 5

Episodes: 5 (as of Sep. 2017)
Aired: Feb. 2016 – ?
Pick number three, JK to Ero Konbini Tenchou is by far the longest-running series on this countdown, spanning 19 months and five episodes. This PoRO produced series is likely to end in December with episode six. That would be an impressive feat as it's nearly unheard of for a hentai series to contain six or more episodes.
The story of JK to Ero Konbini Tenchou continues to get weirder and weirder with each new episode. This particular episode sees the continuation of Yoshihiro having his way with his niece, Yui and her cousin Shiori. The story takes us on a new course after Yui's mother and Yoshihiro's older sister, Mao, finds out about what her brother has been up to. Yoshihiro finds that Mao is far too invasive and together the corrupted Yui and Shiori devise a plan to try and eliminate Mao from the picture.
As we mentioned before, JK to Ero Konbini Tenchou continues to introduce one extreme after another. It wasn't bad enough that Yoshihiro had essentially broken Yui and Shiori, but now Mao gets involved and things start to progress to a darker path. PoRO's content speaks for itself, with its outstanding art and animation. What PoRO's not known for, is featuring many MILF characters. Fortunately, episode five ushers in a welcomed change and breaks the mold for much of PoRO's adaptations. Mao injects some life into this series, and in all honesty, we can appreciate age diversity in most series.
---
2. Residence - Episode 2

Episodes: 2 (as of Sep. 2017)
Aired: May 2017 – ?
Continuing on we come to Studio EDGE's latest piece of content, Residence – episode two. Back in May, the first episode was able to just crack our top 5 list and now here's the second offering from this series, at number two.
Episode two of Residence tells a tale about a former treasures hunter's experience of fright and pleasure that he received in an abandoned mansion. The story kicks off in 1799 and explains exactly what happened to the residents of this secluded mansion; in particular the blonde-haired girl from the previous episode. A demon that she conversed with seen her desire and granted her wish to trade places. Now the demon continues to manipulate Bullet, the treasure hunter, by materializing his deepest desires.
This series continues to satisfy with its gloomy setting and wonderful use of the supernatural elements throughout. The characters are well-detailed and have a sense of lust to them. Residence episode two maintains its gender-bending rules, and in fact, takes it up several notches with this release. The antagonist (I use that term loosely) is subjected to several gangbangs. What makes theses gangbangs unique is that this antagonist starts out as a male enjoying numerous females and then the tables turn and he becomes a female enjoying several males.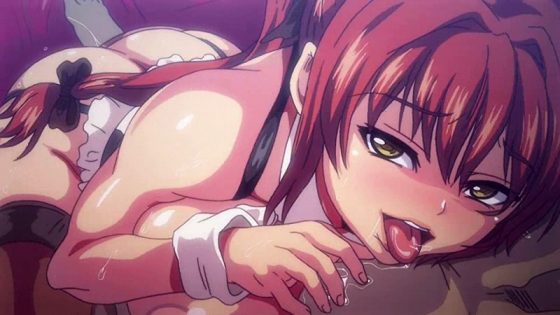 ---
1. Oide yo! Mizuryuu-kei Land - Episode 2

Episodes: 2
Aired: Aug. 2017 – Sep. 2017
It should come as no shock that the second episode of Oide yo! Mizuryuu-kei Land would make the top spot on this month's countdown. That makes it two months in a row that the collaborative effort by Lune-Soft and T-Rex has topped our list.
The story of Oide yo! Mizuryuu-kei Land revolves around an overly sexualized adult theme park titled Mizuryuu-kei Land. It's a sexual paradise where almost anyone can go to and relieve stress. That doesn't change much at all during this second episode. Several new characters are introduced as we follow their sexual escapades, as they aim to please as many people as possible throughout the park. The lower body idols, Horny Sentry, literally take center stage with many lustful eyes watching over their performance.
Oide yo! Mizuryuu-kei Land delivers everything we want in this fantasy situation. It sustains its incredible visuals and transitions from night to day fairly regularly in this episode, giving an authentic feel to this park. The Horny Sentry consists of a quartet of lewd idols who put on a tremendous show for the visitors of the park. This episode also maintains some of the most provocative clothing you're going to see in a hentai series. Between the clothing, the fantasy and the visuals, this was our favorite hentai release of the month.
---
Final Thoughts
That will conclude one of the best months for hentai this year. We thought the summer months brought a ton of sizzle and while they did, we could certainly make a case for September outdoing either of those months. That might be a bold statement for some hentai fans, but we feel September stacks up extremely well in 2017.
This is also an interesting month as this countdown featured no new introductory series; a first for Honey's Anime. What does everything else think about that? Did you feel that this month delivered some of the best hentai releases overall this year? We'd love to hear your thoughts on the matter. Drop a line in the comments section below!
Until next month, we hope you enjoy the recommended episodes that we've offered on this countdown.
---