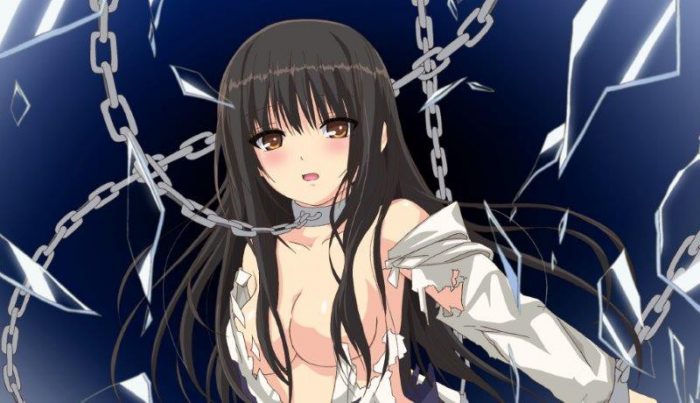 September 2018 has seen little hentai action, but fortunately for us, the ones that did come out were great with new titles and new episodes of past favorites. If you missed September, then don't worry because Honey's Anime is, as always, here to recommend the Top 5 Hentai Anime of September 2018. Strap in, folks! We're going balls deep with this one!
5. FuriFure 2 — Episode 4

Episodes: 4+
Aired: February 2018 - Ongoing
Shinozaki Sumire's mother has passed away, and with no financial support from her relatives, Sumire has resorted to prostitution. Sumire's first night turns out fine because her client is a young man who isn't a complete pervert. Well, unexpectedly, the man Sumire had sex with turns out is a student teacher in her high school.
We didn't cover FuriFure 2 very much because we felt that the anime is your typical PoRO flair—If you've seen a studio PoRO-produced hentai, you've practically seen them all, with the same soundtrack included. The reason why FuriFure 2 is in this month's list because it's the better title compared to another one that got unfortunately animated by studio Queen Bee. Regardless, FuriFure 2 still has PoRO's tasteful vanilla sex scenes and attractive character designs which outweigh any of its PoRO's samey nature and shortcomings. There's little room to complain when a hentai title is well-drawn.
---
4. Daisuki Mama — Episode 2

Episodes: 2+
Aired: August 2018 - Ongoing
Episode 2 tells the story of Akira, a young man who is madly in love with his aunt Saori. Akari quickly confesses his feelings to Saori and seized the opportunity to make her his, all while keeping their relationship away from the hubby and son.
A pretty by-the-numbers story, but still enjoyable with more MILF action. Character development is okay for a hentai title with Saori expressing her thoughts as to why she ended up accepting the love of someone younger than her. It has some NTR elements into it with Saori favoring her young lover's vigor and eagerness for sex over her neglecting husband. Yeah, Akira is a literal motherfucker.
---
3. Toshi Densetsu Series — Episode 6

Episodes: 6+
Aired: January 2016 - Ongoing
As it turns out, all of the ghosts from the previous episodes are very close friends! Hanako of the Bathroom is feeling depressed and Sadako is quick to notice… sort of. The relationship between Hanako and Okuda-sensei isn't as strong as it used to it seems, and it's up to Sadako, Hasshaku-san, and Mary-chan to patch up the problem before it's too late.
This may be the final episode of the long-running series because we get to see all of the ghosts from the previous episodes and the anime ends with Hanako getting the happy ending she deserves. The art is still great, some of the animation is a bit wonky, but the sex scenes featuring the loli and/or shota action the series has been known for are as great as ever.
---
2. Soikano: Gyutto Dakishimete The Animation — Episode 1

Episodes: 1+
Aired: September 2018 - Ongoing
Kozuya Kouhei sneaks into an abandoned greenhouse near his school and decides to take an afternoon nap. Kouhei's nap time gets a little better when he finds out there's an angel sleeping on his chest. The girl's name is Kumakura Yoake and she's the club president of the gardening club; and their activities include gardening and afternoon napping. Along with the new members joining the gardening club, Kouhei and Yoake's nap time gets better and better.
One of the more well-rounded romance hentai. The art style may look off in certain scenes, but overall, the art style is clean, vibrant that, at some point, Soikano feels like you're watching a non-h TV anime. The two sex scenes are straightforward vanilla, and it's kind of disappointing that the entire episode is dedicated to one couple. But on the flip side, Yoake is cute, likable, and she looks beautiful in bed.
---
1. Tiny Evil — Episode 1

Episodes: 1+
Aired: September 2018 - Ongoing
A depressed nameless 25-year-old summons the succubus Miyu after reading a summoning guide online. As with any succubus out there, Miyu wastes no time sucking the life force out of the man. Here's the twist, though: The man doesn't care that he's going to die.
Tiny Evil has it all: decent art and animation, a fairly decent story, a cute loli, femdom, and succubus action. The only gripe we can think of is the adaptation gave Miyu a bigger bust size. It's not a huge size increase, but it's noticeable if you compare hentai Miyu to doujinshi Miyu. This is a deal breaker to someone who wants a true loli experience, but on the plus side, the change is to save you from going to prison! Trust us, you really don't want to be Bubba's next girlfriend.
---
Final Thoughts
Bad jokes aside, Tiny Evil episode 1 is very enjoyable and is September 2018's top hentai title. If you've been following the doujinshi series, you'll know why the series is called "Tiny Evil," we're probably looking at a hentai anime that will be in the top spot in the next few months.
Oh and one piece of advice if ever you do end up in prison: Never, ever bend over when your fellow inmates ask you to pick up the soap he dropped in the shower room.
---