Nuns and priests, crosses, and a pulpit: put those three together and you know what we`re thinking? Religious hentai! We love the idea of the disciplinarian nun with her yard stick in her hand, the humble, novice priest turned by dark sexy forces of the deep, and at the center where it all takes place: the pulpit at the heart of the church. But mainstream religious symbols aren`t always depicted in religious hentai. Sometimes we see some different kinds of characters, priests from cults, demons summoned by magic, or different symbols that make a religious hentai religious.
Religious hentai, though, can be controversial. Religious characters represent purity, but hentai aims to corrupt those pure and innocent characters. Put them together and you get an unforgettable viewing experience. How does hentai represent purity and innocence? We can see purity and innocence through character development and through the hentai`s artwork. No matter the genre, hentai must feature some great sex scenes, otherwise, it just wouldn't be a great hentai.
As always, Honey`s is looking out for the best religious hentai, because luckily, we love religious hentai just as much as you do. We`re always on the lookout for great sex scenes, complex storylines, and beautiful artwork to complete the hentai. Finding just that, we compiled this list of the top five religious hentai.
5. Sins of the Flesh

Episodes: 1
Aired: April 30, 1999
Called to serve God, Aldopho finds himself at the center of a moral conundrum. An engaged village girl, Michaella, turns him on, even only after a brief encounter. When a demon in Michaella`s form appears to him and beckons him to bed, Aldopho follows willingly, discovering that the real Michaella harbors her own, secret feelings.
This hentai is nearly 20 years old, so why would we select it for fifth place? One point: the art in this show is beautiful. Each frame is like opening an art book that features realistically drawn and developed bodies. The paintings of the of the angels are amazing too.
Sins of the Flesh is a great story with beautiful art. Although this hentai`s sex scenes are vanilla, they`re not boring. The art in this hentai makes for a realistic viewing experience: this is how bodies might react in the real world. The art work in this hentai is also important because it represents purity, and even though Adolpho is about to experience sexual corruption with the demon, he does so in search of a pure encounter with the real Michaella.
A poignant story, Sins of the Flesh`s beautiful art and Aldopho`s character development in this short series makes this hentai into our top five list of religious hentai.
---
4. Bible Black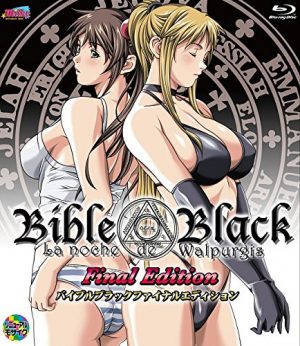 Episodes: 6
Aired: July 21, 2001 to June 25, 2003
Take a teenage boy, Taki Minase, his magical, sexually available penis, an all-girls school where the female students and teachers are begging for a chance to be with him, and more religious symbolism than could possibly handle, and you`ve got Bible Black!
This is a classic hentai with an impressive storyline, unforgettable characters, and most importantly, some of the most devious scenes we`ve ever seen. Not for the faint of heart, Bible Black has some violent scenes with an almost excessive amount of blood, even for a hentai. The sex scenes in this hentai though are worth the watch.
Fetishy and a tad violent with enough ritual bloodletting, Bible Black is a combination of the school girls and boys with religious overtones. The complex storyline is great, although the religious overtones are not based on established religion, but more on the occult, viewers should come away with an understanding of why we put Bible Black at the number four position of our top five list.
---
3. Crimson Climax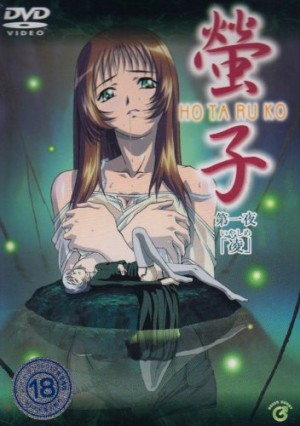 Episodes: 3
Aired: February 21, 2003 to September 25, 2003
Religion in hentai doesn`t have to be mainstream. Major religion often influences anime and hentai alike, but sometimes, it`s just a few images or a few lookalike characters that the viewer will recognize. Other times, the occult finds its way into religious hentai. The occult creates a lot of creative room to develop different characters and the different ways in which they start playing out their sexual fantasies or become the playthings of different occult members. That brings us to our number three entry.
Crimson Climax features an average but cute girl, Ryou, who finds herself on an island with strange, sexual occultists. The cult is dangerous, as the victims find themselves being taken for the sexual enjoyment of the different priests on the island, and then brutally sacrificed in a strange and bloody ritual.
So far, we`ve been talking about heterosexual pairings, but this hentai is on our list because of its great yuri scene between Ruka and Kasumi. In this fantastic scene, Ruka is her innocence during her sexual awakening with Kasumi. This scene also adds to Kasumi`s character development, as we discover that Kasumi doesn't quite care for Ruka as much as Ruka wants Kasumi to: as soon as he enters the room, Kasumi quite literally pushes Ruka towards her father, the Priest Mizuno, and lets him finish with her.
Watch out for this hentai, though: the mannequin scenes are really, very creepy.
---
2. Hime Dorei

Episodes: 2
Aired: June 25, 2008 to October 25, 200
Rape, gangrape, and demon gangrape: Hime Dorei in a nutshell. Why is this hentai on our number two spot for religious hentai? Magic, magicians, and summoners, we see an extension of the occult in this anime.
Hime Dorei`s main antagonist, Waldo, is a magician. Using his magic, Waldo seeks revenge on a kingdom ruled by a pair of sisters, Liese and Tita. Taking each sister one at a time, Waldo uses his magic to transform himself into a shadowy-black figure with glowing red eyes and a literal white, hot penis. Not being able to withstand Waldo`s magic or his summoned demons, the sisters are raped by Waldo and demons.
Summoning demons to punish the sisters, Waldo eventually becomes the new ruler of the Luvence Kingdom. While the rape scenes in Hime Dorei aren`t particularly graphic, they might be disturbing for some viewers. Rape is a common action in hentai, and each viewer will have a different opinion about what is good for them, or not.
Coming in at number two on our list means this hentai must be impressive and we`re definitely impressed! Tita is a pure and innocent character, depicted through her actions and the hentai`s artwork, who is forced to give up her virginity for the sake of her kingdom. Like those hentai we mentioned before, the violation of pure and innocent characters helps to form religious hentai. Rape scenes are often the way religious hentai shows that violation.
---
1. Princess Knight Lilia

Episodes: 6
Aired: June 2, 2006 to July 30, 2010
Strong women corrupted by dark, sexual forces make Princess Knight Lilia the top spot for our top five religious hentai list.
Determined to inherit his father`s throne before his sister, Dirk enlists the court`s enchantress, Kiriko, and the demon summoner, Sand, to help him in his quest to become ruler of Leuven. Making a public mockery of his sister, the princess knight Lilia Evelvine, and rightful heir to the throne, the trio use every form of perverse acts they can muster, and that she can take.
Of course, we love character development and the artwork that can depict some of the pure and innocent characters that religious hentai has, but we also love watching those characters lose their purity and innocence through sex. That being said, the sex scenes in this hentai are some of the best we`ve ever seen.
Princess Knight Lilia depicts almost every kind of sex scene imaginable. Tentacle sex, incest, and monster and demon penetration are just some of the sex scenes this packed series has to offer. Definitely not vanilla and definitely not for more passive hentai viewers, Princess Knight Lilia has something for everyone, for every fantasy and fetish, making it our top pick for religious hentai.
---
Final Thoughts
Purity and innocence can be depicted through a variety of ways, but hentai uses beautiful artwork and character development to show pure and innocent characters. Not always overtly religious, religion hentai can show a variety of themes and symbols to make it religious. Nuns and priests can exist in the religious hentai realm, but there are some other hentai out there that are religious hentai without being too focused on mainstream religion. Give us the occult any day of the week, because that makes for a great religious hentai too.
We hope you enjoyed our top five religious hentai list and will check out our recommendations. Let us know what you thought, and don`t forget to comment with some of your own top five religious hentai!
by Lucy Leighton