También puedes leer este artículo en:Español
Hentai has very few limits and just about anything goes. That's why hentai has become home to a lot of very unique fetishes and themes that stretch the imagination, and bring to the screen situations and sex that people may have never thought possible. It also means that a lot of very niche interests can be met, no matter what they are, including things that could never be achieved in typical porn. One of the least known, but no less important to its fans, is vore hentai.
Vore hentai comes from vorarephilia, or a desire to eat something alive or be eaten alive, and getting sexually aroused by this idea. It can include ideas like intense penetration that deforms or harms the body, belly inflation, and body parts or fluids being ingested in an over-exaggerated way. Another extremely common trend in vore is that the female is the victim, and the male is some kind of monster or alien creature. And of course, hentai doesn't disappoint and caters to this unique interest. Vore is a lot more common in fanart, comics, and doujinshi (fan comics), and there aren't any hentai currently that are 100% vore. However, there are many that have vore themes present, and we have our favourites here for you on our list of the Top 5 Vore Hentai!
5. Allargando The Animation

Episodes: 1
Aired: May 2015
Allargando The Animation is about two different girls and the unlikely men that they have sexual encounters with. The first is An, a girl who works in a maid themed massage parlour. While Sataki is a confident and attractive man, An prefers his less conspicuous and more introverted friend Koide, who she pampers and caters to exclusively. The second is about a school idol named Aoyagi. She makes sex tapes that feature herself and sells them to an unpopular schoolboy names Nozaki. Her reason is not a pleasant one.
Allargando The Animation is the newest entry on our list, and the only one not containing monsters or other non-human characters. Everyone in the story is indeed human. So where is the vore? It comes in the form of an intense amount of bodily fluids that are ingested by the characters during their sexual encounters, and from the style of the anime itself. The animation is crude, and the penetration is focused on very intensely.
While the characters do seem to always enjoy it and no one is being forced into sex, it is still done in an intense and over-the-top fashion. At only one episode, Allargando the Animation is a great introduction to the vore style for someone curious to try it out, without being too intense.
---
4. Injuu Gakuen La Blue Girl (La Blue Girl)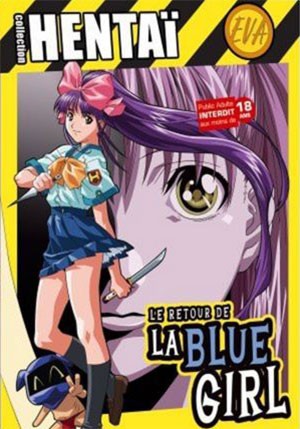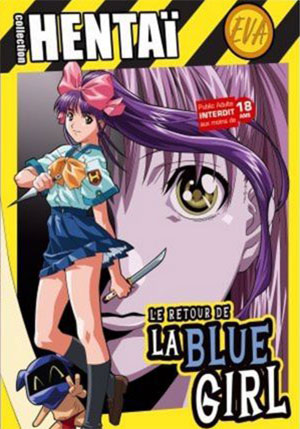 Episodes: 6
Aired: Jun. 1992 – Sep. 1993
In the world of Injuu Gakuen La Blue Girl, there exists a generations-old feud between the Miroku and Suzuka ninja clans. Miko Mido is the current descendent of the Miroku clan, and is learning how to use their very special power - a compact that controls the Shikima, or sex demons. Anyone bathed in the light of the compact falls under the assault of the Shikima. And now, the Suzuka clan has taken the compact! And on top of that, Miko's sister Miyu has been bathed in the light and taken away to the demon realm. Miko needs to not only defeat the Suzuka clan and regain the compact, she also has to save her sister from the wrath of the sex demons.
Injuu Gakuen La Blue Girl is the most classic anime on our list, but shouldn't be quickly disregarded – it's one of the best-known hentai for featuring vore. It also has monsters and demons central to its sexual sequences. This hentai features monsters with extremely oversized penises penetrating a lot of female characters, both willingly and unwillingly.
In some cases, the sex will even transform the body of the female into something else entirely, or even destroy their physical body. Injuu Gakuen La Blue Girl also has the idea of something being forcefully inserted, and then grown, in a girl's womb – definitely a unique concept that helps land this hentai squarely in the vore category.
---
3. Makai Kishi Ingrid

Episodes: 4
Aired: Jun. 2009 – Aug. 2010
Makai Kishi Ingrid is the story of Ingrid, a knight who tries to protect and save Tokyo from being taken over by dark monsters and demons. She has a long history of success in stopping them, which has given her quite the reputation amongst Tokyo's darkest creatures. When she is attacked by a leader of the group Kanomado, Ingrid finds herself at the mercy of many creatures that hate her and remember what she has done to their kind. That leader, named Sabato Kiryuu, gives the monsters permission to take revenge on Ingrid's body and do whatever they want to humiliate her and find their own pleasure in her suffering.
Most of the sex scenes in Makai Kishi Ingrid are group based, with many monsters and demons taking their turns to assault and humiliate Ingrid. Often, she is touched and penetrated by more than one creature at a time, her senses fully assaulted while she is unable to fight back. Between their tongues and their penises, the monsters show Ingrid no mercy or reprieve as they take out all their sexual frustration on her - and gain revenge for everything she has done to their kind. All that group monster sex has is a very vore feeling to it, especially when Ingrid finds herself enduring double penetration, which puts Makai Kishi Ingrid on our list.
---
2. Soukou Kijo Iris

Episodes: 4
Aired: Nov. 2007 – Sep. 2009
Soukou Kijo Iris is a science fiction story about Iris, a mecha knight who finds herself behind enemy lines during a mission. Sold to the highest bidder on an alien planet, she is advertised as highly desirable and expensive despite being human because of an important detail - she's a virgin. This certainly gets the attention of the crowd, and before long Iris finds herself in her new owner's clutches. And that's just the beginning of the story! What will happen to Iris at the mercy of these aliens?
All of the sex in Soukou Kijo Iris is with aliens, and not sexy and attractive ones - they are all modelled after monsters, and complete with tentacles, penises that can split into multiple sex organs, multiple snake-like tongues, and more. When Iris is faced with those sorts of males all vying to take whatever they can from her, you can expect some really hardcore monster-style sex scenes.
Iris is penetrated so deeply she even complains of pain from having something so far inside her, and sometimes the animation shows her stomach being deformed. And there is plenty of tongue action too, don't worry. For some intense vore with a science fiction twist, Soukou Kijo Iris has you covered.
---
1. Himekishi Lilia

Episodes: 6
Aired: Jun. 2006 – Jul. 2010
Lilia is next in line for the throne in the fantasy hentai Himekishi Lilia. But as with many stories of royal lineage and inheritance, her brother is jealous and wants to take the throne for himself. Thus Dirk, her brother, agrees to team up with a demon to capture Lilia and take the throne for himself. The price? He has to get the demon Lilia's secret power, which can only be unlocked when she is brought to the height of sexual ecstasy! In the end, Dirk captures not only Lilia but his mother the Queen and Lilia's attendants as well. But getting her secret power for the demon is proving to be easier said than done...
Himekishi Lilia has some very intense sequences of sex with monsters, and it's specifically a scene with a giant ogre that has drawn our attention. Lilia is forced into being penetrated by an impossibly big penis in a very hardcore fashion, and even ends up having sex with this monster at the same time as another female character is also being raped. Their insides are undoubtedly being rearranged and assaulted by this intense sort of penetration, and with two of them at once, it gives Himekishi Lilia a lot of vore points. Add onto that a sequence near the beginning of the hentai involving belly inflation, another piece of vote fetish, and it's hard to beat Himekishi Lilia for vore quality.
---
Final Thoughts
Whether you were a vore fan before or just want to check it out now and learn more, we hope this list gives you a good place to start! Vore can be very hard to find in animation but don't let it frustrate you from pursuing your fetish if this is it - the titles on our list are old and new, so more vore may well be on its way. In the meantime, we hope you can enjoy our list of the Top 5 Vore Hentai, and that maybe newcomers can have something new to explore!
Can you think of any other hentai with vore themes that we missed from our list? Have you seen any of these? Or maybe you just want to talk more about vore and however you may feel about it? We would love to hear your thoughts in the comments below!
---