También puedes leer este artículo en:Español
The hentai community has seen its ups and downs over the better part of the last 30 years. The one thing that has remained consistent is the passion that these hentai studios have for their work. A lot of these companies have had to jump through many hoops and go above and beyond to get their content out, in order to please not only themselves but the community. For this list, we wanted to cover and recommend some of the best hentai studios out there.
We would like to mention that when we say "hentai studios" we are generally speaking about the studios that are known for doing the art and animation, not the producers. That means hentai producers such as; Pink Pineapple, Milky Animation Label, Suzuki Mirano and Mary Jane won't make this list. Those companies have dabbled with pieces of work, but generally speaking, they're best known for producing hentai. Now that we've made that clear, let's get to the list shall we!
8. AT-2

It's time to get this list underway and we're starting off with a bang. AT-2 is our choice at the number 8 spot. AT-2 is the oldest studio on this list, with their first hentai being released all the way back in December 2000. The infamous Yakin Byoutou or better known as Night Shift Nurses was the name of their first series. That influential hentai garnered a lot of attention for its sexual torture and served as countless people's introduction to the world of hentai. We won't lie, AT-2 made this list simply because of Night Shift Nurses and its subsequent sequels.
That's not to say AT-2 didn't have any other notable entries. Blood Royale, Hana no Joshi Announcer: Newscaster Etsuko and Panchira Teacher all come to mind. They're a studio well-known for their dark and gloomy storytelling mixed with torture porn. Strong examples of that would be Gekka Bijin and Pigeon Blood. If you're fairly new to the hentai experience, there is a good chance that you've missed some of these series. If you're not into sadism that's okay, just don't disregard these hentai because of their age. If you want to stimulate your dark side, this is the studio to go to.
---
7. Seven

The first thing we would like to say is this next selection was not intentionally placed at number seven. It was a happy coincidence that the studio known as Seven fell on the number seven spot. What makes this an intriguing pick is that it's the only studio on this list that isn't exclusively delivering us hentai. If the studio name Seven sounds familiar to you, it's probably because you've seen anime such as, Danna ga Nani wo Itteiru ka Wakaranai Ken or Okusama ga Seitokaichou! Seven got their start in anime in 2009 but it wasn't until 2012 when they released their first hentai series, titled Otome Dori.
Out of the 35 series released from Seven, only 8 are hentai. That speaks volumes for this studio. While splitting duties with hentai, they've released 8 hentai series in a span of 4 years. Seven's two most well-known hentai are Rance 01: Hikari wo Motomete The Animation and Baku Ane: Otouto Shibocchau zo! The Animation. Rance is a prime example of Seven being an anime first studio, with higher quality storytelling and action. That really helps them shine, since they can focus on a centralized plot, something that many other hentai lacks.
---
6. Office Takeout

Our next pick goes to a studio that has adapted from many different forms of entertainment, including, manga, visual novels and light novels. Office Takeout got their start in the hentai business in 2007 with their 4 episodic OVA title, Aneki... My Sweet Elder Sister The Animation. Office Takeout has been one of the most consistent studios on this list in terms of releasing content. If you take a look at their resume in 2014 and 2015, they released a total of 10 series (5 each year) with most of those series being well-received.
Of those 10 that were released in that two-year span, only one of them went on to have more than one episode; that being their most recent series release, Colosseum no Senki: Another Story. Office Takeout likes to indulge in storylines that favor females being turned into sex slaves. Despite that, they've covered several different genres in their work, including, futa and loli. We're not talking just your average loli and futa hentai either. Suki de Suki de, Suki de The Animation made Honey's Anime Top 10 Loli Hentai Anime and Kana from Koakuma Kanojo The Animation made the Top 10 Anime Futanari Girls.
---
5. Studio Jam

Continuing on with this list of the best hentai studios, we come across Studio Jam, who is known for creating one of the elite hentai series of all-time. What series are we talking about, you ask? Well, Bible Black of course. As we mentioned earlier about what Night Shift Nurses did to the hentai community, Bible Black arguably surpassed it as being one of the most influential and well-remembered hentai in recent memory. Bible Black has left an impact on us, that is still being felt after 14 years and it most likely will never be forgotten.
Studio Jam has 23 series in its history but it hasn't released a new series in 9 years. This studio carries the same stigma that PoRO brings to the community; the animation and art style didn't change very much from release to release. Studio Jam's animation is no longer the industry standard, but their complex stories still hold up extremely well. A lion's share of the storylines from their content usually consists of supernatural elements, as well as acts of betrayal and sinister motives. Studio Jam's h-scenes aren't typically of the vanilla variety, so if you're looking for something out of the ordinary, this studio is worth a checkout.
---
4. T-Rex

Now this pick becomes a little bit trickier. The majority of these selections on this list are not producers, mainly just studios that focus on art and animation. As we mentioned before we wanted to try and keep the hentai producers off this list. However, our number 4 pick is justified in being on our list because they have done a lot of in-studio work, apart from their producing duties. As this countdown dictates let's focus on T-Rex's animation.
T-Rex certainly has the credentials to earn this spot on our countdown, so let's take a look at their work, shall we? T-Rex covers a wide array of stories, characters, and genres in their hentai. Some of their work has even cracked various lists on Honey's Anime in the past. Strong inclusions to their pool of content include 15 Bishoujo Hyouryuuki, Fault!!, and new hits like JK Bitch ni Shiboraretai and Kimi no Mana wa Rina Witch. It just goes to show that T-Rex brings a certain quality that is tough to match.
---
3. Flavors Soft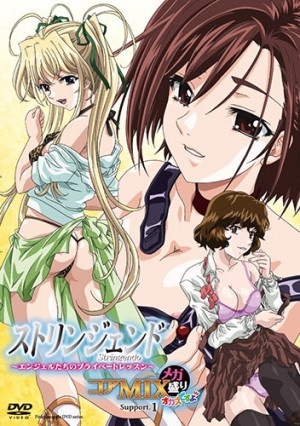 Shaping up our top 3, we got a studio that has been around for over 10 years, but hasn't had the same amount of content that other studios on this list has created. Flavors Soft's initial release was back in 2005 with Nanase Ren, which is a spin-off of the Night Shift Nurses series. It wasn't their only spin-off, however; they also had their hand in on Yagami Yuu. From then, they went on to make a memorable incestuous hentai by the name of Ane to Boin. Some of you might remember it; it was about a brother trying to have sex with all 10 of his sisters.
Flavors Soft was operating on all cylinders with their third series release, Stringendo: Angel-tachi no Private Lesson. Yes, we're talking about Honey Anime's number one recommended hentai off all-time. 12 episodes, spanning 6 years, is unheard of for hentai. Flavors Soft really struck gold with that title alone. It should come as no surprise when you think about Flavor Soft's excellent animation, succulent h-scenes and outrageous plots. Our only gripe is, we haven't seen any new series from them since 2010. They will be missed, but never forgotten.
---
2. PoRO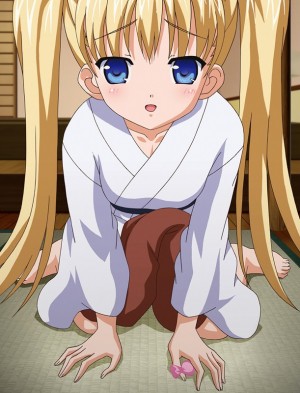 We have come to a critical spot on the countdown. Number 2 is awarded to PoRO. PoRO's introduction to the hentai business was in August of 2009 with their first release titled Triangle Blue. The studio has come a long way from their initial release and are now considered one of the top tier hentai studios out there. PoRO is best known for the Oni Chichi series that has delivered over 16 episodes between numerous sequels and adaptations. Their most recent series release, Oide yo! Shiritsu Yarimakuri Gakuen has been credited as their 43rd series in their 7 years of delivering content.
PoRO has carping critics amongst the community for being "too safe" or being "too vanilla" with their work. In addition to that, some people have been vocal about their female characters having similar faces. Hentai enthusiasts are well-divided when it comes to PoRO's offerings. Regardless of where you might stand, PoRO undeniably has some of the best animation and art direction of any studio. We feel one of their stronger qualities, outside of the animation, is their consistency, in terms of content. Seemingly every month PoRO is headlining the hentai release calendar. With a plethora of excellent series to choose from, it's hard to argue against PoRO.
---
1. Collaboration Works

It has come down to this; the moment you've all been waiting for! Our number one hentai studio goes to Collaboration Works. Collaboration Works is one of the newest additions to the world of hentai. Since their first release in 2011, Collaboration Works has gone on to take credit for 9 hentai series. With enough content to count on both hands, some people may ask, "Why would you consider having this at number one?" Well, you know that saying, "quality over quantity?" We think that fits appropriately for Collaboration Works.
Collaboration Works effort in the hentai community has been outstanding. Their work has been highly praised and rightfully so. Their first release Eroge! H mo Game mo Kaihatsu Zanmai was a massive hit, and to this day, is still one of the more highly regarded hentai on the market. Speaking of highly regarded hentai, we couldn't talk about Collaboration Works without mentioning Mankitsu Happening.
In addition to that, they've also released the highly stimulating action from, Maki-chan to Nau. and Tsugou no Yoi Sexfriend? If you haven't seen some of these gems and want an introduction to hentai, this is a great studio to start with. Their animation and diverse female cast will thoroughly get your heart pumping.
---
Final Thoughts
That brings us to the end of another exhilarating countdown from Honey's Anime. This particular list should have garnered some interest from both hentai newbies and enthusiasts alike. This list was meant to intrigue you while recommending some of the better hentai studios out there. We feel you're now covered, should you decide to take the plunge into the desirable world of hentai.
Did we cover your favorite studio? How do you feel after viewing this list? Exhausted? Informed? Please don't hesitate to let us know how we did in the comments section below.
---