También puedes leer este artículo en:Español
Hentai Ouji to Warawanai Neko (Hentai Prince and the Stony Cat)
"You're not an anime fan if you don't know about hentai stuff!" I was once mocked by that very sentence, but there's some truth to it, though.
Anime is very different and unlike its Western counterparts. Anime covers pretty much everything from horror to pornography covering possibly all fetishes. One should experience at least a bit of the latter to truly appreciate that anime is a very versatile art form and is oftentimes unrestricted. Yeah, that's right. I'm going to talk about the pornographic side of anime… in case the title of the article didn't make that obvious enough!
Before we start, I'll try to focus more on the essential facts and share some thoughts on the matter. You really don't need to watch an actual hentai show, but it would be nice if you can at least know its place in anime and its history.
Let's dive right in!
What is Hentai?
To put it simply, hentai loosely translates to "pervert." It has a very negative connotation and can be used as a derogatory term. However, hentai is short for "Hentai Seiyoku" meaning "Abnormal Sexual Desire." In the Western world, hentai is a term used to categorize pornographic material in anime, manga, games, etc. In Japanese media – a pretty different usage. More on that soon.
Origin
Truth be told, hentai has a very long history and it's very difficult to type it all here. I'm going to provide its brief history and provide an external link that further explains its history.
Hentai originally meant "transformation" and "abnormality" in the fields of science and psychology. A translation of German sexologist Richard von Krafft-Ebing's text Psychopathia Sexualis was the origin for the concept of "hentai seiyoku", as a "perverse or abnormal sexual desire". It was popularized outside the field of science and was used by many publications at the time to denote perverse or abnormal sexual acts.
After World War II, hentai was sometimes seen shortened to "H" or "etchi/ecchi" after the post-war influx of English words in the country. The term "etchi/ecchi" became a word of its own and it's often synonymous to "iyarashii" or "sukebe" or "lascivious" and "lewd" respectively but unlike hentai, etchi/ecchi doesn't denote abnormality or anything sexually perverse.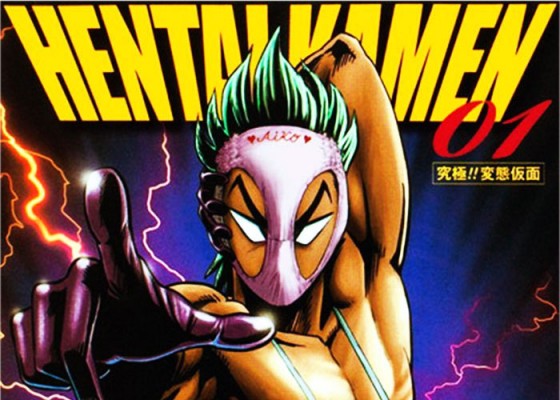 "Wanna do the H thing? As in Hardcore?" —Amano Ai, Video Girl Ai
Around the mid 1960s, etchi/ecchi was being used, particularly in the new burgeoning youth culture, to refer to sex in general. As an adjective, H or etchi/ecchi means "sexual" or "sexually oriented" with less negative connotations similar to "dirty" or "naughty", and be can be used when referring to anything from H-anime, H-books, etc. When applied to a person, it means that the person is highly interested in sex and the usage is synonymous with the word "sukebe." When used as a noun, etchi/ecchi refers to sexual intercourse itself.
Keep in mind again that while etchi/ecchi originated from the word hentai, the two terms have branched off to have strikingly different meanings over the years – especially after World War II and the growing popularity of the English language.
Lost in Translation
Although the English use of H/etchi/ecchi to refer to Japanese media with pornographic content is not incorrect, the subtle difference between the two words became obscured in the West due to many factors such as inaccurate/improvised translations in both professional subtitles and fansubs, and how information is easily misinterpreted and spread across the internet.
Translators often ignore the less offensive connotation of "etchi/ecchi" and translate them simply as "pervert" mainly because the word was originally derived from hentai, meaning pervert as well. Not only was the nuance lost in translation, but the usage caught on and "pervert" became an accepted and common translation.
In truth, it is not fully clear where it all started, but hentai has come to be seen as a genre for pornographic anime media in the West. H/Etchi/Ecchi is now known to be a shortened term for hentai and this leads to the mislabeling of H-anime, H-books, H-manga, etc. as hentai.
Hentai in the Real World
Though the term is widely accepted in the West and is still used even to this day, you have to avoid describing every porngraphic material as hentai if you're planning to converse with a native Japanese speaker. Most Japanese people never use the word hentai to describe every pornographic material, it's simply incorrect.
To the West, hentai is a genre consisting of porngraphic anime media. Western Hentai has two sub categories — Softcore Hentai and Hardcore Hentai.
To the Japanese, hentai is used to describe material with abnormal or bizarre fetishes like tentacle sex, gang rape, guro/grotesque, etc.
To the Japanese, H or Etchi/Ecchi + medium is used to describe material with normal or mostly heterosexual stories that are non-perverse or non-extreme. Etchi/Ecchi is also interchangeable with the loan word "Ero" (ero-anime, ero-manga, etc.).
Lewd or not lewd? That is the question!
In recent years, anime with sexual acts that air on TV like Yosuga no Sora are slowly becoming popular, and somehow they do not get categorized as hentai in the West, or as Ero-anime in Japan.
I cannot say for certain how these shows managed to dodge the adult ratings, but these shows are out there and they defy classification. Perhaps hentai with meaningful stories are no longer welcome in the adult entertainment business for they prefer more sex than stories to get profit, or perhaps anime is still growing up, getting more bold and rebellious.
Hentai Anime Examples
I'm going to list 3 shows that are considered hentai in the West and at the same time, show you the difference between hentai and etchi/ecchi. If you're planning to actually watch these shows, please be warned that you're going to be watching actual animated pornography. For those who are interested, the shows are arranged in terms of accessibility. If this is your first time watching hentai, this list will help you ease your way in… Honestly I never meant that line to sound perverted…
Anyways!
Doukyuusei: Natsu no Owari ni (End of Summer)
Episodes: 4
Aired: July 1994-May 1995
It's a story about a group of young people on the road of sexual discovery. Wataru, the main protagonist has his sights on Mai, the girl of his dreams. However, he soon finds out that catching her isn't as easy as it seems and he has to deal with other girls who have a crush on him.
Didn't I tell you the stories in hentai aren't really that great? Sure, the typical romance story is nice, but compared to their non-pornographic counterparts, they're just not good. You watch hentai mainly for the, well, sex. I mean, duh.
On the good side though, End of Summer is beautifully drawn (the first two episodes at least) and the sex scenes are all tastefully assembled. There is some build up leading to the love-making and the overall experience is non-offensive. In Japan, End of Summer is an ero-anime, not classified as hentai.
Words Worth
Episodes: 5
Aired: August 1999-November 2000
The Words Worth tablet is said to contain all the secrets of the universe, but was shattered and its pieces scattered all over the land. This led to a long painful war between the tribes of Light and Shadow, accusing each other of breaking the sacred tablet.
Astral, prince of the Tribe of Shadow, desires to become a Swordsman of Shadow. However, his father, King Wortoshika, forbids him to do so. He is engaged to Sharon, a beautiful swordswoman and Astral's childhood friend, who has feelings for Astral but wishes he were stronger.
The show has decent pacing, and the story is good when it comes to porn. The final plot twist may send your brow soaring up to the sky, killing a few pigeons because it's so stupid.
As for sexual content, it has bestiality, rape, and tentacles. Thankfully the best sex scenes are the ones that are non-offensive and they actually outnumber the offensive ones. Just like End of Summer, the sex scenes are very well-animated and very tasteful. Unlike End of Summer though, Words Worth shows the male genitalia and penetration.
It's hard to classify this one because it has both traits of an ero-anime and hentai.
La Blue Girl
Episodes: 6
Aired: June 1992-September 1993
Mido Miko is the descendant of the most powerful clan of female ninjas. They are tasked to keep the Shikima, horny beings from the demon realm, away from humans. As any typical hentai show goes, a powerful force is trying to open up the realm of the humans to the realm of the demons. It's up to Miko and her sexcraft ninjitsu to save the world.
On the good side, the art and animation are all top notch, there's actually a decent plot going on, it's often comedic and pokes fun at the "tentacle hentai" genre. The bad side? A ton of explicit sex scenes every few minutes or so. If you don't see sex, you'll see tons of fanservice, masturbation, the works. On the good side, the art and animation are all top notch, there's actually a decent plot going on, it's often comedic and pokes fun at the "tentacle hentai" genre. The bad side? A ton of explicit sex scenes every few minutes or so. If you don't see sex, you'll see tons of fanservice, masturbation, the works.
And despite all that, La Blue Girl is considered to be one of the best and most successful true hentai shows out there. If you want to see true hentai that is accessible, then look no further.
Conclusion

Let's be real here, the Western definition of hentai is here to stay and will probably never go away. It's still a term used by every Westerner to describe anime porn and there's nothing wrong with that. Western publishers can label "H-Anime" as "Hentai Anime" all they want and there's really nothing wrong with that.
What we can do however is be fully informed of the term's history and proper usage, and pass it on to future fans. Who knows, we may actually end up making a difference.
I'll toss this to you: You're not an anime fan if you don't know about hentai stuff!
Further reading: A Short History of 'Hentai' http://intersections.anu.edu.au/issue12/mclelland.html
---