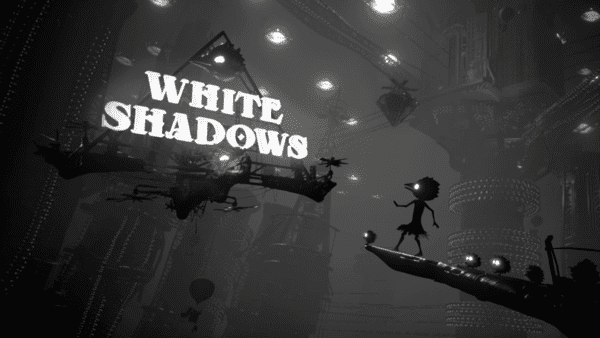 Whenever a game starts off with a warning that echoes real-world issues like racism, xenophobia, suicide, and trauma, you know you're going to expect something truly intriguing. White Shadows—by developer Monokel, their first game—doesn't waste time creating a bizarre atmosphere from the opening few minutes. To be completely honest, White Shadows hasn't been noticed by many of us here at Honey's Anime but after playing it, we are kind of glad this game was kept in the dark. Striking, strange, and mystifying, White Shadows might be one of the more immersive indie platformers we've played since the days of Limbo and Little Nightmares. Now you're curious, huh? Here are our thoughts on White Shadows!
The Light In the Darkness

When White Shadows begins truly, players will notice they aren't in a recognizable world but in a dark, almost muted world that has only had light and blanketing darkness. Your main character, a small Ravengirl, has somehow escaped what seems like a hellish nightmare of slave-like work and now must rise above the towering buildings and railways to reach the top. White Shadows won't teach you how to walk, climb and even jump; similar to Limbo and Little Nightmares, White Shadows wants the player to learn...and you better learn fast!
Every step, jump, and movement your little Ravengirl makes is fraught with danger, and players will need to use quick reflexes to make some spine-tingling jumps and death-defying leaps of faith. White Shadows will have players die numerous times from high falls and missed jumps, but as you learn to time and get used to making last-second jumps, you'll master the platforming in no time.
Occasional Thought-Provoking Puzzles

White Shadows isn't just a platformer but also a puzzle game that often uses the strange dark world you're existing to its advantage. Typically, most puzzles only take a few moments to understand—hit this switch here and move this box there—but some of the puzzles do require careful exploration of your environment. We got stuck on a few puzzles that caused us to groan when we realized the solution was right in front of our face! White Shadows isn't a hard puzzle platformer, but it has a few neat tricks up its sleeves to keep it from being generic and uninspiring.
A Beautiful Muted World

More like Limbo in design, White Shadows doesn't take place in a colorful land with rich designs and loving hues. Instead, the world of our Ravengirl is abysmally filled with grey skies, black shadows, and barely any light aside from electric run trains and light posts. There's a strange horror-like effect from moving around in the various land of White Shadows that keeps players anticipating something to happen even when nothing does.
The Darkness Inside

Again, when you read the initial warning to players, you might then begin to wonder…where are these racist undertones and suicidal images to be found from that warning? As you play, though, you'll notice the little hints at the story being suggested in White Shadows. To avoid completely spoiling the narrative hidden behind strange pop-in movies and random in-game billboards, White Shadows is a truly dark tale of existing in a world that judges you for just being you and abuses those who are different. We recommend keeping a sharp eye out for many other hidden themes in White Shadows as part of the experience is figuring out the complete tale being told quietly behind the scenes.
---
Final Thoughts

White Shadows is a strange platformer that is unnerving and chilling, and that's why it's truly an experience. We absolutely loved the tough platforming and exploring this muted landscape. If you love titles like Limbo and Little Nightmares, then trust us, readers, you'll love White Shadows!
If you want to jump into White Shadow's world, it's now available on PC (Steam), PlayStation 4, PlayStation 5, Xbox One, and Xbox Series X/S. And for even more gaming articles, keep stuck to our beautiful, unique hive here at Honey's Anime!
---