This poll project had to be one of the best turnouts we've had yet!
Yeah! Everyone trully loves a romantic story which invlove two people!
It's was also obvious who the best couple would be too.
Yeah, I figured it would be them. I'm happy about it in so many ways as well! Lol
Well, let's see who it was and check out the Best Couples in Anime, shall we!
---
Top20 - Top11
---
20. Vegeta & Bulma (Dragon Ball Z)
I like how they are rude, yet they really do care for each other.
19. Kou Mabuchi & Futaba Yoshioka (Ao Haru Ride/Blue Spring Ride)
Kou is so cute.He seriously love Futaba but couldn't said back then.He also get easily jealous as Futaba is quiet popular with boys.Futaba sure loved him so much.She even changed her style from femine to all tomboy kinda look.
Even though time separated them, they found their way back to eachother. Their feelings for each other made them stronger.
18. Isla & Tsukasa Mizugaki (Plastic Memories)
They both are so genuine that they try hard to show their feelings of love for each other despite one being an android and the other a human.
17. Takeo Gouda & Rinko Yamato (Ore Monogatari!!/My Love Story!!)
They make me squeal every time I see them together!They seem to have so much love for one another and everyone can easily see it. They don't let others put them down about their relationship.
16. Tomoe & Namai Monozono (Kamisama Hajimemashite/Kamisama Kiss)
In many fantasy/romance animes, the female character often doesn't do a whole lot. Nanami takes many responsibilities and it's clear that no matter how hard he tries, Tomoe can't help but fall for her dedicated spirit.
15. Stella Vermillion & Ikki Kurogane (Rakudai Kishi no Cavalry/Chivalry of a Failed Night)
i reallly like how the character think alike in relationship wise they comunicat and want the samethings but to afraid of the reaction other will have,but end up saying it anyway creating a great character dev
They're so sweet
14. Shirayuki & Zen Wistalia Clarines (Akagami no Shirayuki-hime/Snow White with the Red Hair)
Zen is sooooo cute when he is with Shirayuki XDD Not only that, they are made for each other!!! A match from Heavensssssss!!!!!!!!!!
13. Shouta Kazehaya & Sawako Kuronuma (Kimi ni Todoke)
How can you not love them??They're are super cute when both of them blushing seeing each other
she tries so hard to make new friends and kazehaya was the first one to accept her! KYAAA!
Their young love is so innocent. They just want to be together and k ow more about eachother. They care for and bring out the best in one another.
12. Risa Koizumi & Atsushi Otani (Lovely Complex)
There are the best couple ever!!! Atsushi Ootani is just so cute with Risa.
---
Top10 - Top6
---
10. [Tied] Raku Ichijou & Chitoge Kirisaki (Nisekoi)
Comments
#teamchitogeFTW I like their relationship.
Because #TeamChitoge!
10. [Tied] Shizuku Mizutani & Haru Yoshida (Tonari no Kaibutsu-kun/My Little monster)
Comments
Crazy kind of chemistry that's bounded by intelligence and pure romance
This one is unique , their personalities are like water and oil that can't be mix together , but their love for each other is eternal ...
THEY'RE THE BEST!
9. Nagisa Furukawa & Tomoya Okazaki (Clannad)
Comments
there are sooooooo cuuuuute!!!!!
Because they're one of the models that proves life isn't always on the bright side and that shadows exist everywhere.
8. Yuzuru Otonashi & Kanade Tachibana (Angel Beats!)
Comments
7. Kousei Arima & Kaori Miyazono (Shigastu wa Kimi no Uso/Your Lie in April)
Comments
Such a bittersweet romance they share
They saved each other in every way possible. Their music inspired and brought out the best in each other.
6. Naruto Uzumaki & Hinata Hyuuga (Naruto Shippuden)
Comments
They are both helping and inspiring each other. No one can ever mess with them although hinata is very shy but very strong, naruto is always there for her making her strong motivating her and never giving up because that's their nindo(ninja way)
---
Top5 - Top1
---
4. [Tied] Taiga Aisaka & Ryuuji Takasu (Toradora!)
Comments
They fall in love without intending to, a develop a very strong bond.
Okay, let's be honest. Their such a cute couple,yet hilarious. The character traits are unique, and I can understand what was taught during the anime, like what a relationship is about.
Ryuuji and Taiga fought so much in the beginning of the series but then they agree to help with each other get together with their crushes, Kitamura and Minori but then all their time spent with each other made them fall in love with each other. And so Ryuuji realizes that the person he loves is right in front of him this whole time. After that, Minori and Ryuuji decided to be best friends and so did Kitamura and Taiga.
They are polar opposites but they love each other. He loves her, she loves him. Everyone knows except them!!!XD
Because we got to see how they met and their journey to being together.
4. [Tied] Gajeel Redfox & Levy McGarden (Fairy Tail)
Comments
Levy likes Gajeel and Gajeel is always there for Levy.
They are the perfect bookworm and bad boy type couple.
They have a the Vegeta and Bulma love but it's much better because Gajeel actually shows his love for Levy!
Best couple in Fairy Tail!
3. Hiyori Iki & Yato (Noragami Aragoto)
Comments
sorry but a god and a half human must be together. Hiyori and Yato are meant to be together
It's always cute to see Yato doing his best for Hiyori. And although it didn't always end up well and troubled Hiyori instead, she still appreciates it and loves having Yato as company.
I love the way him and hiroyi interact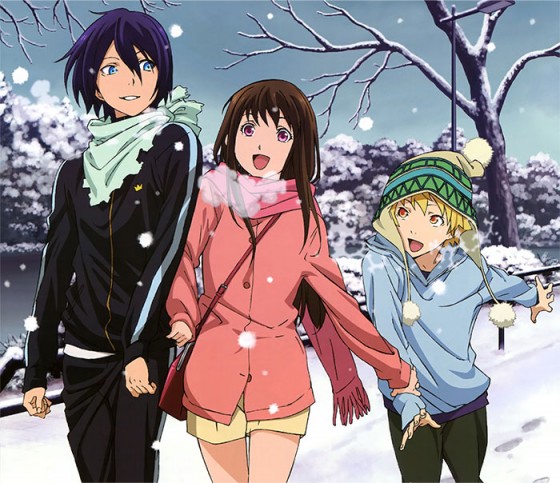 2. Misaka Ayuzawa & Takumi Usui (Kaichou wa Maid-sama!?Maid-Sama!)
Comments
Okay, this is one adorable couple and their story is also not quite run of the mill stuff.
So cuuuuuuuute!!!!! kya!!!!
They are like cats and dogs. Watching them makes me feel like I want more of them. I want more romance from them. Hehehe.
She is the perfect couple character because she is very strong willed and not the person to waver in the face of anything. Then we see her slowly fall for Usui and become insecure about herself around him. Best Couple Character!
They are honestly one of the cutest couples ever, and so is the anime. I can't stop myself from fangirling and re-watching // re-reading the anime/manga.
1. Kazuto Kirigaya & Asuna Yuuki (Sword Art Online)
Comments
They seem so cool together- they even have a daughter, though not really theirs.
This was the most powerful couple if they wanted to get something done nothing would be able to stop them
They find love in times of trouble and the way they depend on each other is sweet.
They fight alongside each other and are always protecting one another. They really care for each other.
cuz they got a good chemistry and both of them with kirito are gather along makes them so cute.
Others
---
Yuto and Asuhi Mikagura: Gakuen Kumikyoku
I like them both :3
Zero and Louise: Familiar of a Zero
They are such polar opposites that its so funny to see them interact with one another.
Toru and Chaika Chaika: The Coffin Princess
Loved the way they developed so quickly romantically and the sacrifice she made for him
tateyama ayano & kirisagi shintaro: Mekaku City Actor
because ayano is not acted like a heroine, she 's became a hero to order to save her siblings, friend and also shintaro\n\nin the other side , shintaro never come out in his room after 2 years when ayano died, even tho he has the highest grade in his class
Sorata & Mashiro: Pet Girl of Sakurasou
Her quietness conceals a deep affection for Sorata; he cares deeply for her while not taking advantage of her innocence.
Shana and Yuji: Shakugan no Shana
This anime built this relationship up and drew you in and then left you wanting to know more of what they would do next
Saitama: One Punch Man
No comment
---
Kirito and Asuna, FTW! Yay!
It had to be them. Honestly!
I like that someone submitted Saitama from One Punch Man. Lol
Yeah, right! Is he in love with himself or something. Lol
Well, anyways, stay tuned for our next poll project for everyone to join in on. It's going to be a really good one!
Yeah! We're going to be conducting our very first Honey's Anime Awards poll! We hope everyone will participate as we find out which anime/characters are the best of the best for the year of 2015! Get ready everyone. It will be epic!
---